There is the perennial argument that 'opera is dead' – that it's too old, stuffy, out of touch, not to mention expensive. If Sydney Festival programming is anything to go by, then clearly this argument is baseless. Antarctica and Sun & Sea were two contemporary opera productions highlighted in this year's festival program – and they were both incredible works.
Antarctica was a new co-production from Sydney Chamber Orchestra and The Netherlands' music ensemble Asko|Schönberg. Performed at Carriageworks, it was a haunting, layered piece that called on technology to extend its narrative.
Sun & Sea, created by Lithuanian artists Rugilė Barzdžiukaitė, Vaiva Grainytė and Lina Lapelytė, was performed in the round at Sydney Town Hall, transformed with 26 tonnes of sand. Viewing from the balcony, audiences looked down with voyeuristic zeal as a summer vibe washed over them. The production was awarded the Gold Lion at the 2019 Venice Biennale, blurring the opera silo tag for this contemporary work.
While Antarctica was overwhelmingly static and poignant in its delivery, Sun & Sea was buoyed by elements of humour and a sense of the everyday; either way, these two productions led the audience into a contemplation that lingered well past their curtain.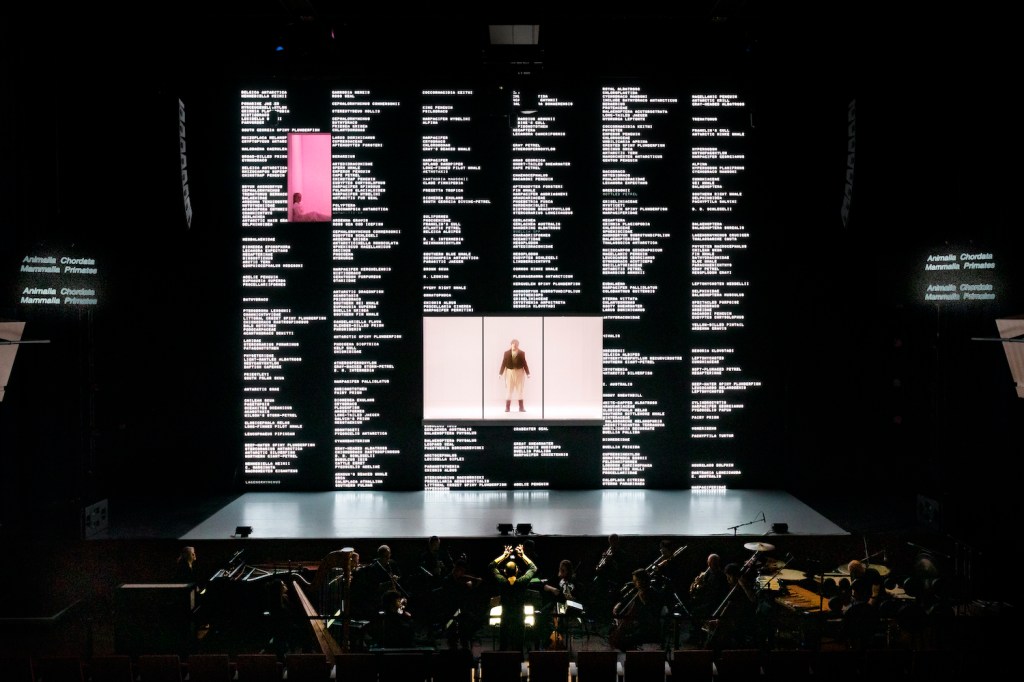 Both operas touched on contemporary issues arising from our climate emergency, including environmental exploitation, and notions of mythology and fact around scientific data. These were no better captured than in the opening scene of Antarctica, where a figure in a hazmat-style suit emerged from a whiteout fog carrying a body – a relic of another time pulled from the ice, perhaps a warning from the past? The ambiguity across this production was intriguing and timeless, holding the audience's attention, while also making them work to mine the ideas behind the vignettes it presented.
Blurring the format
In many ways, both these productions read as performed art installations. The focal point of Antarctica's staging was a choreographed sequence of computer-generated data created by Mike Daly. Streamed on a 14-metre wall – which was both a hyper-modern backdrop to the orchestra and a set within which the opera was performed in period costume – it was as key to this opera as Mary Finsterer's music and Tom Wright's libretto.
That wall was perforated by two vitrine boxes – one high up where a young girl was ever present (a non-singing role played by a poised Hayden Holmes, adding further complexity), and the other for the main performers, emerging from and then falling back into a fog. These were dramatised by Alexander Berlage's stunning lighting evoking the great 'deep southway', as the cast described.
The opera was sung in English (with English surtitles too). Wright's libretto was overly poetic and unnecessarily difficult to sing at times, and sat slightly at odds with the music and digital element. This is where Daly's text came into play, grounding the opera with map coordinates, place names, surreal phrases, natural disasters, emotions and trauma – unfolding as lyrical threads tethered to contemporary realities.
As composer Mary Finsterer writes in the program notes: 'Antarctica is a library of hidden mysteries…While other continents have the past laid bare, Antarctica is different… It is not a heaven, not a hell. It is a non-place – silently, noisily, instantaneously, eternally, holding the history of the world.'
Read: What our opera companies have on offer in 2023
The production superbly played out those ideas, and unfolded in a series of scenes: the prima creatura, deep southway, laments on a doorway and keyhole as a threshold across time, floods, a ship splintering under the ice, a curse laid, celestial connections and others. At once the journey south was filled with hope for the unknown, and dread for its certain demise.
They were topics vacillated upon by a theologian (mezzo-soprano Jessica O'Donoghue), natural philosopher (soprano Anna Fraser) and cartographer (tenor Michael Petruccelli), as well as the ship's captain (baritone Simon Lobelson) and his daughter (soprano Jane Sheldon). Each gave a haunting performance, that hypnotically sucked one into a vacuum of time. The use of offstage singing voices added to the mystery of the piece, while other speaking voices (including those of the captain and his daughter) narrated and punctuated the length of the opera pulling it back to the present day. In short, it was complex.
The star of this performance, in many ways, was conductor Jack Symonds, who energetically led the ensemble between ethereal trills of wind and chills, to the moan of an ice field – as the production's director Imara Savage described: 'Ice is a recording medium and a storage medium. It collects and keeps data for millennia.'
From Renaissance tones to electronic sound, Finsterer used sonar recordings, the ocean, and the microscopic movement of animals and seabed mapping, to inform her score.
Read: Theatre review: Amadeus
The orchestra was flawless, creating the mood that held this opera together and demonstrating just how exciting new opera and experimental composition can be.
The only criticism was that it didn't need to be as long as it was to make its point. Towards the end, the fog escaped its enclosed vitrine and spilled out over the audience, bringing all into its murky dark pondering. 'There is no ending; it simply stops' was the repeated phrase. It would have been a good place to indeed action those words.
Overall, Antarctica was a fresh, exciting and enthralling production that asked as many questions as it attempted to present. Savage pondered: 'If the Age of Discovery concerned itself with categorising the world as the human eye experienced it, what can 21st century post-humanism (concerning itself with the artificial 'eyes and ears' of technology) tell us about the changing planet?'
Physically static in its staging, then erratic with digital overload, the production was perfectly balanced and in sync with a brutal and mysterious world that we conjure as Antarctica, as well as the human allure for expedition overriding peril and the damage caused through our actions. This was contemporary opera at its best.
Antarctica
Sydney Chamber Opera & Asko|Schönberg
Carriageworks
5-8 January.
Sun & Sea
Rugilė Barzdžiukaitė, Vaiva Grainytė, and Lina Lapelytė
Sydney Town Hall
6-8 January.