In a production initially created by choreographer, Derek Deane, for the English National Ballet, Strictly Gershwin was a smash hit for the Queensland Ballet (QB) when it premiered in Brisbane in 2016. It now returns for a much anticipated second season, bigger and better than ever with the inclusion of four singers and guest tap dancers, alongside the core QB ensemble and principals. Choreographed with a diverse mix of jazz, tap and classical ballet, the result is a stunning musical and visual spectacle.
This nostalgic tribute to the jazz era, and the golden age of both Broadway and Hollywood, is represented in two separate acts. The Gershwin brothers' famous tunes and lyrics, offering glorious melodies, lend themselves easily to dance and song. Live music is provided on stage by the Queensland Symphony Orchestra (QSO), with additional saxophones assisting to recreate the period big band sounds.
The QSO plays exceptionally well, with terrific contributions from brass and percussion. The energetic and enthusiastic conductor, Michael England, squeezes every nuance of emotion and joy from this marvellous toe-tapping score.
Deane's choreography is exceptional on every level and quite spectacular in the big balletic dance numbers, where attention to detail and symmetry of couples is so crucial to the stage pictures. In Act 1, he gives us a beautifully crafted and elegant 'Fascinating Rhythm' to match the sparkling gowns and evening dress, followed by a ravishing 'Shall we Dance' in which soloists Georgia Swan and Vito Bernasconi float airily as the Astaire and Rogers lookalikes.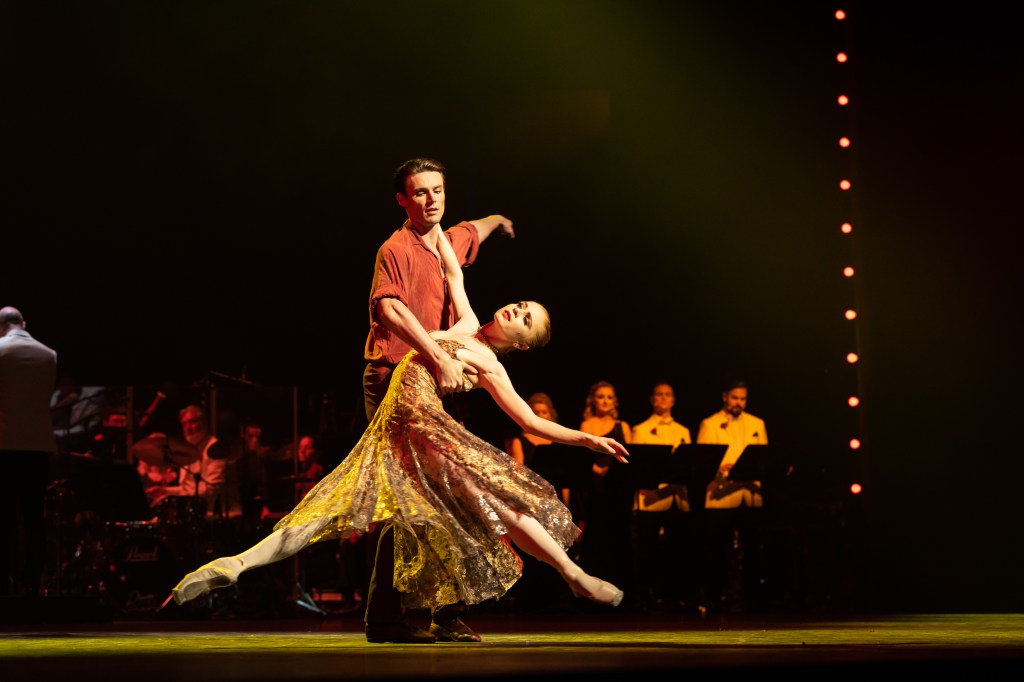 An American in Paris is powerfully staged at the end of Act 1 with its charming narrative of Parisian characters and gendarmes well-realised. The famous Gene Kelly ballet sequence, its pièce de résistance, is exquisitely danced by principals Joel Woellner and Mia Heathcote, whose onstage rapport is infectious.
Rhapsody in Blue opens Act II with a breathtaking tableau of brilliant blue tutus as the curtain rises. Choreographically impressive and demonstrating the sheer beauty and power of classical ballet, this is beautifully realised by principals, Neneka Yoshida and Patricio Revé, alongside Heathcote and Woellner, plus Lucy Green and Alexander Idaszak. Pianist Daniel Le accompanies them with great sensitivity and restraint.
The 60-dancer strong QB ensemble, including several principals and soloists, show no weak links in either energy levels or technical skills. There appears to be no limit to the capabilities of these impressive dancers, who are as much at home in the jazz era and Broadway musical genre as they are in the world of classical ballet.
Other soloists that impress include Woellner and Heathcote in their slow, sultry dance to 'Summertime', beautifully sung by Nina Korbe, plus Chiara Gonzalez and Alexander Idaszak's poignant delivery of 'The Man I Love'. Lina Kim and Rian Thompson dance a touching 'Someone to Watch Over Me' while Yanela Piñera and Camilo Ramos are fiery in the South American-inspired tango of 'It Ain't Necessarily So'.
With exceptional tap-dancing artists Bill Simpson and Kris Kerr, we are treated to some polished numbers that include a powerful 'Fascinating Rhythm'. Together with veteran former QB principal dancer, Rachael Walsh, making a welcome return from retirement, they offer a fabulous tap routine in 'Oh, Lady Be Good!', that's supported by some astonishingly good tapping from several of the ensemble. Clearly enjoying herself, Walsh is particularly on form, appearing to have lost none of her former technical skills or artistic sensibility.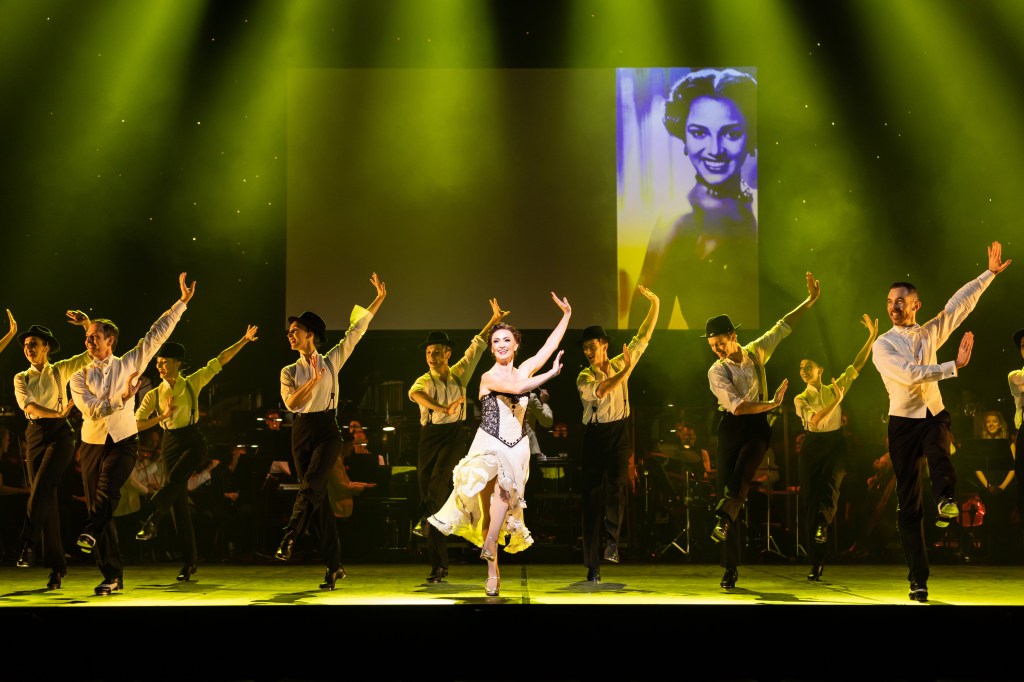 The inclusion of four talented musical theatre performers and singers certainly elevates this production to new heights. Korbe, Naomi Price, Luke Kennedy and Ben Mingay accompany many of the song and dance sections, both as a backing band and as soloists, adding variety to the program.
A well-phrased and harmonious 'Fascinating Rhythm' introduces their respective voices. Soprano Korbe give us a plaintive 'Someone to Watch Over Me' while mezzo Price sings a heartfelt 'The Man I Love'. Tenors, Kennedy and Mingay, are comedic and fun in their light-hearted rendition of 'But Not For Me', while all four join in a glorious melodic 'A Foggy Day'.
The sumptuous and elegant costuming, with marvellous attention to detail for the character roles in narrative works like 'Strike Up the Band', is the work of the gifted Roberta Guidi di Bagno. As the full stage is used for dance, there is no set, but the fake prosceniums add stage depth helping to delineate the various scenes. A huge screen above the orchestra is used to project period images and film extracts to great effect.
The original lighting design by Howard Harrison, is recreated here by Cameron Goerg and Ben Hughes, and is liberally and atmospherically used with changing colour patterns and dry ice to complement songs and dance and to highlight the costumes.
READ: Ballet Review: Swan Lake, Arts Centre, Melbourne
This brilliantly delivered score, together with the fusion of dance styles in a delightfully engaging production, makes for a most entertaining evening. This could well be Brisbane's major hit show of the year and, if you missed this brilliant production the first time round, don't miss it now. It will leave you smiling and in a very good humour, while humming these glorious tunes on your way home.
Strictly Gershwin
Lyric Theatre, QPAC
Choreographer and Director: Derek Deane OBE
Assistant to the Choreographer: Ivan Gil-Ortega
Stager: Amy Hollingsworth
Words and Music: George and Ira Gershwin
Music Adaptation: Gareth Valentine
Orchestrator: Don Sebesky
Tap Choreographer: Bill Simpson
Costume Designer: Roberta Guidi di Bagno
Lighting Designer: Howard Harrison
Revival Lighting Designers: Cameron Goerg and Ben Hughes
Conductor: Michael England (Nigel Gaynor 5-7 October)
Music performed by Queensland Symphony Orchestra with pianist Daniel Le
Cast: The Queensland Ballet ensemble and principals; guest artists tap dancers Bill Simpson, Kris Kerr and Rachael Walsh; singers Nina Korbe, Naomi Price, Luke Kennedy and Ben Mingay
Strictly Gershwin will be performed until 7 October 2023.