Despite the building industry facing continued supply delays as an outcome of the pandemic, a swag of new galleries and theatres are set to open in 2023, offering optimism for the arts sector after a tough few years.
Builds, refits and refurbs opening in 2023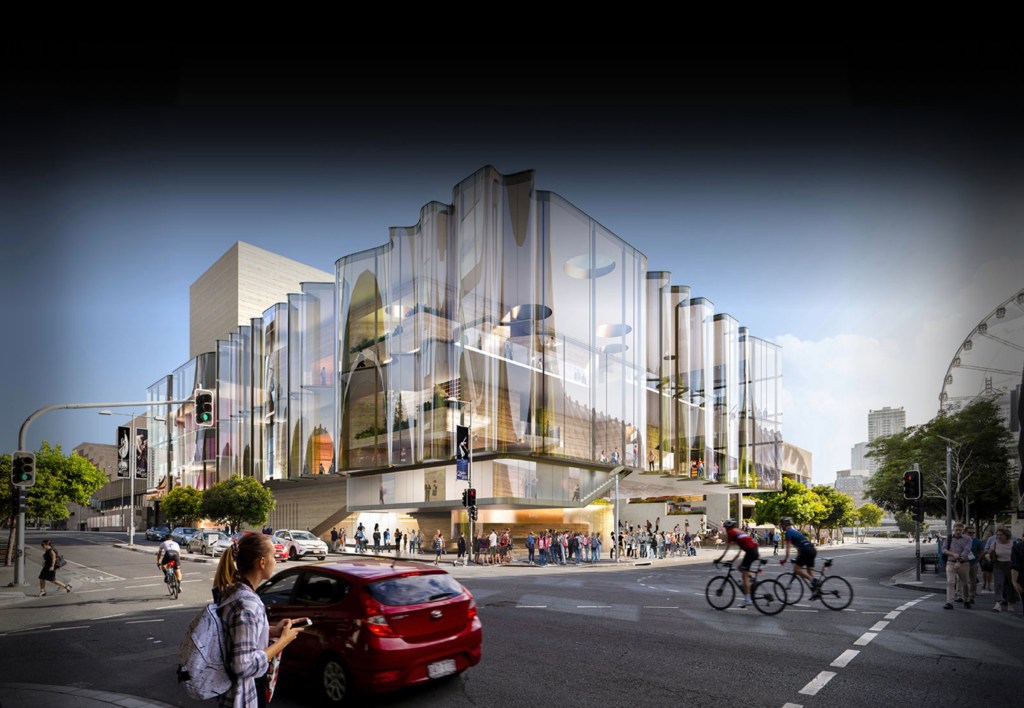 Queensland Performing Arts Centre (QPAC) (Qld)
Opening: 2023
Cost: $175 million
Queensland's new state-of-the-art theatre is taking shape in Brisbane's South Bank cultural precinct. The $175 million infrastructure project at the Queensland Performing Arts Centre will make it the largest performing arts centre in Australia, with five venues and the potential to welcome an additional 300,000 visitors per year.
The design includes a new 1500-capacity, state-of-the-art theatre, and will incorporate significant First Nations public artwork. Blight Rayner and Snøhetta make up the principal consultant design team, with a ripple glass façade a key feature offering transparent foyers. Lendlease is the managing contractor for the project, which began March 2020, and Lendlease Building Queensland is managing the construction. The timing is considered key in the lead-up to the 2032 Olympic Games.
South East Centre for Contemporary Art (SECCA) (NSW)
Opening: expected April 2023
Cost: $3.6 million
Formerly Bega Valley Regional Gallery (BVRG), SECCA is the only publicly-funded art gallery in south-east NSW, using this as key to the gallery's new branding. The redeveloped gallery will comprise two exhibition spaces – expanding it from 180 square metres to 290 square metres – and one workshop/project space, which is available for hire, as well as a small gallery shop.
The council has worked with Sibling Architecture to complete the design and building works began in late 2021.
It's estimated that the new gallery will boost tourism by $3.4 million per year. Half of the $3.6 million price tag for the project has been secured from the Australian Government's Building Better Regions Fund.
Read: When persistence is a gallery: Bega to welcome SECCA
Artspace and Gunnery redevelopment project (NSW)
Opening: 2023 (to be announced)
Cost: $9 million
The transformation project is being supported by over $9 million from the NSW Government and has been designed by Dunn & Hillam Architects. The revitalised facilities will include expanded galleries, additional free artist studios, general upgraded amenities and public access to the gallery's 35-year program archive. There will also be a new flexible learning space. Artspace will reopen in 2023.
Borderville Theatre (NSW)
Opening: December
Cost: $3.9M
The Borderville Studio Theatre will expand the Flying Fruit Fly Circus' existing headquarters with a custom-built performance space for circus arts. A $3.3 million investment from the NSW Government's Creative Capital fund is supporting the construction of a new 100-seat studio theatre in Albury.
Geelong Arts Centre (Vic)
Opening: late 2023
Cost: $140 million
The new Geelong Arts Centre is set to become Victoria's biggest regional arts centre upon completion. The facility will include a 500-seat theatre that expands to an 800-person capacity in 'live gig' mode, as well as a hybrid theatre with 250 seats connected to the Little Malop Street Plaza, a black box theatre, an outdoor atrium, more dining options, a new office and new back-of-house and administration facilities. It has been designed by ARM Architecture.
The Victorian Government has invested $140 million in the project, which is being delivered by a partnership between the Geelong Arts Centre, Creative Victoria, Development Victoria and Lendlease (the project's builder). It is due to be completed by late 2023.
Whitehorse Performing Arts Centre, aka The Round (Vic)
Opening: mid-late 2023
Cost: $68 million
The Whitehorse Performing Arts Centre Redevelopment is expected to open later this year, taking on the new name and branding as The Round. Positioned in a parkland setting, it's been designed to be viewed by both by park users and venue attendees. The Round will feature an auditorium that seats 600-plus, a 200-seat studio theatre, creative rehearsal studios, an improved soundshell for outdoor events and a new $10 million car park for the precinct. It will host an expanded range of shows, functions and events. Construction is expected to be completed in mid-late 2023. The council has invested $68 million in the building.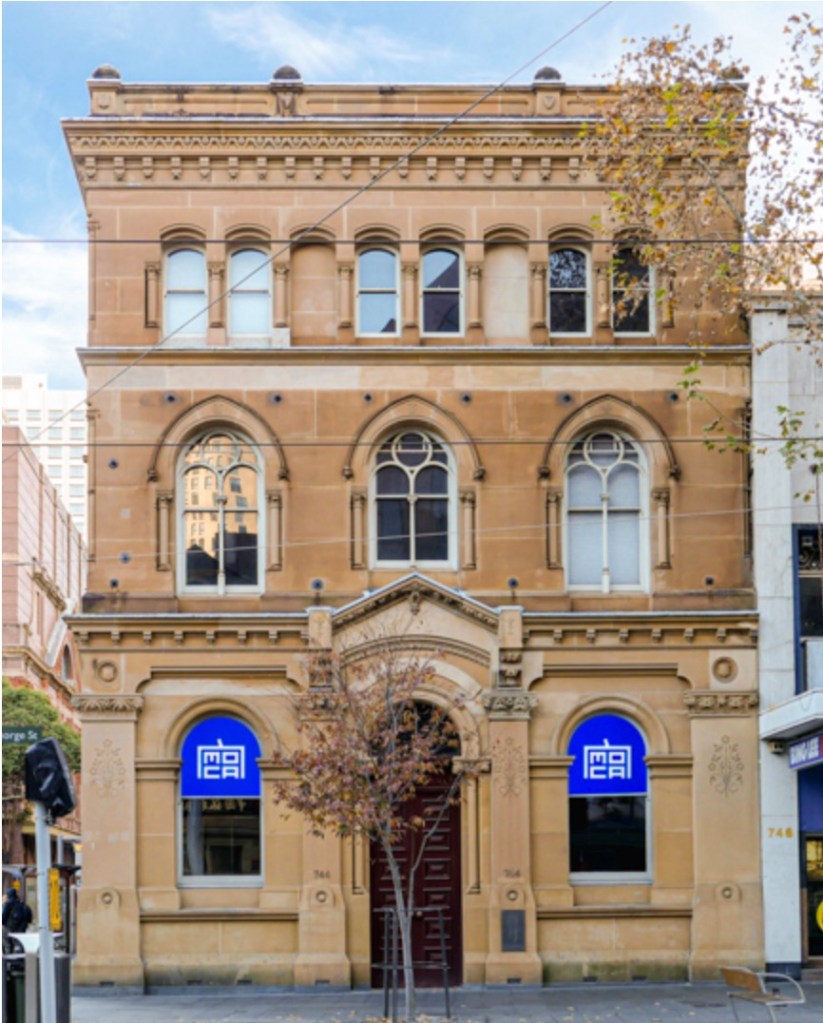 Museum of Chinese in Australia (NSW)
Opening: June 2023
Cost: not disclosed
Situated on a prominent corner alongside the Haymarket tram stop, in Sydney's iconic Chinatown, MOCA – the Museum of Chinese in Australia – will be a landmark gallery. The building dates back to 1875, and was the Haymarket Library before becoming the site for MOCA. Headed by CEO Tony Stephens and Director of Engagement Yan Zhao, it is being described as a home for stories of past, present and future generations of Chinese Australians, and will also be a centre for research and exchange.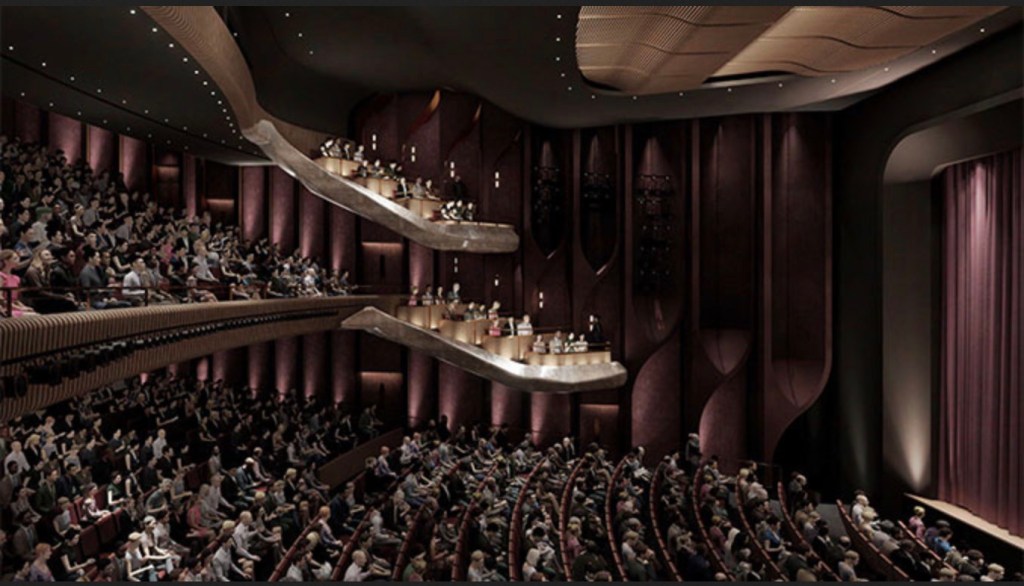 Foundation Theatres, Sydney (NSW)
Opening: 2023
Cost: not disclosed
Foundation Theatres' vision is to complete the Sydney theatre landscape by providing the Broadway-style New Theatre and the Live Room by 2023. The project will be funded privately and deliver to Sydney the theatre infrastructure necessary to accommodate the city's growing needs for the next decade. The new complex will feature a 1550-seat Broadway-style theatre on two levels, capable of hosting large-scale musicals, dance, drama, concerts, ballet and opera with a full fly system and orchestra pit (New Theatre); and a 1000-seat comedy and live entertainment theatre (Live Room). Foundation Theatres anticipates the new theatres will open in 2023.
Cowes Cultural and Community Centre, Phillip Island (Vic)
Opening: mid-late 2023
Cost: $51.8 million
The redevelopment of the Cowes Cultural and Community Centre involves replacing the existing centre on Phillip Island. The new facility will encourage a range of community activities and events. With a 14-month construction program, the building will be in line with council's Climate Change Action Plan, built, designed and certified to Passivhaus Standards – making it the most environmentally significant building in the region.
Roxy Community Theatre, Leeton (NSW)
Opening: late 2023
Cost: Stage One $5 million committed and Stage Two ongoing funding
The Roxy Redevelopment Project will see adaptive reuse and restoration of the
facility to achieve a multifunctional and fully accessible theatre and civic space
that honours the building's special heritage values. The project will be delivered in two stages.
Stage One will see a roof replacement, removal of the raked floor to provide a level area for retractable seating to allow for a function space, disabled access to facilities, other building maintenance, and new heating and cooling systems. Stage Two will include renovation of the former Movie Café.
The Roxy Redevelopment Project is being funded by the Australian Government under the Murray-Darling Basin Economic Development Program, the NSW Government through the Regional Cultural Fund, as well as Leeton Shire Council.
Brisbane Motor Museum (Qld)
Opening: mid-2023
Cost: not disclosed
The Brisbane Motor Museum will be situated in Banyo – approximately 20 minutes north of the Gold Coast – with its doors due to open mid-2023. As reported by The Race Torque, it will be one of more than 50 Australian members of the Australasian Motor Museums Association, joining the ​​Gold Coast Motor Museum also in Queensland. The new museum will display classic cars, memorabilia and artworks. It will also include a library, gift shop, café and meeting room for car clubs.
Australian Museum's Project Discover Stage 2 (NSW)
The reopening of the Australian Museum (AM) following stage one of Project Discover in November 2020 marked the first step. Since then, it has continued to roll out its massive staged redevelopment, with $57.5 million spent on refurbished public and exhibition spaces last year. The AM's website quietly announced that will continue into 2023, delivering stage two of Project Discover with the opening a new Pasifika Gallery, developed in consultation with community, in 2023.
In the pipeline for 2024 opening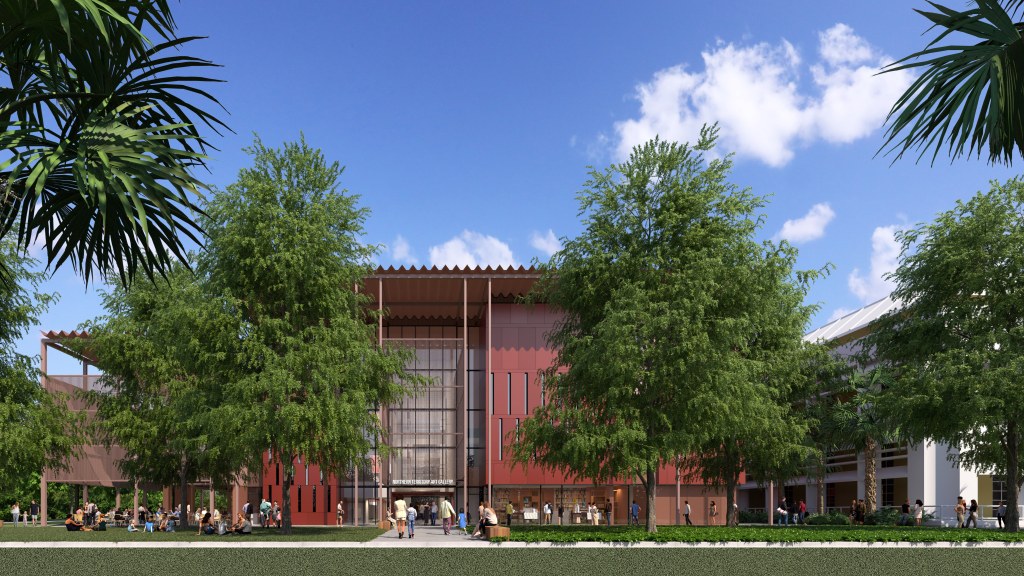 Northern Territory Art Gallery, Darwin (NT)
Opening: 2024
Cost: $88 million
In November last year, Australian construction company Sitzler was announced as the winner of the tender to build the $88 million Northern Territory Art Gallery (NTAG), previously referred to as the State Square Art Gallery (first budgeted at $50 million). Designed by local architecture practice, Ashford Architects with Clare Design and Hully Liveris, the three-storey gallery will be situated in Darwin's CBD.
The Museum and Art Gallery of the Northern Territory (MAGNT) will be developing exhibitions and programs for NTAG's opening, and will operate the gallery on behalf of the Northern Territory Government. Completion of NTAG is slated for 2024, followed by a period of approximately six months to build and install exhibitions before the gallery opens. The gallery will also have an Aboriginal name, to be determined in consultation with local Aboriginal groups prior to its opening. It will be the centrepiece of Darwin's $200 million Civic and State Square Masterplan.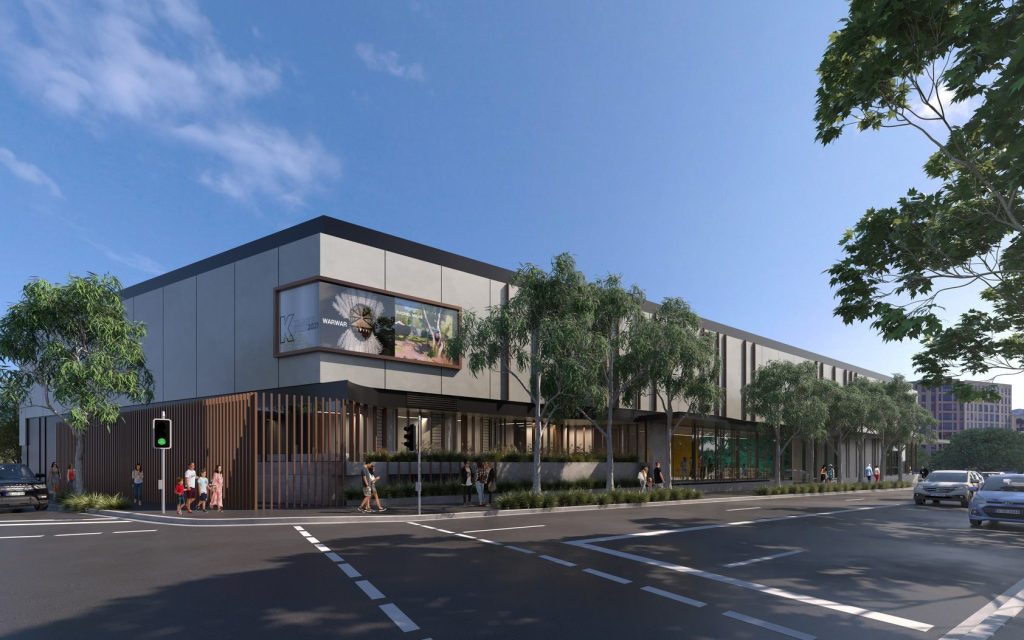 Newcastle Art Gallery (NSW)
Opening: mid-2024
Cost: $40 million
Newcastle Art Gallery (NAG)will see its 43-year-old building extended east along Darby Street and Queen Street with an eye-catching glass façade, a street-level café and a retail shop. Its overall exhibition space will be expanded by 250% (an additional 1600 square metres). Construction on the building is scheduled to begin in mid-2023. The $40 million project is supported by $5 million from the Australian Government under the Regional Recovery Partnerships program and $5 million from the New South Wales Government, as well as a $10 million bequest from Valerie Ryan and $500,000 in funding from the Margaret Olley Art Trust through the Newcastle Art Gallery Foundation. For project updates.
Australian War Memorial (ACT)
Opening: southern entrance external works completed 2023, next reveal in 2024, and full works finished by 2028
Cost: estimated $455 million
Work on the Australia War Memorial redevelopment has commenced, including a new southern entrance, a new Anzac Hall and glazed link, new gallery fitouts in the main building (creating additional exhibition galleries), an extension to the CEW Bean Building to house a new research centre and reading room, and a parade ground and landscaping works to accommodate increased attendance at events.
The iconic façade of the sandstone Commemorative Area – housing the Roll of Honour, Pool of Reflection and Hall of Memory – will not change. The architectural designs of the Memorial's new buildings were approved November 2021. Various architects have been charged with different components of the build, including Scott Carver, Lyons Architecture and COX Architecture.
Outback Museum of Australia (OMOA), Charleville (Qld)
Opening: date to be announced
Cost: estimated $8.4 million
In October last year, Melbourne's March Studio was selected to design the Outback Museum of Australia (OMOA) in Charleville, south-west Queensland, following an international competition and a shortlisting process. March Studio's design features a large fanned circular roof above eight rammed earth exhibition and multipurpose spaces or pavilions (total building footprint 700 square metres), which will cluster around a central garden.
The roof is constructed from sheets of Aramax that double as rainfall catchments. The jury described the design as 'being of human scale, materially honest and presenting a unique curatorial opportunity'. A Federal Government contribution of $7.94 million has helped get the project across the line with its projected budget at $8.4 million. The Outback Museum of Australia was first proposed in 2021, with a masterplan produced by Griffith University in a collaboration with Murweh Shire Council. It will be built in Charleville on a former air base where 4000 US troops were stationed during World War II.
And on the more distant horizon
Geelong Gallery
Opening: early 2027
Estimated cost: $110-120 million
In December 2021, Geelong Gallery completed a business case for expansion in conjunction with the City of Greater Geelong and Regional Development Victoria through the Enabling Tourism Fund. It put forward the case for an investment in the range of $110 million to $120 million over five years from federal, state and local governments along with philanthropic sources, to revitalise and expand Geelong Gallery. The project is aiming for an early 2027 reveal.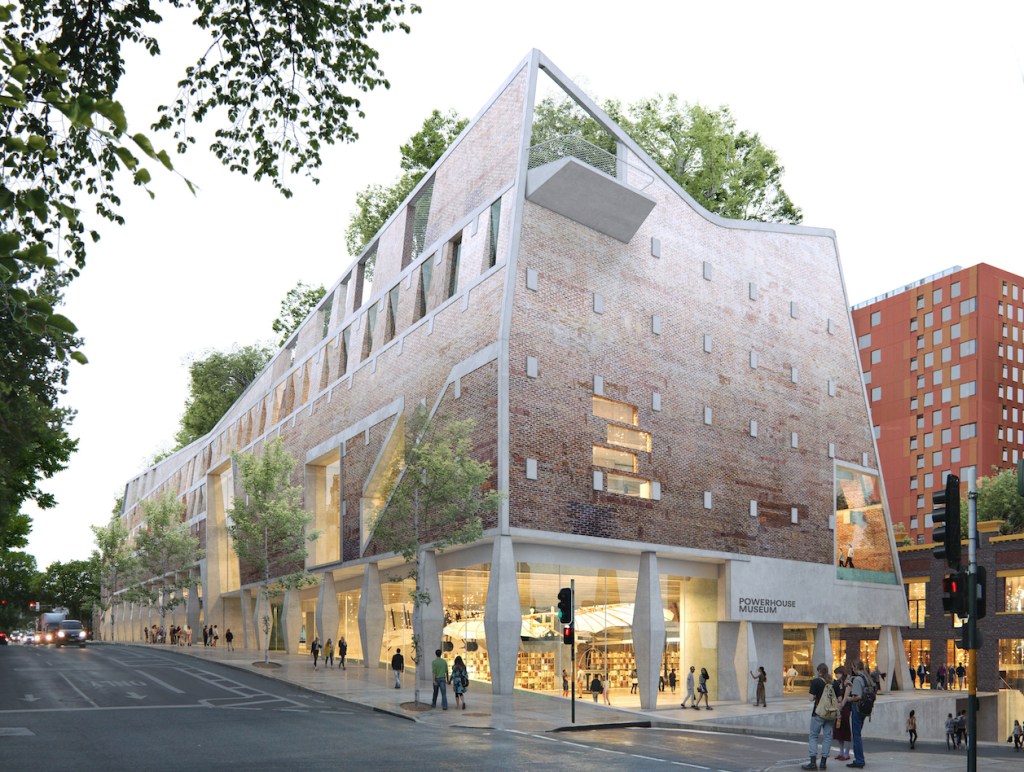 Powerhouse Ultimo
Opening: to be announced
Estimated cost: $500 million
In December 2022, Powerhouse Ultimo released its building design, selected by an expert jury following a national design competition. The winning concept was designed by an Australian team comprising Architectus, Durbach Block Jaggers Architects, Tyrrell Studio, Youssofzay + Hart, Akira Isogawa, Yerrabingin, Finding Infinity and Arup Architects. The controversial site had a turnaround moment in June 2021, when the NSW Government announced a $480 to $500 million investment into the site's renewal.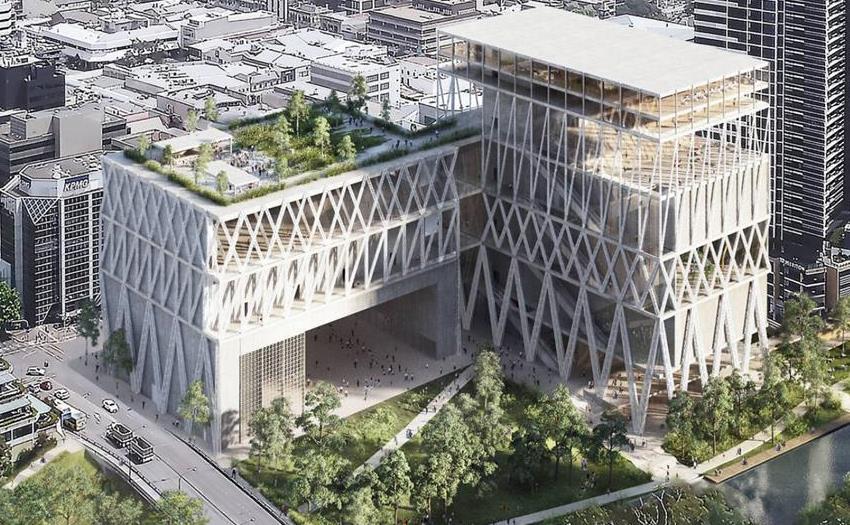 Powerhouse Parramatta (NSW)
Opening: 2025
Cost: $900 million
As the first NSW state cultural institution to be based in Western Sydney, Powerhouse Parramatta at 30,000 square metres will be the largest museum in NSW, and the largest cultural infrastructure project in NSW since the Sydney Opera House. Of that space, 18,000 square metres will be dedicated to exhibitions and education programs. Lendlease was awarded the contract in late-2021 to deliver the museum, designed by the architectural team of Japanese firm, Moreau Kusunoki and Genton. Construction commenced in 2022 and the building is expected to open in 2025.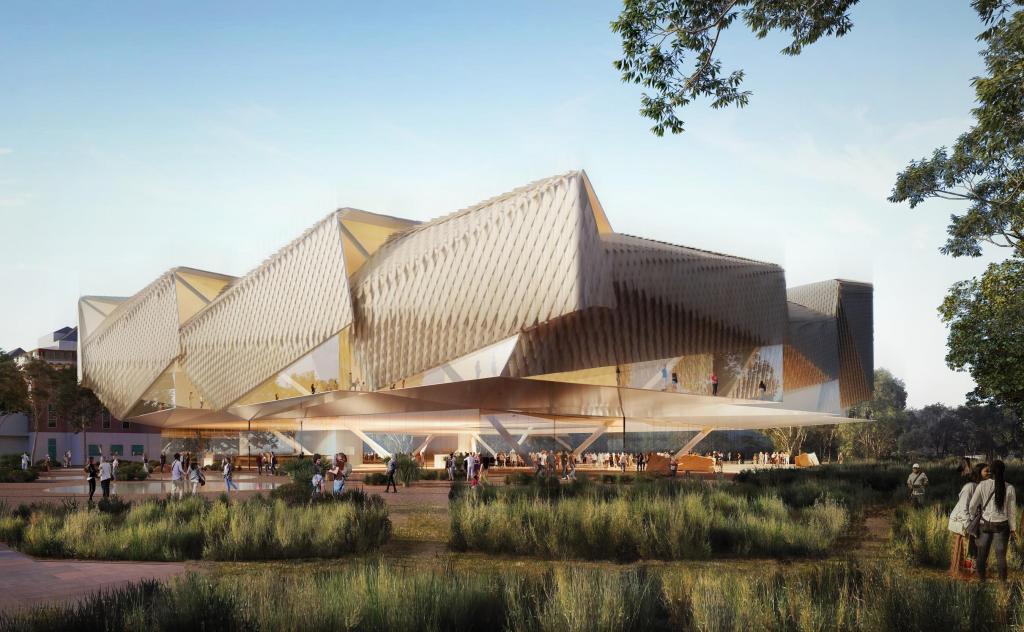 Aboriginal Arts and Cultures Centre, Adelaide (SA)
Opening: 2025
Cost: $200 million
The final design for Adelaide's $200 million Aboriginal Art and Cultures Centre (AACC) as a centrepiece of the Lot Fourteen precinct, was awarded to Woods Bagot, in partnership with Diller Scofidio + Renfro. Construction commenced in December 2021. The 11,500-square-metre building's design was based on layers that reflect Aboriginal connection to Country, place and kin. Key is a gathering space in the centre to create a gateway for cultural exchange. The AACC is scheduled to open in 2025.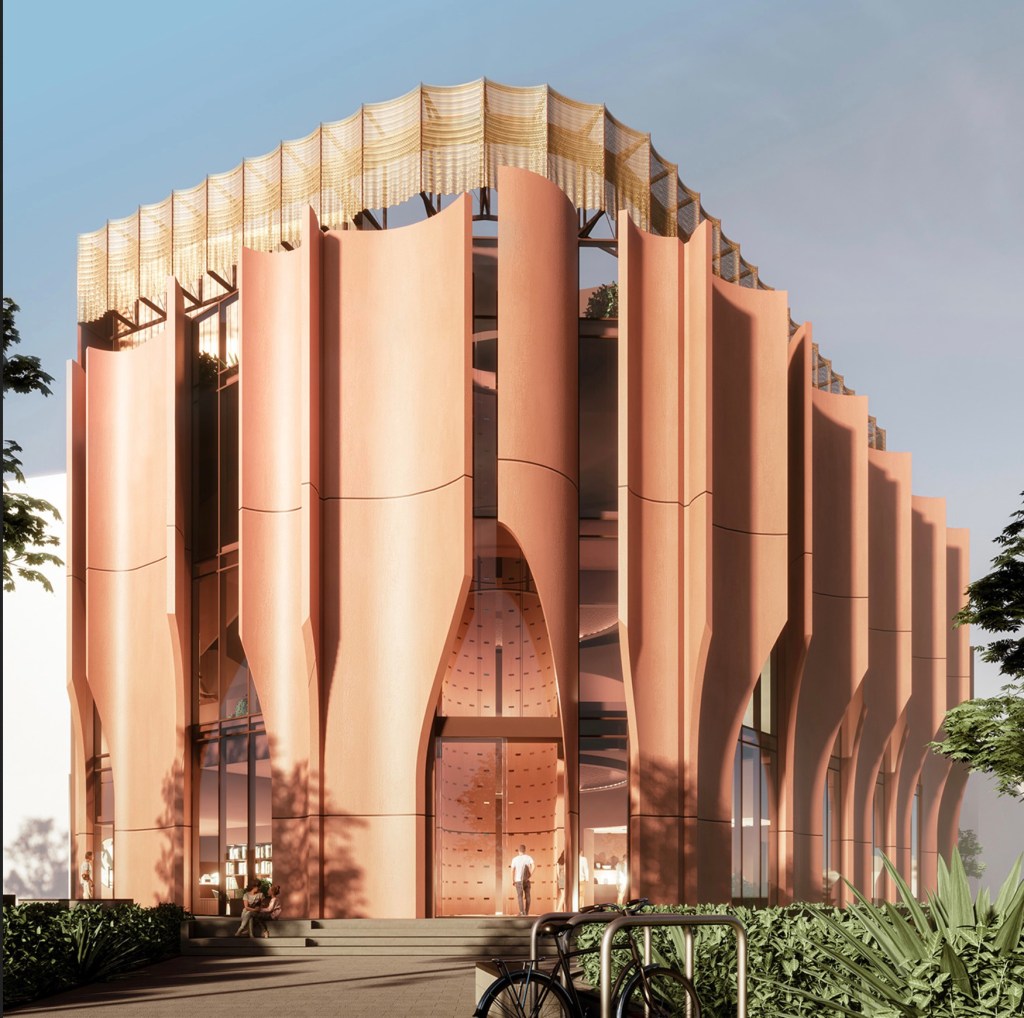 Vietnamese Museum Australia (Vic)
Opening: 2025
Cost: to be determined
In late 2019, $9.45 million in funding was secured for this project from state and federal governments, with a site for the Vietnamese Museum Australia purchased in 2020, on Donaldson Street in Footscary (Vic). Construction will start this year, with the museum expected to be completed in 2025. It will become the seventh multicultural museum of Victoria.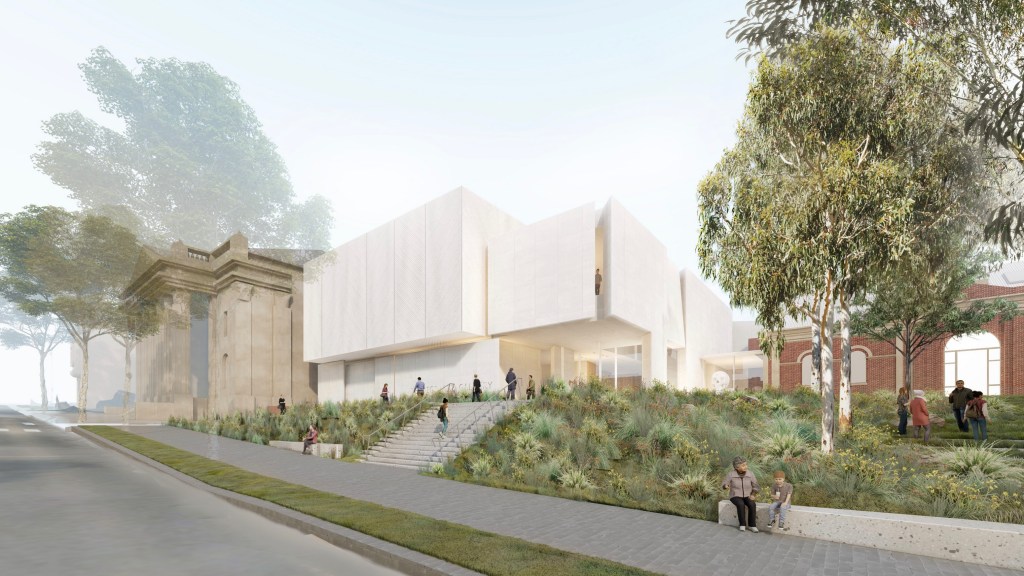 Bendigo Art Gallery (Vic)
Opening: potentially 2025
Cost: estimated at $48 million
Bendigo Art Gallery is currently fundraising for a redevelopment that will increase both its exhibition and education facilities. The gallery said of its ambition: 'Funding will need to be secured by June 2023 for this project to go ahead, so we have enough time to complete the redevelopment in time for the Victoria 2026 Commonwealth Games. Bendigo has been announced as a co-host for the Games where we are looking forward to being the cultural hub showcasing our program on a world stage. If funding is not secured by June next year, we will pause the project until after the Games.'
The redevelopment is expected to take approximately two years and cost $48 million. In September 2022, the City of Greater Bendigo and Bendigo Art Gallery appointed architecture firm Jackson Clements Burrows and Clare Design to guide the gallery's new expansion project. Initial artist impressions for the new building were released and in November the gallery announced it had secured funding at a state level as well as $600,000 from Greater Bendigo City Council.
National Aboriginal Gallery and National Indigenous Cultural Centre, Alice Springs (NT)
Opening: 2025, construction to commence in 2023
The National Aboriginal Gallery will be the centrepiece of the Territory Arts Trail, dedicated to the display, celebration and interpretation of Aboriginal and Torres Strait Islander art. The Northern Territory Government committed an initial $50 million to the gallery project as part of its $100 million investment in a nationally significant Arts Trail throughout the territory.
Since its initial announcement five years ago, however, the project has faced a degree of pushback over the location. Last year, the Northern Territory Government was in the final stage of acquiring Alice Springs' Anzac Oval to house the centre, with construction scheduled to begin in late 2023, and a completion date for 2025. In April 2021, Tracy Puklowski was appointed as Director for the new gallery.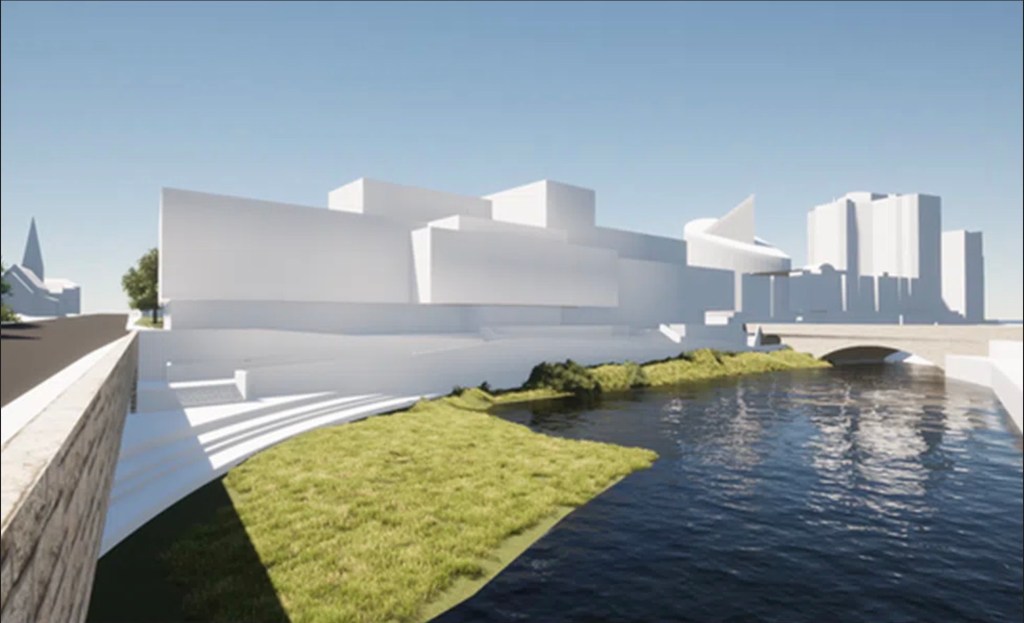 Parramatta Riverside Theatres (NSW)
Opening: 2027
Cost: to be determined
Long on the table for consideration, this week (late January 2023), the City of Parramatta approved the business case for the redevelopment of its Riverside Theatres venue on the banks of the Parramatta River. A concept reference design was approved by the council in May 2022, and council is now seeking approval for a planning proposal to increase the height limit on the site from 15 metres to 28 metres.
The redevelopment will create a new 1350-seat proscenium arch lyric theatre, a refurbished 760-seat playhouse theatre, a new 430-seat multi-mode drama theatre, and a 75-seat digital studio and cinema. In total, the redeveloped venue will more than double the capacity of the existing theatre. A design competition will be launched in 2023, with the redeveloped theatre slated to open in 2027.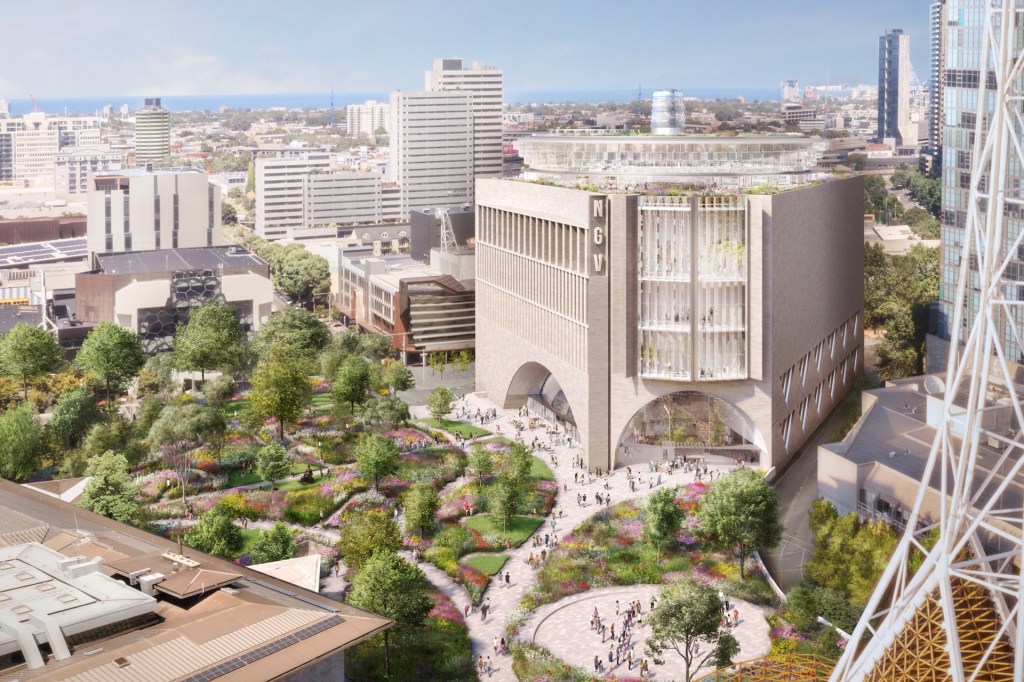 The Fox: NGV Contemporary (Vic)
Set to become Australia's largest gallery of contemporary art and design, The Fox: NGV Contemporary will be designed by Angelo Candalepas and Associates, with interior design by Sue Carr AM, and landscape architect, ASPECT Studios Melbourne. The design team is led by Kirstin Bauer and also supported by emerging local architects Richard Stampton Architects and BoardGrove Architects. The Fox: NGV Contemporary will have more than 13,000 square metres of dedicated display space for art and design. A donation of $100 million towards the construction by Lindsay Fox AC, Paula Fox AO and their family in 2022 secured the gallery's naming rights.
Canberra Theatre Centre (ACT)
Opening: proposed 2025
Cost: yet to be determined
A redeveloped Canberra Theatre Centre, including a new major theatre, is currently seeking submissions from a consortia of three shortlisted design and technical partners, expected to be appointed in the first quarter of 2023. The expansion will encompass a new 2000-seat theatre building, refurbishment of The Playhouse, significant expansion of the Courtyard Studio and increased flexibility of the spaces. Design, public consultation and approval processes will take around two years.
Projects announced, but not commenced