Nine months into studying her Master of Fine Arts (MFA) in Writing for Performance at the National Institute of Dramatic Arts (NIDA), actor and writer Sophie Davis is fizzing with ideas.
'I've grown so much,' she said. 'I feel like I've done, you know, three or four years of therapy in what is so far a nine-month writing course … This is the smartest I've ever been in my life, absolutely.'
It's a far cry from how Davis felt only a year or two prior, having initially studied film and television production at QUT before going on to work in creative production at Foxtel.
'I was on a really great trajectory towards what's considered a successful career for my age, given everything I studied at Uni, but honestly, I was just really miserable. That's not a comment on the company itself, but I didn't feel like I was fulfilling any kind of potential that I had in terms of writing and really finding my own voice,' she said.
Inspiration came when Davis – one of triplets – was visiting one of her brothers in New York City.
'I went to see a production of To Kill a Mockingbird on Broadway and it was while watching that, just as I was asking myself "What am I doing?" that I realised that playwriting was such a vessel for change and somewhere that I could really put my voice into my work,' she said.
GETTING IT RIGHT
Returning to Australia, Davis quit her job at Foxtel and applied to the MFA in Writing for Performance at NIDA.
'You see a lot of people wishing they could have done what they always wanted to do but didn't, and I really didn't want to make that mistake. So I applied to NIDA, because I thought if I want to get this right, and I want to do this properly, I should go through a proper avenue and talk to the right people to get a handle on it all,' she said.
A course for people who already describe themselves as writers but don't necessarily have the tools to bring their ideas to life, Davis describes NIDA's MFA in Writing for Performance as 'brilliant'.
Led by Dr Stephen Sewell, one of Australia's most celebrated playwrights, the course is focused on 'bringing out our voices as artists,' Davis explained.
'I remember Stephen said to us on day one, that this course is about helping us find our voices as a writers. And I absolutely feel as though I have done that – or at least the search party isn't quite so big anymore,' she laughed.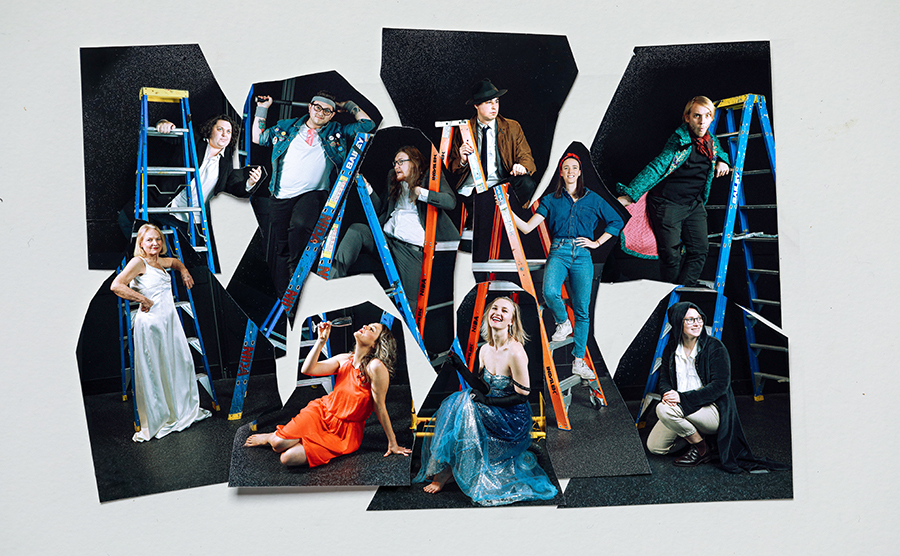 2020 NIDA MFA Writing for Performance cohort, L–R standing: Jude Pemell, Bradley Ward, Jake Zuccolotto, Henry Shaw, Oliver Kuskie, Sophie Davis, Aiden Ossovani. L–R sitting: Caroline Levien, Leah Tolmosoff, Laura McDonald. Image supplied.
STIMULATING INDEPENDENT THOUGHT
Rather than shaping the students into writers who can 'smash out a well-made play,' the MFA in Writing for Performance is more focused on 'shaping us as people,' Davis explained.
'It's given us a really broad idea of where you can take writing, and where you can take yourself, which is really, really awesome, I think.'
In part, this is achieved by diversifying the subjects studied by the student cohort.
'The subjects that we've been doing this year have included philosophy and poetics, and we've looked at the link between neuroscience and creativity. We're doing ancient rhetoric and dramaturgy, and we just had a unit on gaming and immersive experiences,' said Davis.
'These have helped me figure out some of my values and what I care about, and I think a lot of people in the course have as well.'
Consequently, Davis has begun writing a major new work which deconstructs and reassembles the Theatre of the Absurd.
'Historically, the Theatre of the Absurd has been very exclusive in terms of its gender diversity, and so I'm writing this piece which deconstructs it within the text and then creates a new Absurd universe, one which is more feminine. I wouldn't have been able to do that a year ago. It's only because of this course, through which I've been given all these opportunities to do a lot of independent learning and be nurtured by some brilliant minds.'
As well as contributing to her intellectual and artistic growth, Davis believes the MFA will help her work – and the scripts written by her fellow students – stand out.
'Learning is the thing that will separate scripts, as well as separate stories and ideas too, I think. It's about being able to look at the world in a different way, and I think that only comes with expanding your take on the world,' Davis said.
'That's the great thing about this course – it really does open your eyes to everything and … it unlocks so many possibilities for you as a person, for you as a writer. If anyone is thinking about applying, I honestly really encourage it. It's really challenging, but I definitely encourage it.'