With universal themes, lines that self-propogate like memes ('double double, toil and trouble…' is from this very play) and cultural influence spanning across Broadway musicals, teen rom-coms and Disney, Shakespeare's oeuvre has time and again proven itself to be timeless. And yet still it suffers – undeservedly – from a public perception of being inaccessible, elitist, and remote.
A lesser director than Glenn Elston may allow this public perception to seep into the work, presenting a version of Macbeth that's safe and perfectly pleasant to the ladies in the front row in twin sets and pearls. Glenn Elston and Australian Shakespeare Company's Macbeth evades that mediocre 'safe' territory – or rather doesn't come near it at all, delivering a Macbeth that's visceral, raw, and at times deeply uncomfortable.
'A Macbeth that's visceral, raw, and at times deeply uncomfortable.'
For all its punch and pizazz, it's also a deeply well-considered production with thought, creativity and attention to detail apparent in all facets of the production, on and off stage.
From the director, one gets the sense that Elston wishes to honour Shakespeare's intent – which would have entailed being pertinent to the audience watching it – without altering it into a postmodern mess barely recognisable as the original in an attempt to make it relevant.
Read: Theatre Review: Naked and Screaming, La Boite Theatre
The lighting is glorious and used inventively, contributing more than usual to the stunning final visual result. Details such as kilts on the cast members and bagpipes in the sound design are nice touches that reflect the consideration put into the show, and the desire for authenticity.  Similarly clever is presenting the Weird Sisters as hags initially, then reintroducing them as ethereal, fairy-like beings – reflecting their role in the play symbols of fate and the supernatural, rather than mere distractions.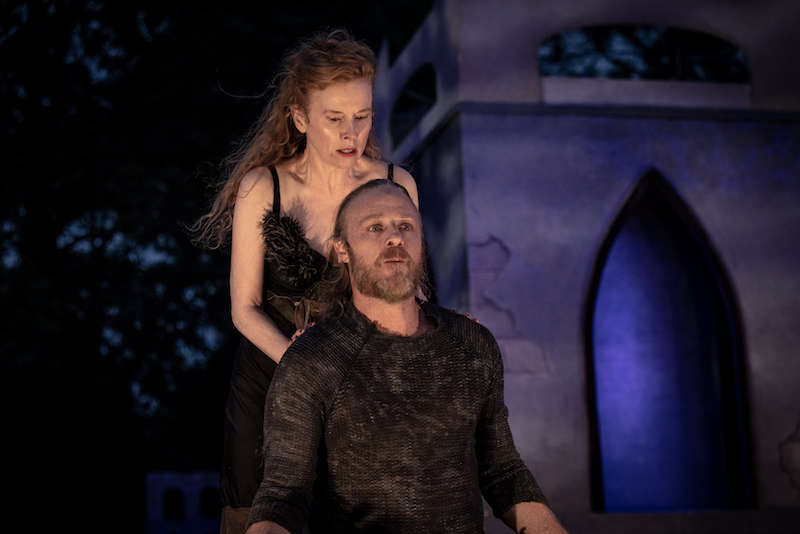 The Australian Shakespeare Company's Macbeth at Melbourne's Royal Botanic Gardens. Photo credit: Ben Fon.
Each member of the cast in Australian Shakespeare Company's Macbeth is exceptionally well-trained, showing that technical finesse and raw passion, although not always coincident in the same performer, are in no way at odds with each other.
Alison Whyte's command of the tools of her craft – of which her bell-like voice is but one – allows her to deliver an iconic Lady Macbeth. She imbues not just the spoken lines but the pauses and moments unspoken with subtext and internal life. Hugh Sexton's Macbeth is less assured, but has a blustery quality befitting the role. The contrasting styles of the two leads plays off each other nicely, like Fire and Ice. (It's worth noting – and to Sexton's great credit – that he was filling in for Nathaniel Dean who had injured himself on set a few days prior. Lest there remain any doubt about the 'realness' of this production of Macbeth!) 
'The contrasting styles of the two leads plays off each other nicely, like Fire and Ice.'

The ensemble's extensive training and command of their voices and bodies enhances rather than hinders the passion and authenticity on stage. Lines with unyielding archaic vernacular are delivered with off-the-cuff ease, in a way that often less scripted than reality TV.
The intimate moments are almost uncomfortably intimate, the fight scenes are suspenseful and unnerving. The ensemble's physical training sees them well positioned to execute some of the more demanding fight scenes and choreography, excellently devised by Charlie Mycroft and Sue-Ellen Shook. 
In these turbulent, uncertain times where plans for the week ahead can be as mercurial as Melbourne weather – dashed in an instant with a gust of wind or airborne particles, there may be nothing better positioned to restore the spirits of avid theatregoers than a timeless Shakespeare play done well. Fortunately for us Melbournians, Glenn Elston and Australian Shakespeare Company's Macbeth is just that.
4 ½ stars out of 5: ★★★★☆

Macbeth
Australian Shakespeare Company
Director & Designer: Glenn Elston OAM
Musical Director: Paul Norton
Fight Director: Charlie Mycroft
Choreographer: Sue-Ellen Shook
Macbeth: Hugh Sexton 
Lady Macbeth: Alison Whyte
Royal Botanic Gardens Melbourne
30 January – 6 March 2021
$20/$59/$99