When Uncle Mickey Kumatpi Marrutya O'Brien gave the Welcome to Country at a Tarnanthi opening event last week, he reminded those in the Gallery how Aboriginal culture is about a series of needs, rather than wants. He expressed how, for many Aboriginal people, the impetus of their cultural practice is about acknowledging the necessities required for survival.
At first glance, one may not readily connect those ideas with the work of contemporary painter Vincent Namatjira, whose work points more towards his personal experiences, his politics and his desire to poke fun at the establishment.
But in Namatjira's first survey show, Vincent Namatjira: Australia in Colour, presented by Art Gallery of South Australia (AGSA) as part of Tarnanthi 2023, it is impossible to ignore the deep human needs that propel this artist into creative action.
Namatjira's brightly coloured, often amusing, works are in fact full of biting messages that point to the injustices experienced by individuals and by whole generations of First Peoples that have curtailed the kinds of human needs that many take for granted.
The exhibition reverberates in energy, colour and magnetism, and its curatorial choices harness those forces to bring us closer to some difficult truths that inform the story of how Australia has been built as a nation.
Upon entering the main space, the first thing we see is the epic portrait series from which the show takes its name. Namatjira's work Australia in Colour (2021) – a piece acquired by the National Gallery of Australia in 2022 – reads as a snapshot of the artist's 'very important people', with the artist himself at the centre.
There are 21 individual portraits in all, starting with a beaming Cathy Freeman – her arm raised victoriously after her gold medal win at the 2000 Olympics. Next to Freeman is AC/DC legend Angus Young, in his requisite school cap and captured with the surprised look of a superstar caught by the paparazzi's gaze.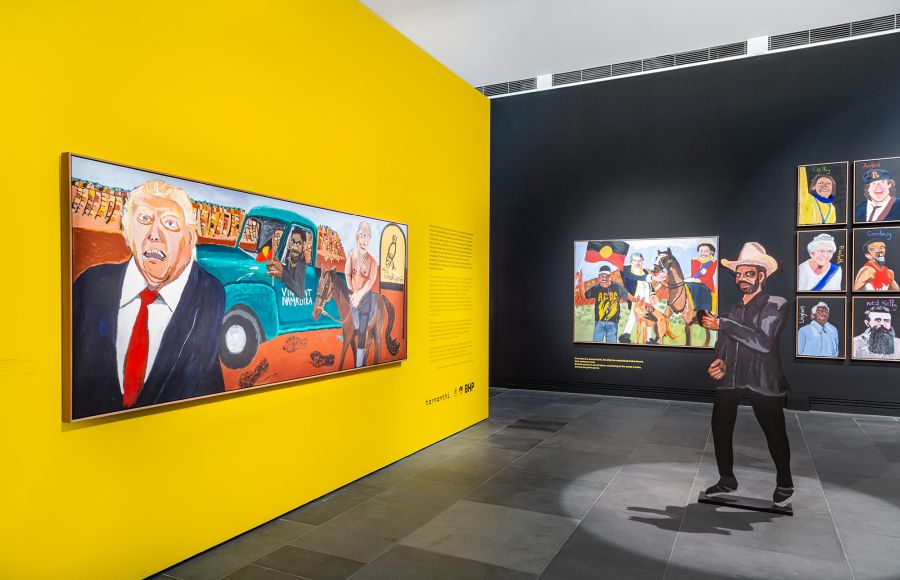 Next to him we see a forlorn-looking Albert Namatjira – his shoulders slumped and his expression uncertain. This portrayal of Vincent Namatjira's great-grandfather is one that becomes more meaningful to viewers as they encounter even more of his portraits of his great-grandfather presented in other sections of this show.
These portraits of Albert are shown in an adjacent smaller gallery and are set against a darkened wall, opposite three stained glass windows. These works appear as obvious homages, and while the church windows are actually permanent fixtures of the space, they provide beautifully fitting allusions to Albert Namatjira's strong Christian faith.
The most prominent works in this room, however, are taken from the artist's 2014 series Albert's Story, charting key moments in Albert Namatjira's life – from his early days of being initiated in the bush, to his dying in hospital of a "broken heart".
They stand out, not only as examples of Vincent Namatjira's early work, but because they are not infused with the humorous tones that characterise much of his other works. Instead, they are tragic in their portrayal of the burdens that Albert Namatjira carried with him as a result of, and in spite of, his fame.
On that note, it would have been nice to see works by Albert Namatjira included in this show (as chosen by Vincent Namatjira from AGSA's Collection), presented in greater conversation with his great-grandson's art. Nevertheless, the spread of Namatjira's works, and their placement across the four gallery spaces, reflect the work of an artist who, while respectful of his heritage, is confidently making his own artistic choices.
Read: Exhibition review: Design Fringe 2023, Linden New Art
Vincent Namatjira has a lot to say through his art, and whether his exhibition is enjoyed for its witty takes on present day politics or for his equally funny mash-ups of Australia's links to the Crown, it's inevitable that more serious themes about Australia's history will also emerge and reveal a lot about where Australia stands today.
From intimate personal stories to broader political issues, Namatjira casts his eyes over a great deal of it, and this survey show bring his canvases to the forefront as powerful beacons of these stories. Overall, it's a stimulating experience.
Vincent Namatjira's survey show Vincent Namatjira: Australia in Colour is showing at Art Gallery of South Australia (AGSA) as part of Tarnanthi 2023. Exhibition runs until 21 July 2024; free entry.
Jo Pickup travelled to Tarnanthi courtesy of the Art Gallery of South Australia.