The annual Design Fringe exhibition this year centres on the provocation of speculative design. Instead of positioning design in "the ask and the answer", Speculation: Eight Billion Little Utopias opens up to possibilities that mirror the fluctuating state of our world today and into the future.
Installations, furniture, glass, lighting and design objects find the perfect balance between curiosity and craftsmanship in the sun-filled galleries of Linden New Art. Jacky Cheng's …that awaits at the end of life (2023) is a meditative and poetic introduction to the show. Embedded in the intricate weavings are different textures of traditional paper often used in ritual and worship, as well as hair, recalling familial ties and memories.
Chairs that are both functional and thought-provoking range from the Giraffe Chair (2023) by Geoz Design, made using leftover cardboard and polystyrene, to Maryam Moghadam's Cheeky (2023), where the seat pad replicates the squishiness of butt cheeks to give sitters a bum-to-bum feel.
Raiden (2023), also by Moghadam, is another example of sophisticated design using salvaged material – a mid-century style record rack that is adjustable to the size of one's record collection. The piece features material rescued from a furniture factory bin, metal scrapyards and online marketplaces, while the marble-like knobs are made from melted HDPE (high-density polyethylene) plastic waste.
In other adjacent gallery spaces, design presents possibilities. Such include Paul Charlwood's Renter's Couch (2023). Fabricated from an old suitcase, the work comments on Melbourne's eye-watering property prices and offers a sarcastic approach. Nearby, Bonnie Lee's Planet A is an impressive installation looking at the future of human habitation – idle and eerie in equal measure.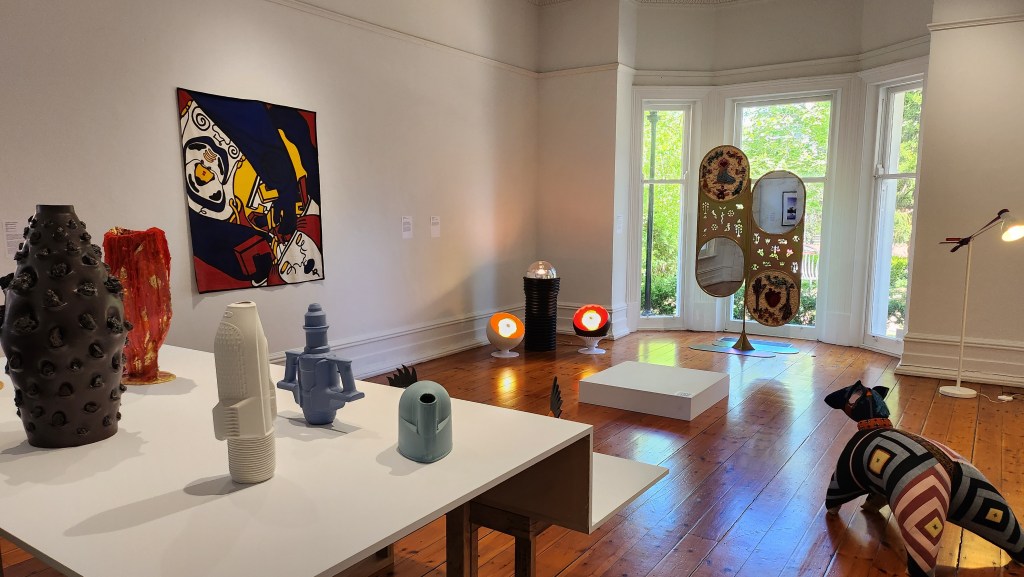 This year's Design Fringe places particular focus on gender representation, working together with the Naomi Milgrom Foundation and the Victorian Women's Trust to ensure over half of the 47 participating artists identify as female or gender diverse. Marta Figueiredo's room divider I go to the depths of the ocean within the body of a woman (2023) is an empowering example. The piece radiates energy in its golden panels and folklore motifs, complete with vibrant wool offcuts.
Elsewhere, design seeks to ask questions by dismantling its bond with function. This is seen through pieces such as Jake Williamson's I already saw that on instagram (2023), a coffee table that can only hold a phone, and Gemma Serafin's VERDE (2023) with a sunken marble platform that is fragile and difficult to access. These designs create problems for the user, rather than offer solutions or even convenience.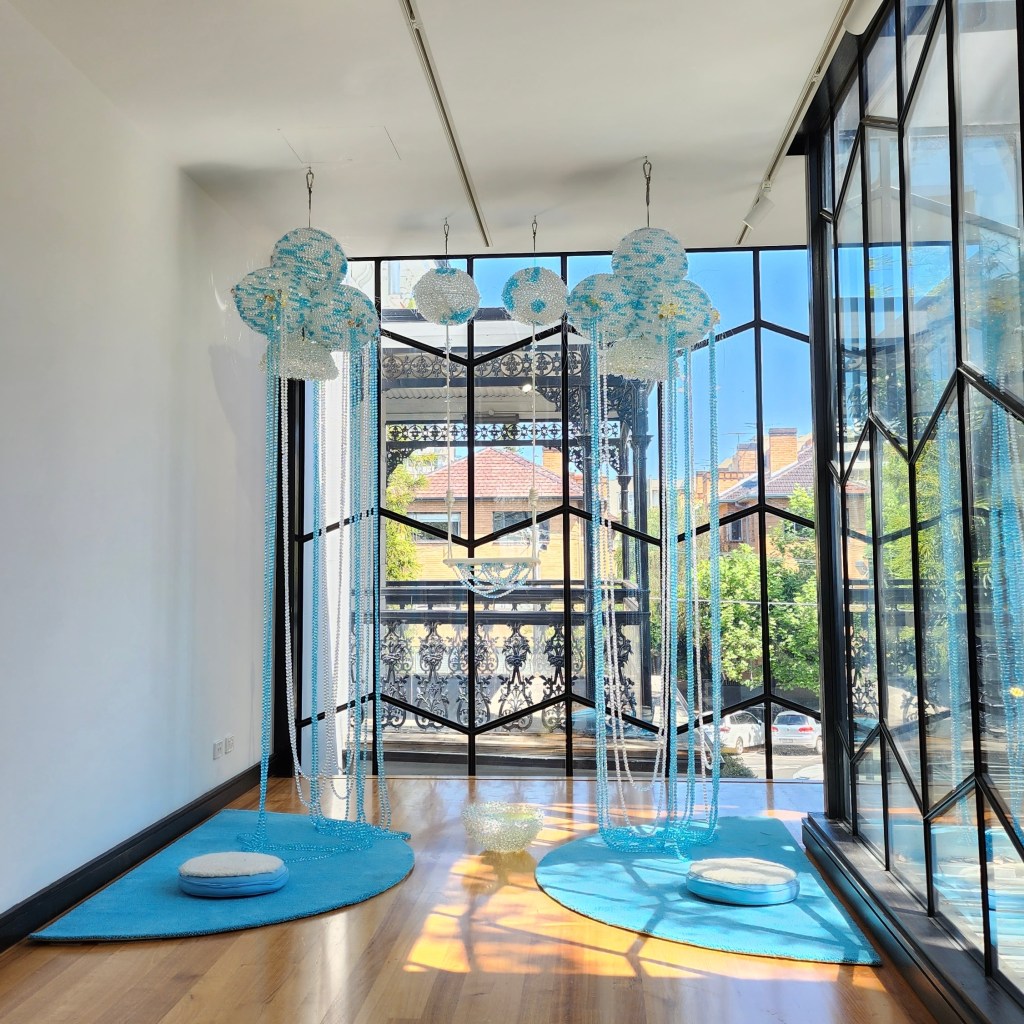 In Linden's upstairs space, Susan Lincoln's The Swing (Light, Water, Cloud) (2023) and Ilan El's Cannons of Hope (An installation of 12) (2023) form a dazzling and deeply engaging display. Visitors will be instantly transported by Lincoln's hanging crystal garlands that invite playfulness, while El's deformed glass vases stand like mementos of resilience on two rows of steel plinths.
Read: Circus review: Mr. III三III (Mr Three), NICA, Melbourne Fringe Festival
Design Fringe, as its name suggests, is fun, quirky, visually stimulating and conceptually intriguing. But in Speculation: Eight Billion Little Utopias, it also shows us the possibilities of design when it is geared with the task of questioning. Does this proposition essentially erode the skill set with which designers are uniquely equipped, i.e. the ask without the answer? Perhaps it is only through these questions that we can peek into the future.
Design Fringe 2023, Speculation: Eight Billion Little Utopias is on view at Linden New Art, St Kilda from 23 September to 26 November; free.