Already we are throwing around the tags post-pandemic, new normal, next era – but the implications of those ideas were not even dreamt of when Los Angeles-based artist Doug Aitken and curator Rachel Kent landed on the title of his solo exhibition for the Museum of Contemporary Art Australia (MCA).
Speaking about the exhibition, Doug Aitken said: 'We spent three years designing this exhibition for the MCA, Sydney and I wanted to activate the architecture in a different way, to turn the museum inside-out for the viewer.'
I see the experience of the exhibition as being authored by the viewer – what they see, how they see it, and how they piece together their own story and their own narrative within the space is up to them.

Doug Aitken
New Era is Aitken's first major solo exhibition in the southern hemisphere and it takes its title from an immersive multi-channel video work he created in 2018. It takes its cue from the history of mobile phone technology, and its creator Martin Coope.
It feels very prescient to be immersed in this work, which is all about digital communication, and to be faced with it IRL (in real life) off the back of a chapter where we have been forced to rethink our social behaviours and how we connect with others.  
This, however, is not where visitors start their journey through this exhibition.
Walking into the space, one is quickly drawn down and through the central axis of MCA's third level galleries, of which the walls have (in part) been skinned in plywood, adding a warmth to the space.
Upon them sits one of the most phenomenal salon hangs of photographs I have witnessed – framed images stacked four high and 22 long – a scale that is then repeated with another group of photos, collectively offering a voyeuristic wander through what feels like a journal – snippets of the banal, or every day.
Titled 99c dreams, Aitken has described it as, 'rudderless … intentionally.' These images do not map a location, rather they capture an emotion. As one wonders along their expanse, we find our own connections within this work, our eye washing over many before coming to rest on those that resonate – a different pick for each viewer.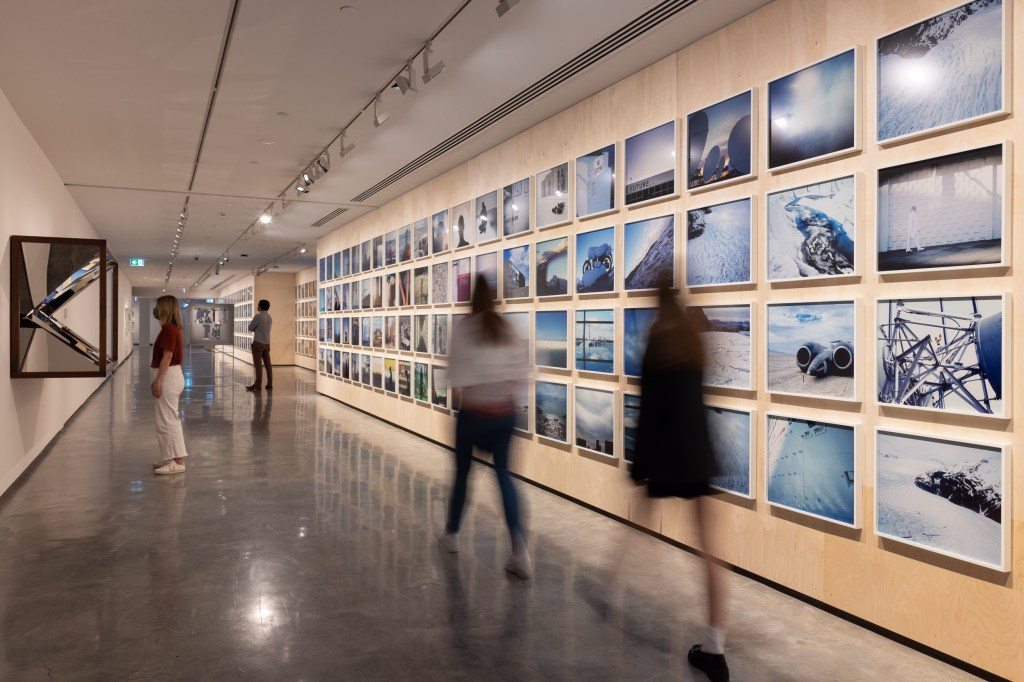 Opposite them are the fractured mirror sculptures, 1968 (broken) (2011), NOW(dark wood) (2016), and END/RUN (timeline) (2014) for example, which suck the viewer in with eye-candy fascination, and indeed seemingly place you within their reflective shattered mess.
It leaves one pondering whether 2020/1 are worthy of their own shattered edition?
What is constant across this exhibition is landscape as an idea, both in a metaphorical and literal form. This might be as obvious as a traveller viewing a landscape from a plane's window in 99c dreams to the video installation Underwater Pavilions (2017) placing art beneath the sea, to the sheer vacant Nambia Desert with the video installation, diamond sea (1997).
Read Q&A: American artist Doug Aitken
One of the most ambitious works in the show (they are all pretty ambitious!) is migration (empire) (2008), three billboard style screens, each echoing the same reel. These were filmed in those iconic drive-in banal motels that pepper America, but in a delightful twist, taken over by wildlife – a fox, bisen, owls and so on. That repetition plays into the kind of peripheral passage of movement down a highway – and the staccato drumming of advertising that interrupts both landscape and humanity.
It is a nice segue moving from 99c dreams to this work, knowing that some of Aitken's first photographic works were of empty billboards in the early 90s. There is a kind of soft seething anarchy across much of Aitken's work, that uses the immersive experience to give agency to ideas.
The tone changes in the exhibition with the massive installation, Sonic Fountain II (2013/2015), again pushing boundaries and perceptions by bringing in mounds of earth and water into the gallery space to comprise a sonic work.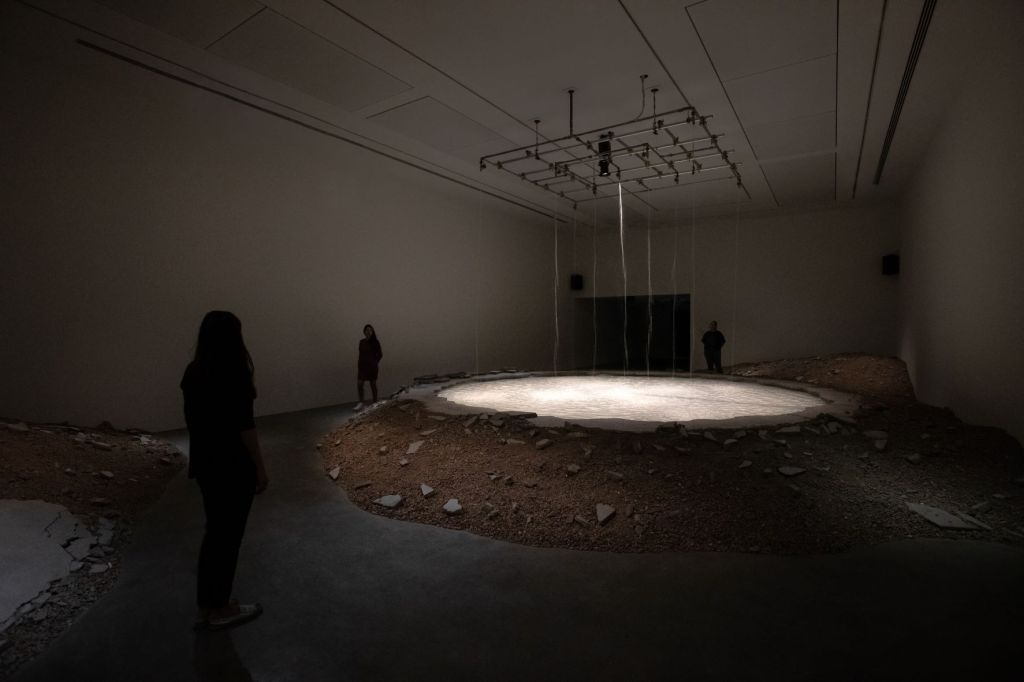 What I like about this work's presentation is the viewer is forced to passage through it to move to the next gallery, its drumming resonance almost physically felt. As with New Era, first mentioned, its foundation rests with computer algorithms as a mediator and moderator of our contemporary lives, just as circadian cycles of nature are so deeply embedded within our motions and actions.
Read: Exhibition Review: Matisse Life & Spirit
I particularly want to pay a nod to a gallery given over to Aitken's Catalogue Raisonne, which maps his live events and performative works within the natural landscape: such as Station to Station (2013), a moving train that travelled 40,000 miles – each carriage a studio, each stop a mini festival – and similarly New Horizon (2019), a hot air balloon journey paired with pop-up performances.
Both these project embrace landscape as a tool – as a raw material – and focus on the kind of ground roots energy and sense of renewal that comes with nomadism. They offer us great lessons in our times, and pay a nod to arts role within communities.
The exhibition will be joined next month by a further work, SONG I (2012/15), which will offer another lens on humanity and arts' capacity to connect people.
Doug Aitken: New Era was Rachel Kent's last major show before leaving the MCA, as Chief Curator, to take the helm of Bundanon Trust. She leaves and incredible legacy of exhibitions, which Aitken now joins. This is an exhibition that doesn't disappoint, and in so many ways reaches out to audiences offering them a comfortable stride through contemporary art making.
Doug Aitken: New Era
Museum of Contemporary Art Australia (MCA)
20 October 2021 – 6 February 2022.
Curated by Rachel Kent.
Ticketed.
The exhibition is presented as part as of the 2021-22 Sydney International Art Series, for Destination NSW.