Californian artist Doug Aitken has been celebrated internationally for his work, which ranges from architectural interventions, to narrative films, immersive multi-channel video works, live performance, photography and sculptures.
What connects all is a desire to 'disrupt familiar art-viewing patterns and jar viewers awake, narrowing the gap between them and the art,' describes the LA Times.
Curator Rachel Kent adds: 'His works lead us into a world where time, space, and memory are fluid concepts.'
Those concepts of a fluid world are more pertinent today than ever, and will be explored in a major survey exhibition at the Museum of Contemporary Art Australia (MCA), curated by Kent. Spanning 25 years of Aitken's career, the exhibition opens on 20 October and is presented as part of the Sydney International Art Series – those summer blockbusters that place the memorable in our everyday.
Visitors will experience some of Aitken's most iconic installations, including Sonic Fountain II (2013/2015), a large-scale sound installation built into a rocky terrain situated within the gallery, over which water spills from a suspended ceiling grid, its sound amplified to create a rhythmic drumming in the space.
Also a highlight is Aitken's immersive video installation NEW ERA (2018), a massive structure of screens and mirrors that viewers enter into through a tunnel-like passageway, and is inspired by the history of mobile phone technology; and SONG 1 (2012), a 360-degree panorama of ordinary people performing the song, I Only Have Eyes for You.
Aitken said: 'I see it as an exhibition that's specific to Sydney and the harbour – but, once inside, it could be everywhere and anywhere.'
ArtsHub caught up with Aitken on the eve of his exhibition to explore a post-screen, post-COVID future, the role of the physical in the art experience, embracing fear and more.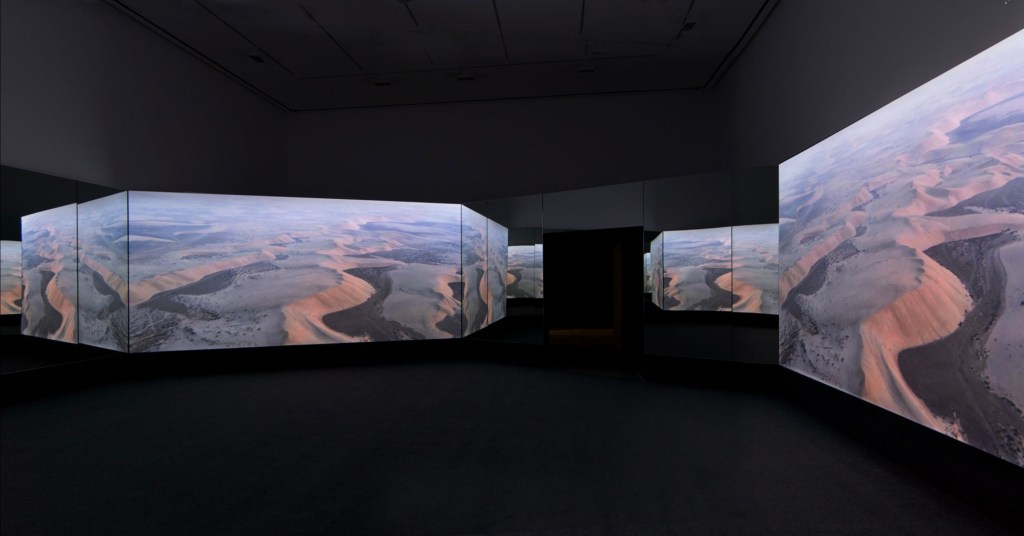 IN CONVERSATION
ArtsHub: Today is insanely different from when this exhibition was first on the table. What was the attraction, back then, to bring it to Sydney?
Doug Aitken: I'm a huge, huge fan of Australia, and I've been there many times, and I think it was a conversation we had, when I first did a project with Rachel like, you know, 300 years ago. And somehow, this idea has evolved to create something that has really major works.
I was elated, because in Australia, it's always been single, isolated pieces with big gaps of time in between. I looked at this situation and I thought it would be fascinating if we could create an exhibition that's very diverse; that's very immersive, and kind of really pulls the viewer into the works and allows them to author their own experiences, as opposed to something that's very mediated and very detached.
I wanted something where the viewer 'breaks the glass' and they kind of move inside the screen, and they'd become it.
AH: You use the word immersive, and it's a word often attached to your work. So let's get the COVID question out of the way: on the one hand, COVID has promoted a kind of timelessness, and that has a synergy with a lot of your work. But then the flip side of that is that much of your work relies on that physical experience, which COVID has removed. How's that going to play out at the MCA, that kind of push pull of physicality and time?
DA: I think this period of time under COVID has been extreme for everybody. It's been extremely disruptive; it's broken the patterns that we've had in the past. And some of the by-products of that is that we find ourselves living on a screen-world much more.
I believe that two things will happen. As we come out of this, I think we will become more accustomed to this idea of the screen, and the idea of moving through information – like water – experiencing information faster.
The other by-product of that, is we will have a renewed fascination with the natural world – with a physical, tactile world around us. I believe that the natural world will become almost foreign to us, and will become new and vital and fresh, and I hope, in a different way. For me, that return to the real is a very important aspect of how art can function in our society.
There is an installation, for example, at the MCA titled, Underwater Pavilions, a work I made under the Pacific Ocean. You really had to swim into this work, to dive or snorkel and push under the ocean surface and move through this kind of huge flooding installation.
A lot of people came to me later and said, "You know, I've never experienced the sea like this." It was interesting seeing this kind of reality fracking, where suddenly an artwork could break a viewer out of how they normally see and take them into a different realm.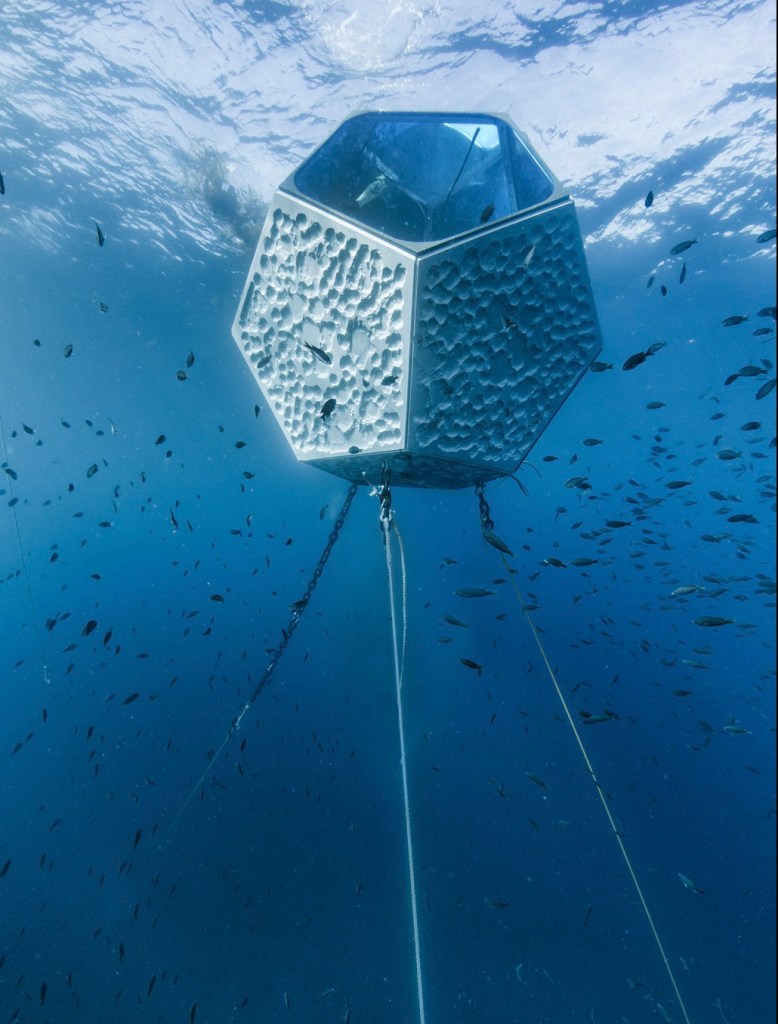 I think the show at the MCA is about falling into it, and piecing together of your own story. Do I look at an object on a pedestal or am I surrounded by it – am I inside an idea? I really wanted the show to empower the viewer in a way.
It is a period of time where it's really challenging, the idea of the physical, and the physical exhibition in the museum. So my idea is, well let's take it even further if we can; let's make it even more physical.
AH: You speak of the physical world and the environment. Is there a soft activism in the way you immerse the viewer in the landscape within your work?
DA: I think there is. The earliest piece in the exhibition is from 1997, which I made in the diamond mines of Namibia. I wanted to create a work that was not an editorial, it was not casting judgment, [rather] it was showing this incredibly extreme contrast.
You can excavate ideas, or kind of sculpt stories, in a way that they don't rely on a black and white view, but instead they allow for something that is more for the viewer to unearth, and to sequence together their own perspective and their own story of something.
AH: Another work for Sydney is Song I – everyday voices singing I Only Have Eyes for You. How has that song held up with time? Has its resonance changed in this new normal screen age?
DA: I think it was written in the late 1920s. It's been passed on and on, and is one of the most covered songs in the world. I was interested in making a work that became almost a thread through humanity, and a way of mapping a modern urban city, going from person to person, place to place.
But within this work, its recreated maybe over 50 times with every variation of music from electronic to Gospel to slide guitar, to blues and it becomes kind of like oxygen; it just becomes this omnipotent pattern of sound in the air that's moving across a vast expanse connecting intimate moments.
It really was about humanisation, about sharing and connecting, and a kind of silent thread that bonds you and the stranger next to you.
AH: You have used everything from train journeys, to architecture and music as mediums – how do you match the right medium for the right project?
DA: I think sometimes it's intuition when a medium is right for an idea. It might be an impulse, and you start feeling it moving in a certain way.
AH: Today we often talk about democratising art, getting out of those confines of the white cube and disrupting how people view, and what art can do in terms of transforming those synapses between physical object and thinking. What is your attraction to pushing your art up against the everyday?
DA: I think that's one of the things that's also very important about this period of time. This last year and a half, or two, it's been a period of intense questioning of radical inquiry. We need to ask ourselves, what do we want the role of art to be? Where should it be? How can it exist? What's our threshold of acceptance? And I think that by asking ourselves in our society these questions, it will allow us to grow much further in terms of the possibilities in the future.
With this exhibition, New Era, it's been an amazing collaboration to see how we can push against these walls in the museum and try to make something different. I think that's why museums need artists, so there can be this dialogue that happens.
I think that the museum is incredibly valuable, but I think that it's not the only possibility. And there are so many different options and possibilities in front of us for where art can be and what it could occupy in the satellite [realm].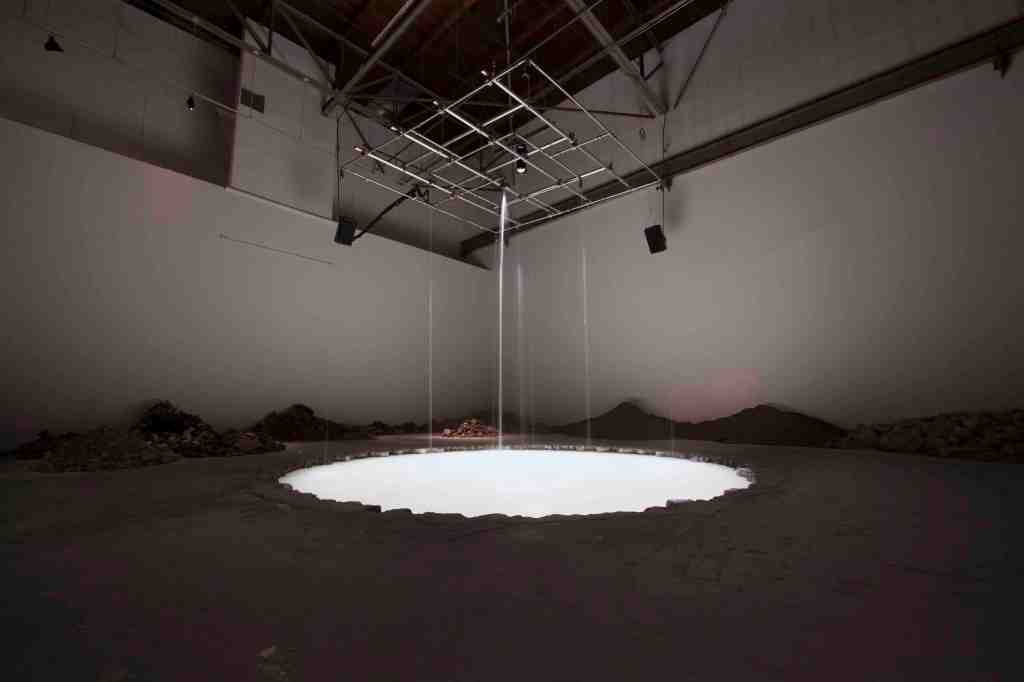 AH: You've said in interviews that you believe there's no such thing as failure, that you're "fascinated by taking concepts to the point of breaking, where things fall apart, and that is where you learn the most, where you're most inspired". What do you mean by that?
DA: I think perhaps I was talking about the idea that to make works you have to embrace that failure is part of the equation, and at times, maybe you can visualise what the next moves are – that's probably not a very good place to be in, because you're already predicting the outcome.
To me it's much more fascinating to take something off the edge and watch it collapse, and then take the pieces and rebuild them.
For me, it's much more engaging when the practice of making art take you into a space that's maybe unfamiliar or uncomfortable even. That's where you start discovering, and that can be physical or intellectual or process driven – it doesn't really matter – but I think those times, when you don't quite know where it's gonna go and you see things on the verge of collapse, those to me are very important moments.
AH: So how do you embrace fear in that moment?
DA: Fear can mean many different things of course, but I think that in the practice of art making I think of just to keep pushing, you just keep going, and you recognise that that's just part of the way it works. You can't really pull back and say, "You know, this isn't working out; I don't feel comfortable doing this".
Doug Aitken:New Era is a ticketed exhibition at the Museum of Contemporary Art Australia as part of the Sydney International Art Series, 20 October – February 2022.
The monumental work Doug Aitken: Song 1 will open in early December 2021 – February 2022 as a stand-alone project.