First published in The Age in 1995, Judy Horacek's timeless cartoon Woman with Altitude 'represents who we could be,' the Australian cartoonist said in 2007. That sense of boundless possibility – of living a life free of patriarchal chains and constraints – is beautifully embodied in Girls with Altitude, the latest production from the renowned Flying Fruit Fly Circus.
Featuring a cast of 17 young female performers ranging in age from 12 to 18, the production fuses Horacek's pithy, passionate and sometimes whimsical images – projected onto scrims and screens and digitally animated – with an accomplished array of circus skills. The resulting production is joyous, engaging and life-affirming; a staunchly feminist work that utilises comedy to ensure its political bent is never didactic or contrived but which simultaneously never compromises in its important yet celebratory message.
The dialogue between Horacek's images and the circus skills displayed is delightful: sometimes overt, with cartoon captions read aloud by performers to ensure their message is available to even the youngest audience members, at other times more subtle, such as the repeated pattern of cut-out paper dolls projected on a scrim echoed by the virtuosic poses of the adept young artists performing in front of it.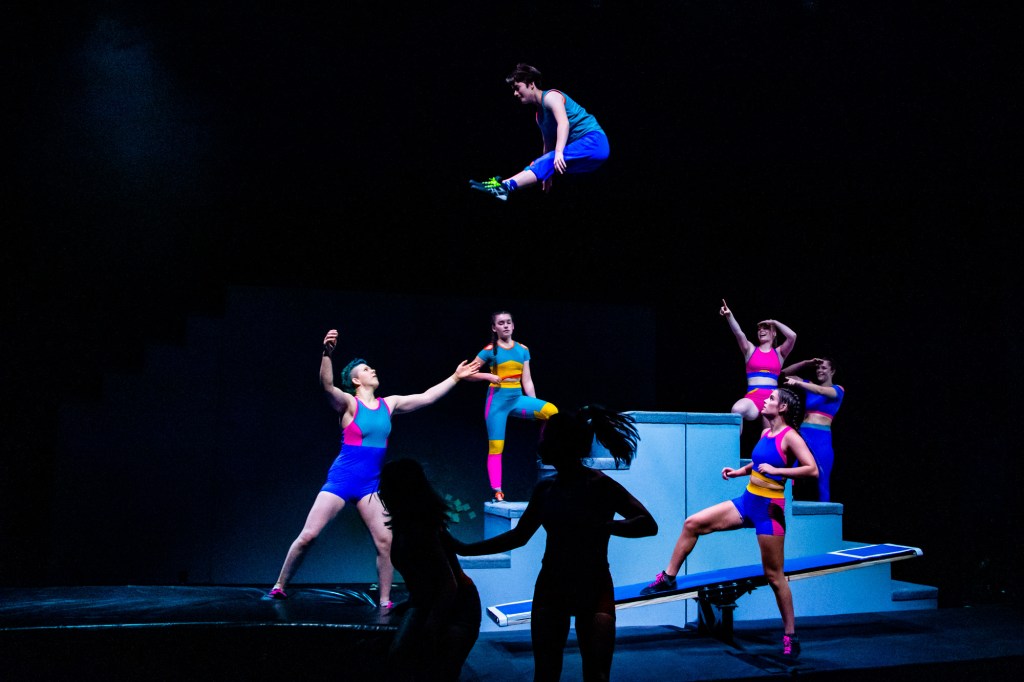 Smoothly directed by Anni Davey, warmly lit by Richard Vabre and set to an evocative score by Ania Reynolds, there are moments of exquisite beauty in Girls with Altitude – such as a trapeze duet performed side-on to the audience – in which the technical aspects of the production fuse perfectly with the performers' skills. A hat-juggling sequence deliberately plays up the different heights and ages of the artists, provoking warm laughter; elsewhere, the overwhelming emotion is a mingled sense of awe and joy.
Not every act impresses: the use of flippers in an aerial act for instance, while in keeping with the climate change message of the particular sequence, is visually striking but impedes a smooth performance. Conversely, April Dawson's vividly coloured costumes, including strikingly realised seahorse heads and a jellyfish umbrella, delight at every turn.
Sight lines occasionally impacted on the production, with some routines performed at the front of the stage – including a charming bottle-walking sequence – drained of impact as a result of being partially obscured by the audience. A raised stage, such as those the Fruities will perform upon during some of their upcoming dates for Girls with Altitude, will correct such minor flaws. Similarly, the occasional over-extended change-over between sequences – such as the time taken to set up a trampoline late in the show – will also doubtless be reduced with practice and the passage of time, ensuring the production is tightened as a whole.
Given the age range of the participating performers, it's understandable that not every artist displays virtuosic skill, but Davey's fluid and finessed direction makes this a strength of the show rather than a weakness, reaffirming the celebratory nature of Girls with Altitude and the critical importance of the Fruit Fly Circus as a school and training institution. Truly, these are ordinary kids doing extraordinary things.
Girls with Altitude
The Flying Fruit Fly Circus
Directed by Anni Davey
Cartoonist: Judy Horacek
Video Designer: Bernadette Trench-Thiedeman
Composer & Sound Designer: Ania Reynolds
Set Designer: Bosco Shaw
Lighting Designer: Richard Vabre
Costume Designer: April Dawson
Rigger: Daryll John
The Cube Wodonga, season concluded
Additional performances:
Orange Civic Theatre – 12 March
Griffith Regional Theatre – 18 March
The Glasshouse, Port Macquarie – 22-23 March
HOTA, Gold Coast – 26-29 March
Pilbeam Theatre, Rockhampton – 2 April
Araluen Arts Centre, Alice Springs – 8 April
Riverside Theatre, Parramatta – 13-14 April
Ulumbarra Theatre, Bendigo – 20-21 April
Bunjil Place, Narre Warren – 23 April
West Gippsland Arts Centre, Warragul – 27 April
Arts Centre Melbourne – dates TBC
The writer's accommodation in Albury was provided by the Flying Fruit Fly Circus.