Hosted by Western Sydney Creative, and presented at the Bankstown campus of Western Sydney University, the inaugural State of the Arts Oration was delivered by Federal Minister for the Arts, Tony Burke this week (7 November 2023).
The Oration follows on from the 'State of the Arts in Western Sydney' report, which was launched in March this year, and called for the region to be 'given a fair share of arts and cultural funding'.
Weighing in on data, the report demonstrated a staggering skew between size of population and arts funding across geography. Western Sydney represents 10% of Australians today (and is home to 50% of Sydney's residents) and yet the region only received 3.4% of federal funds between 2015 and 2023, while Eastern Sydney received 23% comparatively. It, however, is not a trend exclusive to Sydney or NSW. It is a bigger question of democratising the arts.
Read: Art should not be by postcode: report calls for a fair share
'People often just go straight to the dollars. But the dollars have not simply been about making sure there is more; it's also making sure that we democratise funding for the arts,' Burke said.
Jump to:
It's not simply about sewerage
Understandably, Burke's delivery picked up on the report's cry for greater democracy across arts funding, starting with the legacy of former Prime Minister Gough Whitlam (in office 1972 – 1975).
'I want to start there because, for anyone in my party, the history and legacy of commitment for federal policy to the arts is very much always in the shadow of Gough,' said Bourke, drawing attention to a key Whitlam point: 'Gough squarely said we need to pay attention to what's happening in the suburbs as well. If we are serious about equity, we need to be serious about the suburbs.'
Burke reiterated that it was only in 1972 that the Western suburbs received guttering and a sewerage service under Gough. 'The concept, though, wasn't simply about sewage,' it was a national dialogue 'as to whether the regions are getting a fair go.'
Burke continued that it is hard to 'get people to think about the differential in our suburbs. Whenever you start to draw attention to it, you're accused by various media organisations of somehow lodging a class war'. While Burke pointed a finger at the media whipping up the class war rhetoric, he also talked about his own university experience of a Country Road-wearing club-ish fraternity that promoted exclusion, and where the ALP club was mistaken for a group undertaking alpine excursions.
Thankfully, much has changed since Burke's university days, but divisions and social barriers do still exist.
Finding the entry points to the arts
Burke said he found his entry point to the arts 'through cheap uni tickets' to theatre. 'For most people, you might see the ad on the back of a bus or on the back of a taxi, but for most people [in the West] entry to those venues is like when you walk past a church or prayer room or temple or synagogue that is not your own faith, and you just know that's one of the places that, unless there's a really personal invitation, you just don't go on inside.'
He continued: 'What arts funding started to do was to try to fix this. There might be a touring circuit that would find its way dropping past Riverside at Parramatta, or make their way through the registered clubs. It never would have occurred to me to go and see Roger Woodward perform at the Opera House, but certainly I knew it was OK to go when there was a performance at a leagues club.'
Moving beyond artist as token on boards
Burke continued to frame his oration as a kind of continuum from Gough to Revive. 'Gough didn't simply try to end the culture war; he fearlessly engaged in it,' said Burke. 'There is no other way to explain Blue Poles. It was not simply a really smart investment.' He added that while the purchase of Jackson Pollock's iconic painting, Blue Poles, was a statement to Australia that 'this stuff matters', it happened at the same time as the reforming of the Australia Council in 1973, adding that it was 'the beginnings of a democratisation of access to the arts and access to permission to create'.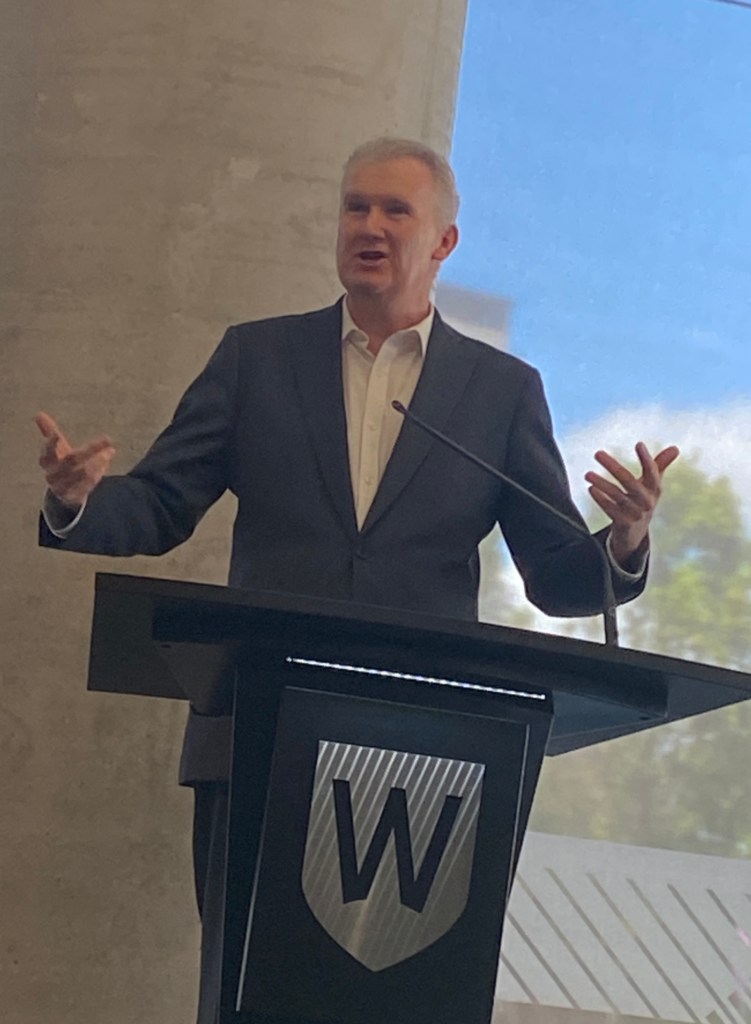 It was when arts boards were created on the [then] Australia Council, in particular the Aboriginal Arts Board. Fifty years on, Burke spoke about the Australia Council's transformation into Creative Australia, and how its Board operates today as a point of synergy with Whitlam in recalibrating the value and role artists play.
'That principle of bringing artists into the decision-making process is something that, in 12 months, I think we've done OK on.'
Burke described attitudes as having 'turned a corner', adding that arts boards 'would occasionally have the token artist and were overwhelmingly populated by business friends of the minister of the day'.
'How on earth did we get to the point that it would be an oddity on an arts board to have an artist, is something I just don't understand,' said Burke.
As Minister, over the past 12 months his government has appointed artists to boards, including, 'on the new Australia Council, the board of Creative Australia – Wesley Enoch, Caroline Bowditch, Lindy Lee, Courtney Stewart, Kitty Taylor. Music Australia – Fred Leone, Danielle Caruana, Sophie Payten known as Gordi. On Creative Workplaces – Tony Ayres, Ruth Hazleton, Fiona Donovan, Bjorn Stewart. On the National Gallery – Sally Scales, Abdul-Rahman Abdullah. On the Film and Sound Archive – Annette Shun Wah. On Screen Australia: Marta Dusseldorp, Sacha Horler, Pallavi Sharda. On the Australian Children's Television Foundation: Michelle Lim Davidson. And on the National Museum – which, think about this: the National Museum didn't have an historian on the board – now Clare Wright. That's in just over a year in reforming boards and finding places for artists.'
Apart from "bums on board seats", Burke also spoke of the funding structure through the new Creative Australia boards. 'We don't want all funding to go through those different boards, the way it did with Gough, because you ended up with some work that didn't fit the silos or pigeonholes of the different arts boards and, therefore, found itself ineligible for funding. We need to keep some of the changes that were made under Julia Gillard and Simon Crean, but to also make sure that we have some areas that are able to promote those aspects that have traditionally been underfunded.'
Five years and counting: Revive
Burke explained the reason for calling the cultural policy "Revive": 'We need a cultural policy for this moment in time, because the position of weakness [post pandemic] was huge. That's why it's called Revive. That's why it's a cultural policy for the next five years, and the clock is ticking.
'This is different to what happened under Gough, different to what happened when Paul Keating introduced Creative Nation, different to when Julia Gillard and Simon Crean introduced Creative Australia. All of those cultural policies put themselves forward as a blueprint for the ages. Right now we need to revive and to get things moving again. In five years' time it might be another five-year policy, it might be something for longer,' he continued.
Burke acknowledged, 'The cultural sector in Australia entered the pandemic weaker than it should have. Weaker from the day that George Brandis took away the money that had been added to the arts budget.
'When that money was taken away, there was an immediate decision that none of the major companies would be penalised. That meant there was only one place left, and the cuts were made to small and medium companies. When you make the cuts to small, medium and independent [organisations], you make the cuts to the suburbs. That's where it happened and Western Sydney, in particular, took a huge hit.'
Burke recognised that the area has not fully recovered, and the pandemic restrictions imposed on Western Sydney further exacerbated the embedded problems and disproportioned support.
He added: 'The restrictions didn't understand Western Sydney. The support didn't understand the arts.' Burke continued that the media also frequently doesn't understand Western Sydney and, while journalists turn up from time to time for a few hours 'it is people who live here – people and artists and storytellers who are from here [who] are uniquely positioned to be able to explain what it is to be here'.
The Minister emphasised the importance of the second pillar of Revive – to make a place for every story. 'We can't allow the stories of Western Sydney to be told by anyone other than ourselves,' he added.
Two-way street
Burke mentioned Bankstown Poetry Slam and Urban Theatre Projects as thriving examples of taking art made in the West to the cities and nationally. 'The suburbs need to be a place for creation. The suburbs need to be a place where people can know they have permission – that this is not simply the domain of others, that the creation of art and the viewing of art should always be connected to the value of story, and never dependent on the entitlement of privilege. In doing so, we're now starting to edge our way back to what Gough did with the arts boards,' said Burke.
The Minister indicated the Government's steps towards this: 'On the first of July we established Music Australia. We needed to be able to let the music industry function differently for contemporary music. We now have Creative Workplaces already established – so many stories of hardship and unfair treatment were in workplaces – and on the first of July next year we will start the First Nations body.
'In too many instances a work starts at a community level and, as it grows, the cultural licence and the cultural ownership starts to dissipate, because whoever is the bigger funder starts to be the one making the decisions. The First Nations body will be able to help correct that,' said Burke.
'Then the following year after that Writers Australia will be established. For as long as I've known, writers have been the most underfunded area of work. So here is a national policy, at cabinet level, that affects every portfolio that has been adopted. That, of itself, is a statement.'
While Burke's Oration did not deliver any new promise or statement – in fact, it called upon legacy heavily to deliver a picture of commitment to the broad church of the Australian public and the right for all to access arts and culture – the Minister's very decision to present it in Western Sydney is affirmation of his Government's commitment to place value in the stories of all.
To read Minister Burke's full address.
What is Western Sydney Creative
In 2019, Western Sydney University launched the Western Sydney Creative (WSC) decadal strategy, establishing a new opportunity for the arts and culture of our region, including championing, celebrating and investing in the local in order to assist in the growth and maturation of the region's arts and cultural landscape nationally and internationally.
The inaugural State of the Arts Oration was delivered by Federal Minister for the Arts, Tony Burke, 7 November 2023, at the Bankstown campus of Western Sydney University.