Overall 2022 is a big year for survey exhibitions, for curatoriums or collaboratively shaped exhibitions, for rethinking identity either through portraiture or gender and queer identities, and a deep dive into place and materials.
The dominance of shows featuring women artists and climate based conversations that have shaped the past couple of years has eased in 2022, giving way to other topics and themes. Some galleries remain cautious about publishing programs too early, with the pandemic clearly still in sight and offering disruption, but overall the feeling is more optimistic that the year will deliver strongly across the sector.
MAJOR SURVEY EXHIBITIONS
Kicking off the run of deep dives is Campbelltown Arts Centre (C-A-C) with Khaled Sabsabi: A Hope (4 January – 13 March ). While pulled into protests around Sydney Festival, the exhibition is part of a larger partnership with the Art Gallery of New South Wales (AGNSW), which last year presented the first chapter of a survey exhibition spanning more than two decades of Sabsabi's multidisciplinary art practice.
TarraWarra Museum of Art's Director Victoria Lynn, has curated a major new exhibition of the work of Australian artist David Noonan, bringing together recent collages, new tapestries, a new film and a major new commissioned installation. On view 24 March – 10 July 2022
Australian artist Elizabeth Pulie's first survey exhibition, mapping 30 years of her conceptual practice, #117 (Survey) has been curated by James Gatt and opens at UNSW Galleries 15 January – 10 April.
UNSW Galleries' program is heavy with solo exhibitions this year, including shows by Canberra-based glass artists Mel Douglas (15 October – 27 November) and Adelaide based Liam Fleming for the International Year of Glass, among a suite of other focussed solo exhibitions.
Vivienne Binns: On and through the Surface is a project much anticipated by the sector, co-curated by Monash University Art Museum (MUMA) and the Museum of Contemporary Art Australia (MCA). Regarded as a groundbreaker and thinker, the experimental work of Binns often pre-empted some of most significant cultural discourses of our times: from women's social and sexual liberation to Australia's regional identity. This this major survey exhibition brings together over 100 artworks drawn from six decades. Catch it in Melbourne 5 February – 14 April or in Sydney from 15 July – 25 September.
MUMA are also presenting major solo exhibitions this year in Melbourne by artist Shelley Lasica, WHEN I AM NOT THERE (15 – 27 August ), and Helen Johnson: Let the Painter In and Out (10 September – 12 November).
Solo exhibitions appear to be a bit of a trend for university based art museums in 2022, with UTS Gallery presenting Maggot: Sidney McMahon (17 May – 10 June), followed by a major exhibition of Hannah Brontë's videos, banners and large-scale installations, titled Kaleidoscope Healing (20 September – 11 November).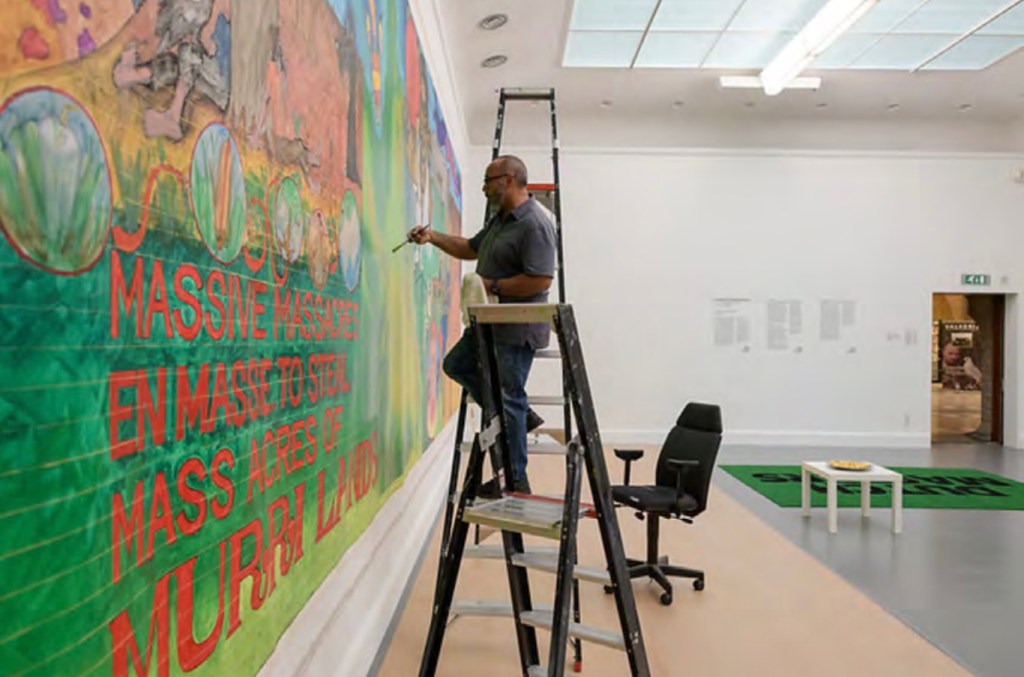 While in Brisbane, a sure highlight will be Gordon Hookey: A MURRIALITY, the first survey of renowned Waanyi artist, charting three decades of practice where artmaking and activism fuse with satire of Australian culture and politics. Curated by Liz Nowell, José Da Silva and Jax Compton it first opens in UNSW Galleries from 30 July – 2 October, then travels to Institute of Modern Art (IMA) in Brisbane 21 October – 23 December.
IMA's strong program for 2022 also includes award-winning artist and director Jenn Nkiru's
first solo exhibition in Australia, REBIRTH IS NECESSARY, which explores the dynamism of Blackness pushed through an afro surrealist lens, 7 May – 9 July.
Another important survey of First Nations artists is AGNSW's exhibition Daniel Boyd: Treasure Island featuring over 80 works from his near two-decade career, which provides a lens to Australia's colonial history.
Read: First Nations calendar 2022
Other solos and surveys worth noting in the diary are Luke Sciberras: Side of the Sky (4 June – 7 August). In partnership with Bathurst Regional Art Gallery (BRAG), Campbelltown Arts Centre presents the first time the artist's 25-year practice has been exhibited in-depth.
Similarly, Salvatore Zofrea: The Drawn Line is a partnership survey exhibition between Manly Art Gallery & Museum and Orange Regional Gallery, covering six decades of his practice. Opens in Orange, 26 February – 1 May.
And, a highlight will be Art Gallery of South Australia's (AGSA), Nalini Malani: Gamepieces (4 November – 29 January 2023), a look at one of India's foremost contemporary artists.
REGIONAL HIGHLIGHTS
A major new biographical exhibition exploring one of the most iconic and influential figures of the 20th Century will be presented in an exclusive to Bendigo Art Gallery. Elvis: Direct from Graceland (19 March – 17 July) will feature around 300 authentic artifacts owned by Elvis Presley, direct from the icon's Graceland home in Memphis, Tennessee.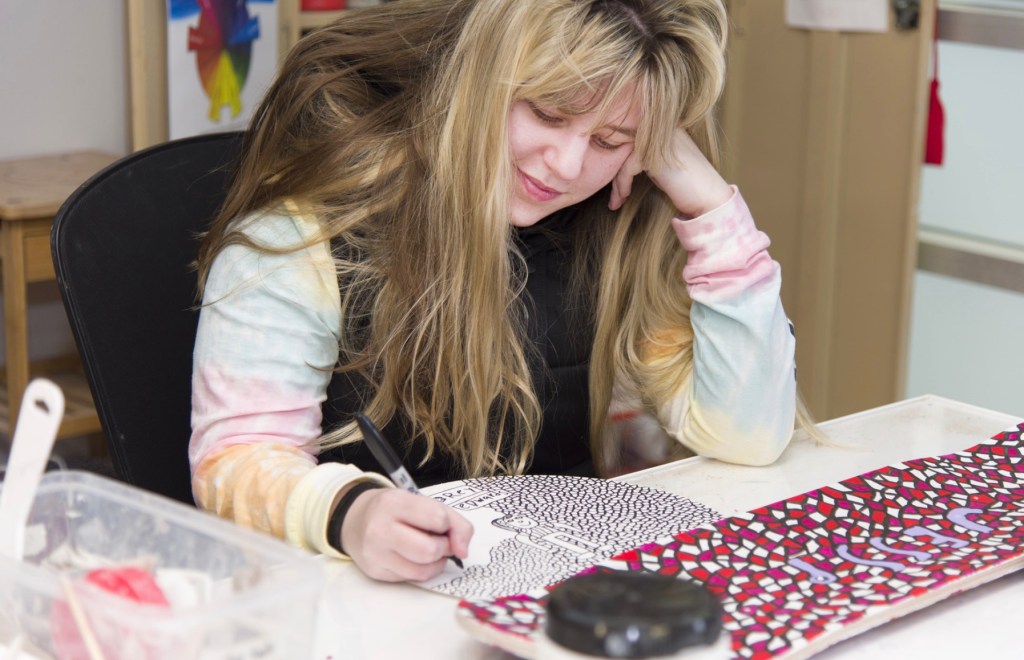 And a show that deserves a nod is Campbelltown Art Centre's Little Orange Goes Big, an immersive gallery take-over of new work by Little Orange Studio artists from 20 August – 9 October. Little Orange is a C-A-C working studio for Western Sydney artists who identify as a person living with disability, d/Deaf and Hard of Hearing and/or Disabled Creatives. The exhibition will be accompanied by a lively artist-led public program of workshops and events which will see the space activated by performance and collaboration – brave and powerful.
Read: 2022 museum shows to spark curiosity
THEMED EXHIBITIONS
While arguably the biggest punching themed exhibition of 2022 will the Biennale of Sydney, taking its cue from waterways, rivers and our shifting landscape under climate pressures, other themes that pepper the calendar this year are understandably looking at contemporary glass practice (given it is the year of glass), portraiture, Queer identity, textiles and photography, and more.
Who Are You: Australian Portraiture is one of the most comprehensive explorations of portraiture ever mounted in Australia and the first exhibition to bring together the collections of the National Gallery of Victoria (NGV) and the National Portrait Gallery (NPG), Canberra. It will consider the role the portraiture genre has played in the development of a sense of Australian national identity. It opens in Melbourne from 25 March – 21 August, and Canberra from 1 October 2022 – 29 January 2023.
Taking a geographic centrepoint as a theme, Tracks We Share: Contemporary Art of the Pilbara will be a landmark exhibition presented at Art Gallery of Western Australia (AGWA) in collaboration with FORM and Aboriginal art centres Cheeditha Art Group, Juluwarlu Art Group, Martumili Artists, Spinifex Hill Studio, and Yinjaa-Barni Art; and independent artists Katie West, Curtis Taylor, and Jill Churnside. It will bring together more than 70 artists and over 200 artworks offering a rare and broad-reaching insight into the region's artistic output over the years. It opens 11 March.
Read: 12 Biennale and Blockbusters 2022
Similarly, Collective Movements at MUMA (4 May – 23 July) will be an exhibition directed by Taungurung artist and curator Kate ten Buuren, who has chosen to work with a curatorium of First Nations creatives, and acknowledges the way Indigenous creatives work within a broader community and its inheritances.
The Arena is a group exhibition that platforms sport as a performance, and positions a range of video work, painting, photography and sculpture by Khaled Sabsabi, Marikit Santiago, WBYK, Zoe Croggon, Richard Lewer and Tully Moore. Opens at the newly renovated Orange Regional Gallery 29 January – 13 March.
What would an economy founded on care look like? And how do you 'value' knowledge created outside the capitalist system? These are some of the questions the group exhibition An Alternative Economics, curated by Tulleah Pearce for IMA will attempt to visualise. Opens 7 May – 9 July.
It is perhaps only challenged as a key highlight of their 2022 program by another group exhibition, This language that is every stone, where superstar international curator Hans Ulrich Obrist again works with a curatorium of local curators and artists to unpick diasporic pidgeon-holes. On view 12 February – 16 April.
IMMERSIVE EXHIBITIONS
From 1 April, visitors will go 'dotty' given the opportunity to immerse themselves in Yayoi Kusama's The Spirits of the Pumpkins Descended into the Heavens at AGSA. The room-sized installation is touring from the NGA. It will be presented alongside this year's Adelaide Biennial.
Geelong Gallery has turned to Sally Smart's immersive project, P.A.R.A.D.E. (19 March to 3 July) to coincide with Geelong Design Week and offering an experiential environment, comprising textiles (costumes and curtains), sculptural components and performance (video & sound) inspired by the sets and costumes designed by Pablo Picasso for the Ballets Russes' Parade in 1917.
The Interior by Natalya Hughes will be an immersive installation combines sculptural seating, richly patterned soft furnishings, and uncanny object d'art, nestled around a hand-painted mural to generate a stimulating space to unpack our collective and unconscious biases and the role of women. At IMA in Brisbane 30 July – 1 October.
Presented through the lens of virtual reality, can't buy me love is an immersive experience that purports to sell the audience the intangibility of spiritual enlightenment. Curated by Wiradyuri conceptual artist Amala Groom and Andrew Burrell for UTS Gallery (8 April—6 May).
ART FAIRS AND VISUAL ARTS FESTIVALS
Kicking off the art fair circuit for 2022 is Melbourne Art Fair from 17 – 20 February at Melbourne Convention and Exhibition Centre. Cairns Indigenous Art Fair returns 6 – 10 July, followed by the Darwin Aboriginal Art Fair 5 – 7 August. And Sydney Contemporary is looking forward to returning to Carriageworks from 8 – 11 September.
Sculpture festivals will again dominate in 2022, a safe bet at a time when being outdoors is welcomed. The first to roll out will be Sculpture by the Sea Cottesloe (WA), celebrating its 18th year (4 – 21 March). And after two years of cancellations, Sculpture by the Sea will finally return to Bondi in October.
Originally planned for November last year, Lorne Sculpture Biennale will be presented from 12 March –3 April. Working to the 'Spirit of Place' theme, Artistic Director, Graeme Wilkie said this year's installation will speak directly to the multiple histories of Lorne.
And with regard to visual arts programming for festivals internationally acclaimed UK artist and filmmaker Isaac Julien, is presenting projects concurrently for the 2022 Adelaide and Perth Festivals (John Curtin Gallery).
Also among the picks is Samstag Museum of Art's program with new work by Helen Fuller with the ambitious exhibition design of Khai Liew (4 March – 27 May) and an endurance piece – a seven-hour work by Daniel Jaber titled 'Rite', which brings together contemporary dance, improvisation, living sculpture and installation in a study of the efforts of suppression and the weight of carrying guilt and shame. Rite is the first of a trilogy of daring new works by Jaber, premiering at Samstag in 2022.
And for Perth, you can catch Katie West's project We hold you close at PICA (20 February – 24 April), a project that draws together textiles, sound, video, and social practice of the York-based Yindjibarndi artist, while Bunjalung/Ngapuhi artist and choreographer Amrita Hepi, unveiled her video installation Monumental (20 February – 24 April) that casts a central colonial figure within a continual sunrise – or is it a sunset? – and questioning who and what gets memorialised.
While another highlight will be at the Lawrence Wilson Art Gallery (The University of WA), hosting senior Walmajarri artist Sonia Kurarra with her first major solo Perth show, Portals of Love and Loss, curated by Emilia Galatis.
QUEER, DIVERSE AND DYNAMIC
Queer is a landmark, Australian-first exhibition that will explore the NGV Collection through a queer lens and celebrate the rich, diverse and sometimes untold stories that emerge. Spanning five gallery spaces and featuring more than 300 artworks across historical eras and cultures, the exhibition will be the most historically expansive thematic presentation of artworks relating to queer stories ever mounted in an Australian art institution. On view 10 March – 21 August 2022.
4A Centre for Contemporary Asian Art (4A), enters its 25th year in 2022 – a reason for great celebration – as well as the gallery's return to its building in March, after renovations during most of 2021. It is marking the moment with a Marikit Santiago's first institutional exhibition, For us sinners (26 March – 15 May 2022), curated by Micheal Do.
4A switches focus mid-year with the early-career survey New Energy (4 June – 24 July 2022), featuring new art by Lucy Nguyễn-Hunt, Angie Pai, Nadia Refaei, EJ Son, Zoe Wong and more. And will close out the year with TextaQueen's much anticipated CAP commission project Bollywouldn't (22 October – 18 December 2022), presented by 4A in partnership with the Copyright Agency.
NGV International takes a dive into its extensive collection and looks at diverse indigenous and regional communities across India in the exhibition, Transforming Worlds: Change and Tradition in Contemporary India. Opens 9 April.
Another to look out for is A Puzzlement by Nathan Beard for PICA 28 October 2022 – 8 January 2023, which draws on his Australian-Thai heritage and diasporic identity. In a practice that spans photography, video, sculpture and installation, he also dips into Thai artefacts, imagery and orchids from The British Museum, Victoria & Albert Museum and Kew Gardens.