With the breadth of talent and groundbreaking events that First Nations creatives offer, ArtsHub has compiled the First Nations shows not to miss this year.
CURRENTLY SHOWING
The Art Gallery of Western Australia (AGWA) hosts the National Gallery Touring Exhibition Ever Present: First Peoples Art of Australia until 18 April, later to travel to the National Gallery of Singapore in June. Bringing together over 80 artists, it's an exhibition which celebrates Aboriginal and Torres Strait Islander art without shying away from complex Australian histories.
Bark Ladies at the National Gallery of Victoria (NGV) showcases 11 Yolŋu women artists from the Buku-Larrŋgay Mulka Centre (Buku). ArtsHub's Gina Fairely said in a blazing five-star review: 'One walks away with a greater sense of the strength of these women working so remotely, and the incredible inventiveness and impact that they are having on contemporary art.' Open until 25 April.
Read: Inside the new plan for First Nations visual arts
The 2021 iteration of Primavera: Young Australian Artists at the Museum of Contemporary Art (MCA) is led by First Nations curator Hannah Presley and runs until 13 June. In an earlier interview, Presley revealed that through the pandemic she was thinking 'about the strength of Aboriginal people, their resilience, their resourcefulness. It feels like each of the artists [selected] have gone on this journey with that starting point, made it their own, found what they needed in that.' The participating artists are Elisa Jane Carmichael (QLD), Dean Cross (NSW), Hannah Gartside (VIC), Sam Gold (SA), and Justine Youssef (NSW), a group that had a keen sensibility for material and process.
Recently re-opened in renovated form, the Shepparton Art Museum (SAM) is quickly establishing its cultural significance in regional Victoria, with one of Australia's most significant South East Australian Indigenous regional gallery collections and the nation's largest holding of Namatjira family work. Currently showing is Lin Onus: The Land Within, a fascinating solo show of the Yorta Yorta artist, and Flow: Stories of River, Earth and Sky featuring 60 Indigenous artists from SAM's collection. Lin Onus runs until 13 March and Flow is on show until 20 November.
Queensland Art Gallery and Gallery of Modern Art (QAGOMA) presents Get Up, Stand Up, an exhibition of works by Indigenous Queensland artists from the collection until 20 November. Its title is borrowed from the 1973 song by visionary Rastafarians Bob Marley and The Wailers that has become synonymous with global social movements, especially spotlighting the Indigenous Australian social movements of the 1970s. A significant group of works reflect these ongoing familial experiences of involuntary movement off Country, away from family and onto the missions and reserves that provided both sanctuary and oppression.
UPCOMING EVENTS
As part of Mona Foma and presented by Contemporary Art Tasmania, Tin Camp Studios is a powerful Indigenous-led illustration of the intersection between people and place. The pop-up space runs from 21 – 23 January at Riverbend Park, constructed from salvaged materials and modelled on the typical Aboriginal-built tin camps from the 1950s. Founder and proud Yuwaalaraay man Warren Mason said: 'Tin Camp explores my own personal story of the Camp on the outskirts of my home town of Goodooga NSW. We were the first Aboriginal family allowed to live inside the township itself, the existence and disconnect from the camp was central to the formation of my identity and all the questions that go with it. That of never belonging in either place.' Free.
Opening on 21 January through to 18 February, Platform Arts (VIC) presets Still Here, Now, an exhibition led by proud Gunditjmara Keerray Wooroong women and Koorroyarr Arts founders Tarryn Love and Kelsey Love. It's diverse and invigorating, exploring the narrative sovereignties present, and ancestral relationships.
Songlines Aboriginal Music presents Share the Spirit, a free community-based festival at the Sidney Myer Music Bowl (VIC) on 26 January. The one-day event features a diverse showcase of First Nations music, art, craft, and culture with a stellar line-up including Christine Anu, Bumpy, Uncle Kutcher and hip hop acts.
Also on 26 January ('Survival Day'), the annual Yabun Festival will be held at Victoria Park, Sydney. The family friendly event celebrates a diverse lineup of Indigenous music, dance, oration, sport, and more, this year marking its 20th anniversary and anticipating its largest celebrations to date.
The 4th National Indigenous Art Triennial: Ceremony to be held at the National Gallery of Australia (ACT) from 26 March – 31 July will be well worth the anticipation. Curator Hetti Perkins of Arrernte and Kalkadoon peoples said: 'Ceremony is testament that our culture has survived – not only over the many thousands of years but, particularly, the last couple of hundred years – because of its capacity for innovation and adaptability.' 35 artists from around Australia will offer a multi-disciplinary immersive experience.
Parrtjima (NT) is another annual immersive highlight. This festival of light is held against the 300 million-year-old natural canvas of the MacDonnell Ranges in Central Australia from 8 – 17 April. The 2022 theme, Sky Country, offers a glimpse into First Nations stories and knowledge that can help guide our way in the expanse of the universe.
Read: 2022 arts festivals and events calendar
The Darwin Aboriginal Art Fair (NT), Cairns Indigenous Art Fair (QLD) and the Revealed art market and exhibition (WA) are worthy mentions for showcasing multi-disciplinary First Nations talent that gives back to the artists and communities.
Revealed will take place at Fremantle Arts Centre (FAC) opening on 6 May, Cairns Indigenous Art Fair returns 6 – 10 July, followed by the Darwin Aboriginal Art Fair 5 – 7 August.
Barunga Festival (NT) 2022 runs 10 – 12 June, and brings a range of cultural events supporting remote Indigenous communities in the Katherine region. The 3-day long weekend will feature an engaging program of music, sport, traditional arts and cultural activities, welcomed by the Traditional Owners.
Garma Festival of Traditional Cultures (NT) – Australia's largest Indigenous cultural gathering – takes place 29 July – 1 August (TBC) with a four day celebration of art, music, dance, ceremony and song. Included in the programming are daily workshops to learn more of Yolngu culture, a Key Forum policy conference, the outdoor Gapan art gallery, and the daily bunggul (ceremonial dance) at sunset is not to be missed.
Similarly the Freedom Day Festival (NT) held on Gurindji country, the birthplace of Aboriginal land Rights, is of rich cultural significance. The 2022 iteration centres on Yapakayi-nginyi Jangkarnik – From Little Things Big Things Grow – from 26 – 28 August, where visitors are invited to embark a journey in remote NT for a memorable weekend of arts, culture, music and sports.
PERFORMANCE SEASONS
Bangarra Dance Theatre (NSW) presents Wudjang: Not the Past at the Sydney Festival (17 January – 12 February) followed by seasons at the Theatre Royal, Hobart (18 – 19 February) and the Adelaide Festival (15 – 18 March). Bringing together 17 dancers, four musicians and five actors, the show marks Bangarra's largest production to date. Other 2022 productions include the 10th anniversary tour of Terrain choreographed by Frances Rings (Bangarra's incoming Artistic Director for 2023), and SandSong: Stories from the Great Sandy Desert.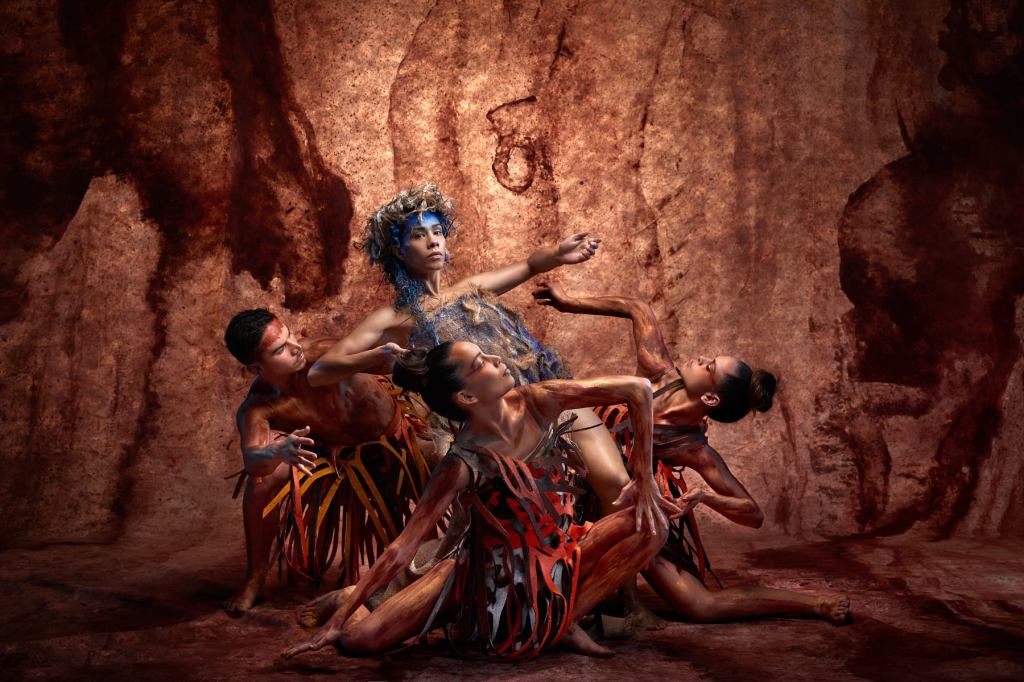 Based on true events, Troy Russell's (Biripi/Gamillaroi) The Last Shot presented by Moogahlin Performig Arts and Blacktown Arts (NSW) is an intimate musical tale of romance, heartbreak and tragedy in colonial times, to premiere at the Sydney Festival 19 – 22 January.
Choosing to withdraw from the Sydney Festival in solidarity with the BDS movement, Marrugeku dance theatre (WA/NSW) will now premiere Jurrungu Ngan-ga [Yawuru: Straight Talk] from 27 – 29 January at Carriageworks. Jurrungu Ngan-ga dismantles the fear of cultural difference on local and global scales, combining movement, spoken word, installation and soundscape against a large-scale installation designed by West Australian artist Abdul-Rahman Abdullah.
Black Swan State Theatre Company (WA) opens their 2022 season with City of Gold written by and starring proud Wongutha-Yamato man Meyne Wyatt from 4 – 26 March. The play questions injustice and racism in Australia today through the lens of an Indigenous actor, balancing humour and political commentary.
Yirra Yaakin Theatre Company's (WA) 2022 season falls under the theme Healing Histories, with the premiere of Panawathi Girl – a political, racial, gender fluid, cowboy musical – commencing 8 – 13 February as part of the Perth Festival. The Yirra Yaakin Vignette Series consists of short scripts presented by the Yirra Yaakin Metro Writers' Group from 21 June – 2 July. Playwright Theona Councillor makes her debut with Moorla-Na Bulla Woola Boolangul from 21 – 29 October, a lyrical, cathartic and community focused work about hearing from great grievances of history.