The start of a new year is a valuable opportunity to pause and take stock, to reflect and create. It's also a valuable opportunity to plan out the year ahead by making note of the many unmissable works programmed across Australia in the coming 12 months.   
In part one of our overview of the performing arts in 2020 we cast our eye over some of the operatic, symphonic, classical and contemporary classical delights programmed across Australia in the coming months. Rather than an exhaustive guide to the entire sector, consider this calendar a starting point for your own personal aesthetic investigations – and thanks to my friends and colleagues Paul Selar (the Opera Chaser), Time Out Melbourne's Tim Byrne, and our Blue Mountains-based critic David Barmby for their advice regarding some of the important works included on this list.
Over the coming days we'll also be providing you with a calendar of events covering dance (including ballet), circus, theatre and musical theatre. Here's to another great year of performance, wherever you might be!
JANUARY
Atlas of the Sky – Speak Percussion at Sydney Festival: 16 January
Awarded the Art Music prize for Best Performance of the Year at the 2019 APRA AMCOS Australia Awards, Liza Lim's Atlas of the Sky unites the virtuosic instrumentalism of Speak Percussion, soprano Jessica Aszodi, and vocal sounds from a 'crowd' of 16 trained and untrained performers. The singers and performers use purpose-built instruments, including string drums, stones, wood blocks and the semantron – a resonant plank of wood used in Greek and Eastern European Christian Orthodox ritual – to tell aural stories about the stars, the power of crowds and changing constellations of memory.
Music Play Family Festival – Melbourne Recital Centre: 16-18 January
Three days of concerts, workshops and activities just for families, including Justine Clarke's Mimi's Symphony (where a full orchestra explores the story of the little magpie who falls out of her nest and tries to find her way home) and Simon Tedeschi's Meeting Mozart, plus free foyer activities such as The Wonderlands featuring the Federation Handbells.
Festival of Summer Voices 2020 – Gondwana Choirs: 16-19 January  
More than 300 young singers from around Australia will converge on UNSW, Kensington over 16 – 19 January to perform four public concerts as part of Australia's leading choral music event. The Festival of Summer Voices opens with the Overture concert on Thursday 16 January at 7pm, showcasing all six Gondwana National Choirs ensembles: Junior Gondwana, Gondwana Novus, Gondwana Voices, Gondwana Singers, Gondwana Chorale, and a specially formed Gondwana Choirs ensemble, which will represent Australia at the 2020 World Choral Symposium in Auckland. Additional concerts covering a range of repertoire are presented over subsequent days.
Tenebrae Choir at Sydney Festival: 21-22 January
Over two performances – Masterworks of the Renaissance on 21 January, and Music of the Spheres on the 22nd – this London-based a cappella choir will demonstrate why they are considered one of the world's leading vocal ensembles. Music of the Spheres sees Tenebrae celebrate a selection of the greatest choral works from the British Isles, inspired by Shakespeare, Shelley, Byron, Tennyson and Milton, while the program for Masterworks of the Renaissance features the requiem mass by Tomás Luis de Victoria, a masterpiece of the Spanish Renaissance.
As One – Gertrude Opera: 22 January – 1 February
The first chamber opera to depict the transgender experience – as told by two singers and a string quartet – As One is the work of composer Laura Kaminsky and librettist Mark Campbell and Kimberly Reed. It receives its Australian premiere at fortyfivedownstairs as part of the 2020 Midsumma Festival, presented by Gertrude Opera. Described as immediate and intimate, 'luminous [and] deeply human', this is a rare opportunity to see one of the most significant American operas of the 21st century.
Homophonic! at Midsumma: 30 January – 1 February
A perennial favourite at Melbourne's LGBTI cultural festival Midsumma, Homophonic! is an a showcase of new classical music by queer composers. Now in its ninth year, it's a rare opportunity to hear virtuosic performers tackling exciting new repertoire. This year's concert at La Mama Courthouse Theatre will feature the world premiere of the winning work for the Homophonic! Pride Prize, a new composition prize to promote and support Australian LGBTIAQ composers.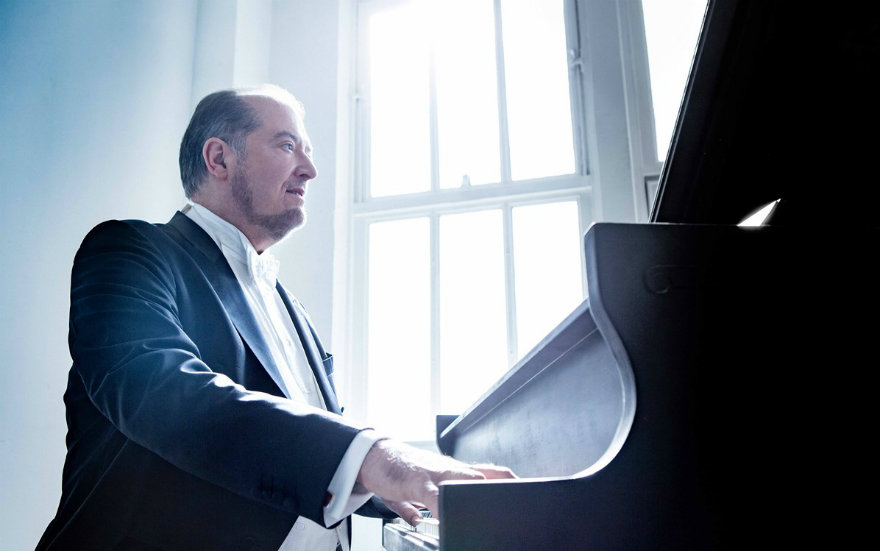 US pianist Garrick Ohlsson is touring the country in February-March. Photo credit: Dario Costa.
FEBRUARY
Bendigo Chamber Music Festival: 5-9 February
A new festival for the regional Victorian city of Bendigo, Bendigo Chamber Music Festival will feature members of the Chamber Orchestra of Europe as artists in residence alongside guests including Melbourne Symphony Orchestra's Concertmaster Sophie Rowell; Principal Viola of Sydney Symphony, Tobias Breider; and one of Australia's leading pianists, Daniel de Borah. The festival also features the next generation of young artists, with Europe-based ANAM alumna Lily Higson Spence and a vibrant young chamber group from the Australian Youth Orchestra. An education strand also features, with BCMF running a week-long, in-depth music education program that sees the musicians visit with 12 different primary schools in the area, including cushion concerts for toddlers.
Power & Glory – Queensland Symphony Orchestra: 8 February
The premiere of a new Australian work is always an exciting occasion. In this concert at QPAC's Concert Hall, Australian composer Melody Eötvös premieres a new work – commissioned by the QSO – alongside Beethoven's Triple Concerto for Violin, Cello, and Piano in C major, Op. 56 (performed by Emily Sun, Caleb Wong and Aura Go) and Shostakovich's spectacular Symphony No.5. The conductor is Alexander Prior, Chief Conductor of the Edmonton Symphony, a talented composer in his own right.
Garrick Ohlsson – Musica Viva with Perth & Adelaide Festivals: 16 February – 2 March
US pianist Garrick Ohlsson is a master of the intimate art of the solo recital. His commanding presence – he boasts one of the largest handspans of any pianist – is at odds with the delicacy and finesse for which he's famous. Recognised  internationally for his interpretive and technical prowess, his Perth Festival appearance (presented in association with Musica Viva) will feature Beethoven's 11th Piano Sonata and Prokofiev's first 'War' Sonata in the first half of the program, while the second half focuses exclusively on  works by Chopin (Ohlsson remains the only American to have won the prestigious Chopin Competition). His tour ends with an appearance at Adelaide Festival on 2 March; in between he plays in Canberra, Newcastle, Sydney Melbourne and Brisbane. Visit Musica Viva's website for details.
Fidelio – Melbourne Opera: 5, 8, 11 & 13 February
Celebrating the 250th anniversary of Beethoven's birth, Melbourne Opera presents Fidelio, the German composer's only opera, at the Athenaeum Theatre. Directed by Hugh Halliday, and featuring the Melbourne Opera Chorus and Orchestra under the baton of leading UK conductor Anthony Negus, the performances star award-winning soprano Kirstin Sharpin, Australian singers Warwick Fyfe and Brad Daley, and current Herald Sun aria winner Rebecca Rashleigh.
Quartet & Country – Australian String Quartet at Perth Festival: 15-16 February
In this special series of four concerts over two days, the Australian String Quartet (ASQ) perform all six of Beethoven's Op 18 quartets and match them with works from four Australian Indigenous composers: singer and founding member of Tiddas Dr Lou Bennett, didgeridoo master William Barton, Broome music icon Stephen Pigram, and Noongar elder Roma 'Yibiyung' Winmar. Voices and stories from four corners of the country meet four classically trained musicians from the European tradition – musical reconciliation in action.
Considering Matthew Shepard – Sydney Philharmonia Choirs: 20 February
The brutal murder of Matthew Shepard, a young gay man in rural Wyoming, was a pivotal moment in the modern gay rights movement. The inspiration for the deeply moving drama The Laramie Project now finds expression in the human voice, in a concert presented as part of the Sydney Gay and Lesbian Mardi Gras. 'I wanted to create, within a musical framework, a space for reflection, consideration and unity around [Matthew's] life and legacy,' said American composer Craig Hella Johnson. The result is stylistically eclectic; a fusion oratario that moves between Lutheran hymnody, chant, blues, cowboy songs and Broadway as it captures the fullness of Shepard's short life and the legacy of his death. Considering Matthew Shepard will be performed by members of Sydney Philharmonia Choirs' VOX ensemble, some of them the same age that Shephard was when he died, at City Recital Hall.
150 Psalms – Adelaide Festival: 29 February – 3 March
Showcasing three of the world's greatest choral ensembles – The Tallis Scholars from England; Netherlands Chamber Choir (Nederlands Kamerkoor) and Norwegian Soloists' Choir (Det Norske Solistkor) – together with Australia's finest vocal group, The Song Company, 150 Psalms is a feast for lovers of choral music. Over four days, in four sacred spaces and one secular space, 12 concerts will encompass all 150 Biblical psalms. The psalms are gathered together by themes such as Abandonment, Suffering, Safety and Leadership, and set to music by 150 different composers spanning 10 centuries of choral tradition.
Brahmsiana – Tasmanian Symphony Orchestra: 29 February – 14 March
A two-week celebration of the music of Johannes Brahms starting 29 February and featuring all four symphonies as well as the Piano Concerto No 1, Concerto for Violin and Cello and Ein deutsches Requiem. A popular misconception is that Brahms' symphonies require vast orchestral forces when, in fact, Brahms wrote for a modestly proportioned double-wind orchestra the size of the TSO. Audiences have become so accustomed to hearing Brahms' orchestral music performed by Wagnerian orchestras that they have lost sight of the delicacy, transparency and subtlety of Brahms' orchestration. Consisting of seven separate concerts in Hobart (including one at Mona) Brahmsiana is an opportunity to experience this great body of orchestral music as it was meant to be heard.
Mozart's Requiem at Adelaide Festival: 28 February – 4 March
One of the great visionaries of European theatre, Romeo Castellucci reimagines Mozart's familiar Requiem as folk dance, as sacred ritual, as a healing surrender to the forces of nature. In the words of awed Financial Times critic Micaela Baranello: 'As mourning, it is cathartic; as art, it invites not so much interpretation as sheer experience.'
Romeo Castellucci's Requiem is sure to be an Adelaide Festival highlight. Image credit: Festival d'Aix-en-Provence 2019 © Pascal Victor
MARCH
The Impresario – Australian Romantic & Classical Orchestra: 5-6 March
The Australian Romantic & Classical Orchestra celebrates Beethoven's 250th birthday with a performance of his Symphony No.7 which the composer himself regarded as one of his greatest achievements. The program, directed by concertmaster Rachael Beesley, begins with Mozart's Overture to The Impresario and the Symphony in E-flat major, Op.33 by Anton Eberl – once well-known and friend of Mozart and Beethoven.
Roomful of Teeth at Adelaide Festival: 7 March
US-based, Australian born composer Wally Gunn is shamefully overlooked in this country. Adelaide Festival audiences have the rare opportunity to hear his work performed by US vocal ensemble Roomful of Teeth at UKARIA Cultural Centre in the Adelaide Hills, as they perform his six-part cycle adapting the poems of NZ/Melbourne writer Maria Zajkowski. The concert also features works by Ted Hearn and Caroline Shaw, the ensemble's Pulitzer-winning founding member.
Storm and Tempest – Australia Ensemble: 14 March
The Australia Ensemble open their 2020 subscription season with stormy weather, tempestuous emotion, and the promise of new things rising from the ruins of the old. Appropriately, when considering sturm und drang, the concert features Beethoven's String Quintet Op.29 Storm, a work which balances dramatic muscularity with poignant lyricism – a musical encapsulation, perhaps, of the composer's gradual acceptance of his growing deafness at the time. The bill also features Franz Schreker's The Wind, Elena Kats-Chernin's Velvet Revolution (responding to power shifts in Eastern Europe following the fall of the Berlin Wall) and a relatively unfamiliar work by Swedish Romantic composer Franz Berwald, the Grand Septet in B flat.
Breaking the Waves – Adelaide Festival: 13 & 15 March
Based on the Lars Von Trier film of the same name and praised as 'The most startling and moving new American opera in memory,' Breaking the Waves makes its Australian debut at the 2020 Adelaide Festival. Co-produced by Opera Ventures, Scottish Opera, Houston Grand Opera and Théâtre national de l'Opéra Comique in association with Adelaide Festival, the work is 'harrowing and unblinking, yet kept buoyant and absorbing by Mazzoli's fluid score,' according to The Guardian. Given its source material, it's no surprise that the opera has also generated controversy. As Miro Magazine's Maggie Kelly writes: 'It is, however, very tiring to continue seeing modern operas based around the mistreatment and deaths of women. There are so many of them already in the operatic canon that constructing even more opportunities to see women being beaten onstage feels gratuitous.'
Beethoven Missa Solemnis – Sydney Symphony: 18-21 March
One of a handful of overtly religious works composed by Ludwig van Beethoven in his life, this audacious work is billed as 'a masterpiece among masterpieces'. Its score is a challenge for orchestra and choir alike; moments of hushed intimacy are swept aside by thunderous choruses and vocal solos of operatic intensity. As American music critic Richard Reed notes: 'This work shows what can happen when a genius consciously decides to outdo himself, and create an all-encompassing work that expresses the composer's profound spirituality and realizes a musical vision never previously formulated.' One of many works programmed throughout the year to commemorate the 250th anniversary of Beethoven's birth, this performance of the Missa Solemnis is sure to be overwhelming and memorable.
La Traviata – Handa Opera on Sydney Harbour: 27 March – 26 April
400,000 people have been to Handa Opera on Sydney Harbour since it launched in 2012; this year features the show that started it all, a revival of Verdi's La Traviata.
Lorelei – Queensland Opera: 27 March – 4 April
Created by Julian Langdon, Casey Bennetto and Gillian Cosgriff based on a concept by Ali McGregor, Lorelei is an operatic cabaret in which ancient myth meets modern woman in an allegory of resilience and reclaiming one's destiny. Originally commissioned by Victorian Opera, this critically acclaimed work has been praised as 'a clever, engaging exploration of female myth and reality' (Limelight) and 'highly entertaining' (The Age).
Carmina Burana – State Opera South Australia: 27 March
From beer ads to the fantasy film Excalibur, Carl Orff's Carmina Burana – based on a collection of 11th Century texts about the cycles of nature, love and life – has been widely appropriated. This production by State Opera South Australia at the newly renovated Memorial Drive is an opportunity to appreciate the work in its entirety. Berlin-based Australian baritone Samuel Dale Johnson and tenor Paul McMahon will be joined by South Australian soprano Desiree Frahn as the soloists, while Benjamin Northey conducts the Adelaide Symphony Orchestra, the State Opera Chorus and guest choirs The Young Adelaide Voices and the Adelaide Philharmonia Chorus in this one-night-only choral spectacular.
Star Navigator – West Australian Opera: 28 March
The world premiere of Star Navigator, a new work by Tim Finn OBE, takes place as a staged concert with international soloists and the West Australian Symphony Orchestra at Perth Concert Hall. Originally commissioned by West Australian Opera, New Zealand Opera and Victorian Opera supported by the state government of Western Australia, the production explores a meeting of worlds, as two master mariners – Tahitian navigator Tupaia and Captain James Cook – sail together on HMS Endeavour into the unknown.
Opera Queensland's Lorelei runs from 27 March – 4 April. Photo credit: Pia Johnson.
APRIL
Rejoice! – WAAPA students with guests Stewart Smith and Nicole Youl: 2 April
Performed by the WAAPA Chorale, Classical Voice students, String Camerata and the WAAPA Brass Ensemble guided by music director Kristin Bowtell, this concert at St Mary's Cathedral will feature Allegri's haunting Miserere, Schubert's beloved Mass in G with guest organist Stewart Smith, and Mascagni's Easter Hymn from Cavalleria Rusticana featuring mezzo soprano Nicole Youl.
Four Winds Easter Festival: 8-12 April
Celebrating its 21st anniversary in 2020, this much anticipated festival features intimate house concerts in local homes as well as performances at the Windsong Pavilion, and larger events en plein air at the Four Winds Sound Shell on the South Coast of NSW. This year's program includes Brisbane choir The Australian Voices and guest UK composer Sally Beamish presenting some of her own compositions inspired by the sea and the folk tradition.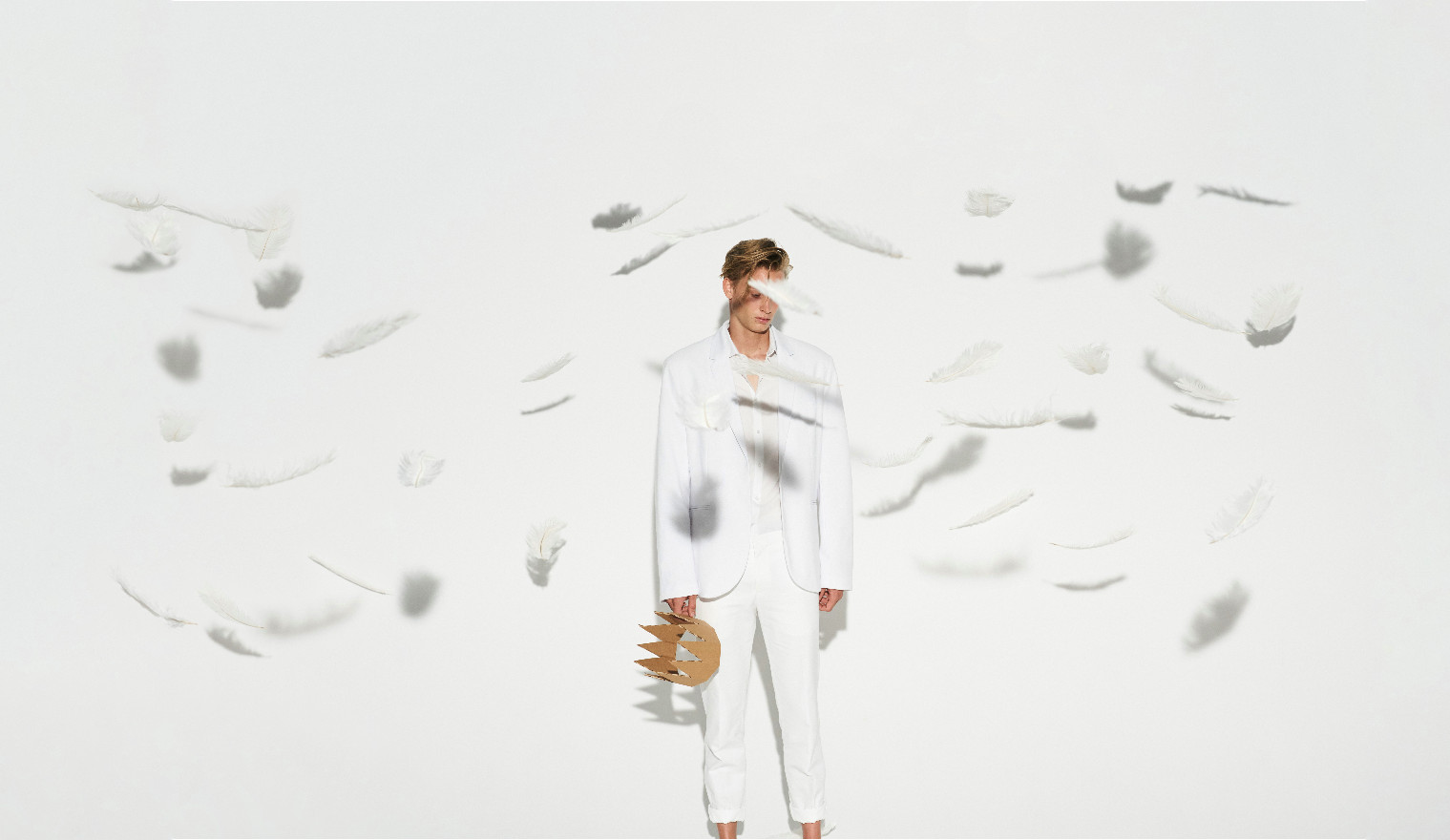 Opera Australia's Lohengrin. Photo credit: Georges Antoni.
MAY
Lohengrin – Opera Australia: 16-29 May
A co-production with Brussels' based company Théâtre Royal de la Monnaie, this new Lohengrin at Arts Centre Melbourne is set in the ruins of Berlin after WWII. Olivier Py directs the Australian debut of David Butt Philip in the title role, with Orchestra Victoria conducted by Johannes Fritzsch.
Jonathan Biss in Recital – Sydney Symphony: 18 May
An excellent pianist who impressed on his last visit to Australia, dynamic young American artist Jonathan Biss performs four Beethoven sonatas in this recital at Sydney Recital Hall. Sure to be a memorable evening.
Eroica – Canberra Symphony Orchestra: 20-21 May
A pivotal moment in musical history, Beethoven's 'Eroica' Symphony was originally poorly received – considered too long and too difficult in its day. Today, it is seen as marking the beginning of an important new phase in the composer's life and is widely considered one of the most important symphonies ever written. Conducted by Jessica Cottis, the Canberra Symphony Orchestra performs Beethoven's 'Eroica' alongside the world premiere of The Lake, a new piece by Ella Macens – one of Australian music's fastest rising stars – and Carl Maria von Weber's Clarinet Concerto No. 2 in E flat major, featuring renowned clarinettist, teacher and Canberra legend, Alan Vivian.
Cho-Liang Lin & Jon Kimura Parker – Musica Viva: 23 May – 10 June
One for the chamber music tragics, these concerts feature North American-based soloists Jon Kimura Parker (piano) and Cho-Liang Lin (violin). The pair display a beautiful rapport, and are absolutely committed to chamber music, both as performers but also as mentors and teachers. For their first Australian national recital tour, which starts in Melbourne and ends in Adelaide, the pair will perform two programs, each featuring the premiere a sonata by Paul Stanhope alongside other works close to the artists' hearts.
Caitlin Hulcup as Médée, Pinchgut Opera 2020. Photo credit Boy/Girl.
JUNE
2020 Montsalvat series, Concert 2 – Flinders Quartet: 14 June
While there's much to admire in the Flinders Quartet's 2020 program, the most anticipated work is surely the world premiere of Bungaree, the first string quartet ever composed by acclaimed soprano and Yorta Yorta woman, Deborah Cheetham AO. Commissioned by Flinders Quartet with support from Andrew Dixon, in memory of Jean and John Dixon, the work premieres as part of the 2020 Montsalvat concert series in the outer Melbourne suburb of Eltham on Sunday 14 June.
Médée – Pinchgut Opera: 18-23 June
A story of passion transformed into murderous fury, Marc-Antoine Charpentier's Médée (featuring a libretto by Thomas Corneille) premiered in Paris in 1693. Pinchgut Opera bring it to the stage for the first time in Australia, featuring mezzo-soprano Caitlin Hulcup in the title role and Artistic Director Erin Helyard conducting the Orchestra of the Antipodes.
A Centenary Celebration – Sydney Philharmonia Choirs: 20 June
In 1920, 19 choristers who wanted to sing at the highest level formed the Hurlstone Park Choral Society. One hundred years later, and now known as Sydney Philharmonia Choirs, this anniversary concert will feature 600 voices across four choirs – Symphony Chorus, Chamber Singers, VOX and Festival Chorus – and three acts. A Centenary Celebration at Sydney Town Hall will feature new music by Deborah Cheetham, James Henry and Nardi Simpson alongside a range of choral masterpieces. Sure to be the high is a major new work for choir and orchestra, Human Waves, by composer Elena Kats-Chernin with a libretto by Tamara Anna Cislowska that reflects on migration, fusions of culture and the future of Sydney.
She Speaks – Adelaide Symphony Orchestra: 24 June
An important redressing of the balance, this trio of concerts and an accompanying symposium explores the overlooked contribution of women in classical music. Domestic Voices features works by Fanny Mendelssohn and Clara Schumann alongside the first performance in over 80 years of a chamber work by Dr Ruby Davy, the first Elder Conservatorium student to major in composition, and Australia's first Doctor of Music. The second concert focuses on Australian orchestral music by Dulcie Holland, Peggy Glanville-Hicks, Elena Kats-Chernin and the world premiere of a new work by Anne Cawrse. When We Speak, the final concert, explores developments in new music across the globe. On the same day, the Silent Women Symposium explores the silenced voices of the past and present and the evolving role of women in the classical canon.
Deborah Cheetham AO and orchestra perform Eumeralla, a war requiem for peace in July. Image via WASO.
JULY
Intimate Letters – Australian String Quartet: 1-19 July
Today, writing more than 700 letters to your unwilling muse would probably be seen as stalking. Czech composer's Leoš Janáček's String Quartet No. 2 gets its alternative title, 'Intimate Letters,' from the flood of letters the 63 year old composer began writing to a married woman 37 years his junior in 1917, after meeting her on holiday. She had no interest in his work and rarely replied to his letters – nonetheless Janáček persisted. Fuelled by 'unrequited love' (let's call it what it was – an unhealthy obsession), 'Intimate Letters' was written in 1928 and premiered on 11 September 1928, a month after Janáček's death. For their second national tour of the year, the Australian String Quartet play 'Intimate Letters' alongside two other works: Mozart's String Quartet in C major K 465, Dissonance, and veteran Australian composer Ross Edwards' newly commissioned fourth string quartet, described as evoking 'the rousing possibilities for harmony in diversity, and the role that music can play in the journey from grief to joy'.
Eumeralla, a war requiem for peace – West Australian Symphony Orchestra: 10 July
In conjunction with Short Black Opera, WASO presents Yorta Yorta soprano and composer Deborah Cheetham AO's moving exploration of frontier violence and survival. The Eumeralla river flows through Gunditjmara country in southwest Victoria. Here, 180 years ago, war broke out between traditional owners and those who sought to steal their land. Combining poetry, two choirs, the orchestra and a Requiem mass, a history of heartbreak and horror is revealed via a unique fusion of Western classical tradition and First Nations culture.
Brahms: A German Requiem – Melbourne Symphony Orchestra: 17-20 July
Music as an evocation of mourning and a salve for grief: in his first MSO performance as Conductor Laureate, Sir Andrew Davis returns to conduct Brahms' deeply personal Ein deutsches Requiem. Written after the death of his mother in 1865, the seventh movement features the words 'I will comfort you as one whom his own mother comforteth.' As James R. Oestreich writes in the New York Times: 'Brahms assembled the texts himself from Luther's German translation of the Bible, bypassing the standard liturgical requiem text, with its fearsome Dies Irae, so vividly set by other composers. Rather than dwelling on the judgment of the deceased, he seemed intent on consoling those left behind.' The concert will also feature two works by Beethoven, whose bust stared down at Brahms while he composed, including the rarely-heard King Stephen Overture, commissioned by Emperor Francis I of Austria.
La Juive – Opera Australia: 14 July – 7 August
Fromental Halévy's monumental La Juive was once a cornerstone of the French operatic tradition, but relatively few have heard of Halévy today – even among regular opera-goers, his profile has diminished. The story of an impossible love between a Christian man and a Jewish woman, director Olivier Py sets his production of La Juive in 1930s France, as the storm clouds of war begin to threaten. The production stars young sopranos Natalie Aroyan and Stacey Alleaume, as well as former heavy metal singer Shanul Sharma, while Guillaume Tourniaire conducts.
Musica Ex Machina – Omega Ensemble: 23 July
Described as one of the most difficult works in the chamber repertoire, John Adams' complex Son of Chamber Symphony leads this program of modern works alongside the Australian premiere of Motion by Nico Muhly and Australian composer Christopher Gordon's Freefall Symphony, commissioned and premiered by the Ensemble in 2007 and revisited on the main stage for the first time.
Australian Festival of Chamber Music: 31 July – 9 August
Presenting a 10-day program of over 30 concerts and special events in the North Queensland city of Townsville, the Australian Festival of Chamber Music celebrates its 30th anniversary in 2020. Guests include British Royal Wedding cellist Sheku Kanneh-Mason, Austrian horn player Radovan Vlatković, British soprano Carolyn Sampson, Australians Peter Coleman-Wright, Diana Doherty (oboe), the Goldner String Quartet and many more. The full program will be launched later in the year.
Victorian Opera's Die tote Stadt. Image supplied.
AUGUST
Die tote Stadt (The Dead City) – Victorian Opera: 21 August 2020
Although rarely performed today, precocious young composer Erich Wolfgang Korngold's hallucinatory study of grief, memory, and obsession was one of the biggest hits of the 1920s. This concert version presented by Victorian Opera features musicians from the Australian National Music Academy (ANAM) under the baton of internationally renowned conductor Simone Young, and superstar singers Marlis Petersen (currently artist-in-residence at the Berlin Philharmonic) and Michael Schade.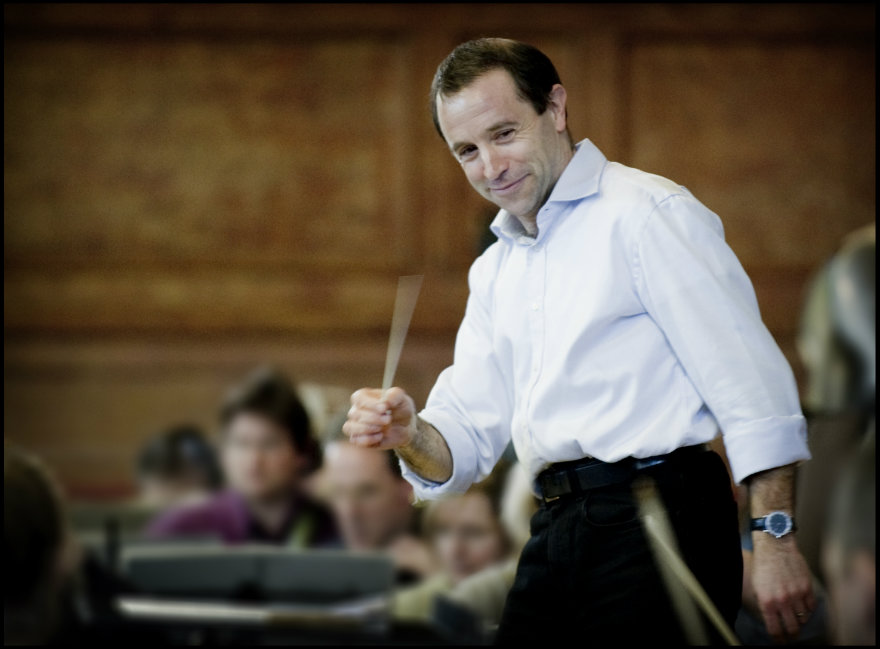 The ASO's Principal Guest Conductor Mark Wigglesworth. Photo credit: Sim Canetty-Clarke.
SEPTEMBER
Notre-Dame – Australian Brandenburg Orchestra: 2-13 September
A narrative concert inspired by the partial destruction of Notre-Dame de Paris in 2019 and all that the cathedral represents, Notre-Dame commemorates eight centuries of music by French composers such as Campra, Lully, Rameau and Rebel. Woven through and around the music are words by playwright Alana Valentine (Letters to Lindy, Parramatta Girls), dramatising the past and connecting it with the present. A celebration of both the cathedral and the human spirit. 
Beethoven: The Symphonies – Adelaide Symphony Orchestra: 16-26 September
With many orchestras and ensembles performing the works of Beethoven to mark the 250th anniversary of his birth, the Adelaide Symphony Orchestra have elected to play all nine symphonies across four dramatic concerts. Beginning on 16 September with Symphonies One, Two and Three, concluding on 26 September with Symphonies Eight and Nine and conducted by the ASO's Principal Guest Conductor Mark Wigglesworth, this is an epic undertaking and sure to be a potent, powerful and memorable set of performances.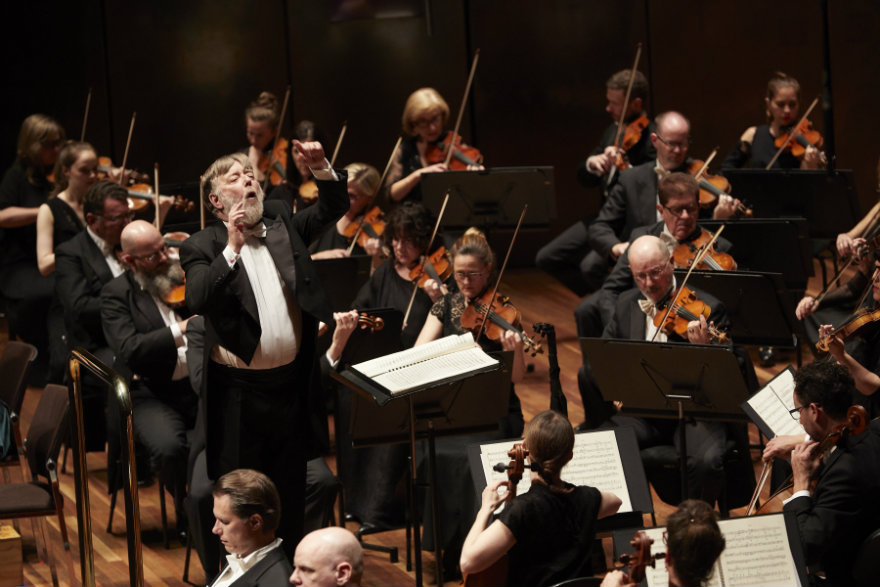 Conductor Laureate Sir Andrew Davis will play with the MSO again in October. Photo credit: Laura Manariti.
OCTOBER
Bendigo International Festival of Exploratory Music: 2-4 October
Now in its eighth year, the 2020 Bendigo International Festival of Exploratory Music (BIFEM) program has yet to be announced. Keep an eye on the festival's website for details.
Beethoven Celebration – WAAPA Symphony Orchestra: 16 October
The WAAPA Symphony Orchestra celebrates the 250th anniversary of Ludwig van Beethoven's birth by performing some of the composer's most beautiful music. Beethoven Celebration sees WAAPA's Head of Strings, Paul Wright, direct the orchestra as they play the Pastoral Symphony as well as Mozart's Violin Concerto No 5 performed by soloist Paul Wright.
Mahler 8 – Melbourne Symphony Orchestra: 24 October
So epic in scale that it can't be staged within Hamer Hall, Gustav Mahler's Eighth Symphony requires eight soloists, massed choirs and a 130-strong orchestra to do the work justice. In what is sure to be one of the orchestral highlights of 2020, Melbourne Symphony Orchestra and Conductor Laureate Sir Andrew Davis are staging Mahler's Symphony of a Thousand for the first Australian performance of its kind in a decade – with 1000 performers at Margaret Court Arena.
Pecan Summer – Short Black Opera/Melbourne Recital Centre: 30-31 October
In 2010, Deborah Cheetham's Pecan Summer made Australian theatre history, bringing together an Indigenous cast to perform Australia's first Aboriginal opera. The tenth anniversary production of Pecan Summer will have two performances at Melbourne Recital Centre.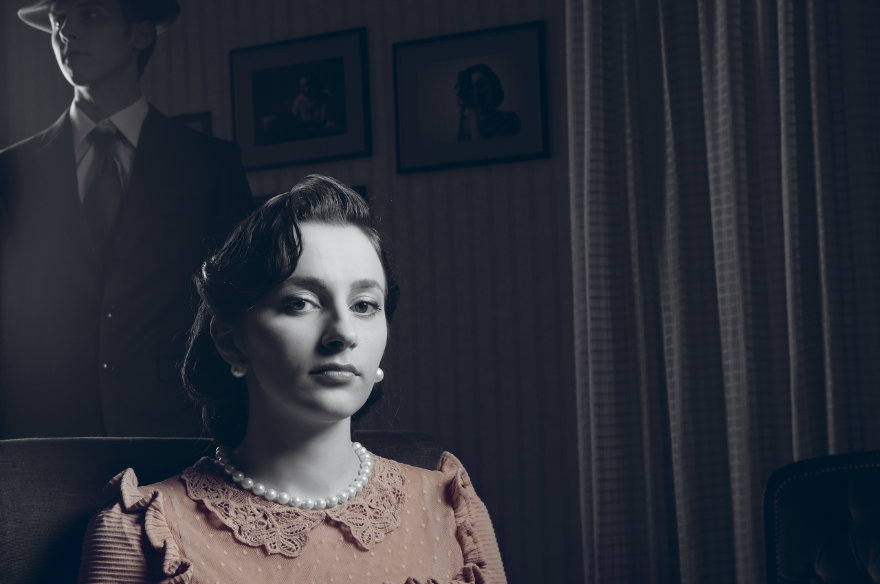 Summer of the Seventeenth Doll. Image: State Opera South Australia.
NOVEMBER
Les Talens Lyriques & Siobhan Stagg – Musica Viva: 7-25 November
Harpsicord devotees have probably already made note of this national tour by the much-decorated French harpsichordist and conductor Christophe Rousset and his ensemble, Les Talens Lyriques, established in 1991. Renowned for their performances of Baroque music on period instruments, for this Australian tour Rousset has put together a program featuring the likes of Handel, Scarlatti and Montéclair that's fit for 18th-century royalty. Accompanied by Australian soprano Siobhan Stagg, this is sure to be a thrilling and passionate performance.
The Ring Cycle – Opera Australia: 10 November – 5 December
Operas don't get more epic than Wagner's four-part Der Ring des Nibelungen, a dramatic retelling of Teutonic myth. After two successful seasons in Melbourne, Opera Australia is staging their brand new Ring Cycle at Queensland Performing Arts Centre in partnership with the Queensland Government and Brisbane City Council. This fully digital production by visionary Chinese director Chen Shi-Zheng is set in an immersive virtual world and features French conductor Philippe Auguin with the Queensland Symphony Ring Cycle Orchestra. Expect spectacle on a lavish scale and exquisite yet powerful music.
Beethoven String Quartet Cycle – Australian National Academy of Music: 11-20 November
Perhaps ANAM's most ambitious production to date, and presented in collaboration with musicians from all corners of the globe, Beethoven's 16 string quartets will be performed in full over two weeks in the purpose-built ANAM Quartetthaus – an intimate 52 seat performance space. The series culminates with all musicians on stage at Melbourne Recital Centre to perform Beethoven's 16th and final quartet, under the direction of Richard Tognetti, Artistic Director and Lead Violin of the Australian Chamber Orchestra.
Summer of the Seventeenth Doll – State Opera South Australia: 18-20 November
Based on Ray Lawler's landmark 1955 Australian drama, this chamber opera by composer Richard Mills and librettist Peter Goldsworthy first premiered at the 1996 Melbourne Festival. Summer of the Seventeenth Doll tells the story of a long idyll nearing its end, as canecutters Barney and Roo travel south to Melbourne for their annual fling with two city girls, Olive and Nancy, only to discover that both they, and their world, have changed. Richard Mills conducts the Adelaide Symphony Orchestra and Joseph Mitchell directs.
Beethoven's Emperor – Queensland Symphony Orchestra: 21 November
The QSO's year of Beethoven climaxes with the German composer's last completed piano concerto (and the only piano concerto that Beethoven was unable to perform himself, due to his deafness): his Piano Concerto No. 5 in E-flat major, Op. 73. A grand work – whose majesty and impact benefitted from advances in piano technology at the time – the so-called 'Emperor' concerto is reminiscent of French military marches. For this performance at QPAC the piece will be played by Uzbek pianist Behzod Abduraimov, described by The Independent as 'the most perfectly accomplished pianist of his generation'. The final concert of the QSO's 2020 season, the night also features the return of Conductor Laureate and former Chief Conductor, Johannes Fritzsch, as the orchestra play Sibelius's bold and unconventional Symphony No.2 in D Major, Op. 43.
Jake Arditti in Pinchgut Opera's Rinaldo. Photo credit: Boy/Girl.
DECEMBER
Rinaldo – Pinchgut Opera: 3-9 December
Conducted by Pinchgut's Artistic Director Erin Helyard, who makes works written hundreds of years ago feel fresh and alive, Handel's Rinaldo was the first Italian opera ever written for the London stage. This production at City Recital Hall Sydney will feature two sensational countertenors and promises to be one of the best Baroque performances of the year.
Where I Roam – Darwin Symphony Orchestra: 5 December
A new collaboration with proud Larakia man and choreographer Gary Lang, Where I Roam features local dancers reflecting the cultural diversity of Darwin, performing contemporary dance grounded in the traditions of Indigenous Australia. The performance is set to a suite of beautiful symphonic music played by the Darwin Symphony Orchestra conducted by Jonathan Tooby.