It is hard to grasp the gravitas surrounding this edition of the Adelaide Biennial – the 31st in its history, and delivered in perhaps its most unsettling of times.
Co-director of Adelaide Festival Neil Armfield set the stage, describing the exhibition opening while, '…elderly residents of Lismore (were) found lifeless in their flooded homes, Russian troups had fired missiles into an opera house, concert house and unthinkingly a holocaust memorial … and suddenly I was experiencing a definitive collection of art from every corner of Australia by established and emerging artists, as if speaking to me in real time about how to deal with current events and the history that spawned them – free / state – each word so heavily loaded with contentious meaning.'
How does a curator, an artist and viewer even begin to process this enormity, and make sense of it in the flow of an exhibition?
Free / State has been curated by Sydney-based, Burramattagal decendant, Sebastian Goldspink for the Art Gallery of South Australia (AGSA). It reflects on a contemporary, multicultural Australia, and what the concepts of freedom, equality, home, and displacement look like in a country that is still grappling with its past and trying to find its future.
He makes the point that during the last two years, as artist worked towards the show, the world threw up a new challenge almost on a daily basis, from artists in Fairfield (NSW) locked down with ADF on every corner, to artists caught in different parts of the world, watching their homelands razed.
The notions of freedom and imposed control could not be more real. They also could not be more diverse in their contemporary inflections.
AGSA Director, Rhana Devenport continued with the words of benefactor Neil Balnaves, who died a week before the Biennial's opening – an exhibition he had supported since 2012. 'If a country doesn't have a soul, it doesn't have a future.'
It is not lost, then, on visitors entering the exhibition via the draped colonial façade of the gallery, where Kate Scardifield's ten-metre-long sails enact the distress signals from ships with a message of climate change.
While across the exhibition, Laith McGregor's work Strange Days, spells out an S.O.S warning in bottles containing messages of hope gathered from the public over recent months.
'Free / State positions artists as vanguards for the individual,' Goldspink writes in his exhibition essay. 'In times of crisis, the most radical and impactful position an artist can take is to act indiosyncratically to hold their course,' to transcend the state and the status quo.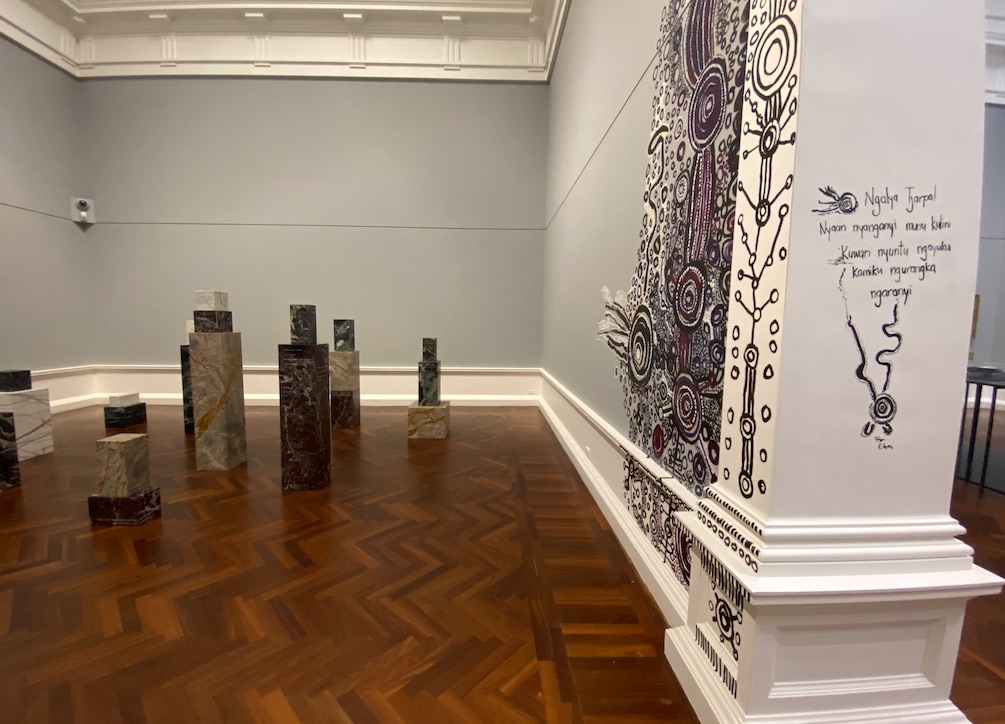 Restoring artists' agency
The journey of this exhibition – and it is indeliably a journey – starts in the gallery's colonial Elder Wing with the grouping of three works that act as both cues and cornerstones to the ethos of this Biennial.
Ukrainian-Australian Stanislava Pinchuk turns to Homer's classic text, Odyssey, to explore current narratives of refugees. She has engraved a suite of marble monoliths – their veiny patterning echoing turbulent seas – with the redacted words from the incident reports by those detained on Nauru and Manus Islands. Her work here, positions the refugee in the edifice of the past.
Similarly, APY Lands artist Rhoda Tjitayi uses the edifice of authority, painting her traditional stories directly onto the walls of the gallery's colonial architecture – a kind of cleansing welcome arch for viewers that erstwhile turns to a creation narrative, with text translated 'come in' and 'right now you're on my grandmother's Country'.
While Tom Polo's large-scale free-standing oil paintings both contest and converse with the gallery's historic collection, and pulls the viewer through the space with 11 paintings peppered like Red Riding Hood's breadcrumbs on an enchanted, but dark journey.
They pay a nod to the gallery's history of re-hanging its collection with a contemporary lens, allowing the works to lean on each other to complete the narrative. Polo takes it that step further by exposing the verso of his painters, their armature symbolically forcing a transparency – a bit of a vulnerable pants-down moment that forces you to look.
That theatricality, Goldspink plays out across the exhibition. It is picked up in spectacular scale in the lower galleries in the expansive three-channel video by Reko Rennie, where an older video work doing 'circle work' on Country in a painted Rolls Royce, as kind of taking back of ceremony, is seamlessly fused to a considered extension of the idea.
A hot pink Monaro stands in for the Rolls, burning rubber in Melbourne's lockdowned industrial areas. It is operatic, not only for its soundtrack, but in its pace, space, scale and heroics – a deeply embedded rite of passage, or threshold.
With a similar intent, video artist Shaun Gladwell takes to Melbourne's streets during lockdown, resulting in a new work that subtly plays with a manipulation of sound in a new direction for him.
Gladwell has always worked in the urban landscape – it is his home; his free state – but riffs off urban sounds as part-composer, part-performer, ratcheting up the staccato and fracture of improvisation with a contemporary lens. At times sound is the pragmatist, the provocateur to the narrative, and at others it is barely audible, perhaps a metaphor to our constant negotiation with contemporary society.
A dream snippet in the 20-minute film is a kind of rapping with the traffic light beeper button, and a more familiar urban climbing sequence, inverting himself on kangaroo sculptured lightpost (echoes of his celebrated Tangara, 2003) – small actions that push back to the overarching free / state theme.
Goldspink plays out this idea of the threshold as a theatrical choice, by ratcheting up Polo's visitor-led journey, into a kind of herding of the viewer, compressing and expanding their intimate engagement with the artworks on display.
AGSA is not new to this device of punching exhibition design into high volume, never afraid to use colour, navigating audiences through room-sized installations in editions of Tarnanthi, quirky wall-builds in the award-winning Clarice Beckett survey, and Leigh Robb's 2017 exhibition Versus Rodin, which played with that bodily engagement with the works on display.
But it finds a new extreme in this Biennial, that is more about confrontation with our own histories and social mores, than mere aesthetics.
For example, one is forced to walk through a highly-light narrow corridor where three sheep carcasses hang on butcher's hooks, superbly sculptured by Perth artist, Abdul-Rahman Abdullah. Echoing Greco-Roman sculptures with a kind of translucent marbelling of the flesh, he mashes out what constitutes acceptable social norms between European consumption and critique and a slide into memory, growing up Muslim and halal in suburban Perth.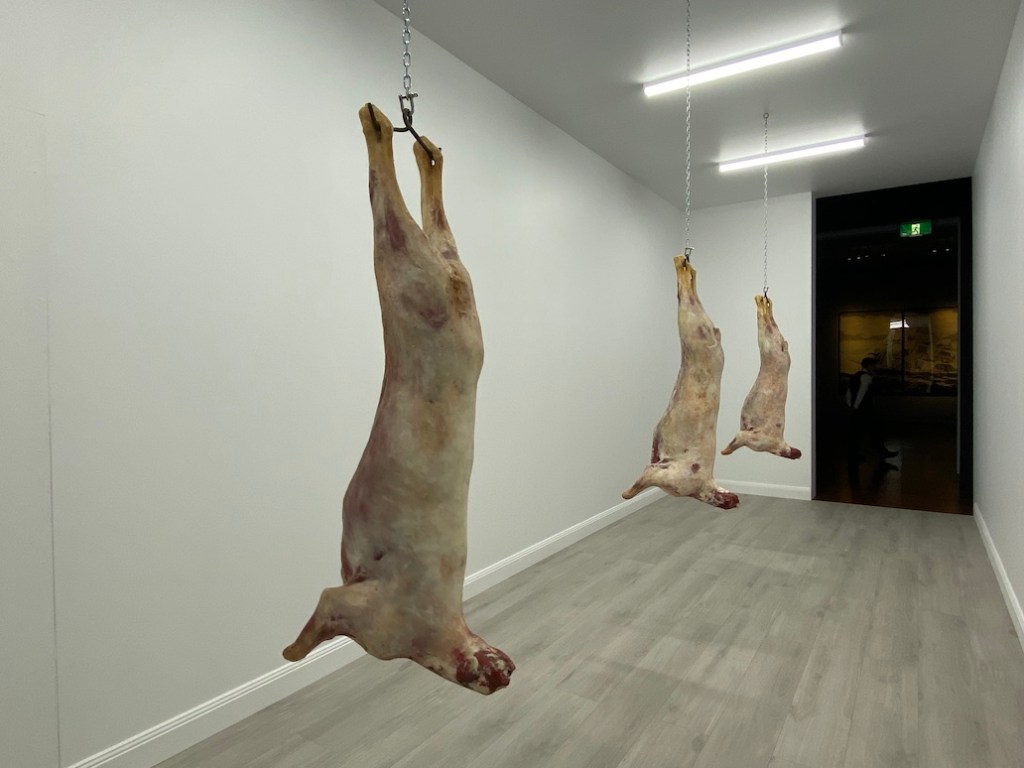 In another room, Worimi man Dean Cross repurposes Gericault's painting The Raft of the Medusa (1818), a fleshy shipwreck scene, but with the gob-smacking realisation that the arrangement of the bodies form the shape of Australia itself, the inference being, also in desperate need of rescue – the layers of free and state take meaning.
It takes on additional urgency, as over 650,000 refugees have already left Ukraine in the last six days. As artist Stanislava Pinchuk remind us, 'how land retains memory and place bares witness to politics.'
Goldspink describes it as a kind of 'unbraiding' through cartography, placing Norman Tindales's 1974 map, titled 'Tribal boundaries of Aboriginal Australia', over Gericault's painting and using it as a cut-out threshold through which one walks.
Mapped points are pulled through the structure to hold lengths of star-picket fencing on the backside of the installation – a reference to boundaries and territories, and an imposed state – while also oddly appearing here like traditional mark making – the marks of land and lineage.
Cross's work has a nice segue to Kamilaroi / Gamilaraay artist Dennis Golding. His glowing, and somewhat haunting chandelier is constructed from the latticework of Victorian terraces houses, and hovers in a darkened gallery casting shadows.
It is an act of decolonising his childhood neighbourhood of 'the Block' in Sydney's Redfern, reclaiming imperialistic architecture and restoring agency.
Free / State as (un)contested notions of home
'Everyone has rationalised what is important to them during these times,' explained Goldspink. 'And this idea of home is explored through a lot of the artists' work.'
As we speak with Pinchuk of notions of home in her artwork, the raw news that her ancestral home of Kharkiv had been razed overnight sat heavily in the air. It reasserts art's capacity to connect people; to reinstate humanity in a crazed world.
She told ArtsHub: 'This story is very true what it means to be displaced from home … for me the key idea in Odyssey is how we treat our guests, what is hospitality.'
Read: Arts community responds to Russia's invasion of Ukraine
Home similarly strikes raw and real, with an installation of artworks and a cabinet of objects that map the 47-years of making by Adelaide based artists Angela and the late Hossein Valamanesh. The artists had worked with a diorama to map out the space, prior to Hossein's recent passing.
'We didn't have to interpret it,' said Goldspink. 'We had this blueprint, and to see the installers hand it around like a sacred object, to know this was their intention,' adds to the emotions swelling around this exhibition.
In his closing thoughts on the exhibition, Armfield described: 'One would expect an eclectic series of viewpoints from which a thorough line would be hard to discern, and it is partly due to Sebastian's nature, he's curated an exhibition that is subtle and selfless; it is all about the artist and a celebration of their diversity.'
Goldspink added: 'This is the art history of Australia I want to promote – this dialogue between artists.'
The 2022 Adelaide Biennial is very much about journeying – journeying across land; journeying through our times; navigating the journeys of trauma. It both confronts and delights, is bold but subtle, is immediate yet enduring.
This will be one of those milestone exhibitions that remain in our collective conscious for a long time. While the past two years have delivered many exhibitions that unpack the state of our times, be it pandemic, political or environmental, this exhibition take the helicopter up higher.
It puts our collective contemporary psyche in a broad context, and elegantly manages and enlivens the eddies without ostracising – a free state indeed when we most need it.
2022 Adelaide Biennial of Australian Art: Free/State
Art Gallery of South Australia
Programmed for 2022 Adelaide Festival
Curator Sebastian Goldspink
4 March to 5 June 2022
Free entry
Artists: Abdul-Rahman Abdullah (WA), Serena Bonson (NT), Mitch Cairns (NSW), Dean Cross (NSW), Shaun Gladwell (VIC), Dennis Golding (NSW), Loren Kronemyer (TAS), Laith McGregor (NSW), Kate Mitchell (QLD), Tracey Moffatt (NSW), Stanislava Pinchuk (VIC), Tom Polo (NSW), JD Reforma (NSW), Reko Rennie (VIC), Julie Rrap (NSW), Kate Scardifield (NSW), Darren Sylvester (VIC), Jelena Telecki (NSW), Rhoda Tjitayi (SA), James Tylor & Rebecca Selleck (ACT), Angela & Hossein Valamanesh (SA), Sera Waters (SA) and Min Wong (NSW).
Inaugurated in 1990, the Adelaide Biennial is the country's longest running survey of contemporary Australian art. It has created career-defining opportunities for close to 500 artists, and 22 curators.
The writer travelled to Adelaide as a guest of the Art Gallery of South Australia.