The opportunity for artists to reimagine an aspect of their city occurs only rarely, which is why Northshore Brisbane's Michael Bucknell is keen to hear from individuals, collectives and organisations with ambitious and transformative ideas.
Expressions of Interest (EOIs) are now open for artists and innovators with a creative vision to be included in Northshore Brisbane, which is already a destination for arts-curious audiences thanks to the likes of Cirque du Soleil and Brisbane Festival establishing hubs on the river-front site.
'We've got these spaces that lend themselves really well for people to come and try new ventures and create new experiences and opportunities,' said Bucknell of the 300 hectare site.
Bucknell, Economic Development Queensland's Northshore Project Director, is keen to see the precinct – destined to become the Athletes' Village for the 2032 Brisbane Olympic and Paralympic Games – further activated in new and original ways.
'We've got Flipside Circus, Queensland's largest youth arts organisation, bringing their home here, but what we're really interested in now is the medium-term proposition,' he explained.
'We're 10 years into a 40-year project. We've got a fairly high profile milestone for us in a decade's time with the Athletes' Village. But there are other parts of our precinct that we're keen to develop, which will take time – and what that means is that there's part of our precinct which will be available for decades,' he explained.
'So let's not just let it sit there, let's not just store grain or vehicles or whatever on the site – let's actually use its extraordinary position to open it up and bring in the community, interesting life and activities.'
Activating diverse spaces
Artists and other creatives who are keen to submit an EOI are encouraged to familiarise themselves with the five key areas located across the Dock C location that are available for interactive and transformational experiences.
One such area is a 2,500 metre2 site that includes 50 metres of Brisbane River frontage. 'It would be great to hear from someone who is actually looking at the place from the river and thinking about how you can really capture the imagination from that perspective,' Bucknell said.
'We want people to use that site in a way that will bring the community in and create something interesting there. And that might require a temporary structure or what have you, but there's an opportunity to use the river appeal and create an iconic view from the river; that would be fantastic.
'We've also got maker spaces for people to create their manual arts, as well as other spaces which are more public-facing,' Bucknell said.
Submitting an EOI
Bucknell encourages applicants to consider existing ways the site is used and how to attract more people to Northshore Brisbane.
'We want installations and experiences that will actually engage people; having previously been an industrial site we are keen to open the space and welcome the community back to the shores of the northern reaches, that's just as true if you're creating a kinetic sculpture as it is if you're planning some sort of public event, whether that's just for a few months or an ongoing rolling program,' he told ArtsHub.
Proposals should complement existing activations and innovations to attract greater visitation and captivate audiences. Occupancy rights are negotiable and can extend to June 2030.
'We want to give people a lot of reasons and unforgettable moments at Northshore, and attract people from different cohorts as well,' said Bucknell.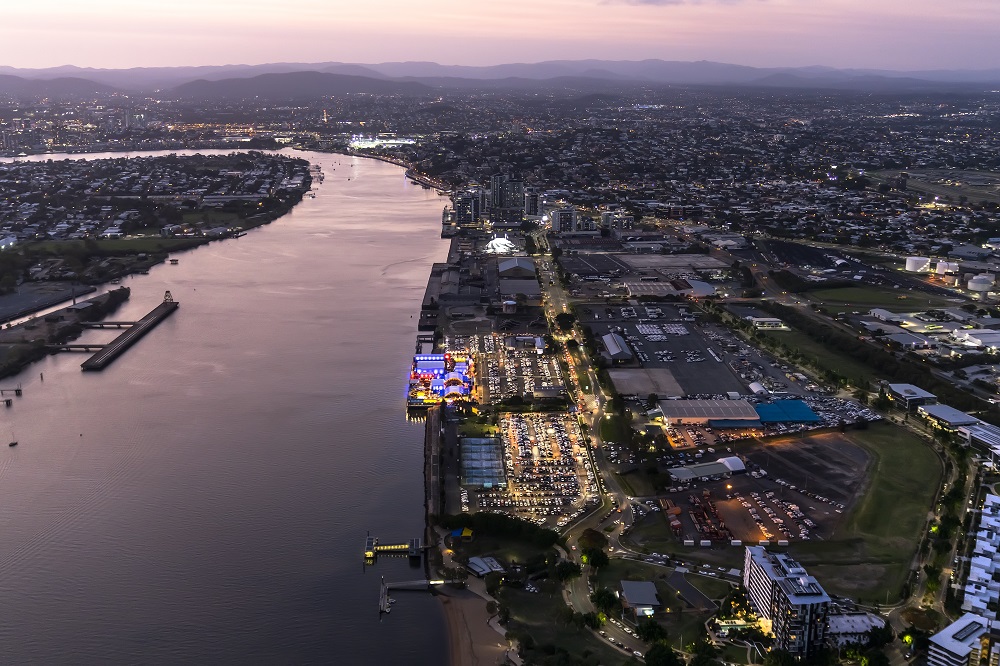 He's also keen to see EOIs that suggest modest proposals for mid-week activations like workshops and smaller bespoke activations, not just major events.
'When major attractions are on, they're full on – there's traffic and all those sorts of impacts, but when they're not, it's a bit quieter. And we've got all this great infrastructure and car parking and accessibility for periods of time during the week, but which are not really being used. So that's why we like events that sort of complement the existing program and make it a bit more diverse by extending activities across the week,' he explained.
Bucknell encourages interested parties to consider the entire Northshore Brisbane site as a blank canvas and to be ambitious in their Expressions of Interest.
'We want people to create a range of immersive experiences across the precinct. It's a pretty unique opportunity. I'll be very surprised if there aren't some creative people in southeast Queensland who look at the site and see all sorts of possibilities,' he concluded.
Visit Northshore Brisbane for details about submitting an EOI. EOIs are now open and close on 14 April 2022.