Those who have been to the Cairns Indigenous Art Fair (CIAF) know that it's much more than gallery booths in a convention centre. For first-time visitors, CIAF 2023 will be a treat with its biggest and most culturally immersive program to date.
This is the first program to be led by new CIAF Artistic Director Francoise Lane and is themed 'Weaving our Future: Claiming our Sovereignty'. This strong sense of empowerment and advocacy is embedded in Lane's vision, who worked alongside CIAF as an artist, designer and curator for several years before taking the reins from previous Artistic Director, Janina Harding.
Lane tells ArtsHub: 'Art is a powerful platform to raise the breadth of experiences, issues and commentary on cultural, social and political subjects from First Nations peoples. It can present compelling contemporary perspectives that are provocative and emotive, and raise the conscience of the broader society.'
She continues: 'We are living in a time when the collective voices of First Nations peoples are being positioned to drive change across our state and nation. CIAF 2023 "Weaving our Future: Claiming our Sovereignty" is a strong theme responding to the broader Australian conversations on a National Voice to Parliament and Queensland's Path to Treaty.
'In 2023, CIAF is a "movement", a meeting place and, in essence, a holistic expression of two very distinct and diverse cultures [Aboriginal and Torres Strait Islander] – past, present and future.'
CIAF 2023 program revelation
From 13-16 July, CIAF will showcase large-scale, hand-woven artworks, an anniversary fashion performance, a two-day symposium, an outdoor music festival and more than 300 works of art from Queensland's talented Indigenous artists.
The theme, 'Weaving our Future: Claiming our Sovereignty' sits across every aspect of the program.
New to CIAF is Urban BLAKtivation, which will begin as a prelude to CIAF on 1 July in Cairns CBD. It's a family-friendly, accessible arts and cultural event with Indigenous performance, digital and sculptural art installations, storytellers and poets, says Lane.
These will be showcased across Shields Street, developed in collaboration with AFL Cape York House for Girls and Bonemap Intermedia with First Nations artists.
Music in the Park – Live it Up! is another new CIAF addition that will activate the city with headline acts Spinifex Gum featuring young female voices of Marliya choir, Felix Riebl (Cat Empire), Emma Donovan and more.  
CIAF's annual commissioning exhibition returns, this year showcasing the Coconut Leaf project with large-scale, three-dimensional works by Torres Strait Islander artists. The traditional coconut leaf and weaving technique is being reimagined to create contemporary artefacts and will be displayed at the Cairns Convention Centre where the main Art Fair and Art Market is held.
This year's Art Fair features 27 exhibitors, co-curated by Lane and Teho Ropeyarn, with a further 55 Art Market stalls providing authentic and unique First Nations artworks across all price ranges.
Lane says: 'I anticipate that the response to the theme by Queensland First Nations artists at the Art Fair will be as diverse as the many Nations across the breadth of Australia, and the Nations and Clans across Queensland.
'In conversations with artists both in urban areas and those living in the most remote communities, the expression of sovereignty (as defined in a First Nations perspective) ranges from expression to the practice of traditional weaving – with the "right" to source natural fibres from Country – to the truth telling of connection to Country, Culture and Kin never broken.'
CIAF's cornerstone fashion performance will also celebrate its 10th anniversary this year, centred on the theme 'Woven'.
Curated by Lynelle Flinders, the performance is 'an artistic celebration of Queensland First Nations knowledge to infuse the unique use of materials, assemblage techniques and textures into the creation of vibrant collections,' says Lane.
Fifteen designer collections – from Quandamooka Country in Queensland's south-east to the Cape and Torres Strait Islands – will be on view, including from Holly McInnes, Delvene Cockatoo-Collins and Emily Beckley.
Since the inaugural 'Ufla Upla' Textile Conference and performance in 2013, CIAF has pioneered a fashion movement and built a legacy for Queensland's Aboriginal and Torres Strait Islander peoples to participate in Australia's vibrant and burgeoning Indigenous fashion movement.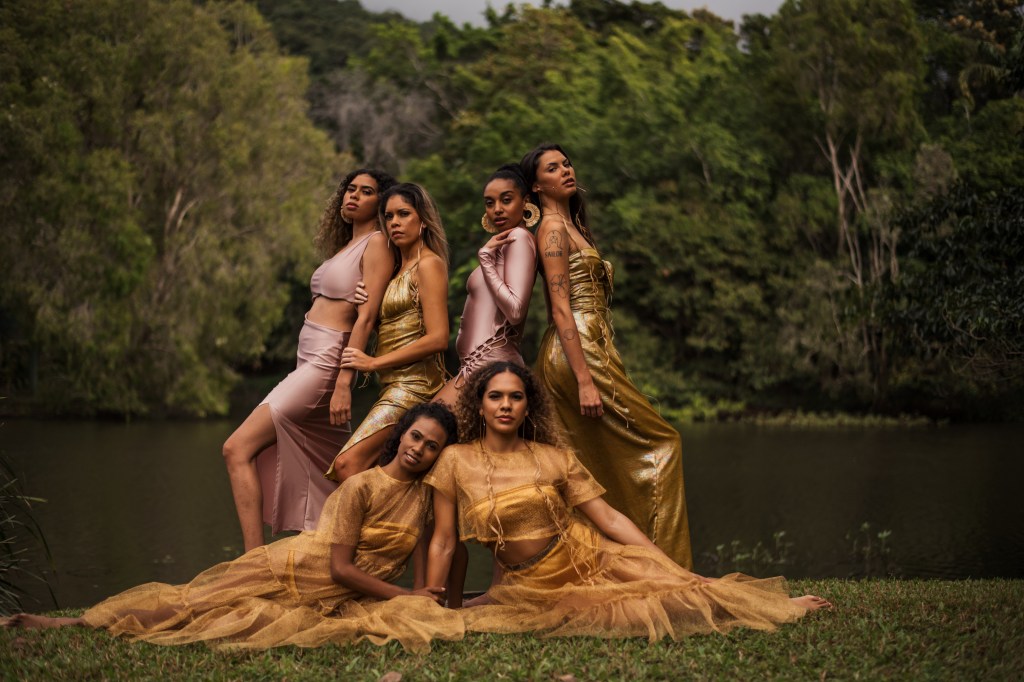 Flinders adds: 'CIAF's fashion performance has been, and continues to be, life changing. What started as a creative expression has developed into a mentorship role where I can support other First Nations artists to progress in their journey and encourage them to follow their dreams.'
Other public programming includes free workshops on arts and craft practices, cultural contemporary dance, masterclasses by First Nations artists across printmaking, weaving and drawing, and a selection of children's programs.
A host of satellite exhibitions will also welcome visitors to experience the breadth of arts and cultural experiences on offer, including at Cairns Art Gallery, Cairns Court House Gallery, NorthSite Contemporary Arts and Tanks Arts Centre.
Hearing from First Nations leaders on topics of priority
CIAF's two-day symposium is a major learning, networking and engagement opportunity with First Nations leaders from the Torres Strait to south-east Queensland.
Lane says this year's topics engage in 'timely conversations on how sovereignty is expressed in practice, from arts to architecture'.
Opening speaker is Murrumu of Malubarra, Minister of Foreign Affairs and Trade, Sovereign Yidinji Elverina Johnson, who will join the line-up of panellists including Dr Danièle Hromek, Merindi Schreiber, Cathy Hunt and Sarah Lynn Rees.
Topics such as diversity in First Nations creative expression, Indigenous creative allies and overseas Indigenous arts practices will be explored.
Lane is looking forward to a new chapter for CIAF and its role in platforming authentic First Nations arts and cultural practices. The event recorded its highest ever attendance of more than 60,000 visitors in 2022, with sales exceeding $1 million for the first time in its 13-year history.
Lane concludes: '"Weaving our Future: Claiming our Sovereignty" begins by giving voice to First Nations creatives across Queensland with a theme crafted to both inspire and harness the sentiments of Queensland's Aboriginal and Torres Strait Islander artists at a time when a First Nations Voice is being proposed to drive change across Australia.'
CIAF 2023 runs from 13-16 July; view the full program and book your tickets now.