In the lead-up to presenting this year's light festival, Parrtjima 2020 (pronounced Parr-chee-ma), the idea of isolation and health restrictions caused by a global pandemic were far from the heart of Australia's Red Centre.
When ArtsHub spoke with Paul Ah Chee (Ngala) at the time, Northern Territory Major Events Company's Director of Engagement and Culture Events, he described Parrtjima as unique because, 'It is life changing; it is meaningful, and it comes from something far deeper. It is much more than a light show! We are living it.'
This September that message will resonate more than ever when Parrtjima returns.
Many of us have reassessed what is important – what is valued – over recent months, and coupled with the Black Live Matter (BLM) protests globally and locally, Ah Chee believes that, 'We have to get back to humanity'.
'Family, culture, COVID, BLM – it is about connectivity; to look across the table in your own household and face what you value,' he told ArtsHub.
Fittingly, the theme of this year's festival is Lifting Our Spirits. 'It is quite apt at the moment; it is about that kind of collective spirit needed now,' said Ah Chee.
With new dates, Parrtjima 2020 – A Festival in Light will be presented over ten days from 11-20 September 2020, activating the desert landscape of Central Australia, of Mparntwe.
Including a two-kilometre sound and light show projected onto the ancient MacDonnell Ranges, illuminated sculptures upon the red sands of the Desert Park, plus an entertainment stage and creative lighting within Alice Spring's Todd Mall – the festival turns to the latest technologies to showcase the oldest continuous culture on Earth.
At a time when travel restrictions have clamped down internationally, this is a moment to connect with our own culture.
Parrtjima a powerful celebration of Aboriginal arts and culture
Proud to be Aboriginal-led, Parrtjima will lead the nation's festivals recovery, speaking to the strength of the Aboriginal arts sector and the enduring quality of Aboriginal arts and culture.
'It's a good time – a really good time – that a festival like Parrtjima comes out leading, and is not in your face, but rather is a celebration of how powerful Aboriginal culture is,' Ah Chee told ArtsHub.
In the wake of the COVID-19 virus, the Parrtjima Festival Reference Group (PFRG) along with Aboriginal Elders have worked collectively with the relative parties, government and stakeholders to deliver a safety management plan so that people can feel confident coming to Parrtjima.
Ah Chee said the program has been adjusted slightly from the April edition as an impact of COVID, but still holds many unique elements.
'Grounded, as well as the sound and light show on the range is intact as planned. The installations are going to be mind-blowing, however we have created a more intimate offering at Todd Mall to adhere to health restrictions. It will definitely have its integrity!'
AGB Events, the Creative Directors and Producers of the festival, have engaged Rhoda Roberts AO for a third year as the event's First Nations Adviser, working alongside respected Arrernte people and the PFRG.
'Having Rhoda's vision in making this event allows Aboriginal art to have that pathway to say, "Hey this is something meaningful; how can we make it better for everybody to come together in the theme of Lifting Our Spirits",' explained Ah Chee.
'The whole experience has enormous energy and power, and it is starting to get a better understanding of itself and what it can do,' he added.
The full program for Parrtjima 2020 will be announced on 28 July.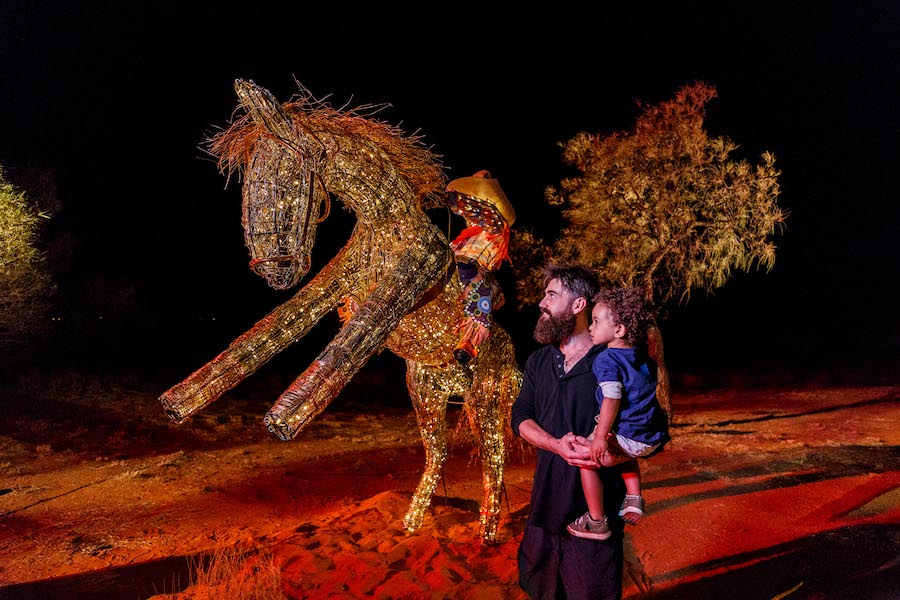 Parrtjima – A Festival in Light 2019 – Language of Stockman. Artists: David Wallace & Johnny Young, Tapatjatjaka Art Centre.  Image supplied.
The need to get back to humanity
'With the extraordinary events we have experienced with this pandemic, there comes a realisation that people "get" it – the importance of family and culture in our day-to-day life. I honestly believe we will see a re-evaluation of our own existence, and if experiencing this culture first hand with Parrtjima, then that is amazing,' he told ArtsHub.
Ah Chee continued: 'Parrtjima can play a role in that recovery, by giving people a sense of "it's ok", and some joy that can come from a celebration – and maybe a better understanding of ourselves, especially with all that is happening in the world of late.
'We, as Aboriginal people, our connectivity to our being, our families and the land is an intrinsic part of our society – our stories, dances and songs – so Parrtjima will shine a light on who we are, and where we came from and where we are going.
'Bringing those stories to life in a way that Parrtjima does has a lasting effect on people,' said Ah Chee.
'It will give you energy, and insight and purpose, tor people to feel the spirituality and to connect with the land. It's not just the domain of Aboriginal people,' he concluded.
Parrtjima 2020 is an Aboriginal-led festival that is held in Alice Springs, Mparntwe, home of Arrernte people.
To plan your trip to Parrtjima 2020 – A Festival in Light, view the full program details and tips on visiting Alice Springs.