Mixing art, music and performance, and centred round the hub of pretty Prince's Square, Launceston's four-day Junction Arts Festival features national and local artists, with the latter strongly represented.
The day I attended, I took in a surprising mix of four shows, including the latest from The Listies, ROFLSHALBOWCO (Rolling On The Floor Laughing So Hard A Little Bit Of Wee Comes Out), but here I will concentrate on locally-made work.
It Happened One Day
Mudlark Theatre's annual One Day project, inaugurated in 2004, sees playwrights, directors, actors, producers and technicians gather to create up to 10 short one-act plays in 24 hours; that includes writing, rehearsal, production and performance. The result has been 68 plays by 26 playwrights. For Junction, Mudlark programmed a retrospective of four of these 15-minute works.
The program offered all the pleasures of short-form theatre, especially when made on the hop: bold choices, vivid imagery, lively characters, ingenious twists, and of course compression/acceleration of action. But, as physics teaches, compression can lead to explosion! The first three works were over-wrought and shouty, though eased mid-way by Grace Robert's tense, still monologue. A controlled explosion, in fact. The fourth work introduced welcome changes of pace and tone, and humour.
The plays ranged from poetic drama through magic realism to early Stoppardian whimsy. Production values were high. Five actors undertook the 10 roles, and featured impressive performances by Grace Roberts and, especially, Gabrielle Adkins.
2.5 stars ★★☆
It Happened One Day
Mudlark Theatre
Playwrights: Megan Bennell, Geoff Dobson, Cameron Hindrum, Christopher Jackson
Directors: Stephanie Francis, Leigh Oswin, Georgie Todman, Zoe Vandervelde
Actors: Gabrielle Adkins, Jesse Apted, Travis Hennessy, Daniel Lizotte, Grace Roberts
5-8 September 2019
The Worker's Club, Launceston TAS
Tickets $22-$27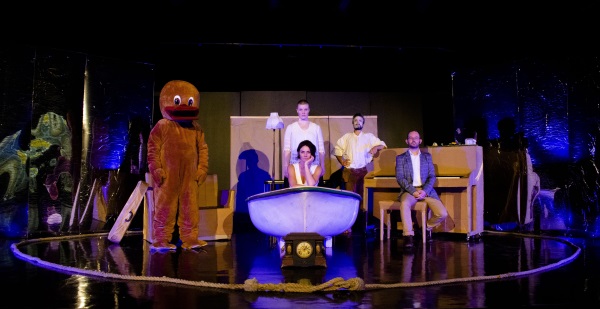 The company, It Happened One Day. Image: Scott Cunningham.
Ghosts of the Olympic Theatre
Drawing on her extensive research into leading performers in Australia in the 1830s-1840s, Jane Woollard raises the spirits of four colonial actors, conjuring them to reoccupy the space of the old Olympic Theatre, now Launceston's main post office.
Reliving an evening at the Olympic, the ghosts gossip, gripe, rehearse, prepare and perform. Woollard skilfully weaves research and entertainment into scenes rich in historical detail and dramatically satisfying. Her fine cast honoured the memory of their ghostly predecessors, and a particular pleasure was the voices of this sonorous quartet.
Less successfully, Woollard, head of theatre and performance at the University of Tasmania, includes a second cast of five students, who discuss aspects of nineteenth century acting. These scenes have the tone of an academic treatise, and do not engage. Hopefully in future iterations Woollard will find a way of dramatizing this critical material as successfully as she has the experiences of her ghosts.
This flaw aside, the show is educative, entertaining and curiously affecting. The theatre is one of the most ephemeral of artforms, yet, with the ghosts reoccupying the same air where they worked, bared their souls and gave their all, and giving them the time to live and breathe that same air again, the show movingly evokes a deep permanence.
3.5 stars ★★★☆
Ghosts of the Olympic Theatre
Writer/Director: Jane Woollard
Dramaturg; Melaine Beddie
Cast: Colin James, Jane Johnson, Gerard Lane, Jane Longhurst
Student cast: Shawna Collins, Ashley Eyles, Brandon Richardson, Matthew Saltmarsh, Graidy Schottmeier
4-8 September 2019
Australia Post, Launceston TAS
Tickets $30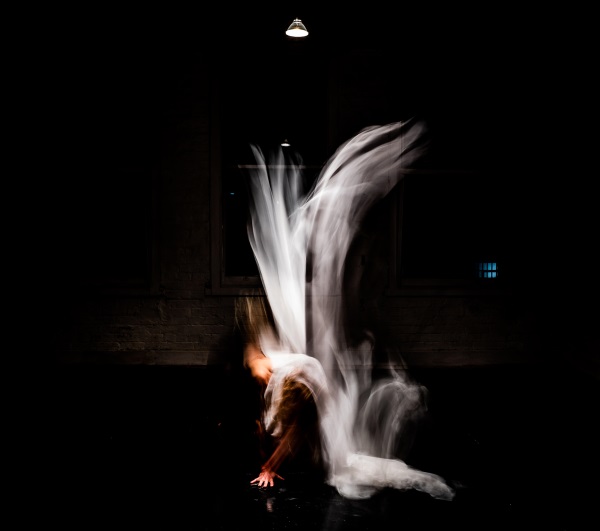 Rachel Arianne Ogle, Ephemera for First Floor. Image: Gabriel Comerford and Adam Wheeler.
First Floor
Tasdance's perambulating work takes in five first-floor locations for five solo dance works. Each work responds to its particular space, and each is distinctive, vibrant and surprising. It all adds up to a glorious program of dance.
Staged in a former bakery, Thomas ES Kelly showcases the power of fire. It's a power that throbs through this graceful, urgent, earth-bound work. Kelly is a big man, and this superb work, Waiburra, has an almost overwhelming physical vigour and emotional depth.
Rachel Arianne Ogle's Ephemera for First Floor takes a photographic studio as its site, and Ogle responds with a series of still stop/start moments captured in the camera's flash, culminating in Loie Fuller-esque bursts of quivering ecstasy. It's evocative, somewhat melancholy, and thrilling.
It's hard to think of a more contrasting follow-up than Gabriel Comerford's The Many Hatted Restaurant. It's 15 minutes of mad, exuberant, pure comedy. Cavorting about in a once-chic eatery – all smoky glass and swirly gold carpets – Comerford is athletic and hilarious as maître d', barman, cook and dance master, leading his audience in a round dance and sending them very happily into the night, and on to …
Room No. 19, Sophie Burgoyne's concentrated work, calls on all those gathered – performer and audience alike – to recall or imagine all that has taken place in a small and blandly featureless space. It acknowledges our shared humanity as a group in this time and space, and across all times and spaces. It's a huge idea for a tiny work in a tiny room, but it does work thanks to the boldness of the performer and the intelligence of this provocative presentation.
Finally, the audience makes its way across the Launceston CBD to the old National Theatre, now a printer's works. Isabelle Stone's where dreams go to die is the most dancerly of the works, and takes places across the empty dress circle and abandoned stage. Framed by the flaking gilded proscenium arch, and threading her way among the pallets of paper supplies, Stone's work questions the very nature of dance itself, asking us 'to see the object as in itself it really is'. It's riveting, with the kind of poignancy that make you feel temporarily paralysed.
Conceived by Tasdance artistic director Adam Wheeler, First Floor is a total success both in concept and realisation, supporting five idiosyncratic dance-makers in highly individual works that expand and expound on the form, and that speak to their audience and community. This program, even at its most enigmatic or hilarious, is thoughtful and authentic, and therefore deeply engaging.
5 stars out of 5 ★★★★★
First Floor
Tasdance
Concept/Artistic Director: Adam Wheeler
Producer: Ali Copley
Solo dance artists: Thomas E.S Kelly, Rachel Arianne Ogle, Gabriel Comerford, Sofie Burgoyne, Isabella Stone.
Composer: Anna Whitaker
Lighting Designer: Chris Jackson
5-7 September 2019
Promenade starting from Prince's Square
Tickets $27
Junction Arts Festival
4-8 September, 2019
Launceston, Tasmania