The Phantom of the Opera – or simply Phantom – is a household name when it comes to theatre. That is because over 140 million people worldwide have experienced the dramatic masterwork by Andrew Lloyd Webber, first performed in 1986 – and in Australia in 1990.
It is one of the longest-ever running pieces of musical theatre, and yet it has never been staged outdoors – until now.
The pressure is on then, for Handa Opera on the Harbour to deliver with its latest production – choosing a big splash, popularist hit of earworm tunes, and sappy horror-romance drama – to draw the broadest crowds, as we attempt to head back to normal after pandemic disruptions. Adding to that pressure, Lloyd Webber was in the audience on opening night.
Undoubtedly, the new production is a hit. It delivers in doses as a spectacular, with performances to match.
Joshua Robson performs The Phantom – a role that cemented Anthony Warlow as an international star some 14-years back – but brings his own nuance to the role. He has a great connection with Georgina Hopson as Christine Daaé, as their on-stage energy infectiously ripples out to the audience.
The first impressions, however, are reserved for Gabriela Tylesova's staging. Having collaborated with director Simon Phillips on a number of productions, they seemed to be seamlessly in sync in their vision for this new Phantom.
Tylesova is responsible for both set and costumes. For an opera that is notoriously 'indoors' it holds its own in the outdoor setting. An enormous sweeping staircase guides the audience eye upwards, while being anchored to the left by baroque theatre boxes. (My guess there was some time spent on the stair-master as well as the rehearsal studios ahead of this production).
A hint on the level of opulence here; over 10km of gold foil has been used on this set! The question on everyone's mind, however, is how 'the chandelier scene' has been handled? Without giving anything away, two words offer a hint: a crane and a spark (both of which are more tempered than bang).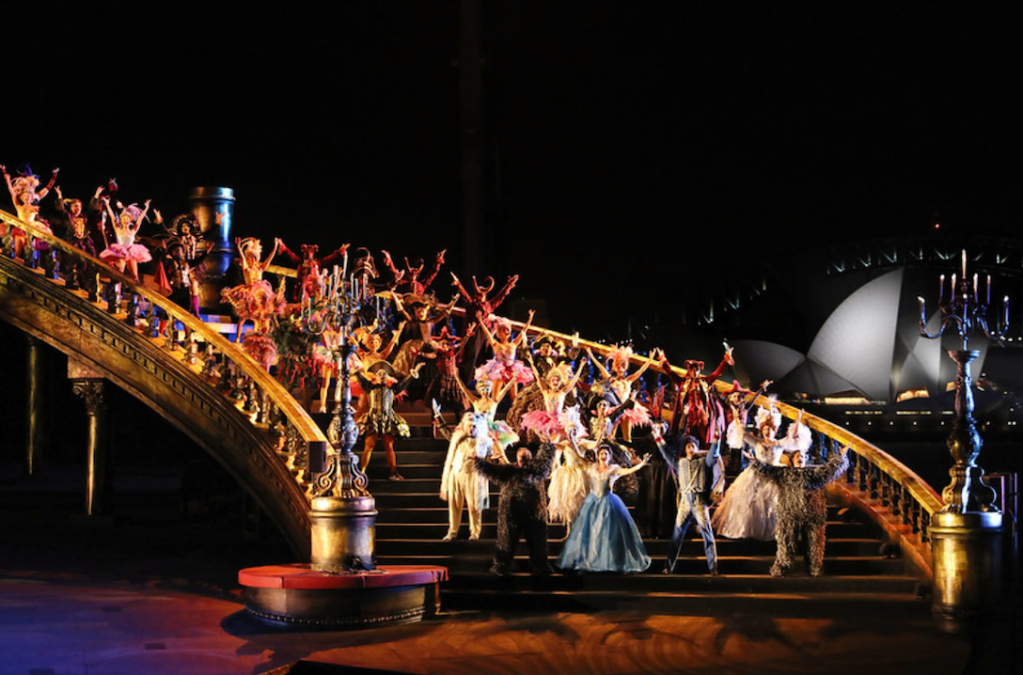 The greater wow for this outdoor production, however, is reserved for footlight flames that flare up on cue as the Phantom takes Christine on a gondola ride. The iconic all-chorus, all-cast, Masquerade is another highpoint, with a colourful show of Tylesova's costumes – highly feathered, bejewelled, wigged, and verging on amusing. It is the kind of big filter needed for an outdoor stage. And when amplified across the 30-strong ensemble, it is eye candy country. The power and energy seemingly sent audiences soaring.
Lighting designer Nick Schlieper deserves a deep nod also.
Hitting a high note
The leading trio – Robson, Hopson and Callum Francis as Raoul – all debuted in Phantom roles. Hopson is a perfect Christine Daaé – she shines and her voice holds the night with a strength and sweetness needed. She presents the right amount of innocence, and an entranced, entrapped love.
Baritone Robson equally delivers on all expectations of the Phantom role, booming and resonant, and dramatically controlling his range from sensitive to menacing force. It is a demanding role, upon which much of the production hangs, and Robson gives us a performance as best as they come.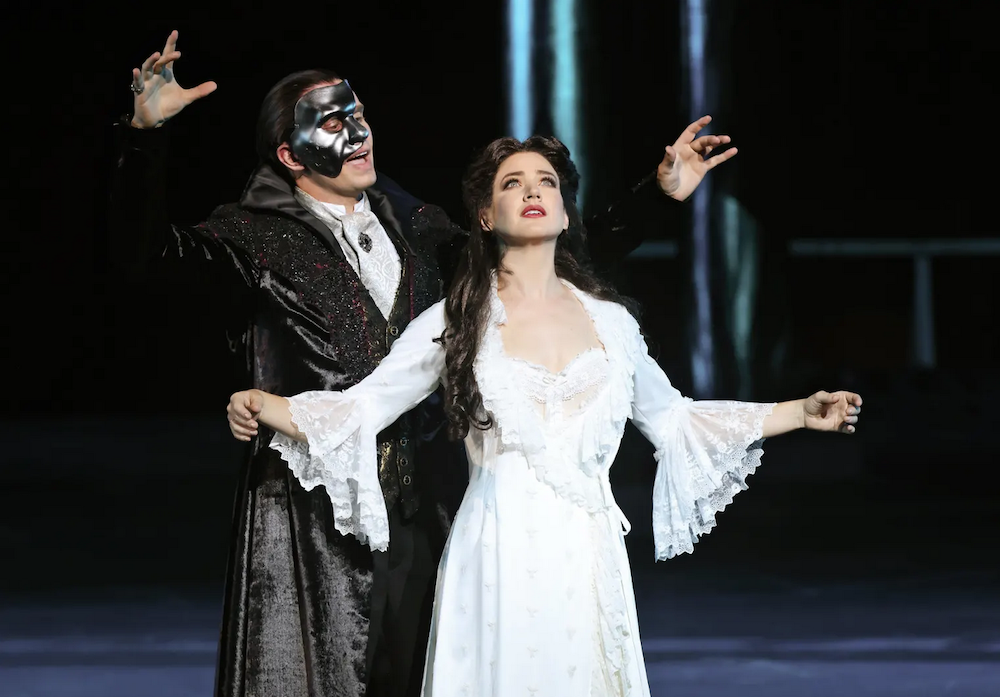 Francis as Christine's lover Raoul plays an endearing hero, though at times the sound balance drowned him out on opening night.
Soprano Naomi Johns nails the diva-like temperament of prima donna Carlotta, toned with the right amount of humour, jealousy, and operatic gongs. Paul Tabone as the tenor Ubaldo Piangi, further adds a steady note of humour, well-pitched both dramatically and in note.
Maree Johnson as the ballet mistress Madame Giry is flawless. She takes her leave from the Broadway production for the Harbour gig (she performed Christine in the very first Sydney Phantom, taking over from Marina Prior).
Joining the overseas Phantom veterans, is Michael Cormick (who played Raoul on the West End) as theatre manager Firmin. He is joined by Martin Crewes as his partner-in-theatre-crime, Monsieur André.
Overall, this is a production that delivers in doses. It is true to Phantom's incredible legacy – and in ways that won't disappoint punters – but it also picks up those iconic high points and delivers them in fun and fresh ways.
If you are an Opera on the Harbour regular or a first timer, the weather should not hold you back this autumn. This is going to be one of those memorable theatre moments that people will long speak of. Don't miss it.
Handa Opera on the Harbour (Opera Australia)
Fleet Steps, Mrs Macquaries Point, Sydney
Until 24 April