Camerata, Queensland's Chamber Orchestra, is committed to offering a range of diverse programming annually. Camerata Cinematheque continues a tradition introduced in 2015 when Things That Go Bump In the Night was its first joint concert and cinema experience. Four of the short films created then by recognised filmmaker, Queensland-born Anthony Lucas, have been revived, ranging from the macabre, sinister, spooky and terrifying to oddly humorous.
Lucas was commissioned to create four additional films for this new concert, three being inspired by music from composers Cameron Patrick, Erik Griswold and Robert Davidson. The result is an eclectic and fascinating mix, offering some inspired visuals by Lucas to accompany curated music. The new films further complement the original four with dreamlike or more light-hearted perspectives, while the whole makes for a rich and varied musical and visual palette.
Camerata begins with a non-filmic musical introduction presenting Grieg's delightful Holberg Suite with its many dance rhythms and nods to Norwegian folk music. As it is itself quite filmic, the audience can well imagine the fjords and the sweeping mountainous landscape in the five short and distinct movements. It is colourfully played with much verve and energy.
The first short film by Lucas, The Disassembly Macabre, accompanies Saint-Saens' dance of death, famously conjuring up frenetic dancing skeletons in the Danse Macabre. Played intensely by Sally-Ann Djachenko, a solo violin depicts Death. Lucas' film meanwhile, portrays a man strapped to a gurney, surrounded by instruments of torture, which are gleefully applied by his captor. The delicious humour in Saint-Saens' piece is captured in this gruesome yet surreal film.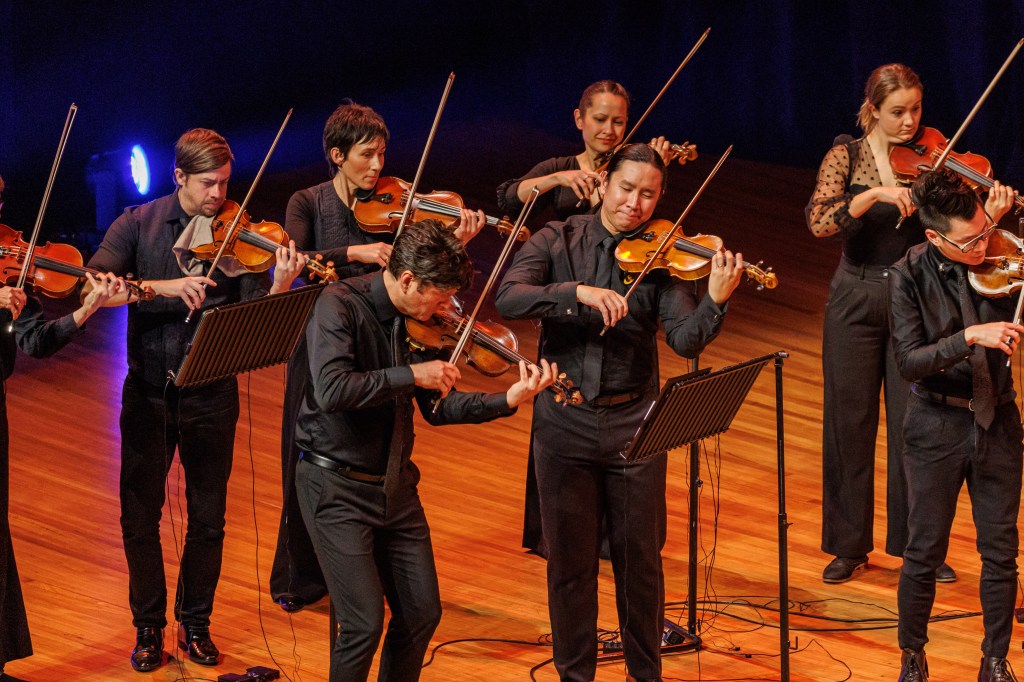 The narrative of Schubert's Der Erlkönig is that of a supernatural being luring a young boy into a forest. Musically eerie with a melodic sense of foreboding, this short extract is cleverly illustrated on film. The shadowy stick-like black figures are animated against a white background in Lucas' The Erlking Calls for Me.
Housefly uses the three movements of Stravinsky's Concerto in Re to excellent effect. Played without film, the first movement allows Stravinsky's rhythmic, pounding theme to take shape before the second and third movements demonstrate a bizarre and surrealistic vision on screen. An elegant woman sits alone in a green room. The introduction of an ordinary housefly, at times garishly oversized, has a quite devastating effect on her. It is an oddly uncomfortable film, depicting the drama of this potently delivered music.
The last work of the original four Lucas films offers a reworked slant on Bernard Herrmann's celebrated score Psycho: A Short Suite for String Orchestra. Here Lucas reconfigures images of the original Hitchcock film into a shortened Psycho Suite. Using various street signs heading towards the Bates Motel, plus a ground plan and disfigured cut-out paper figures, Lucas ably recreates the tension and heightened emotion of the music. A powerful screen image leads to the high screeching of the violin, which elicits gasps from the audience. This terrifying piece of classic film music is played with gusto by Camerata.
Cameron Patrick's 'Solstice' from Impressions of Erin is an other-worldly, impressionistic composition depicting a magical dawn at the winter solstice. Lucas' film Farewell the Sky turns that imagery into a sci-fi adventure in the sky, using animation and graphics and creating a stick figure animation of a man and his cat. Ethereal music with some fine solo violin playing from Brendan Joyce adds to the atmosphere.
Read: A string quartet playing classical works from memory
Erik Griswold's funky, jazz and disco-influenced work, Love to Love Your Strings, Baby inspired Lucas' Portrait – an abstract film with portraits of the artist from mixed media and paint to reflect the many moods of the music. It is in many ways the least engaging of the films, though the music with its pizzicato strings is energetic and delightful.
Leroy Anderson's Plink, Plank, Plunk! – a light-hearted work of virtuosic pizzicato string playing – is often represented by its "typewriter music" image. For Lucas, the music inspired waiting for a bus in Brisbane and windswept rubbish. In his film One-Way Streets, black and white photos of Brisbane soon morph into an eclectic mix of debris – mostly bottle tops, sticks and buttons. This is fun and well-played musically, though the initial street scenes seem somewhat extraneous.
The final work by Robert Davidson, Elegy, which is part of his suite A Short Hour Unseen, is a lovely melodic work with melancholic overtones. Here Lucas' film, Lost, with its creation of colourful characters made from toilet rolls, one of which takes on a life of its own, is charmingly and quite lovingly made. It is a highlight both musically and cinematically and a fitting conclusion to the concert.
Cinema is invariably made by the creation of the visual narrative with a film score composed later to illustrate key moments or add atmosphere. Camerata Cinematheque has taken a reverse approach, starting with the music and then adding visual elements. The quirkiness of the films gives us another layer of artistic interpretation that is mostly fun and enjoyable. A novel and interesting idea, this concert works well musically while the filmic touches adds some extra spice.
Camerata Cinematheque
Presented by Queensland's Chamber Orchestra, QPAC and the Brisbane Festival
Films by Anthony Lucas and Camerata – Queensland's Chamber Orchestra
Concert Hall, QPAC was performed in Brisbane on Friday 15 September 2023
Camerata Cinematheque will be repeated at The Empire Theatre, Toowoomba on Friday 22 September.