Savanhdary Vongpoothorn's latest exhibition Aflame, presented by Campbelltown Arts Centre (C-A-C), is a great example of the saying "more is not always better".
With sparsely hung art, Vongpoothorn delivers a powerful exhibition that demands our attention. She has created a suite of new work over a two-year period, with pieces that are diverse and dizzying in their abstraction, and yet minimal.
The exhibition comprises a major kinetic sculptural installation set against a wallpaper, new paintings that call upon Lao texts to find connection, photogravure etchings* that challenge materiality and a space dedicated to activities for children.
The text works, like Vongpoothorn's expansive abstractions, find their foundation in Theravada Buddhism. Turning to the Fire Sutra – drawn from the Ādittapariyāya Sutta, a discourse from the Pali Canon popularly known as the Fire Sermon – Vongpoothorn repeatedly uses its motif to find healing from the shared tragedy of fire, flood and pandemic events.
She explains that, in this discourse, Buddha preaches about achieving liberation from suffering through detachment from the five senses and mind. Her version of the sutra takes it cue from her family's experience of the Black Summer bushfires of 2019-2020 on the New South Wales south coast. But rather than a literal translation or reinterpretation, Vongpoothorn leaves plenty of breathing space in these new works for viewers to settle into their own connections.
The abstracted repetition in Vongpoothorn's works plays with conceptualism and minimalism – Western art history traditions – as equally as it does with Lao traditions such as weaving, textiles, chants and poetry.
In more recent years, her work has moved further towards an exploration of the relationship between humans and nature, and Aflame perhaps offers a next chapter in that journey.
The huge mural work Spinning the Fire Sutra II (2023) is the work that viewers first see, drawing them into the space. It expands her earlier commission by the gallery – the partner piece Spinning the Fire Sutra I (2022) located in Anzac Lane, Campbelltown – and brings her public art practice into the gallery, adding a kinetic element.
Vongpoothorn says the work has been inspired by her love of kinetic sculpture by Latin American artists from the 1950s and 60s, especially female artists Martha Boto from Argentina and Lygia Pape and Lygia Clark, both from Brazil.
'I am interested in their works, not only for the beautiful geometric abstractions, but also for the way they use geometric abstraction to say something about their culture and the political climate of the time,' she says in a wall text. When walking around the gallery, one can't help feeling that Vongpoothorn has found that sweet spot of confluence in these new works.
It is especially succinct in a framed suite of woven textile works, Remnants I-IV (2022), which sit alongside the larger piece, and are made from paper and material collected during an artist residency in India. Time and place seemingly fold in on themselves, at once very present in this moment – this day's concerns – and yet timeless in the works' reach back to ancient texts and textiles.
This push and pull of scale is repeated in the main gallery space, where the eight-metre long photogravure etching, Aflame (2023), sits with just three other works – one per wall – from her Reassemble series (2023). It is a brave and beautiful curatorial call.
Aflame, made with Viridian Press, has been created from 100 parts, conceptually taking the motif of a broken Fire Sutra and presenting it as a rhythmic weave that alludes to life cycles and identity.
That fracture is picked up in a complementary, but different way in the Reassemble series of works, which take elements of Lao Pali script from the Fire Sutra, scribed onto rice paper, which is then cut up into strips and woven.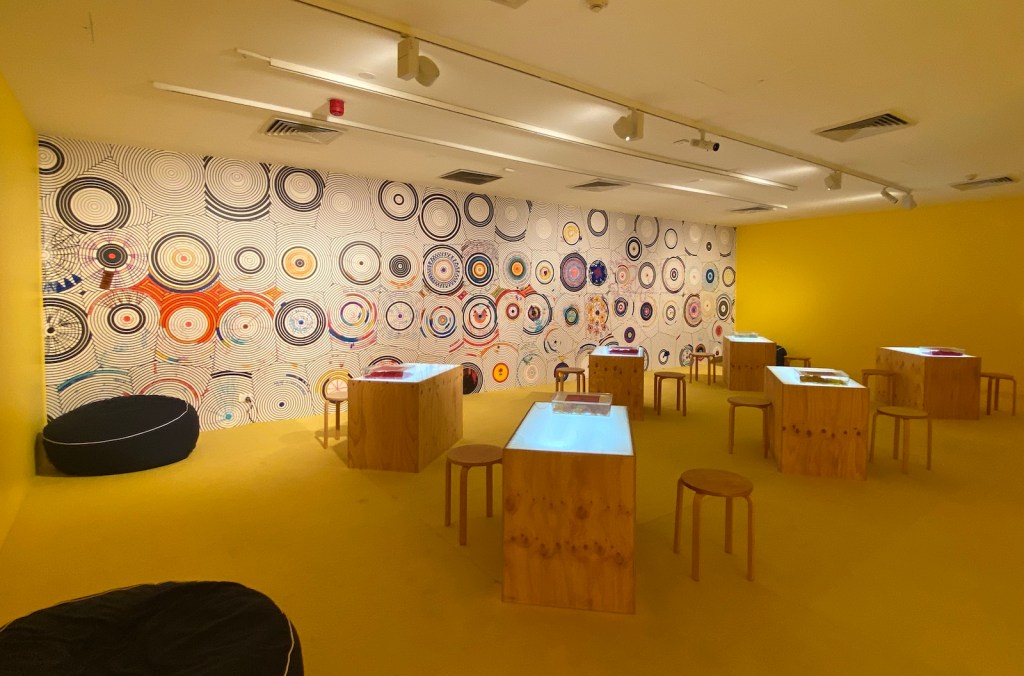 A further highlight of the exhibition is Puzzles (Ear, Eye, Mouth, Nose, Body and Mind) (2023), which literally creates a play space for visitors of any age to sit down and recreate her work as acrylic laser-cut pieces. They sit atop light box pedestals-cum-work benches.
Read: Major new sound installation taps Sydney's DNA
Overall, this exhibition quietly vibrates. It has a buzz that draws you in visually, and then delivers in doses once you get close and are rewarded by the materiality of Vongpoothorn's work.
Savanhdary Vongpoothorn: Aflame
Campbelltown Arts Centre
26 August – 15 October 2023
Free
Panel Discussion: Thus have I heard: Buddhist Tradition and Contemporary Art at the gallery on Saturday 7 October, from 11am – 12pm.
* A photogravure etching is a photomechanical process of etching a photograph/or digital image into a copper plate.