The particular placement of four minimalist compositions by Paul Bai in Pestorius Sweeney House, curated by Nicholas Tsoutas, reflects a heterogeneous space in the Australian cultural landscape that has been gaining ground since the 1960s.
The house was designed by Geoff Pestorius in 1965 and built the following year. While the bricks were still measured in imperial, 1966 marked a departure from the British pound. Pestorius' embrace of Bauhaus principles was a product of being taught by Karl Langer, an Austrian refugee and former head of an architectural atelier for German pioneer modernist Peter Behrens.
Since the late 1990s, Pestorius' son David has been using the premises to promote contemporary art. This may be likened to Leo Castelli exhibiting artists such as Jasper Johns and Robert Rauschenberg in his New York apartment during the 1950s and '60s. The tradition originates from the "salon" of 17th century France. Bai's last solo show in the same space was also hung "salon style".
However, the curatorship of Tsoutas, a former director of Artspace and the Institute of Modern Art, subverts these conventions. He creates a powerful dialogue between the site and the handful of artworks that he has selected from Bai's studio.
Bai's arrival in Australian in 1988 predates the asylum of the first wave of Chinese Australian artists, which includes Xiao Lu, Ah Xian and Guo Jian. This arguably serotinous artist is dedicated to investigating 'spatiality'. He is particularly attracted to the theories of Edward William Soja of a 'Thirdspace', which may be described as a domain of otherness and beyond binaries. From it, occupants may redefine their physical "Firstspace" and conceptual "Secondspace" respectively.
Bai completed a Doctor of Philosophy at the Queensland College of Art (QCA) in the 2010s, two decades after he undertook a Bachelor of Visual Arts (Honours) at the same institution. He has recently been curated into Queensland surveys of abstract and Bauhaus art.
In Pestorius Sweeney House, Untitled (Sunrise and Sunset in the Landscape No. 9) (2019) accentuates the brickwork in colour and proportion. It consists of adjoining plywood panels, with a red rectangle constituting a picture plane. The protruding unpainted ends represent the sun rising and sun setting in this abstract landscape. By contrast, the depictions of quadrilaterals in Spatial Construction (No. 1-2) (2022) are interrupted by their "frames". The forms echo the adjacent set of stairs within its case. The minimalist black circles in The Infinite Distance Between Two Points (No. 9) (2022) mirror the form of a nearby light.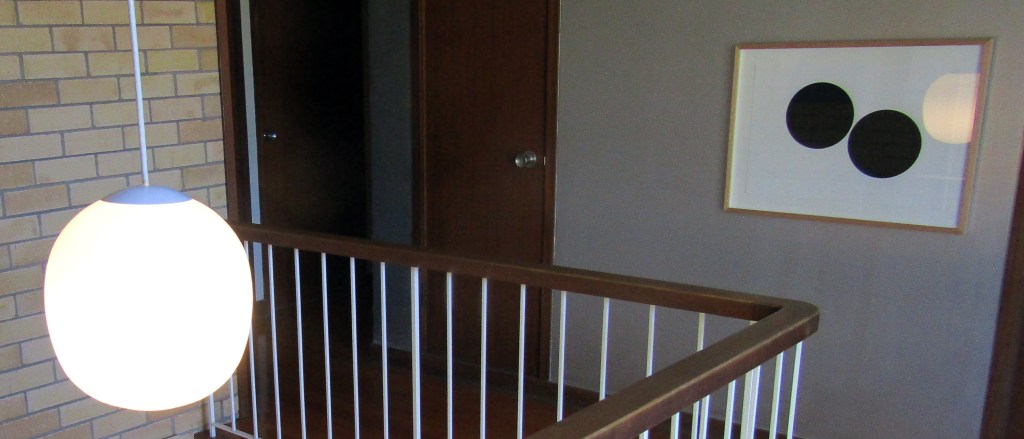 What is impressive about this succinct showcase is that it may be viewed from a number of perspectives. The placement of the artworks around a stairwell offers viewers a range of vantage points. More pertinently, a viewer from Asia may read the two dots in light of the ideals of Confucius.
The Bauhaus was a short-lived yet seminal school that propositioned the pursuit of "a new way of life" through art, craft and design. Confucianism, however, has conveyed governance through aesthetics for two and a half millennia. There is also a makeshift quality to Bai's spatial constructions, which could speak to the adaptability of migrants.
Read: Exhibition review: Newell Harry: Esperanto, Murray Art Museum Albury
This exhibition of works by Bai at Pestorius Sweeney House inadvertently demonstrates how a cache of diasporic communities, once othered, has progressively transformed the physical and conceptual space of Queensland. At the end of World War II, despite the prevailing White Australia Policy, mass migration of non-British people was fostered by former Prime Minister Ben Chifley's Populate or Perish program. And such migration was enhanced by the eventual abolishment of the White Australia Policy by a later Prime Minister, Gough Whitlam. The sustained presence of artists like Bai also reflects the generosity of the Bob Hawke Government in offering asylum to over 40,000 Chinese students in 1989.
The investigation into geometry could be read as Euclidean and thereby classical. The exhibition of minimalist artworks within a Bauhaus building may be considered nostalgic. However, it is an introduction of Chinese aesthetics that makes this show especially salient.
Experiencing this exhibition in person is highly recommended.
Paul Bai's works are on view at Pestorius Sweeney House, 39 Eblin Drive Hamilton, Brisbane until 7 October; free.
This review is published under the Amplify Collective, an initiative supported by The Walkley Foundation and made possible through funding from the Meta Australian News Fund.