As nobody had been able to discover
The actual history of the eel,
People sought a miraculous explanation.
They knew that the salmon comes up from the sea to lay its eggs
Far up the river near its source,
But the big eels were never found travelling in the rivers
Except towards the sea.

Text taken from samples of dictation tests for those wishing to migrate to Australia under the White Australia Policy
It's funny how language fails us, or can be seen as the source of one's failure when your language does not adhere to the dominant majority. There is a question in the current Australian citizenship test, designed to 'assess your knowledge of Australia, its people, beliefs, rights and liberties, laws and values' as well as 'English language proficiency'.
Question 17. Should people in Australia make an effort to learn English? Options: a. People in Australia should speak whichever language is most commonly spoken in their local neighbourhood; b. There is no expectation to learn any particular language in Australia; c. Yes, English is the national language of Australia and it helps to get an education, a job, and to integrate into the community.
Getting this question wrong would fail the examinee, who is required to answer all "Australian Values questions" correctly.
In the major solo exhibition Newell Harry: Esperanto at Murray Art Museum Albury (MAMA), the Australian-born artist of South African and Mauritian descent highlights how little has changed since the days of the White Australian Policy despite the national embrace of diversity, inclusion and multiculturalism. But at the same time, Esperanto signifies hope – a language constructed with the intention of transcending international barriers of understanding.
Untitled: White/Conundrum (2021) is one of the two major archival installations taking up MAMA's upstairs gallery, featuring found photographs and transcribed dictation tests from the White Australian Policy era. Framed postcard-style, the vibrant pieces spur voyeuristic viewing before the quick realisation of the disparity between the experiences of white and coloured populations.
Read: Language, hospitality and discomfort in the work of Mithu Sen
Chance encounters feature consistently throughout the exhibition, most prominently through the new MAMA photographic commission Untitled (The Point). The monochrome photos were taken while Harry was testing out a new camera in Sydney's Callan Park, where he came across the little known history of rock carvings by two Māori brothers. The carvings foretold the life of Tahupōtiki Wiremu Rātana, founder of the Rātana religion. But their spiritual and clairvoyant abilities were misunderstood and frowned upon, ultimately incarcerating them into the Callan Park Hospital for the Insane in 1879.
The clash between cultures and language continues in the second major installation space, Sul Mare (2022). Co-produced by KADIST and the 17th Istanbul Biennial, the quasi-archival installation is housed in temporary structures of construction boards and railings made to purpose and site. Letters, photographs and posters unveil family history as much as a time of social and political turmoil. Anti-apartheid protests are presented in conjunction with a South African family magazine depicting Harry's mother, Virginia Heeger, at the age of 16 performing gymnastics. In another, Harry's uncle is cooking in a domestic kitchen while giving the camera the middle finger behind his back.
We often think of family as the smallest collective unit of society, but here, Harry expands and intertwines family history with political context and vice versa.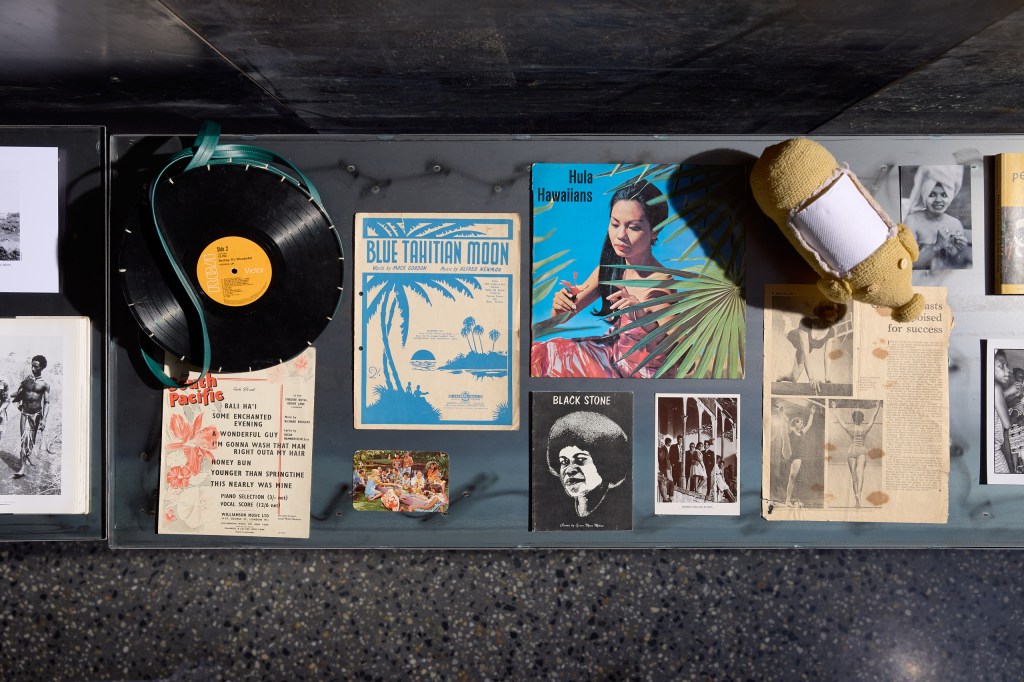 One word that consistently comes up during conversation with Harry is "tension". But the show is balanced with humour, dark yet like pockets of air that allow for visitors to resurface before diving deep again. The text-based slogans printed on Tongan Ngatu (bark cloth) are playful visual signifiers, such as 'MILF FILM LAME MALE' and 'THIS DAM MAD SHIT'. These works subtly evoke famed contemporaries – the likes of Barbara Kruger, Jenny Holzer and Christopher Wool – while offering a touch point for broader commentary on identity-orientated expectations for artists from non-white backgrounds.
The very first work visitors encounter in Newell Harry: Esperanto is a play on US conceptual artist Joseph Kosuth's One and Three Chairs (1965). Harry's definition of the drum includes "a different drummer/drum" or "march to a different beat/tune" meaning "to behave in a different way from other people". An example of which is 'S/he was a gifted and original artist who marched to a different drummer'. The pseudo-textbook definition is accompanied by a vintage advertising poster depicting a young black boy on the drums, and the drum as a museum artefact.
Conceptual art has historically been grounded in a white-centred environment, with the perception that artists of colour are too caught up in identity, politics and activism to be able to harness the purely conceptual and philosophical. Here, Harry inserts himself into the canon as a Black conceptual artist.
Read: Exhibition review: Daniel Mudie Cunningham, Wollongong Art Gallery
While purposefully avoiding the narrative of a survey exhibition, Newell Harry: Esperanto traces the artist's journey of self-revelation – from his childhood favourite painting, Nicholas Chevalier's Race to the market, Tahiti (1880), to fragments of intertwined familial memory. It's a show that points to the enormous generosity and trust between the institution, curator, artist and viewers.
Newell Harry: Esperanto is on view at Murray Art Museum Albury from 28 July to 26 November; free.
This reviewer travelled to Albury as a guest of Murray Art Museum Albury.