As visitors enter the current exhibition at Bunjil Place Gallery in the outer south-eastern suburbs of Melbourne, they are welcomed by birdsong. It immediately feels like a healing space – a place of calm reflection and welcome. The first visual encounter continues that feeling. It is a sitting area created by a curved, slatted screen of draped calico fabric, soft lighting, comfy seating, some books and a video of walking on Country. It is a reminder that to welcome – and feel welcomed – is part of the cultural protocols shared by these artists.
Many of us do this vocally every day – an acknowledgment or welcome to Country – but in this exhibition that welcome grounds us in a bodily sense, in a genuine way, and it is incredibly refreshing. It also turns the whole exhibition on end by putting this first, rather than embedded as a "reading nook" within the show or at its exit point, which is more common. The intention of the artists? 'To make Country, our Mother, an active participant in this project,' they say.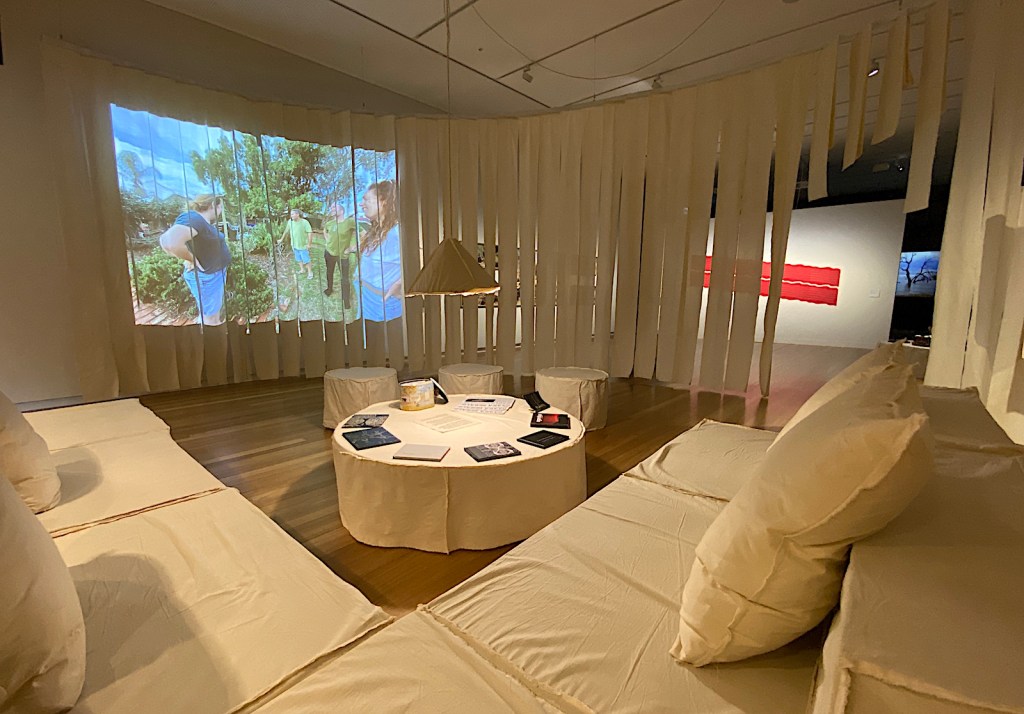 That Country they share is Barkandji/Barkindji Country, and the six artists are photographer and co-curator Nici Cumpston, her sister and co-curator/printmaker Zena Cumpston, wood carver David Doyle, photographer/video artist Kent Morris, multimedia artist Adrianne Semmens and sculptor and video artist Raymond Zada. The exhibition, ngaratya (together, us group, all in it together), is all new work created from several visits made by the artists coming together to walk these lands.
Central to the space, that narrative starts with the objects of Doyle, carved from Kamuru or river red gum (which was chosen as Australia's favourite tree in 2022). The collection of spears, clapsticks, boomerangs, coolamons, shields and so on, seemly connects with all the works in the exhibition as sight lines intersect, and point to each other.
That immediate connection to food and foraging is made through Zena Cumpston's suite of prints celebrating plant knowledge and foodways. She says: 'Today, the bush foods industry in Australia generates around $80 million in revenue, and this is estimated to double by 2025. Sadly, less than 2% of the benefit of this industry goes to Aboriginal and Torres Strait Islander people.'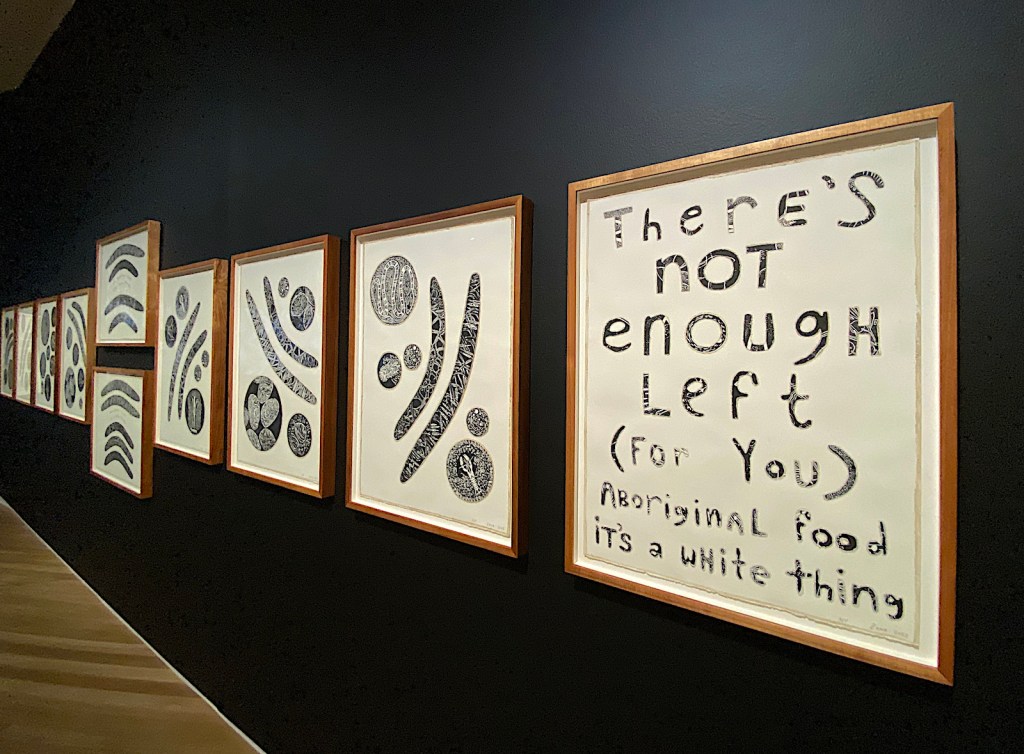 Cumpston draws parallels between the Aboriginal art industry and the bush foods industry, pairing her prints of food with the political statements of First Nations artist Richard Bell, who says, 'Aboriginal art it's a white thing!'
Cumpston repeatedly uses a circular motif to speak to those traditional sources, but also the notion of reciprocity embedded in culture, reminding us to remember to give back to sustain land and culture.
Off in the opposite direction, Doyle's carved Kamuru objects connect with the trees themselves in Nici Cumpston's photographs of Old Mutawintji Gorge – a meditative place for ceremony and life. She hand-colours her black and white photographs (printed on watercolour paper) with an almost ritualistic joy. Just as Doyle's objects speak of the tree as protector, shelter, healer, and place of birth and death, Cumpston's photographs celebrate the Gorge as a timeless life source.
To the rear of the gallery, Kent Morris also points to the interwoven rhythms of nature and life. Turning to the now threatened karta-kartaka (pink cockatoo), which is linked to the Ngatyi (Rainbow Serpents) creation story, Morris, like Cumpston, has taken these images at Mutawintji.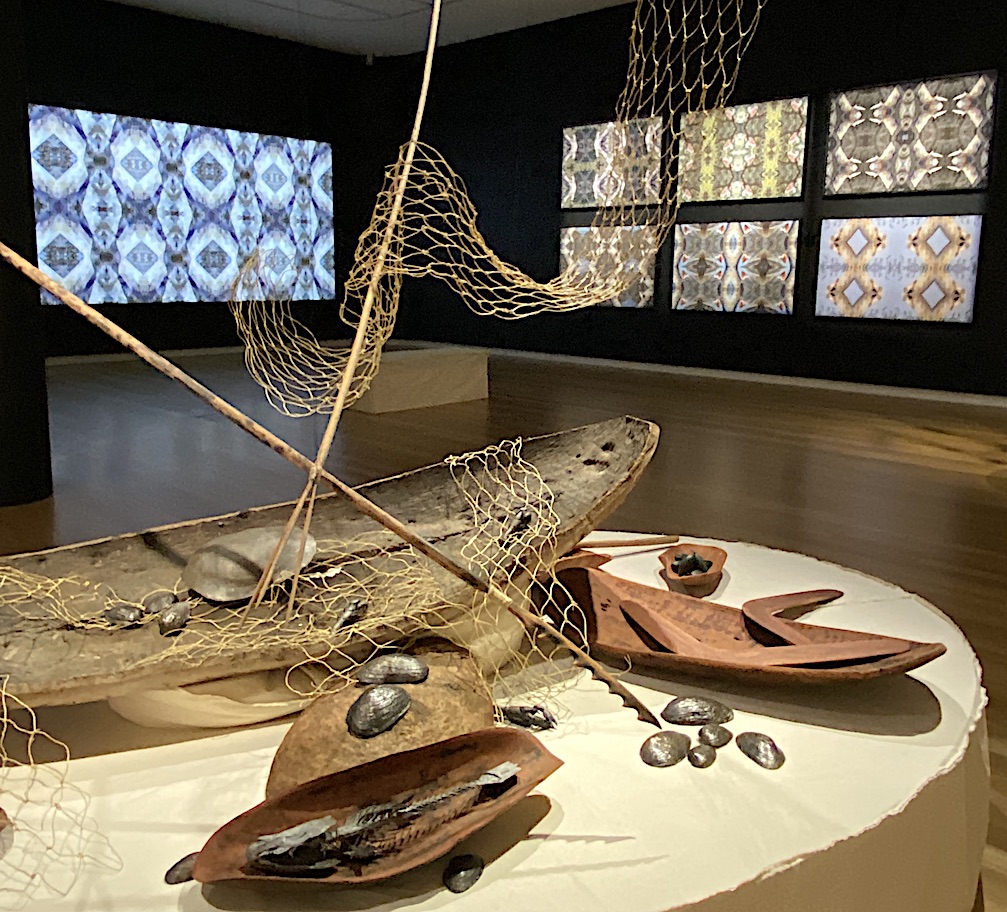 But in contrast, he turns their single-camera perspective into a dynamic, constantly evolving kaleidoscopic network of patterns, both as still images and a video work. They become a metaphor for the sense of infinity across kin and Ancestors – or sovereignty and knowledge across millennia, he says.
Connection is again found across this exhibition in dance and sculpture and, while very different, conversations of bloodlines and kin are explored by Adrianne Semmens and Raymond Zada.
Zada offers a dramatic splash of colour with his work Bloodline (2023), its 2046 figures etched with enamel into acrylic panels. While they may read like hieroglyphs or shorthand, they pay homage to Zada's Ancestors across 10 generations, mapped out through his DNA.
'We each belong to something bigger than our immediate family and our current home,' says Zada.
As viewers move past his work, they enter a darkened gallery to the lyrical pieces by Semmens – a three-channel video work performed by her, and a suite of recycled cotton yarn objects that hover off the wall. The video kuntyiri, shadow, reflection (2023) was made across three Countries connected by kin and water. She has returned to those lands since childhood – her earlier memories weaving with current ones.
Semmens describes dance and choreography as a way of 'archiving memories, stories and sentiment', using her shadow as a key part of her connection with Country. In the video she moves across the water's edge unravelling a string, symbolic of her lineage, and focusing on 'water as her lifeblood'.
The didactics across this exhibition are printed on calico banners and float, suspended from the ceiling. It's a great device for a touring exhibition and a sustainable solution.
Read: Exhibition review: Connection, THE LUME
Walking away from this exhibition – which will tour nationally over the next couple of years – there is a sense that, through reflection, we can come together on Country, but also have space and respect for our individual connections.
It reminds us that beneath these things we see and experience there is another 'silent Ancestral system of sustainability and strength'. We may not know it fully, but it is palpable. Just as these artists feel it sharing time together on Barkandji/Barkindji Country, or walking through Old Mutawintji Gorge (that we may also do), there is a residue of that spirit that we can also feel in this exhibition space – a beautiful lightness through these artworks.
It is a truly special exhibition.
ngaratya
14 May — 3 September 2023
Bunjil Place Gallery
2 Patrick Northeast Drive
Narre Warren (Vic)
Artists: Nici Cumpston, Zena Cumpston, David Doyle, Kent Morris, Adrianne Semmens and Raymond Zada.
ngaratya is touring to Broken Hill Regional Gallery, QUT Art Museum, Mildura Art Centre and Flinders University Museum of Art through Nets Victoria from 2024 – 2026.