Aboriginal and Torres Strait Islander readers are advised that the following review contains names of deceased persons.
The latest immersive exhibition to take over THE LUME gallery – the expansive tailored space at the Melbourne Convention and Exhibition Centre – is Connection, a First Nations feast of images, soundscapes, digital art and complementary experiences.
Following on the heels of the wildly successful Van Gogh Alive and the second iteration Monet and Friends, Connection to some extent shares the approach of the latter, in that a wide range of artists and artistic practices are showcased.
But make no mistake, this is every bit as immersive as the Van Gogh world into which we audiences dived during that first groundbreaking exhibition.
The proof of the pudding is in the eating and while this viewer was happy to stay in the gallery through two complete cycles of the Van Gogh experience, for Connection three hours had passed before I was able to pull myself away.
Does it feel like an egregious culture clash to delve into so much First Nations art, with its appreciation for age old ideas and knowledge, utilising such cutting edge tech? Not at all. While a ceiling, floor and walls awash with aerial imagery of Country may make anyone yearn to experience that in actuality, this must surely be the next best thing for those stuck in a metropolis. And it is becoming increasingly clear it can work brilliantly to share First Nations culture and stories via advanced technology, as the various drone art experiences at Uluṟu and around the country are now proving.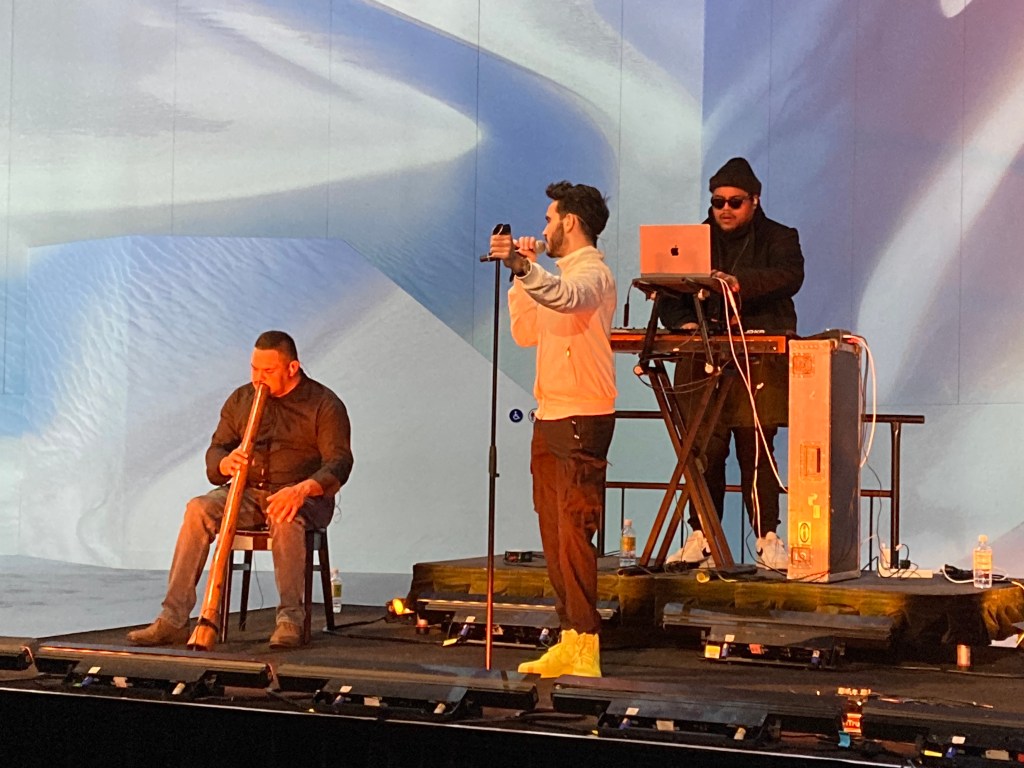 Developed by Grande Experiences with Adam Knight, Professor Wayne Quilliam and a panel of lndigenous cultural advisers including Professor Margo Neale and Rhoda Roberts AO, Connection features the work of over 110 visual and musical artists, including well over 600 paintings and 85 pieces of original art.
This Gallery of Original Art provides point of difference to previous LUME exhibitions, meaning there is space to actually engage with artworks with no filter. And with a First Nations adviser on hand we were able to have an in-depth conversation that went far beyond the wall labels.
The diversity and subject matter of the pieces is wide, spanning both deep meaning and surprising humour. A standout here is is Janmarda Jukurrpa (Bush Onion Dreaming) by Megan Nampijinpa Kantamarra, with its phallic representation and shades of other ancient stories like Lysistrata.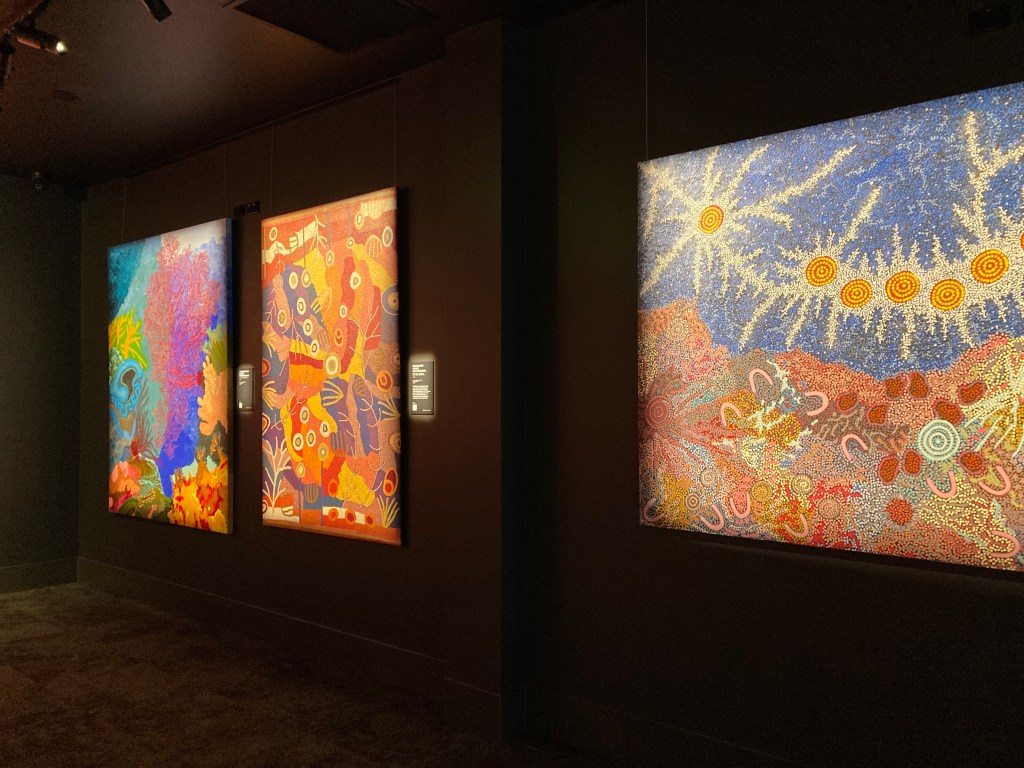 Another glorious work is Gabriella Possum Nungurrayi's My Grandmother's Country and Seven Sisters' Dreaming. The works are also available for purchase.
With art and imagery from all around Australia, the exhibition also makes room for some inspired sections – particularly the Emily Kame Kngwarreye section, Emily's Wall, in which the judicious and inspired use of mirrors provides an infinity room of divine colours and designs. The display, comprising 53 disparate panels, represents a year of Kngwarreye's practice, reflecting on the passing seasons and culminating in a triptych centrepiece completed in late 1995. Individually the pictures are beautiful, but together the whole effect is utterly mesmerising.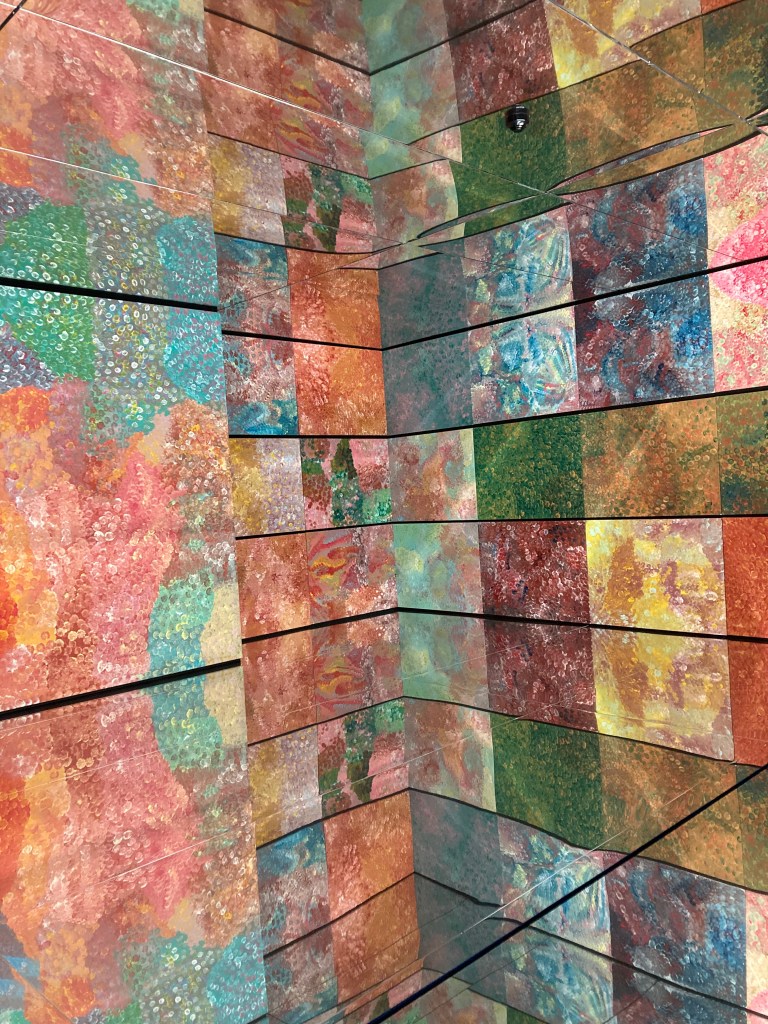 There's also a diverting interactive display in the cylindrical room, where the artworks representing Land, Water and Sky Country respond to the viewer's movements.
The real achievement of Connection, though, is bringing together so many different artists, approaches and subjects, augmented by the varied soundscapes and musical contributions, and forming them into such a cohesive and truly immersive whole. It's a wonderful experience.