When Gay Hawkes lost her home and boatshed-adapted art studio in the devastating 2013 Dunalley bushfires (located in Tasmania's south east). One would have understood if she scaled down her practice. In her late seventies, and having lost all her equipment, tools, and her life's work, it was a gutting moment in her 40-year career.
Rather, Hawkes spent the next three years making 31 pieces of furniture – some of her most productive years. The House of Longing, is an exhibition that tells that story of resilience, and pairs across two galleries artworks, furniture and sculptures made before the fire, and those created afterwards.
In a further twist, despite her long career as an artist and educator, it is her first solo exhibition in an Australian public gallery.
Hawkes is best known for her resourcefulness and pioneering use of found materials – claiming never to have bought a piece of wood – turning rather to driftwood, native timbers salvaged from forestry sites, and shipping pallets with a kind of bower bird aesthetic.
Entering the first gallery of her work at Tasmanian Museum and Art Gallery (TMAG), one immediately is wooed by their quirky, unique charm. A central platform shows pieces of furniture made pre-2013 – more specifically a collection of chairs that are very sculptural in nature – and have been borrowed back from private and public collections nationally. They instantly become precious because of the circumstances, despite their everyday earthy forms.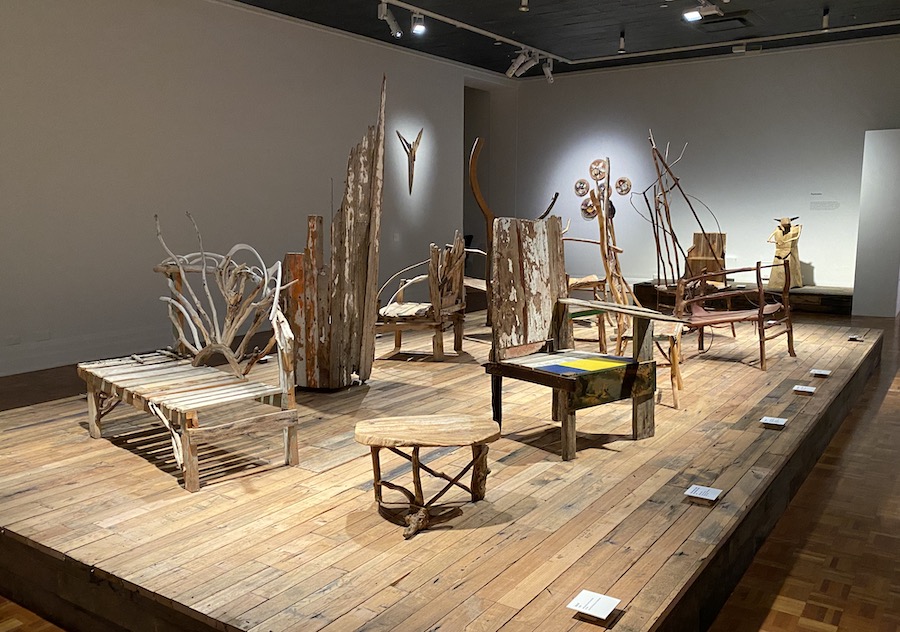 Along a back wall are a suite of pieces that pick up on Christian iconography – from altarpieces, to angels, to cruxifixes, persistent iconography right across her making. Their repetition has been explained as a remnant of her childhood, where a woven richness of storytelling and music informed her world view, alongside interests in the environment, feminism and Tasmanian life.
On another wall are a suite of paintings on cardboard, rendered in a naïve narrative style.
It is not new for Hawkes to journal. Over the past 40 years she has turned to used discarded cardboard as her 'canvas' to document memorable moments in her life and career, many inspired by residencies abroad. Others chronical the British Royal family, Ned Kelly, the Collingwood football club, and often not holding back on humour.
Read: Exhibition review: Paul Davis, Sturt Gallery
Moving into the second gallery, the title of the exhibition starts to make more sense. These are pieces that Hawkes has made for an imagined new home. Equally as sculptural in their application of salvaged and found woods (although a little less whimsical), they consist of chairs, tables, cupboards mostly constructed from pallets. Some contain fragments from the fire's wreckage.
As well as these new furniture pieces are visual diaries that storyboard a narrative of personal loss from the fires, Time and chance (2013) in a kind of roll-up banner. Following that Christian undercurrent, it has a Stations of the Cross feel, as a tragedy is relayed in chapters.
Just like her persistence to make in the face of a tragic event (Hawkes had not been insured and lost everything), humour is never far from her simple take on life.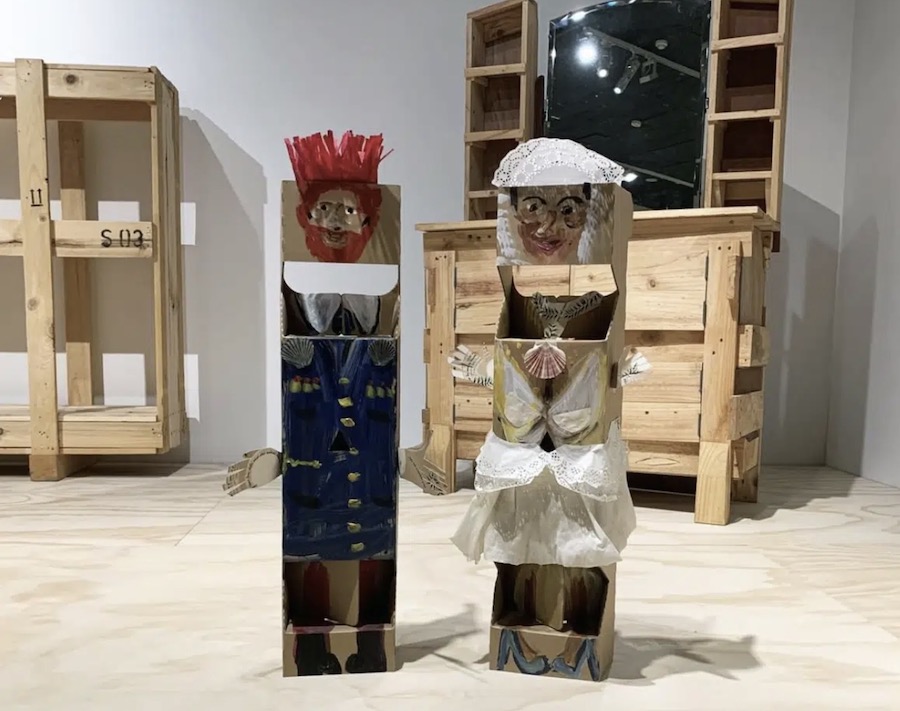 A good example of that is a portrait of Meghan and Harry (2018) on the occasion of their wedding. It makes for a curious menagerie when paired with bush furniture (of which there is a long tradition in Australia's history), and a frugal, sustainable – arguably political – stance on using shipping pallets and recycling materials.
While in many ways Hawkes objects fall outside categories – slightly kitschy crafty, outsider-esq and naïve in aesthetic, caught between sculpture and function – she is deeply celebrated in Tasmania for her contribution to the arts and education.
It comes as little surprise then that this exhibition is the latest in TMAG's series of exhibitions focusing on living Tasmanian artists, which have included David Keeling (2020-21), Julie Gough (2019), Patrick Hall (2015) and Philip Wolfhagen (2013).
Hawkes turns 80 this year.
Gay Hawkes: The House of Longing is on show in Argyle Galleries, Tasmanian Museum and Gallery (TMAG) from 18 March – 28 August 2022. Entry is free.