This is a big show that captures a big career. It is easy to see – as the title of this exhibition suggests – that Paul Davis has been 'under the influence' of clay for five decades.
The exhibition seemingly bristles with the impact of a string of milestones: 50 years of working with clay; 20 years since he was appointed Head of Pottery at the Sturt Craft Centre in Mittagong – where the exhibition is held; 10 years since his last show there, and 70 years on this earth.
It is also 25 years since Davis first went to Japan, an influence that is deeply apparent across this exhibition. But a list of dates and gongs can hardly capture the impact this exhibition has upon a viewer.
Forms and vessels are clustered on pedestals, subtle yet earthy, collegiate and yet individual – as the eye moves across this vast body of work it is both pulled in to rest and pause on pared back forms, as elegant as a structured Haiku, and then darts crazily around the room dizzy with the seduction of clay 'candy'.
While this exhibition celebrates a career, it was Davis' choice to invite seven potters from Japan to show with him – makers who have not only contributed to the development of his practice, but also as he said, 'caused me to reflect on motivations and approaches to working with clay'.
'It is not a one-way process, but a sharing of ideas among the like-minded,' he continued.
'He is more interested in the journey of getting to a point rather than some encyclopedic survey of a life's work,' observed writer Scott Bevan.
Davis first came under the influence of a Japanese aesthetic studying his Masters in Melbourne, and researching tea ceremony glazes. But it was not until some years later in 1996, that Davis first visited Japan, staying for six years. He was bought into the fold of the Saka Koraizaemon pottery family dynasty – the first foreigner invited to do so.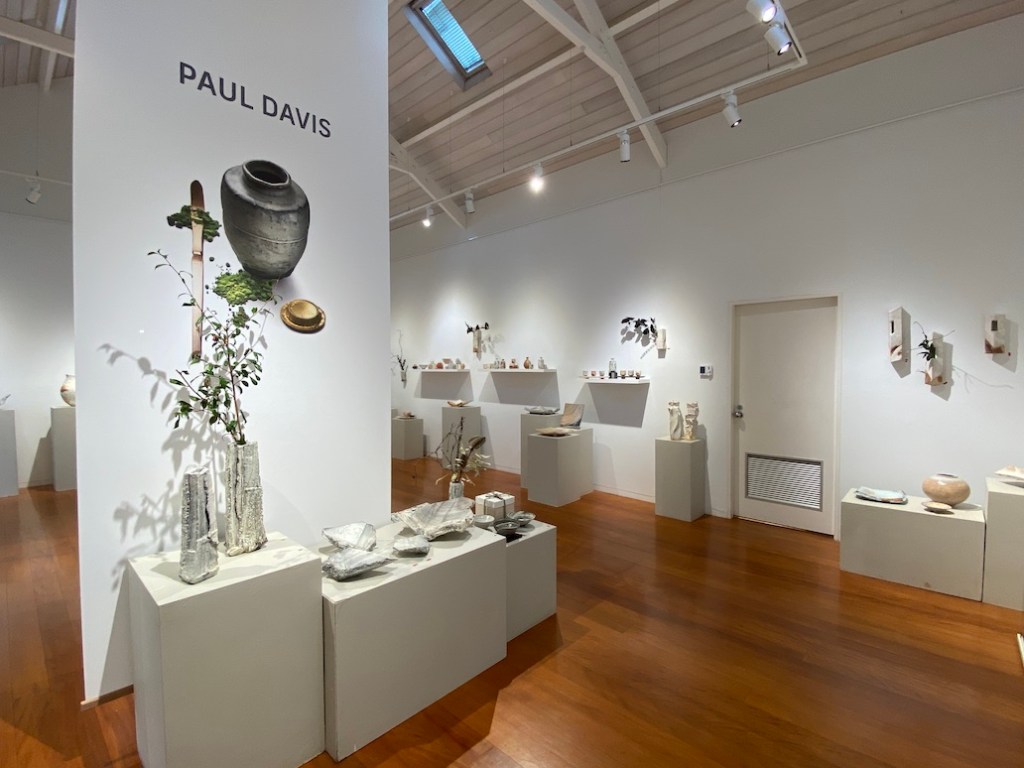 It was here that he learnt how to make his own clays and glazes – a skill that dominated this current exhibition and a new direction in his work. Inspired by the surrounds of Newcastle (regional NSW), where he lives, the colouring may reflect local sandstone, the surfaces the bark of scribbly gums, the striations of Hunter Valley coal mines, or the clay itself drawn from a local river bed.
He said looking at the exhibition the immediate comment is "Oh my god, it's so Japanese", but it's not. It's a distillation of what I learnt in Japan, and it's been poured through an Australian sieve.'
Bevan added it 'is a mud map to new territory for the artist'. What is particularly wonderful about this exhibition are the wall mounted vessels, which seemingly hover like a calligraphic gesture or mark, aware of the volume of both the space around them and their balance as a form.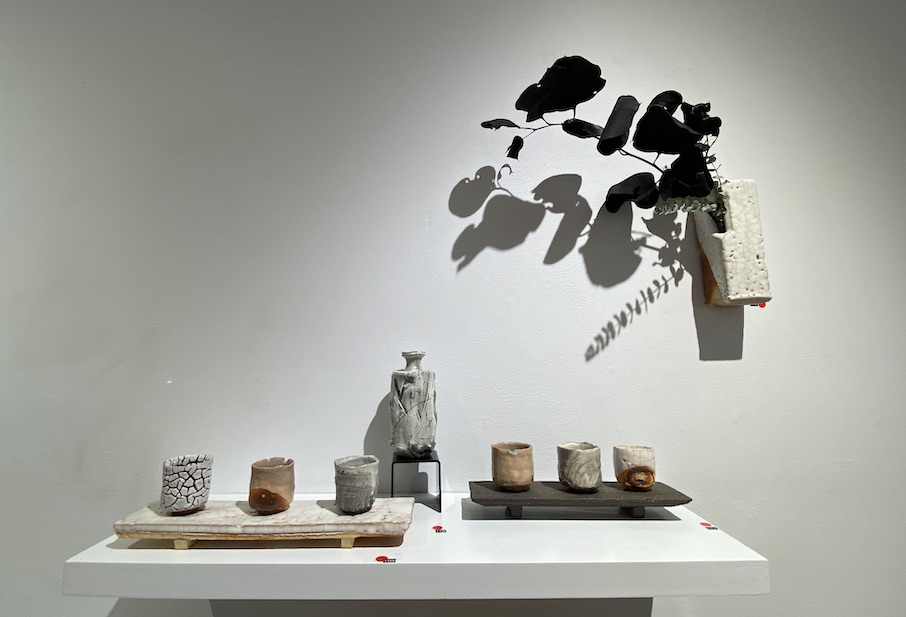 As a viewer, connection to this landscape is made with an easy leap through sprays of native foilage – aka Ikebana style but with an Australian inflection.  It is a total synthesis, that respects a deep past and love for tradition and a fierce desire to experiment and find his own voice, looking and pushing forward.
And in that, audiences become witnesses to evolving new forms that are bolder and rugged. But as with any great Master, it is only in the learning and journey towards perfection that one can then deviate – pushing the limits.
This exhibition is the embodiment of that full circle – in the work obviously as an evolving journey – but also in Sturt itself. It was after leaving Japan that Davis first came to teach at Sturt where he stayed for a decade.
This exhibition is an rightful ode to that intersection of paths, friendships and futures. It is filled with humility and quiet confidence; but mostly it is just an expression of pared and refined beauty.
Paul Davis: Under the influence
Sturt Gallery
10 April – 22 May