Melbourne-based, New Zealand-born, Brent Harris is in the midst of a string of major survey exhibitions. The first, The Other Side, is currently on show at Auckland Art Gallery Toi o Tāmaki. It will be followed by Surrender & Catch: The Art of Brent Harris at TarraWarra Museum of Art (Victoria) in December, which will then travel to the Art Gallery of South Australia mid-2024.
So what is causing the interest, and does The Other Side offer a hint as to "why now" for Harris?
Over his 40-year career, Harris has grown a reputation as a master printmaker, pushing his unique vernacular into painted works in unexpected and interesting ways. The title of the exhibition – The Other Side – could refer to one's psychological counterpoint that both informs and shapes who we are, but also hints at geography, and how this dual framing of a childhood lived, and an adult life reshaped across the ditch, is both freeing and inescapable.
That depth of context is immediately felt walking into the exhibition, where viewers are faced with a very polished oeuvre of Harris' works. What is nice about this exhibition, however, is its slippage of time. Rather than follow a strict chronology, it encourages a dynamic reading of Harris' work – some pieces made decades apart yet side-by-side and still working out an emotion or an idea.
A case in point is the serial work The Stations – an original version from 1989 is presented in the first gallery (a body of work that kicked off Harris' success), with the topic revisited again 30 years later (2020-21) in the second gallery.
Inspired by Colin McCahon's Fourteen Stations of the Cross (1966) and Barnett Newman's abstract paintings of the late 50s, the first edition was made during the height of the HIV/AIDS epidemic. It considers the passage of decline to death. The second version was a return to similar concepts during the height of COVID, another life-threatening epidemic.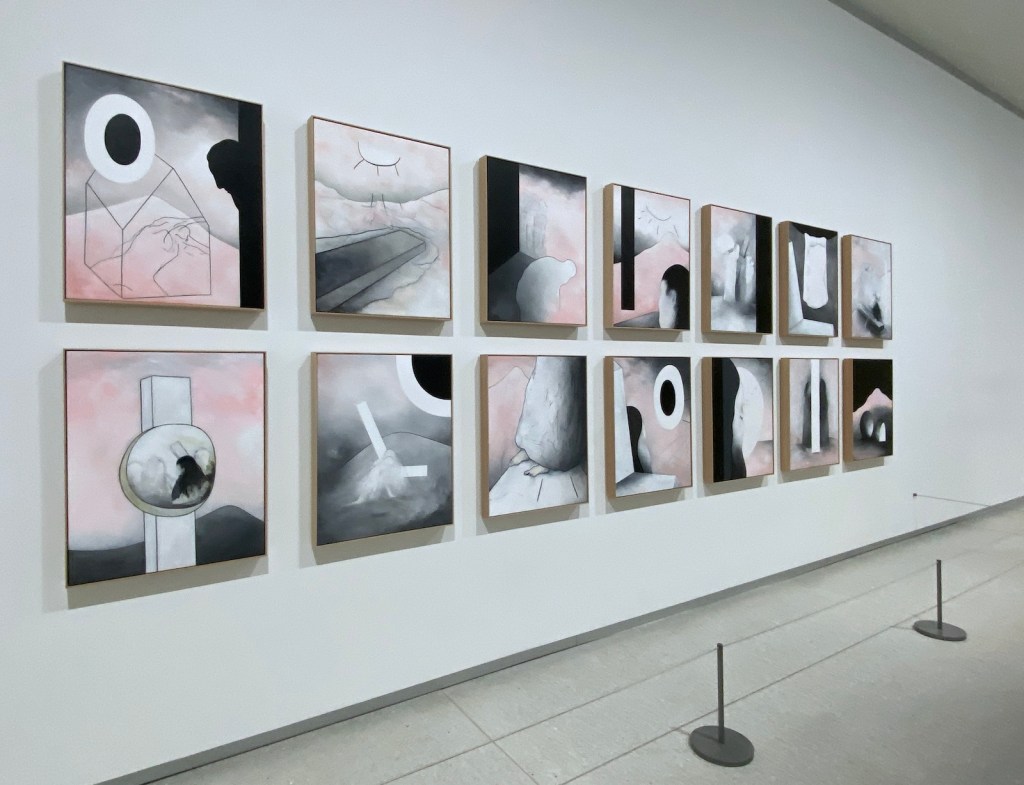 The Other Side is the first major exhibition of Harris' work to be presented in New Zealand, and brings together pieces made when he first left the country in the early 1980s, with recent paintings made on his return 30 years later, and only after his father's death in 2016. Across all, we are witness to how he has developed his own distinct style of flat colour and an abstraction that flirts with both portraiture and landscape, and yet, somehow, remains beyond our logical grasp of both.
His images are surreal and sometimes haunting, and have an unexpected quality, which connects to his interest in dreams and the making of psychosis – a style he has admired in the work of many artists, in particular Louise Bourgeois, Edvard Munch and to the prominent New Zealand artist Colin McCahon.
Curator Jane Devery makes it easy for viewers to find those touch points. Indeed, one of the first paintings encountered on entering the exhibition is Here we give thanks to Kelly (1988-2018), which echoes McCahon's painting Here we give thanks to Mondrian (1961) – Harris declaring the influence of artist US Ellsworth Kelly, as McCahon did of Piet Mondrian.
Another important work upfront is Listener (2018), which brings together several key themes for Harris – a searching for identity as an artist, psychological tensions associated with childhood and the potential for art to address the unknown, according to Devery. Listener could be described as part self-portrait, part family portrait, and was painted after his father's death.
In the same gallery, Just a Feeling (Nos 1, 4 and 6) 1996, are again suggestive of bodily forms (scrotums and orifices), but remain ambiguous and graphically sharp.
The second gallery is dominated by Harris' important Swamp works – a suite of seven prints from 2000 and the painting Swamp Grey (1999). He describes them as an expression of loss or damage, their fluid state caught between figuration and ambiguity, playing off the Freudian concept of "oceanic feeling" denoting melancholy.
'Out of some s****y experiences, I seem to have made a lot of work,' Harris says in a video introducing the exhibition. He adds: 'There is a lot of black and white in stages of my career… I always thought there's a darkness to the landscape in New Zealand that isn't present in Australia.'
A suite of works in the final gallery shows this best, a group of paintings from his Peaks series 2016-19, created when he first returned to New Zealand and started to re-engage with its landscape.
Harris' images, however, largely don't feel "dark". His palette is often bright or in soft pinks and blues. On first glance they may not feel traumatic, such as his paintings Grotesquerie No 20, 15 and 19 (2008). But as viewers spend longer with his works they start to unravel their code of silence. This major series of paintings and prints was made over a period of eight years, not a catharsis so much as a constant seeking. This is where the role of the serial/series is so key for Harris.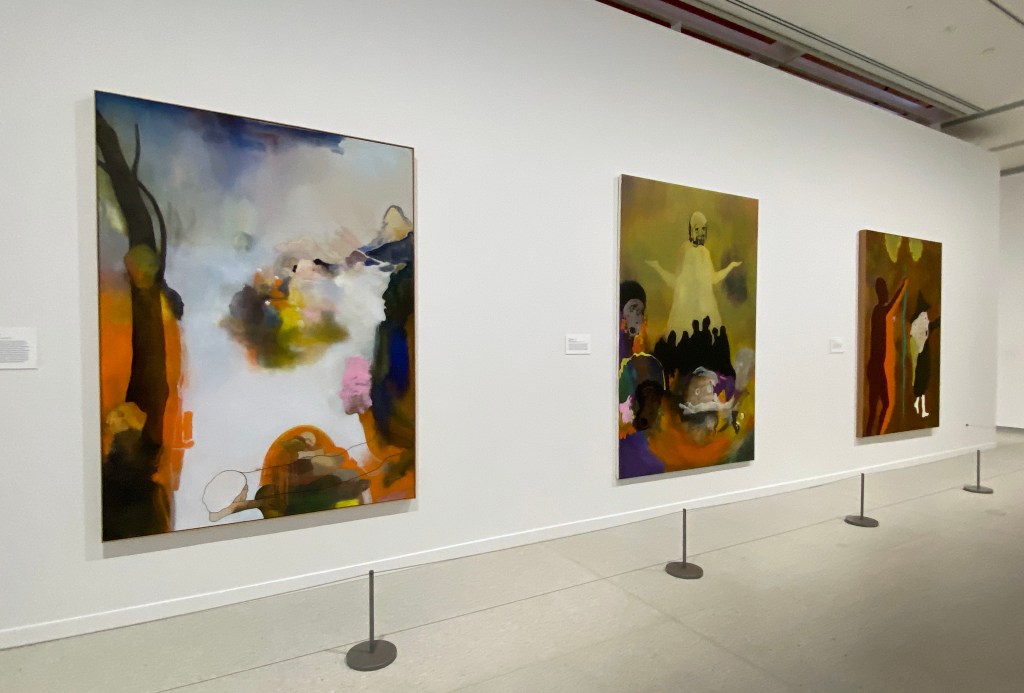 The exhibition concludes with an aesthetic shift, turning to pieces made between 2012 and 2014 – The Dreamer, The Prophet and Begin – and again demonstrating how art offers a path of "working through" an idea or an emotion. Aesthetically, they feel strangely atypical. But they point to yet another journey of the unconscious, this time a longing for meaning as explored by artists Franz West and Francisco Goya. Art has an incredible capacity to ease us into difficult conversations, while offering refuge and allowing a place for one's voice
Harris consistently offers a fascinating lesson in how an artist can take those touch points across art history and make them their own. This is an incredibly cohesive exhibition. It is a life journey for Harris, and it is a demonstration of a honed language and impeccable technique of an artist's career. It is a very timely survey.
Brent Harris: The Other Side
Auckland Art Gallery Toi o Tāmaki.
Until 17 September.