Ballet to Broadway combines one timeless classic with two world premieres, beautifully showcasing the world-class talent of West Australian Ballet with Raymonda (Act III), the pas de deux from Sylvia and the entirety of Who Cares?

The curtain opens to a lavish set as Raymonda (Act III) begins. Couples shine in silver and white as they dance beneath a crystal chandelier and draping curtains. Dancers continue to appear until Principals Oscar Valdés and Kiki Saito arrive – their gold and blue costumes subtly setting them apart from the rest.

Valdés and Saito embody melancholy and languor as the lighting alternates between blue and gold respectively. Suspenseful piano notes are punctuated by impressive pointe work. Seemingly effortless lifts are performed alongside an array of distinctive arm movements – dancing human forms becoming kinetic expressions of the music itself.

Combining classical technique with Slavic dance, choreographer Javier Torres has adapted Raymonda's third act by adding variations and changing solos into duets and trios, while preserving the basic steps and structure of Marius Petipa's iconic 1898 ballet. Torres, who also choreographed The Sleeping Beauty for West Australian Ballet in 2021, has created an impressive new version of the pas classique hongrois.

Palpable synergy between Torres' accomplished choreography and Erika Turunen's kinetically-aware costumes encompass more than just tulle and tiaras. Movement inherent to the costume design highlights the creative talent of Turunen, costume designer for both Raymonda and Sylvia. The reflective nature of the materials enables Lucy Birkinshaw's lighting design to entirely alter the aesthetic of the costumes, utilising Swarovski straps and silver bodice panels to this effective end.

Moments after the curtain falls on Raymonda (Act III) it rises again on an indigo stage for Sylvia's pas de deux. Originally choreographed by Louis Mérante, Sylvia has been choreographed for West Australian Ballet by Aurélien Scannella and Sandy Delasalle-Scannella, with this world premiere marking their 10th anniversary with the company.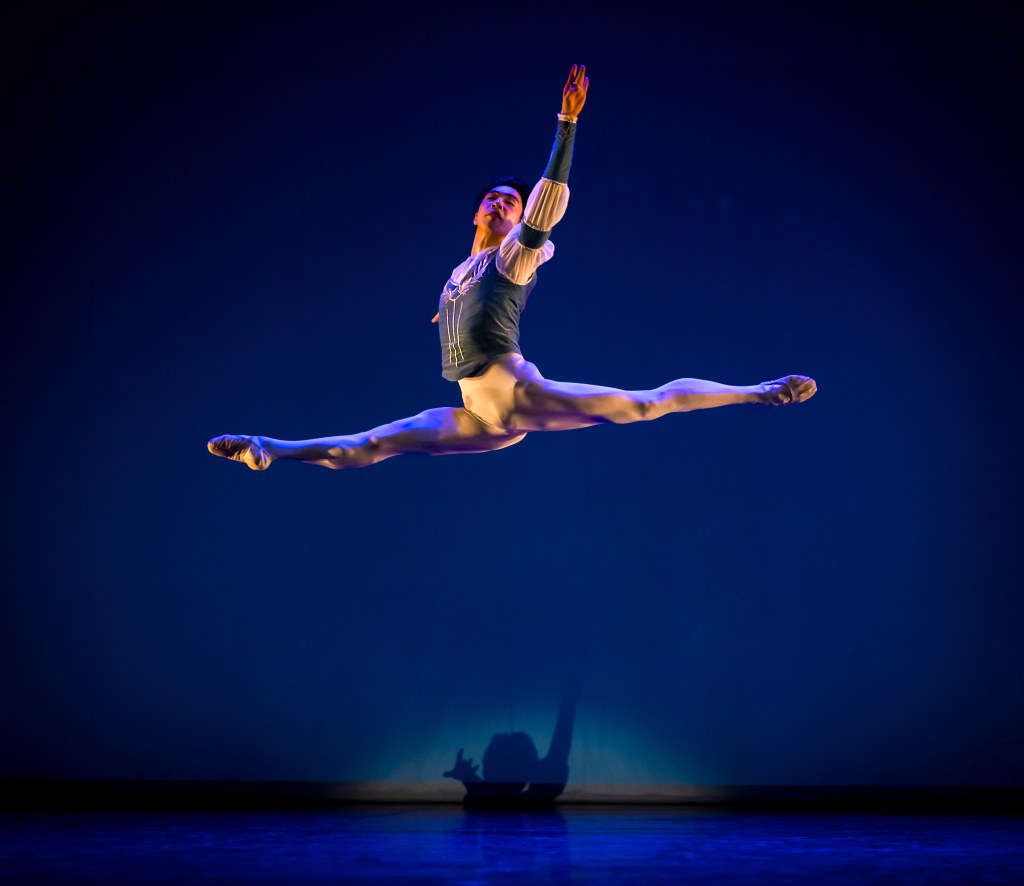 Sylvia is a love story, centred on Aminta and Sylvia, who – in this iteration – are a couple clad in blue and white costumes, designed by the brilliant Turunen. Opening night Principals Chihiro Nomura and Gakuro Matsui seemed to read each other's minds with movements so natural they appeared improvised. Nomura's skirt, fluid with each graceful motion, fluttered hauntingly alongside her turns and delicate pointe work. An impressive lift carried her across the stage, flying, before falling easily into Matsui's capable arms.
Lighting designer Birkinshaw instigates a rose-tinted warmth that creeps onto the stage from the top down. This later leads to a sea-green combined with diffuse spotlights to create the illusion of oceanic submergence, swimming around a sea of dancers who move with liquid brilliance. Beautifully envisioned and masterfully executed, this performance of the Sylvia pas de deux exists at the intersection of romance, music and physical perfection.

After the interval, the West Australian Symphony Orchestra leads the audience into a fresh immersive reverie, led by illustrious conductor, Jessica Gethin. Warm tones and spritely energy fill the stage as the final act of the program, Who Cares?, begins. Leading man (Julio Blanes) takes a series of moonlit strolls through a bustling city centre with a variety of colourful leading ladies (Candice Adea, Glenda Garcia Gomez, Carina Roberts).

Who Cares? is performed with an exhilaratingly intense awareness of how music feels. This tribute to the music of George and Ira Gershwin uses George Balanchine's original choreography, which confidently matches the score in visual form. Gorgeous visual storytelling injects personality into the mix with instances of shoulder-shimmying and other fun expressions of jazz-infused show tunes.

Allan Lees, set and costume designer for Who Cares? has created a stunning New York skyline that asserts itself with light and depth. Jon Buswell's lighting design transforms the silhouetted buildings from gold, to crimson, to late night blue. Endlessly mesmerising and visually impressive, this 1930s New York is brought to life with the warm tones of costumes contrasting against the coolness of the backdrop. Buswell's lighting enhances the most crucial elements of Lees' set, creating illusions of time passing and space transforming.

An eclectic amalgamation of styles speaks to the accomplishment of the dancers, choreographers, conductor and orchestra. Every action is a representation of its accompanying sound, combining elements of genre with vibrancy and imagination, effectively transporting the audience to another time and place through the combined powers of music and movement.

Each performance brings something special to Ballet to Broadway, combining classical and neoclassical ballet with Slavic dance styles, emotive choreography and jazzy show tunes. Beginning with a contemporary ode to Pepita, and ending with Balanchine's echoes of the same, this triple bill breathes thematic cohesion while exuding a rare and exciting originality.
Read: Dance review: Identity, Sydney Opera House
Ballet to Broadway will appeal to fans of both traditional and contemporary dance, and will impress discerning audiences with its technical perfection and relentless commitment to quality.
Ballet to Broadway
His Majesty's Theatre, WA
Who Cares?
Choreographer: George Balanchine
Répétiteur: Nilas Martins
Staging Directors: Sandy Delasalle-Scannella, Matthew Lehmann, Craig Lord-Sole and Reika Sato
Set and Costume: Designer Allan Lees
Lighting Designer: Jon Buswell
Associate Lighting Designer: Lucy Birkinshaw
Music George Gershwin and Ira Gershwin, arranged by Hershy Kay

Raymonda [Act III]
World premiere
Choreographer: Javier Torres after Marius Petipa
Répétiteur: Ingrid Němečková
Set Designer: Javier Torres
Costume Designer: Erika Turunen
Lighting Designer: Lucy Birkinshaw
Music: Alexander Glazunov

Pas de deux from Sylvia
World premiere
Choreographers: Aurélien Scannella and Sandy Delasalle-Scannella
Costume Designer: Erika Turunen
Lighting: Designer Lucy Birkinshaw
Music: Léo Delibes

Tickets: $30 – $145
Ballet to Broadway will be performed until 13 May 2023.