The Queensland Youth Symphony (QYS) is the main orchestra of the Queensland Youth Orchestras (QYO), of which there are eight ensembles in total. The QYS comprises 95 members aged between 12 and 24 and, since 2021, has been directed by Simon Hewett, also Artistic Director of QYO. Hewett's impressive credentials as a conductor of both opera and ballet – having been Principal Conductor of Hamburg Ballet and then Stuttgart Opera – alongside his clear ability to make a difference in leading a group of young musicians, makes him a worthy successor to founder and former Music Director, John Curro.
Earth Fire Water follows the success that Hewett achieved last year with QYS with his emotionally engaging performance of Mahler's third symphony. Never one to shy away from the difficult orchestral repertoire to both challenge and showcase his talented young musicians, Hewett has here programmed works by both Debussy and Stravinsky with their respective palettes of colours requiring excellent technical mastery. Additionally, he included a work by William Barton for orchestra and didgeridoo, perhaps the most difficult of the pieces for the QYS to play.
These three works not only juxtaposed each other beautifully, representing Earth through the didgeridoo work, the Fire of Stravinsky's Firebird and Water with Debussy's La Mer, but also gave currency to how we as humans need to live in harmony and understand our natural world. Additionally, Barton's piece will showcase the QYS and Australia during its international tour to Singapore and Europe later in the year.
Debussy's La Mer is recognised as one of the most beautiful musical realisations of sea imagery, conjuring up majestic seascapes in all their colours and forms. Scored for complex multilayering in the strings with a limited use of muted brass, it offers many opportunities for colourful woodwind solos.
The work commenced with dawn breaking over the sea, the whisper light harp and strings gave way to excellent woodwind and trumpet solos and some delightful interplay between horns and strings. Denoting the passage of time, the darker strings, brass and timpani with grumbling bassoons added much needed depth. The harp, glockenspiel and woodwind in the impressive second movement offered sparkling and joyous sunlight on the waves, while the final movement took in the tempestuous nature of the sea with fast string playing, rhythmic brass and percussion.
This was an authoritative delivery of a famous work, with a marvellous palette of colourful sonority tackled with commitment and passion. It was led strongly from the podium by Hewett, whose close attention to detail brought out the textures and dynamics of the work with panache.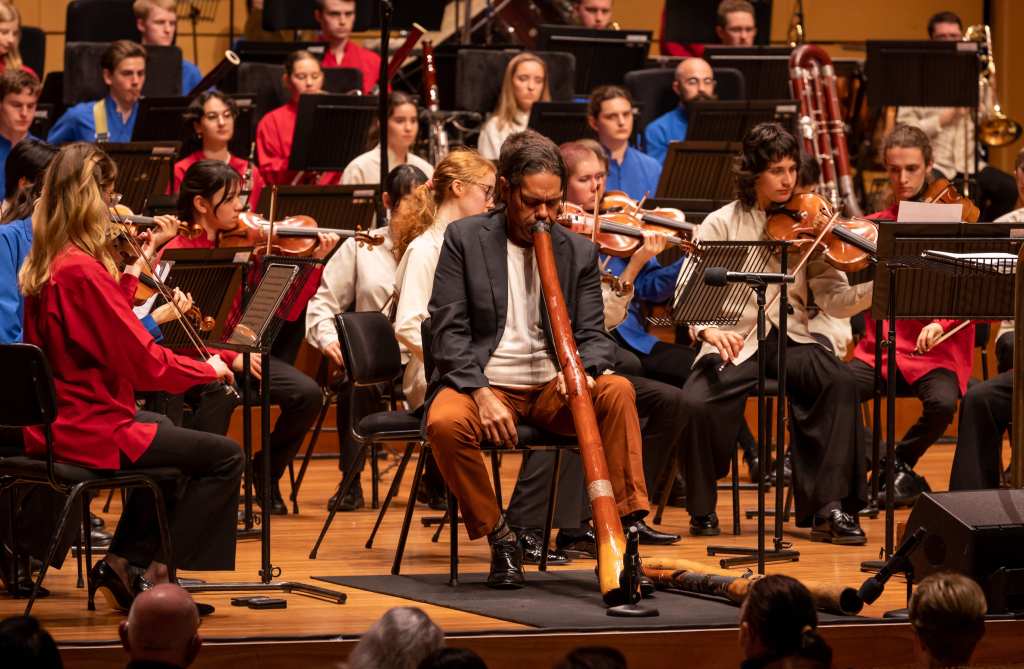 Barton's composition for didgeridoo and orchestra, Apii Thatini Mu Murtu, (To sing and carry a coolamon on country together) was commissioned by Anthe Philippides and premiered by the Queensland Symphony Orchestra in June 2021, with this reviewer in attendance. Written by Barton as his homecoming to Queensland, it was then, and remains, a glorious work, brilliantly illustrating the power of his instrument and the amazing soundscape that an artist of Barton's calibre can achieve.  
Barton played three didgeridoos of different sizes for this work, creating a musical language of his own Kalkatungu country while inviting the listener to explore the Australian landscape and understand its history. On didgeridoo he brought to life the sounds and colours of the bush – the flora and fauna, the birdsong and calls, rustling undergrowth and the wind in the trees. It was both evocative and spiritual.
Barton was assisted by his splendid orchestral score where the sweetness of horns, woodwind, harp and glockenspiel created an evocative and shimmering backdrop. This is not a work composed just for didgeridoo. The orchestra is an equal partner with its wonderful complex sonority, which was impressively played by the QYS. Barton created a colourful cacophony of sound in the accelerando through percussion, timpani and brass that led to a climax of trumpets. The ending gave us his vocally haunting and luscious baritone, accompanied by the orchestra, leading to a gentle and final ethereal bird call.
Stravinsky's The Firebird was famously commissioned by Sergei Diaghilev's Ballets Russes in Paris, and shows the composer at his absolute best in terms of colourful folk-styled Russian music. Its magical fairy tale story of a prince who rescues 13 princesses from an evil king, with the help of the mystical Firebird, is one of his most celebrated compositions.
As an accomplished ballet conductor, Hewett started this work with a clearly defined narrative as the prince arrived in the enchanted garden. With shimmering violins, solos from woodwind and harp and intermittent calls from trombones and bassoons, the musical colours continued to be vibrant throughout the story, especially around the various dances of the Firebird, the princesses and the dance of Kashchei's retinue.
With a score where the music just cries out to be danced, the work flowed rhythmically with mostly bright, fast tempi. Hewett's sweeping conducting style ranged from the jaunty chords of woodwind and violins through the dark, sombre brass, percussion and double basses. It was beautifully played and conducted.
Offering many opportunities for individual solos across both the Debussy and Stravinsky, the standard of playing by the principal players in each of the orchestral sections was first-class.
Co-Concertmasters, In Yi Chae and Miriam Niessl, gave excellent leadership. Niessl offered lovely solos in the Debussy while In Chae played beautifully in the Stravinsky. The principal second violin, viola, cello and double-bass led their sections well, with delightful solos from cellist, Stirling Hall.
Carrying much of the solo work in the Debussy and Stravinsky, the woodwind principals, flute, oboe, clarinet, bassoon and horn, played extremely well. A considerable load was taken on by flautist Braden Simm and oboist Tina Gallo, who were both exceptional. Principal trumpet, Matthew Nash, was solid in his many short solos, as were the brass and cornet players. A range of percussive instruments and timpani was led strongly by Ella Hicks. Harpists Remi Hirayama and Myiesha Maisuria played beautifully, as did Liam Robinson on a soulful cor anglais.
READ: Concert Review: Mahler's Symphony No. 3
At times, the dynamics of the orchestra seemed to give dominance to the louder instruments, especially the brass and percussion, making it difficult to distinguish softer instrumentation. The woodwind was also exuberant and perhaps some increased pianissimo may have been welcome. But overall, the standard of accomplishment was very high indeed, needing only minor finessing.
Hewett showed exceptional technical skills on the podium with a firm directorial hand and a strong clear beat. His virtuosity brought out the many musical colours of these works with emotional engagement and great style, inspiring his youthful players. He is a very welcome asset at the QYO, helping to shape and guide our next generation of orchestral musicians.
Earth Fire Water by the Queensland Youth Symphony
QPAC, Brisbane
Conductor: Simon Hewett
Didgeridoo: William Barton
Earth Fire Water was performed on 20 May 2023