Milijana Nikolic as Amneris and Latonia Moore as Aida. Image by Prudence Upton.
Aida is a fitting choice for the Handa Opera on the Harbour series, its epic cast and penchant for the exotic in sync with Sydney's demand for event spectacular. Simply, big bling is a no brainer, then add the mandatory fireworks into the scenario announcing intermission, and you have a formula that is sure to sell.
But that is what Handa Opera on the Harbour is all about isn't it – a popular take, a tourist spin? Knowing less about Verdi's opera helps. Well it definitely helped when it came to critiquing the sound balance on opening night, which has continued to be a challenge over the four iterations of this harbor-side event – cranked up to deal with the outdoor environment but in doing so looses the subtly of the mood and moment across the opera.
Tony David Cray's adjustment to his sound design during intermission was agreed by most to have helped, but then watching opera outdoor largely depends on where you are seated.
Overall, the production lacked clarity, and director Gael Edwards' seemingly struggled at reigning it together.
One might wonder what Mark Thompson was thinking behind the mosh of costumes and sets – a discombobulation of styles and a bumpy ride between opulence and minimalism. Was it simply confused, or were his translations of Verdi's well-known spectacular undercooked?
Dominating the raking stage to a backdrop of the city's skyline was an 18-meter tall head of Queen Nefertiti, one eye "blown out" in clichéd decay. The stage was relatively bare in design – rigidly symmetrical with assembled tin gallon-drums, metal railing platforms, and a ridiculous mechanical proscenium arch raised fleetingly in the second act, to what purpose?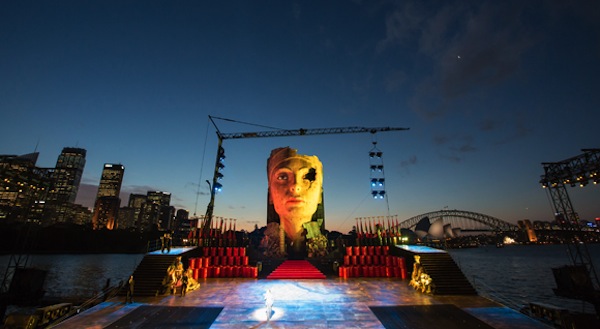 The rotation of Nefertiti, in contrast, bolstered the spectacular expectation maximising the minimal set. One of the strengths in the staging was Matt Scott's lighting design, which drew the most out of the set.
The production relied then, heavily on costume, choreography and a perpetual parade of props to the mandatory stage appearance of animals – this time a pack of camels.
One of the more successful moments was dozens of black coffins marched onto stage and laid out in a mirrored splaid arrangement. Edwards used the massive chorus to regularly parade onto the stage with emblematic flags with almost Hilter-era zeal. Was the constant movement a distraction or yet another way to hone viewers in the outdoor environment?
Thompson's costumes, however, set a new level of gaudy confusion. A one moment caught between camp latex strides (didn't Mardi Gras finish last month) to a cacophony of prints topped of with headdress of steroid proportions (a big print on a big lady is hard to pull off). One had the feeling he had just discovered British-Nigerian artist Yinka Shonibare.
And as if he felt himself reaching too far, waves of gold lame Egyptian clichés attempted to create balance. And Lucas Jervies' choreography added a burlesque tone that seemed to run with this free fall. While some have described "mix" this as an astute fusing of Egypt across its historic characters, for this writer is read as a case of more and more – sparkle, pattern, and sex to deliver that harbor event demanded.
Surprisingly, Edwards didn't utilise the harbour location, as has been done successfully in past years. A fleeting passage of a helicopter overhead, and a raised glance, seemed again to be a confused intrusion.
And the singing? Well that the company did get right.
American import Latonia Moore in the title role of Aida was phenomenal in her range and intensity. Touted as the word's leading Aida currently, her voice dominated over her stagecraft and characterisation.
Milijana Nikolic, as her rival Amneris, in contrast delivered a passionate and fiery role.
Walter Fraccaro as the national hero and torn lover, Radames, grew in strength across the opera, his duet with Moore in the final act a stunning operatic moment.
Michael Honeyman as the Ethiopian leader Amonasro, looked like he had stepped out from a biker gang and his performance equally was portrayed with attitude and territorial pride.
I was surprised to note that Moore was barefooted through the performance, perhaps due to the steep rake of the stage and whispered industrial issues over safety concerns.
The opera is reported to have a price tag of $10 million. And with 78,000 seats to sell over the opera's four-week run, this opera needs to make a splash. Near meeting its sales target by opening night, clearly Aida is feeding Sydney's outdoor addition.
Should we be so harsh? It depends what it is we are reviewing. If it is a production of Aida then it pales, and yet as a spectacular opera event against Australia's most iconic backdrop then it is a five star screamer!
Watch it for what it is. Enjoy it for what it is. Leave the operatic expectations for the rest of the season and relish this moment – there are few others like it anywhere in the world.
Handa Opera on Sydney Harbour: Aida
Fleet Steps, Mrs Macquaries Point
27 March – 26 April
opera.org.au