In the past couple of weeks a number of 'blockbuster' exhibitions have opened. In Brisbane there's the 10th Asia Pacific Triennial, Gabrielle Chanel in Melbourne, Matisse: Life & Spirit at the Art Gallery of NSW, and next week, the British Museum's Ancient Greeks will open at National Museum of Australia.
This perennial season of international hits always wells up the same questions: are blockbuster exhibitions tired and outdated? What relevance do they have for Australian audiences other than numbers through the doors? And, in particular, are they worth the expense in this hurting pandemic world?
ArtsHub sat down with Justin Paton, Head of International Art at AGNSW, and co-curator of Matisse: Life & Spirit, which has travelled to Sydney from the Centre Pompidou in Paris.
'These big ticket summer shows, such as Matisse, have often been like a world unto themselves – the body of works arrives; it's shepherded into our spaces, and you buy your ticket, and you kind of cross the threshold into that world,' explained Paton. 'But we really wanted to feel that the extraordinary energy and freshness that lives in the these [major shows] was also breathed out into the wider museum.'
'And more than that, we wanted to extend an invitation to some great contemporary makers to talk to, and talk back to Matisse, in a way that would take up some of the propositions and questions that he threw into the air, and test them, and conjure with them from their [contemporary] place in the world,' he continued.
Read: Exhibition Review: Matisse Life & Spirit
Increasingly this has been done in recent years through things like audio tours, complimentary film and music programs, talks and public programs. But is that enough, and should the blockbuster moment better contest histories?
THE POROUS SEEP ACROSS OLD AND NEW
Paton believes that in some ways, this kind of curatorial slippage between old and new is a privilege larger state gallery have, given they house historic and contemporary collections shoulder-to-shoulder, and have moved towards a more mature practice of rethinking gallery holdings, and how they are presented.
'I think the conversations between collections and newly made work, between the so-called icons and contemporary responses, needs to be as porous as art itself,' Paton told ArtsHub.
'I think art museums should be places where those conversations are made palpable, where they're brought to life, and indeed, where they're encouraged.'
So, is this therefore an argument for the continued validity of the major imported blockbuster show? And if so, are all institutions in-line with Paton's approach of bringing a sense of interplay between old artists and new? Or do they remain focused on the main event, and the main numbers involved, both fiscal and foot?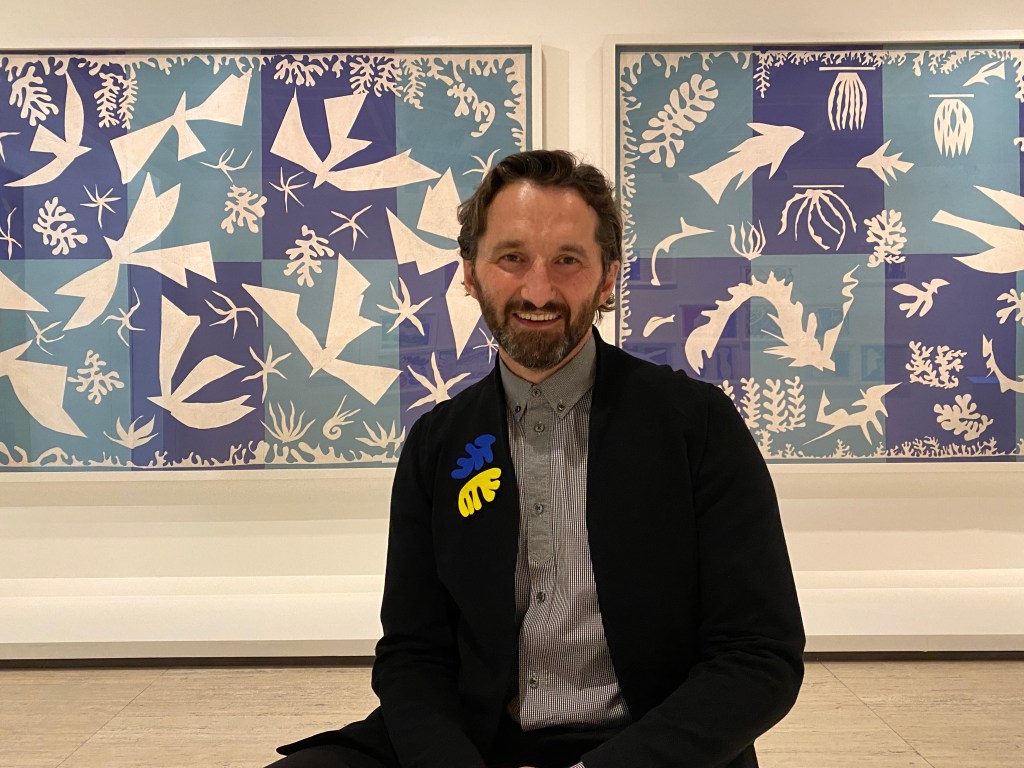 WHAT BLOCKBUSTERS TELL US ABOUT OURSELVES
What has been interesting about the Matisse exhibition in Sydney is the way it has been sutured to the home-grown in-gallery exhibition, Matisse Alive, which punches this blockbuster back into the Pacific Region, making sense of the international in our backyard.
'Once upon a time, there was a perhaps unquestioning reverence for what came from "overseas". But what I think we're all seeking now is a confidently local perspective on what comes from elsewhere, a sense of groundedness alongside the capacity to look outward and take in a wider world,' said Paton.
The gallery invited artists from the Pacific and wider world to share their perspective on Matisse's works, particularly those inspired by his visit to this part of the world at the tail end of French colonialism. The artists are Nina Chanel Abney (US), Sally Smart (Australia), Angela Tiatia (Sāmoa / Australia), and Robin White (Aotearoa NZ).
Paton told ArtsHub: 'It is a really galvanizing thought for contemporary art museums that we should not just be telling but also be listening. Yes, we are in the business of displaying canonical and enshrined works, but we also have to be in the business of fostering this crackle of conversation between the iconic and lesser-known.'
'There's voltage that travels in both directions between the now and the then; also between the here and there, between the local and the international, between Indigenous and the imported. I think a good art museum is one where all of those neural pathways are lighting up,' Paton added.
NEURAL PATHWAYS & DISRUPTING THE BLOCKBUSTER MODEL
Paton said that new approaches to programming were also invigorating traditional exhibition models.
'In the most conservative version of that model, some programs, possibly a performance, would get clipped on to the exhibition. But what is particularly exciting about what's happening at the moment [across museums] is that programming – new music, alternative voices, new scholarly perspectives, community engagements – all of that is becoming part of the way exhibitions are conceived from the outset.'
Paton said that there is 'huge and fertile space' for emerging curators to explore where traditional exhibitions and other kinds of programming intersect. He sees it as creating a different kind of 'body language' for exhibitions. It goes beyond rethinking interpretative devices like didactics and traditional information sources, such as the audio guide.
'Interpretation is so much bigger than that. Interpretation might be what a dance company comes into the space and offers, or what a musician might compose in response to what they see on the walls. It may be a kind of compendium of responses from young people who don't usually get to come to the gallery, or it may be recordings of voices of the communities from which those artifacts have been drawn.'
He continued: '[As a curator] I can have 100 opinions about Matisse, but none of them are going to be as interesting as the opinions of artists like Nina Chanel Abney or Sally Smart, who are responding on a visual and material level.'
I think that exhibitions don't just have to speak in the voice of the institution.

Justin Paton, AGNSW
A precursor to what AGNSW has done with Matisse Alive was the Archie Plus project, which took what could effectively be described as a perennial home-grown blockbuster and used it to give agency to everyday voices.
'The simplest, and most modest dimension of that quite ambitious project was that we invited about 40 people to write labels in their own voices, with a more personal and topical perspective, connected to the events of the moment.
'They reflected on how the artworks looked through the lens of the COVID moment, and it's surprising how jolting and arresting it was to hear someone say, "I think…" or "it makes me feel…", or "it reminds me of…..", because there is this slightly disembodied third-person voice that museums traditionally speak in,' he said.
AGNSW recently appointed a Curator of Music and Community, Jonathan Wilson. Paton says that looking for ways to see the past afresh is part of museum's contract with the art and its audience, 'a contract that says, this work requires love and care and attention to be kept alive.'
He hinted that there will be more of this touchstone of care moving forward. Which takes us back to the blockbusters of the day: Matisse – Life & Spirit, the 10th Asia Pacific Triennial, Gabrielle Chanel and Ancient Greeks.
Paton posed the question: 'How do we create this live, and constantly replenished, sense of art as a force that we all have a stake in? We have to think differently about everything,' he continued.
'We've been on our screens so much, and people don't want something that feels slick, you know, that feels 'We've been on our screens so much. People don't want something that feels slick, you know, that feels polished. A blockbuster like Matisse is meaningful if it returns us to the humanity of the artist. Right now I think we want something where we can feel a maker's hand – something that's a bit vulnerable and improvised and searching, and yes, beautiful,' he concluded.
So when you visit your blockbuster of choice this summer, ask more of it. Does it fall in the dusty bin of the old blockbuster import for numbers? or does it nurture humanity and connection when we need it most?
Matisse: Life & Spirit is at AGNSW through to 13 March 2022. Ticketed.
Matisse Alive is showing through until 3 April 2022. Free.
10th Asia Pacific Triennial at QAGOMA in Brisbane until 25April 2022. Free.
Gabrielle Chanel: Fashion Manifesto, at NGV International, Melbourne until 25 April. Ticketed.
Ancient Greeks is presented by National Museum of Australia, Canberra, from 17 December to 1 May 2022. Ticketed.