William Mora Mora (b. 1953) was a fixture of the Melbourne art scene. He was the eldest son of the acclaimed artist Mirka Mora – a hard identity to emerge from behind, given her quirky brilliance – and Georges Mora – restaurateur, owner of Tolarno Galleries, one of Melbourne's first commercial galleries and Heide Museum of Modern Art inaugural board member.
Clearly, William Mora was destined for a career in the art world. He died at home in Richmond on Friday afternoon (28 April) aged 69, after a prolonged battle with lung cancer.
Coming from such 'art royalty', Mora did, however, make his own strides and forge his reputation as an art dealer and gallerist. He began his career working at Tolarno alongside his father, but it took only a decade before he opened his own gallery, William Mora Galleries, in 1985.
It was first located in Flinders Lane, later relocating to Tanner Street in Richmond in early 2000, into a purpose-built contemporary art space that was also home to his family. Next door, he created a studio and living space for Mirka.
Designed by young Melbourne architect Chris de Campo, 'the complex' offered 'a more flexible and relaxed environment in which to encounter works of art,' according to the Gallery's website.
Under Mora's watchful eye, the Gallery showed emerging and established Indigenous and non-Indigenous artists in a range of mediums, and often oversaw the production of Mirka's prints from her estate.
His own stamp on things
While Mora's mother Mirka clearly leant her support to his newly established gallery – being represented by William Mora Galleries from 1987 onwards – Mora also found his own way of doing things.
He was among the first group of Australian gallerists to present solo exhibitions by Indigenous artists, and worked with First Nations greats including Ginger Riley Munduwalawala, Queenie McKenzie and Paddy Bedford, whose estate the Gallery managed after his death.
Mora's wife Anna Mortley told The Sydney Morning Herald, this week: 'He has a huge legacy. He brought forward Indigenous art, and he pushed it to be seen as good as contemporary art.' She added that he 'didn't have contracts with artists – it was just a handshake'.
On social media, Heide Museum of Modern Art paid tribute to Mora, describing him as 'a much-loved and lifelong friend and supporter of the museum' who 'grew up visiting Heide regularly with his parents'.
Heide continued, 'Over the decades he gave invaluable and unstinting assistance with numerous Heide exhibitions and publications, as well as making donations of artworks and material to the Collection and Archive. On many occasions staff and visitors alike benefited from William's generosity of spirit and enjoyed his witty and hugely entertaining abilities as a raconteur. William, our lives are much richer for having known you, and we hold your memory fondly in our hearts.
A cultured past
William Mora did not have a usual childhood. He grew up surrounded by creativity, with artists such as Charles Blackman, Albert Tucker and John Perceval regular visitors at the family home.
His parents had immigrated to Melbourne in 1951 (with Georges reported to have been in the French Resistance during World War II). They made their first studio at 9 Collins Street – the hub of Melbourne's then bohemian art scene. Their flamboyance and charisma was the stuff of legends.
An eccentric and exhibitionist, Mirka used to 'embarrass the bejesus' out of her three sons when they were young, Mora said in an interview last year with Inner East Review, by 'flashing her boobs when they were young or flicking chocolate mousse across the family restaurant at customers who looked too uptight'.
The Moras quickly became close friends with Heide founders John and Sunday Reed, and were instrumental in the revival of the Contemporary Art Society in Melbourne in 1953. In the Inner East Review interview Mora remembered his mother always having books around, 'on any topic you could think of'.
The Moras were also known for their hospitality and food, which led to the opening of Mirka Café in Exhibition Street, and later the French restaurant Café Balzac in East Melbourne.
So from books to food to flamboyance and hearty conversations – these were the foundations that shaped William Mora – a philosophy of generosity that he himself shared and passed on.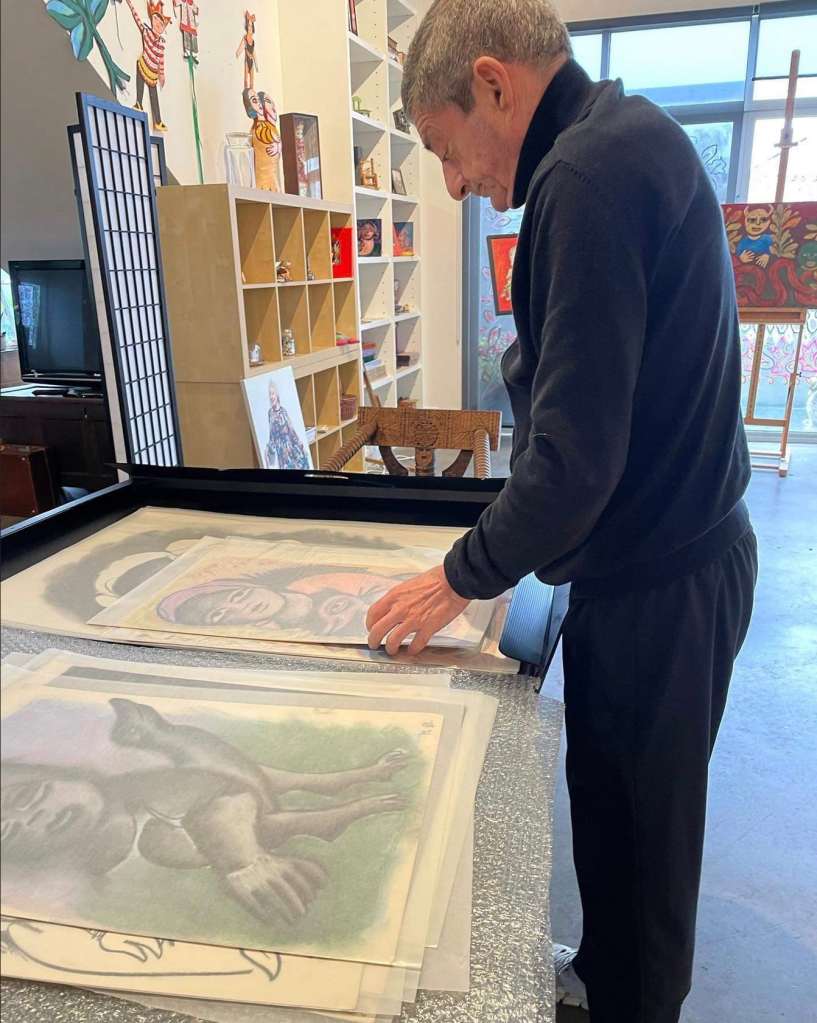 Over the course of his gallery's history, Mora – with the support of his wife Anna Mortley – presented over 50 solo exhibitions of his mother's works, oversaw the edition of her prints and liaised with museums over the loan of works from her estate for exhibition.
Among those highlight shows were Pas de Deux at Heide Galleries in Bulleen, Mirka+ at the Jewish Museum of Australia in St Kilda, and Mirka's more recent inclusions in Know My Name at the National Gallery of Australia in Canberra.
Mirka also died in the Richmond gallery/home complex in 2018, aged 90.
Read: Artist Mirka Mora dies aged 90
William Mora was an accredited valuer of Australian art after 1945, Aboriginal and Torres Strait Islander art after 1970 and European and American prints after 1960. He sat on numerous committees including the National Gallery Society and the Art Committee for the Council of Adult Education.
Mora is survived by his wife, Anna, his 12-year-old daughter Carlotta and his brothers, film director Philippe and actor Tiriel. He also had two adult children from his first marriage, Fred, co-founder of experience agency Practise Studio Practise) and founder and director of Sunday Salon, Lily.