UPDATE: Since publication Melbourne has gone into a 7-day lockdown.
The 2021 Rising Festival launched with a landmark exhibition of Melbourne artist Patricia Piccinini in the unique and mythic venue of Flinders Street Station Ballroom.
Despite changing COVID restrictions, many are optimistic that the new festival will continue. Co-Artistic Director Hannah Fox told ArtsHub: 'We're just managing it day-by-day, but I feel confident that the free and low cost outdoor events can go ahead –they really have been planned for this environment.'
She said the event was created during the new conditions of 2020 (the inaugural event however was postponed that year). 'There's one thing that stayed clear and firm,' added Fox. 'It's the vision for this festival to be a part of an unrepeatable moment in time.'
That's a sentiment echoed by Victorian Health Minister Martin Foley (and former arts minister) who expressed to The Age his confidence in the organisers. 'They know who's in the venues, and I look forward to RISING being a success [and] becoming a mainstay in Victoria's winter festival calendar,' Foley said.
One of the most talked about events will be Patricia Piccinini's immersive exhibition A miracle constantly repeated, an exploration of human's relationship with nature and technology, which wanders through the Flinders Street Station Ballroom.
It's a space that has been empty for more than 30-years but Fox was thrilled to be able to use the space. 'This ballroom is like an urban myth, and there have been whispers of it for quite some time. Any festival director worth their salt has tried to get access to it and weren't sure if it even existed, but it's really symbolic of a utopian time of labour. What happened in here was a social space for the workers of the train lines – it was used for dances, cinema, philosophy lectures, gymnasium, a running track on the roof. The only place you would see that indulgence of your workers these days is a Google start-up.'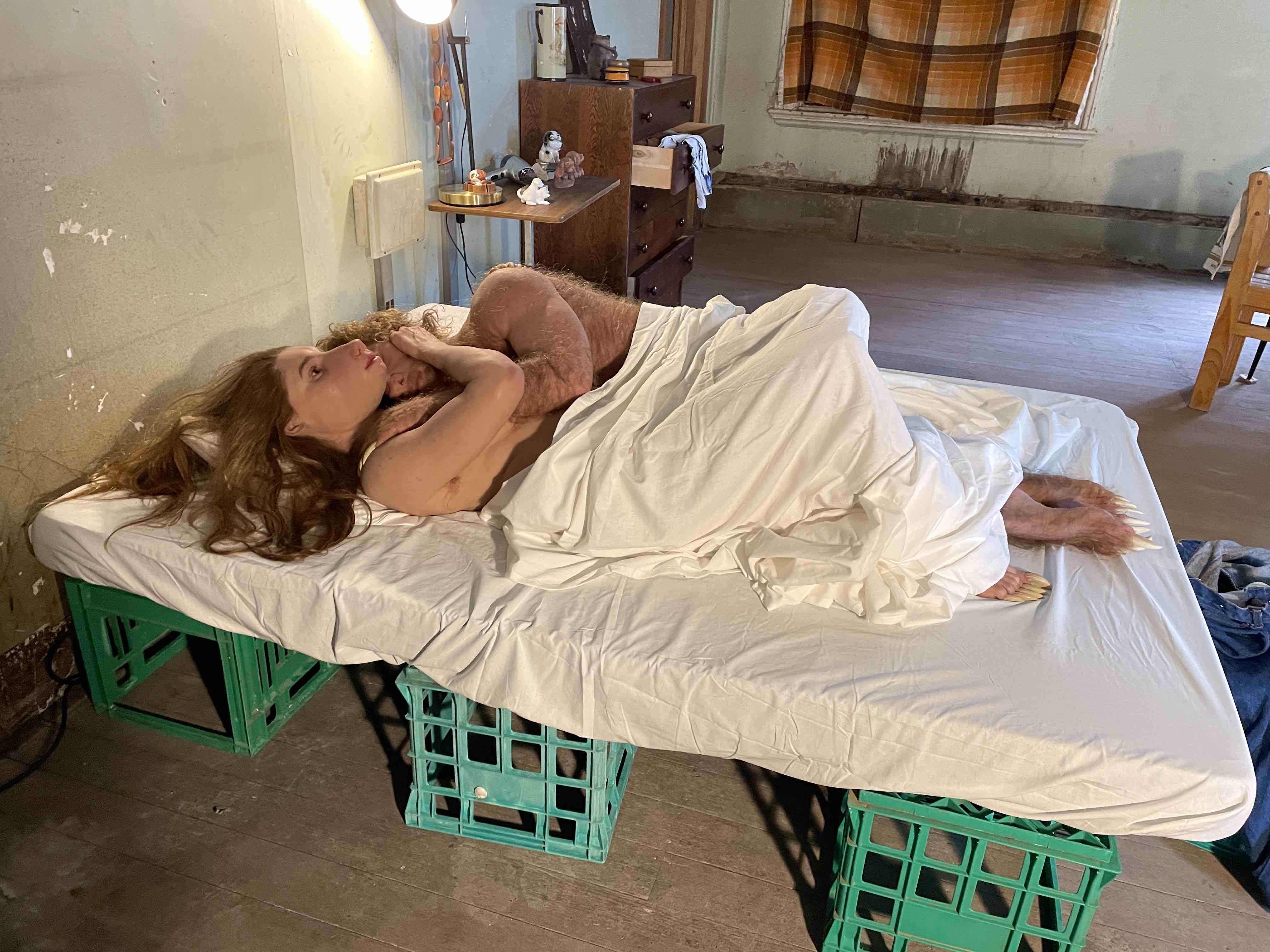 Detail of Piccinini's work. Image ArtsHub.
As a Melbourne-based artist, Piccinini was similarly exhilarated by the space. At the opening she said: 'As an artist this is what I live for… to be part of the reconnection of culture as we emerge from the last year.'
Her works use all of the spaces on the third story on Flinders Street Station, inviting visitors to meander through moments of humanity between her characteristic near-human and post-human figures. One couple sleeps on bed of milk crates – an intimacy made more poignant by their vulnerability.
'People's entire idea of who they were and their role in life had come unstuck. So we were really about how do we create a context for people to still make and do what they do.'
Hannah Fox, Co-artistic Director Rising Festival
Piccinini creates her work with an appreciation of all forms of life. She said: 'As an artist I begin with the basic assumption that all bodies and all beings are beautiful.' She sees this exhibition in such a mysterious venue as 'inconceivable objects in actual spaces'.
And for Rising, the festival was conceived in a pandemic and has resilience in its very DNA. Fox explained, 'What's happened to the arts and culture sector in the last year is not just a money thing. It's also about people's identity, their sense of purpose and their sense of belonging. That's what we really saw when we were starting to talk to artists post the very first lockdown.'
So it is a festival not just about the artists but about a reclaiming of identity.
Fox concluded: 'People's entire idea of who they were and their role in life had come unstuck. So we were really about how do we create a context for people to still make and do what they do. And then the second part of that was how do we bring that to the public. We've been very hand in glove with the government on that but also with artists who were way ahead of us in figuring out how to deal with COVID.' 
The Rising runs 26 May – 26 June with COVID-Safe procedures in place.