In many ways, German-born Dominik Mersch is an unlikely gallerist. He explains: 'I am an engineer. I have a PhD in bio mechanics and I created the artificial hip, I created hip replacements.'
Mersch is not adverse to switching careers. He was previously a Management Consultant for nearly a decade across Europe and London. 'You make a lot of money but it was really gruelling with the travel and the demands,' he told ArtsHub. But it was a path that landed him in hospital, questioning his future.
'I created an excellent spreadsheet – as a good German engineer – and came up with options to go back to uni and become a professor, but a friend said, "You have to write galleries on this list – all the money and time you have spent on art and going to museums and artists' studios – this is where your passion is."'
Knowing where to start
Mersch kept on with his methodical lists. He recognised that a lot of the artists he would like to work with already had gallery representation in Berlin and London. So he chose Sydney to start a gallery, moving here in mid-2006.
'I did my research where to start a gallery – location is so important – and then worked on hooking up with collectors and find artists. I had no network here. People thought I was totally mad,' he told ArtsHub. 'Looking back it was pretty bold.'
He, however, today recommends the same strategy for anyone considering opening a gallery or starting a career as a gallerist.
'Do a lot of research and understand what is your point of differentiation. Research where the gallery should be located, and then you should build a network before you open the doors, because when you do it is like opening the tap – it is really expensive and it keeps flowing,' Mersch advised.
Best laid plans
Even the methodical strategising can go bung.
A year after opening a space in the then trendy warehouse precinct Danks Street, in Sydney's Waterloo area, the GFC hit.
Mersch said reflecting on the 15-years passed, the greatest misconception he held about a career in the arts in Australia – which was debunked – was the lack of government support.
'Coming from Germany it is such a huge difference. The willingness to drive and do something is so much harder in Australia. Government funding is very disappointing; this has really been highlighted in the pandemic …when you think how much money Europe has spent on keeping the arts in survival mode; that was the biggest thing I learnt.'
'I thought there would have been a better chance to support projects… We bring over a lot of international artists – you get no money for that, so I have to pay. But I feel it is really important to introduce these artists to an Australian audience,' Mersch told ArtsHub.
If you want to do it, you have to do it on your own.

Dominik Mersch, gallerist
One of the first to present a cross-border international program alongside Australian artists in the commercial space, Mersch says that while it was tough in the beginning, it has absolutely got better.
'At the time it was heartbreaking to see all these big name artists come here and we don't sell anything, and people asking, "why is it so expensive?" A big factor in changing that has been Art Basel Hong Kong. People (Australians) were engaging with international artists and being more knowledgeable, and say, "Ok I have seen them there so it must be good." That was a really good period, 2012-14.'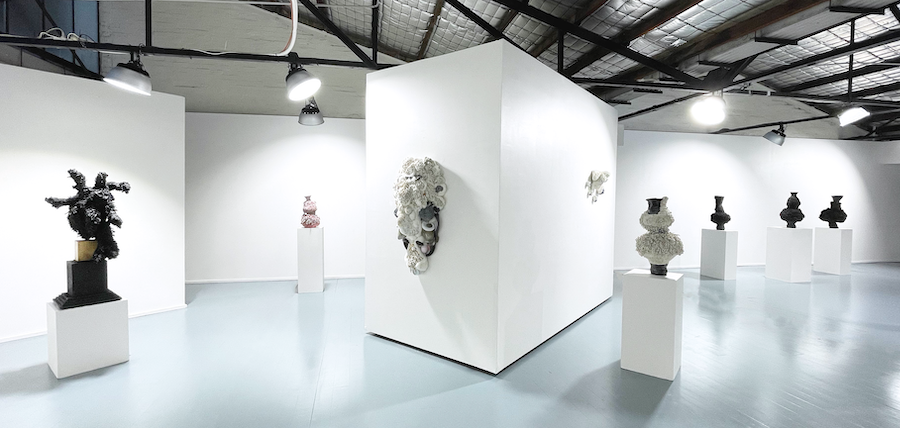 Riding the trend shifts
Mersch says that over the past 15-years there has definitely been a move from bricks and mortar to more hybrid models.
'This is the question I have asked myself for many years now, "Do I need physical space?" And I always come back to yes. It gives collectors and curators the confidence when there is that anchor point, but you have to be more flexible with pop-up and gallery swaps – that is part of being a gallerist today.'
He continued: 'I think pop-ups and project-based exhibitions are in high demand right now.' He is also a big advocate of the 'gallery swap', something Mersch did through the project CONDO – a network where galleries swap their spaces for free for four weeks.
'It was super successful; it started in London and NYC and then Mexico City. It was such a delightful experience …that could be an alternative model to art fairs, where gallerists stay for a longer period of time and make connections.'
Read: 30 things I learned working in a gallery
Mersch has observed alongside the rise in hybrid spaces, marketing has become more important across the board.
'Marketing is a big thing. When I was at Danks Street we would have 300 people come through on a Saturday – it used to be a thing "gallery hopping", to just look and talk. Now it is more like a destination that is done after they have done their research online.
'The entire pre-sales and sales process has completely changed to the point where someone will come into the gallery to make a final decision. Even with a younger generation, people want to see its texture, smell the paint and that will never change. But it is really important to have these sales channels on Instagram and a web store and virtual tours,' he explained.
Mersch has lead the space producing 3D virtual tours of his exhibitions since 2018.
Getting the balance right
When asked whether there was a secret to getting the balance right in growing a gallery – the number of artists you take on versus the relationships you build and sales you make – Mersch said it was a constant question he grappled with over the first year.
Today he represents around 20 artists. 'That is about what I can manage with my team. I say I am married to 20 people; they are demanding, I am demanding. I think 20 is the golden compromise. If you have more the relationships will definitely suffer,' Mersch said.
He recognised that some galleries will take up to 40 artists, but that means that they end up managing an A and B list, and given there are only so many shows that can be staged in a calendar year, those artists are offered a show less often.
Mersch spoke of getting that 'stable' of artists right: 'I call it the T model. In Europe, when someone collects they collect deep – you have one or two artists and you buy from each exhibition. In Australia it is more broad, and collectors tend to collect one or two works by many different artists.'
He added that there were really only about 200-400 active, serious collectors in Australia.
'So everyone is after them, obviously. You need to look into the next generation of young professionals, to work with ambassador programs at the museums and of course you have the entire Instagram community – these will be the collectors of 10-years time,' he said.
'You have to be careful not to grow old with your artists, but encourage young artists to come in as well. Same with collectors. You need to start with young collectors and grow them,' Mersch warned.
One of the ways Mersch has done that is working with the art schools, and also through the DMG Award (Dominik Mersch Gallery Award), which has been running for the last 12 years, and the DMG Curator award, which has been running since 2015.
Trending professionalism
Mersch remembers visiting the first post grad show at a university when he arrived from Berlin. 'It was so unprofessional. Works were badly hung, there was no information, compared to now it is super professional. All the artist have their own websites and business cards, there are different preview levels for the exhibition.
'Students have learnt a lot about commercial side – the transaction of art. It always was a bit of a stain, "You don't talk about that", but from my perspective as a gallerist it is so much easier today to work with artists because of that professionalisation,' Mersch said.
And when it comes to more established artist who have made it in Australia, Mersch says, 'In terms of professionalism and expectations they demand more international presence. Most of them are not happy any more just showing in Sydney or Australia; they want to go Asia Pacific or global, and as a gallery you have to satisfy that demand.'
Ethical operations
It is widely known that the commercial gallery sector is largely unregulated. NAVA has done considerable work on a Code of Practice, but it is not binding.
Mersch admits there is an inconsistency in business practices and ethics. He works in a very transparent and immediate way, again pointing to his German passion for a spreadsheet.
'When we sign up a new artist we just have bullet points that we talk about. It is a two way road. It hasn't changed over the years,' he said. 'And I always pay my artists on time.'
What does 'on time' mean? For Mersch it is within the second week after full payment from the client. 'It is about cashflow. If you do it all the time it doesn't matter once you are in the rhythm. Same with your rent or your bills. I know there are some black sheep in the market.'
Concluding, Mersch reflected: 'Part of the reason why I like my job so much, you always learn something… it's a bit like a hotel – people come to you and they tell you about their experiences. I am a storyteller; I tell the story of the artist and genesis of the artwork, and those stories get retold over the dining table by others [living with this art].'
Dominik Mersch Gallery is located 1/75 McLachlan Avenue, Rushcutters Bay NSW. A fifteenth anniversary group exhibition opens this weekend and continues through 5 March.