INTERNATIONAL YEAR OF GLASS
In May last year it was announced by the United Nations that 2022 would be The International Year of Glass (IYoG2022). The year will celebrate the essential role glass has had, and will continue to have, in society.
Glass as a medium is incredibly versatile. From sophisticated functional ware like Bohemian crystal, to technically mind-blowing Venetian or Murano glass, and the slick modernist designs of Scandinavian glass (which took living with glass to a new popularist level), as well as the awe inspiring Mirrors Gallery of Versailles' palace – glass by its very nature, has awed for centuries.
But glass is not reserved to history and museums. It has faced a recent resurgence in popularity thanks to the reality-style TV show, Blown Away, which gave a great behind the scenes look at how studio glass is made – and how unforgiving it can be.
Many contemporary artists are also choosing to work collaboratively with glass artists to realise installations, such as Patricia Piccinini's celebrated new work for the Flinders Street Ballroom for Rising (on show until June). Canberra Glassworks also offers an Artist in Residence program to foster these bridges. Next will be Consuelo Cavaniglia in January-February 2022.
Want to know more? Here is the cheat's guide to all things glass in Australia for 2022.
WHAT GLASS GIVES SOCIETY
While we might think the main role we play in supporting glass is putting out the weekly recycle bin, this incredible material touches each of us every day. Consider this:
Glassmakers have given us touch-sensitive covers for our mobile phones, revolutionising the way we communicate.
Glass is the chemically resistant container material for many of today's life-saving medicines and is playing its part in the world's quest to fight the COVID-19 pandemic.
Strengthened glass containers have dramatically improved the reliability of the EpiPen treatment of anaphylactic shock from severe allergic reactions.
Glass optical fibers are the backbone of the internet
Glass sheets support solar cells and glass fibers strengthen wind turbine blades, both offering clean energy alternatives.
It is phenomenal to think that this cutting edge material dates back to 3500 BC, with the first man-made glass produced in Eastern Mesopotamia and Egypt, and first glass vessels made in about 1500 BC. This was arguable the birth of studio glass as we know it today.
HOW GLASS IS MADE
'Until recently, the scientific community couldn't agree if glass was a liquid or a solid, which is rather insane,' Cybele Maylone, Executive Director of America's largest glass studio, Urban Glass, told Artsy.
That is probably because you just don't buy furnace glass as a ready-made liquid or art material to work with. It is a chemical compound made from raw (natural) materials – silica sand, soda ash and limestone – which is melted at high temperature (1500°C) to form glass.
A furnace has to be kept running 24/7 so that the crucible holding the liquid glass doesn't crack, with most studios "restocking" the compound once a week. In other words, it is not cheap, and the risk levels are high when making.
Some studios have moved over to solar furnaces (rather than gas). Others offer carbon offsets in their running, and some studios are recycling glass, however it is very difficult to achieve the same clarity this way. This is why there are only a handful for independent hotshops in Australia, with many home studio practices turning to kiln-work and fused glass or lampworking (aka bead making).
What few outside of the glass artist community know, is that given the very nature of blowing glass one needs to work in a team to create an object / vessel. This collaborative aspect strips down some of the isolation and ego often found across other studio practice in the visual arts. However, it also bumps up costs. A single half-day session can cost anywhere up to $400+ with studio rental and assistants.
Read: Artists giving materials a new life
In terms of studio practice, artists will typically gravitate to a certain technique and specialise. They might focus on blowing glass in the hotshop, or kiln-working, or lampworking on the torch. Other artists enjoy the meditative quality of surfacing the glass with coldworking techniques. There is usually little slide between studio practices.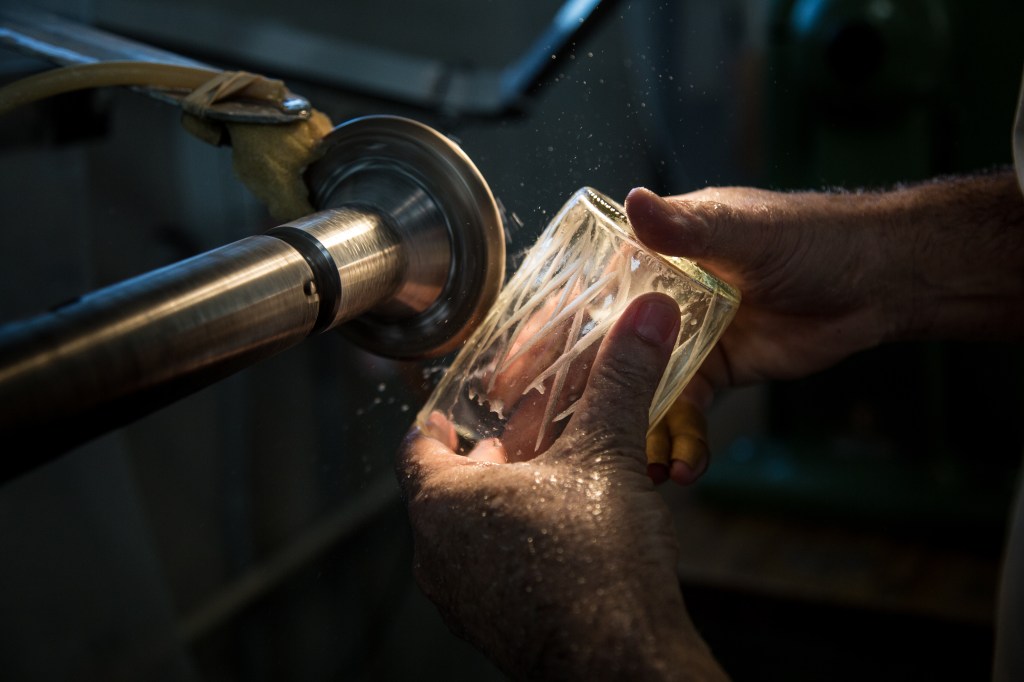 WHERE TO SEE GLASS BLOWING & LEARN
You can watch Australian glass artists at work in the hotshop at Canberra Glassworks (the viewing platform reopens 12 January), and JamFactory in Adelaide, where demonstrations recommence in February. Both also offer a suite of classes for first timers to master workshops.
There are also a number of private, independent and commercial glass studios where you can see Australian studio glass artists at work. Some of these also offer workshops and classes, such as Melbourne's HotHause studio run by Laurel Kohut and Amanda Dziedzic, launched in 2019.
Also in Melbourne is leading glass designer Mark Douglass Glass with a large scale production studio specialising in bespoke lighting. Ruth Allen (Melbourne) offers a mix of things, and Blue Dog Glass has classes to suit absolute beginners, occasional craftmakers and professional artists working in kiln-forming and lampworking. In the Victoria's vineyard region, the Gordon Studio Glassblowers at Red Hill is open daily with studio artists working throughout.
In other vineyard regions there is Gerry Reilly's Melting Pot Glass Studio in Margaret River WA, and Studio OneFive in Mittagong in the Southern Highlands, which opened during last year's lockdowns and specialises in sustainable glass design.
While in northern Tasmania, Glass Manifesto – a partnership of Anne Clifton and Peter Bowles – is a working studio that also offers a suite of classes. Westacott Studios (est. 2008) is a set up in the hinterland of the Sunshine Coast and home to Jonathon Wescott's glass production, as well as a community of other glass artists including Noel Hart and Tina Cooper.
And in Queanbeyan (NSW), you can find the studio of glass artists Matthew Curtis and Harriet Schwarzrock (open by appointment and selected open studio days). You can also find many small studios offering lampworking or bead making, mosaic and kiln-formed glass classes.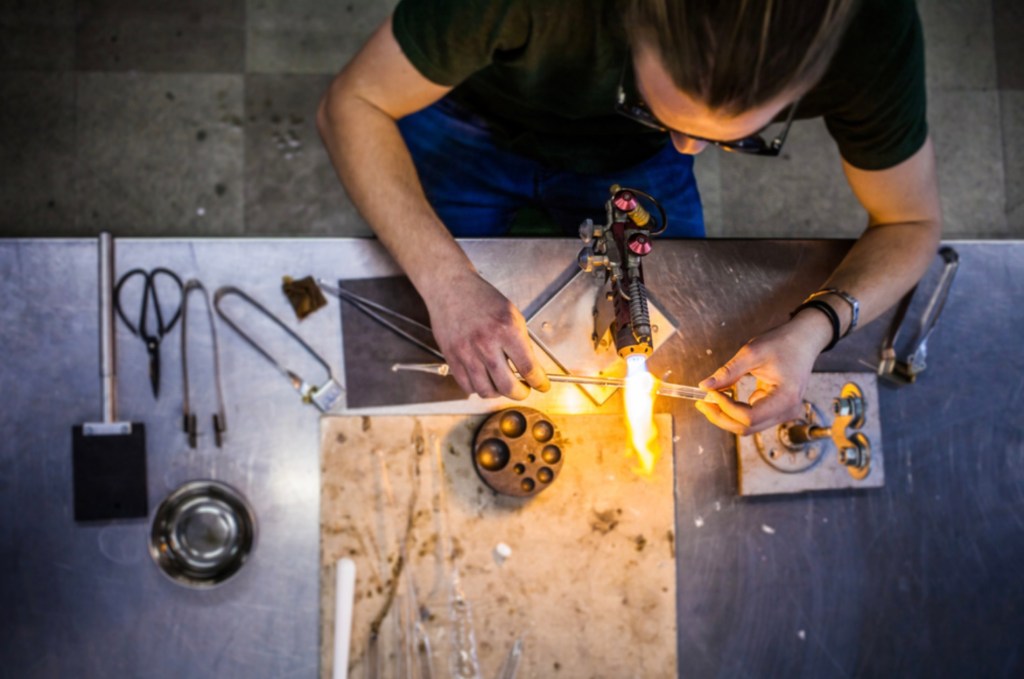 WHERE TO GET A DEGREE IN GLASS
Hot glass blowing in Australia reaches back to the early 1970s, to the studio practice of artists such as Nick Mount and Stephen Skillitzi – who describes in Grace Cochrane's book, The Crafts Movement in Australia, 'roughly 38 glass artists who had already been working as a full time glass artist or who had completed a major glass commission before Ausglass (the peak member association for glass) was formed in 1978.'
The late German-born artist Klaus Moje was pivotal in setting up the glass workshop at Australian National University (ANU) School of Art Glass Workshop in 1982 in Canberra. Today it offers a Bachelor of Visual Arts with a glass major.
In Adelaide, the University of South Australia offers an undergraduate course in hot glass techniques. Similarly, University of Sydney's Sydney College of the Arts offers a studio major in glass. But given high studio costs, these courses have been diminishing and at risk.
Read: Deep cuts at ANU's School of Art and Design
SPECIALIST GLASS GALLERIES AND COLLECTIONS
Sabbia Gallery in Sydney is one of the few commercial glass galleries remaining in Australia. Also in the Sydney suburb of Glebe is one of the longest running glass galleries, The Glass Artists' Gallery.
Wagga Wagga Art Gallery has a custom designed gallery that showcases the National Art Glass Collection, with some 700 works from the 1960s to the present. JamFactory and Canberra Glassworks also both have dedicated gallery spaces with a regular exhibition program.
Similarly, Sturt Gallery in the Southern Highlands always has some glass on display, while the National Gallery of Victoria (NGV) has an extensive glass collection and regularly curate pieces into collection displays.
The Australian Design Centre in Sydney supports glass artists, while not far down the road at UNSW Galleries one of the most significant exhibitions of glass in 2022 will be presented with a survey exhibition of Mel Douglas' work alongside Adelaide artist Liam Fleming (both opening 15 October). Earlier in the year, glass jewellery artist Blanch Tilden's 25-year survey will open (on 25 March).
GLASS PRIZES IN AUSTRALIA
National Emerging Art Glass Prize
Presented biennially, the seventh instalment of Wagga Wagga Art Gallery's acclaimed National Emerging Art Glass Prize (NEAGP) will fall in 2022. Launched in 2010, it was established to promote innovation and excellence in contemporary glass within the emerging sector, and is open to students from universities across Australia and artists that are within 5 years of emerging from their studies.
The winner receives an all-expenses-paid trip to take two masterclasses and attend a conference at North Lands Creative Glass facility in Scotland. The artist's work will be acquired into the National Art Glass Collection. North Lands is internationally recognised as the best institute for the study of glass art in Europe.
FUSE Glass prize
The FUSE Glass Prize is a $20,000 non-acquisitive biennial prize for Australian and New Zealand glass artists presented by JamFactory, established in 2016, and predominately funded through private philanthropy. Entries for the 2022 FUSE Glass Prize can be submitted through the website between 21 January and 21 March 2022. Winner Announced 12 May 2022.
FUSE Glass Artist Residency
Awarded biennially in alternate years to the FUSE Glass Prize, the FUSE Glass Artist Residency aims to create significant opportunities for established, mid-career artists working in glass. Valued at more than $20,000 the residency provides studio access in JamFactory's Glass studio and a solo exhibition at Carrick Hill. Entries for the 2023 residency open in July 2022.
David Henshall Emerging Artist Prize
The David Henshall Emerging Artist Prize, valued at $5,000 is awarded to an emerging artist and includes AU$2,500 cash and a professional development opportunity at JamFactory valued at AU$2,500. Entries open 21 January 2022.
Tom Malone Glass Prize
The Art Gallery of Western Australia's Tom Malone Prize is a highly respected national event for contemporary Australian glass artists. An acquisitive prize, each year's winning entrant is awarded $15,000. 2022 will mark the 20th year of the Prize, and submissions close 15 February.
The Art Group Creative Fellowship
Fellow are provided with a dedicated studio space at Canberra Glassworks for an extended period of between 3 – 6 months, a cash stipend of AUD$10,000 and free access to the facilities and equipment (with very few limitations). Applications are yet to open for 2022.
Vicki Torr Memorial Prize
The $5,000 Prize is peer-selected, and voted by Ausglass members in conjunction with the Ausglass biennial conference. Both the prize and the conference have been postponed to 3 – 5 February 2023. The conference theme will be Future Past.
Thomas Foundation Mentorship
Canberra Glassworks' Thomas Foundation Mentorship is supported by David and Barbara Thomas and offers an artist the opportunity to undertake a self-directed educational program to support building of skills. Valued at $10,000. Applications are yet to open for 2022.
Klaus Moje Award
Formerly known as the Hindmarsh Prize (2016-2018), and managed by Canberra Glassworks, this biennial glass award offers $10,000 in prize money, and a four-week residency to the winning artist. Details of the next edition are yet to be announced.
Willoughby Bequest Commissioning Program
Contemporary glass is also increasingly being acquired by national, state and regional galleries and museums, and shown in art biennales. The Museum of Applied Arts and Sciences (Powerhouse Museum) has received two major bequests of glass art in its history – once in 1984 when it purchased the collection of Judith Cooke, and again in 2017, when they received a large bequest from Barry John Willoughby. As a legacy, the inaugural Willoughby Bequest Commissioning Program was launched in 2020.
Disclaimer: The writer is a co-creative at Studio OneFive.