Now in its 25th year, National Recycling Week is on right now, and its message that you can recycle 'your way'.
Whether you are an artist, arts worker, a company or a venue, there are plenty of ways to act for a less wasteful future, and some areas of the arts are already leading the way.
The 2022 Biennale of Sydney, for example, has a New & Sustainable Materials Challenge, and the Melbourne Art Fair has recently been named Australasia's most sustainable art fair with their new carbon offsetting partnership.
Read: Making your organisation carbon neutral
Further to that, there are numerous Australian artists whose practices are bringing awareness to recycling, upcycling and sustainability through their thoughtful and provocative works.
PLASTIC
According to the Australian National Waste Report 2020, plastics have the lowest recycling rate in Australia.
The pandemic has no doubt prompted a surge of single use products, and plastic artist Rox De Luca told ArtsHub that 'now is the time to take stock and to think seriously about our relationship with plastics.'
De Luca's practice often involves salvaging plastics collected from her local beaches where she is based in Bondi. The plastics are then sorted and threaded using strings of wire into sculpture works that speaks to consumption, abundance, and waste.
She also runs workshops to invite participants to come along to a gleaning walk and channel their creativity to make their beach waste findings into works of art.
The situation of plastic waste in our oceans is especially dire: as the World Economic Forum predicted in 2016, by 2050 our oceans will contain more plastic than fish.
'We all have to think smarter and wiser,' said De Luca, 'there are plenty of terrific clever products and resources out there to tap into.'
She shared seven tips to keep plastic from our oceans and waterways, and was also a guest in a podcast episode as part of the Plastic-free Biennale 2020, speaking alongside writer of Plastic-Free July Rebecca Prince-Ruiz.
Another artist who works to upcycle is John Dahlsen, who makes expressive collages of colour fields from ocean litter plastics.
These artists not only make incredible works from waste, but they are environmental advocates who use their practice as a call to action.
CARDBOARD
Sydney based Italian artist Patrizia Biondi uses recycled cardboard to create intricate, quasi-architectural constructions to shed light upon socio-political issues.
The used material in her work takes on particular significance when you notice the visible marks she leaves on their surfaces that are a result of their usage and transport.
Biondi said in an interview with Daily Architecture News: 'I have always been attracted to waste materials because my imagination can find the potential for beauty in the most unusual places.
I feel acutely concerned about the destructive corollaries of excessive consumer practices which characterise the western world at the moment.

Patrizia Biondi
Evidently, there is endless potential to transform mundane packaging cardboard into art, and you can learn how to get started in artist Salote Tawale's three-minute video 'How to make a cardboard sculpture' from AGNSW's #TogetherInArtMaking series from 2020.
GLASS
Glass is notably one of the world's most sustainable packaging options, and using recycled glass continues to reduce carbon emissions and energy use.
For both companies and glass makers, adopting recycled glass has been a way to integrate sustainability into their practice.
Read: So you want my arts job: Glass Artist
Among the artists working with the medium, glass artist Scott Chaseling has been committed to using the recycled medium throughout his decades long practice. His large-scale work Adrift made of recycled wine bottles and cable ties received the 2017 Hindmarsh Prize.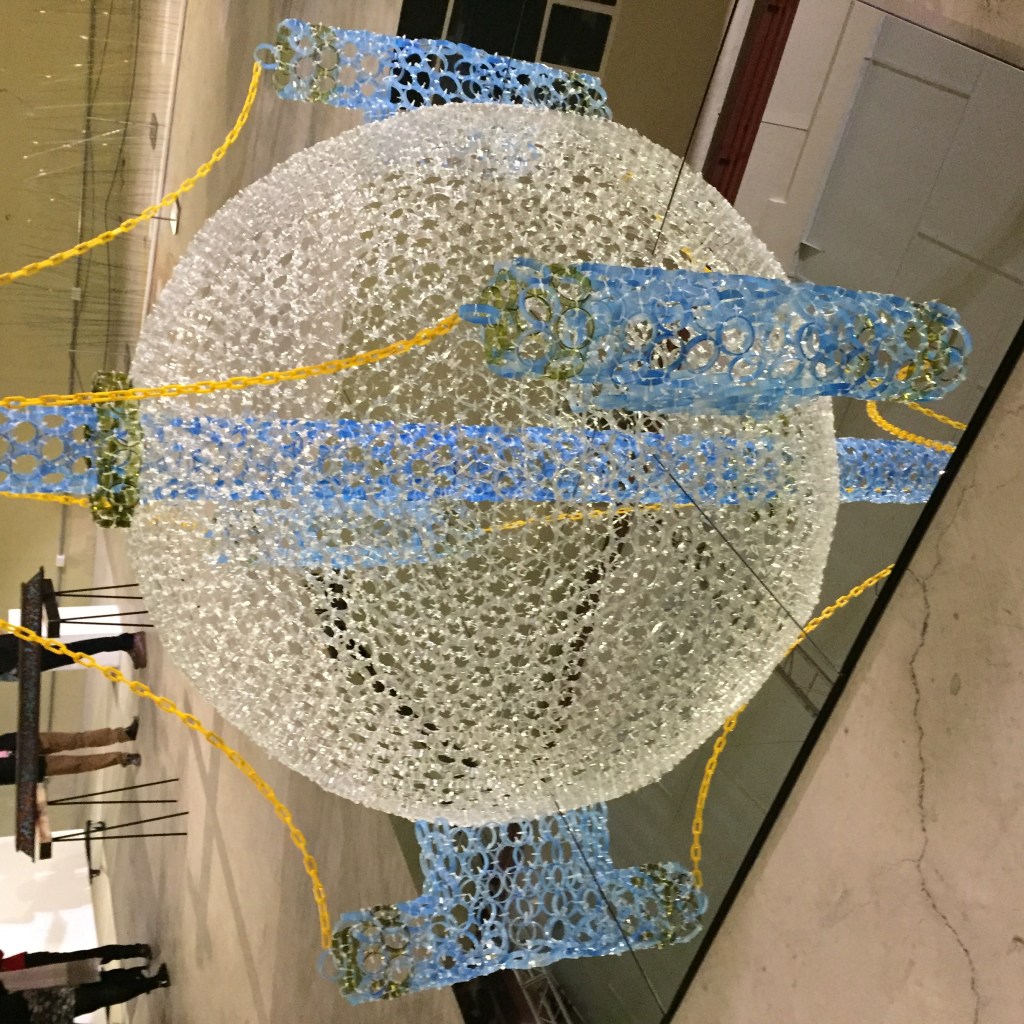 Recently Chaseling launched Studio OneFive focusing on bespoke pieces made through recycled materials and sustainable practices.
Artist Ngaio Fitzpatrick and composer Alexander Hunter have also teamed up to create the glass installation work Requiem for a Reef (2020), which advocates for the endangered Great Barrier Reef.
Informed by her background in environmentally sustainable architecture and building, Fitzpatrick aims to draw attention to environmental issues through the communicative power of art.
Her intricate coral structures are made from recycled industrial glass, and are accompanied by the haunting compositions of Hunter who played with glass objects and music instruments.
TEXTILES
Fast fashion has become a toxin of consumerism (The ABS reported that for 2018-19, textiles were the second-largest contributor to landfill after food waste), but artists are picking up wasted fabrics to give them a second life in art.
Read: Exploded Textiles, Tamworth Regional Gallery (NSW)
Rachael Wellisch is one such artist who based her textiles practice around salvaged fabrics and natural dyes, creating works from walk-through installations to paintings of pulped and dyed textile waste.
Speaking with the Textile Artist, Welllisch reflected that she felt 'a responsibility to contribute to conversations around ecology, consumption and sustainability in my work.
I'm interested in experimenting with ways of transforming textiles as a way to express productive potential. For me, this offers a sense of hope in the face of climate anxiety.

Rachael Wellisch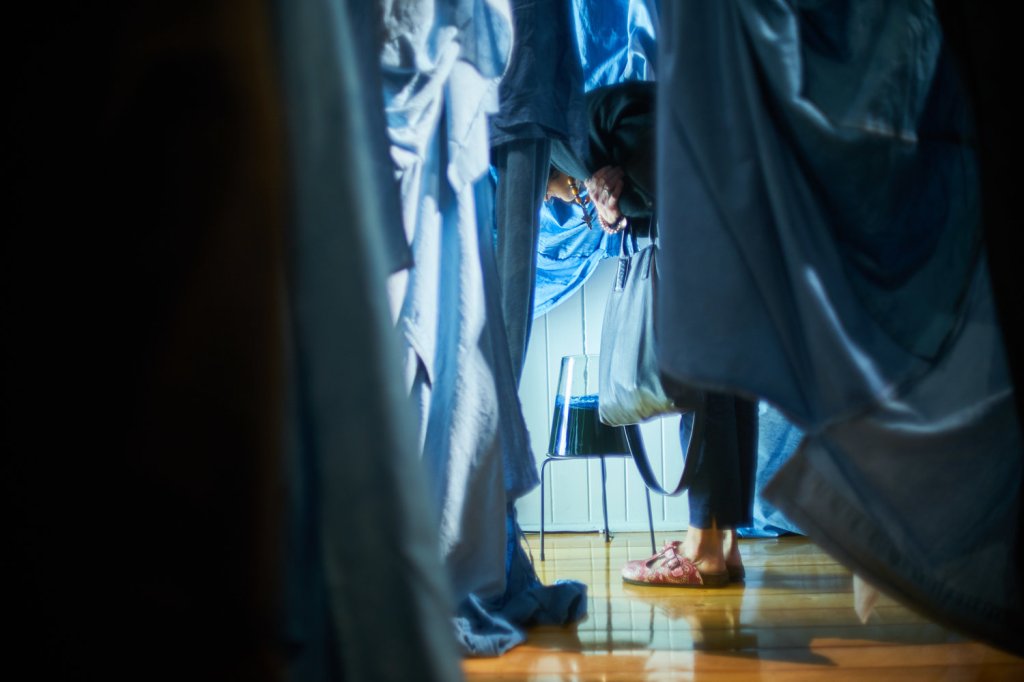 Collaborative duo Guerra de la Paz is also a major force who use recycled clothing to transform abandoned wardrobes into powerful installations.
An early 2011 work Follow the Leader presented a dramatic procession of draped figures, much like a garment monster, provoking reflections on unquestioning adoption of fashion trends and hierarchies of consumption.
METAL
Artist Kate Sale quit her job in theatre nursing to pursue her passion in jewellery. Not wanting to use mass produced materials, she instead started using recycled sterling silver and copper to make her expressive pieces. Setting up a home studio in Sydney, Sale designs and hand-makes her vibrant pieces, pushing for an experimental and sustainable practice.
Similarly, artist Gabrielle McGarth started her own jewellery studio based on her practice in large construction based sculpture after graduating from NAS. She is now committed to creating art with minimal environmental impact.
All of the materials used at McGrath's RedPeg Eco Studio are recycled from commercial and industrial enterprises, where she sees jewellery as 'essentially mini sculptures.' Her works were recently featured at the Motel Art Fair.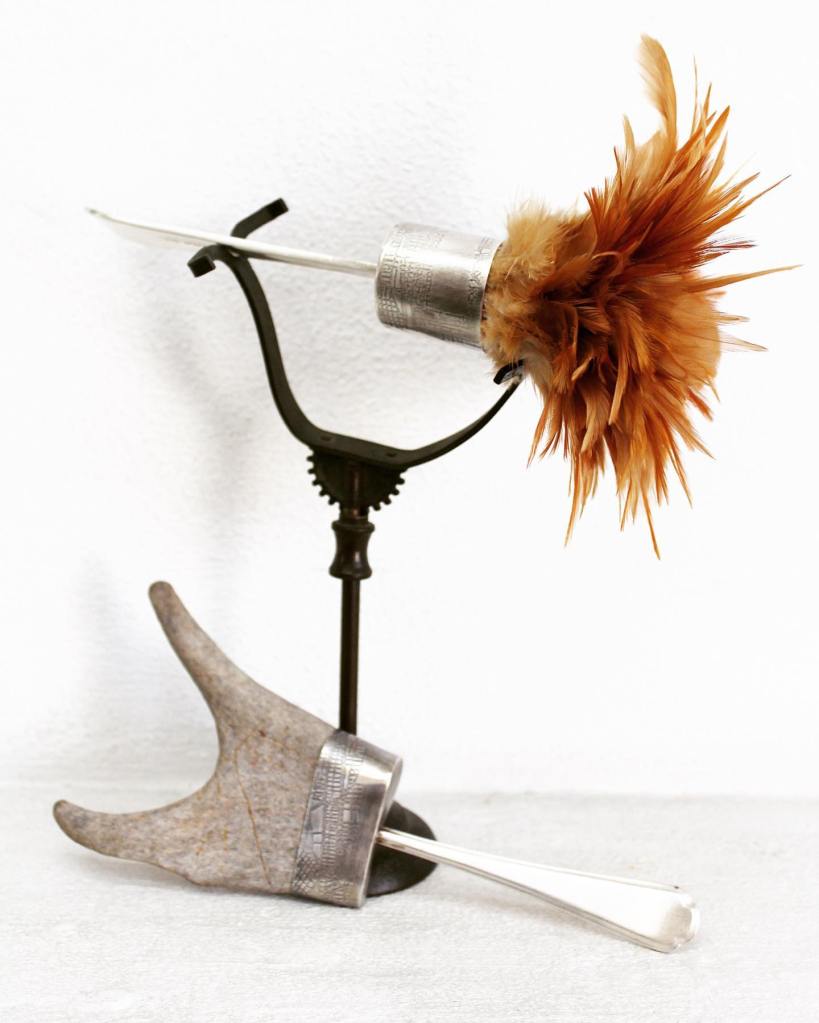 Sculptures created from scrap metal have also taken on popularity in Australia, creating a rural movement that saw sparks fly in backyard sheds, farms and home workshops.
From Urana-based Andrew Whitehead's larger-than-life figures to Heidi Setchell's abstract wired sculptures, these works speaks to the spirit of repurposing and upcycling for these country folks.
NATIONAL RECYCLING WEEK: GET INVOLVED
Planet Ark's RecyclingNearYou shares plenty of resources that can get your upcycling senses tingling. It includes video tutorials of furniture revamps (which usually can't be easily recycled) and a Save Our Furniture Competition with $400 of prizes.
'25 things you can reuse at home' offers simple DIY tricks to increase the lifespan of common household products.
Also available as part of National Recycling Week is a range of events, activities and webinars to help you become a recycling/upcycling star, alongside resources for companies and education institutions.