The opportunity to present new work at an international arts festival has countless benefits for independent artists and small-to-medium companies, as well as the local populations of which they are a part.
The commissioning fee alone can be enormously valuable for the likes of Western Australian Youth Theatre Company (WAYTCo), which is presenting a new production, Seven Sisters, in this year's Perth Festival.
'We are a very small company with no full-time staff. We try to punch above our weight and so the commissioning fee is significant for us in terms of the opportunities we can then provide,' WAYTCo's Artistic Director James Berlyn explains.
Importantly, a festival commission doesn't just support the relevant company – it has a flow-on effect for the arts sector locally, ensuring employment opportunities for actors, composers, stagehands and many others.
'One of the things that I'm really proud of with this work is the relationship with emerging Noongar/Greek director Cezera Critti-Schnaars, who I mentored in two productions previously. We also have an emerging sound designer who is Indigenous, Levi Widnall… and an emerging non-binary stage manager [Carter Kirkland] who's being mentored in the show,' says Berlyn.
'So this commission provides opportunities for young people who may normally not have access, which is the ethos of WAYTCo – like so many youth theatre companies – to have our participants walk beside professionals with an existing practice in a kind of mentorship/apprenticeship model that I think sits distinctly apart from the tertiary model.'
Why festivals matter
Being programmed in an international arts festival also provides significant opportunities to enrich craft and process, Berlyn tells ArtsHub.
'In terms of our young participants, the opportunity to be seen in connection with the international and national artists who come to the Festival is hugely significant. It's exposure for them to a new audience, really, because of the reach of Perth Festival, but moreover it's about broadening their horizons in terms of their performing – and in this case with Seven Sisters, their making,' he says.
'And what it does for our members is really broaden the scope of their practice and contextualise it in a really exciting way. There's added pressure obviously with that, but it's a huge step up.'
The same often holds true for Tasmanian artists appearing in Ten Days on the Island says Artistic Director Lindy Hume.
'We're really, really focused on developing Tasmanian capacity and the cultural confidence to sit alongside their national and international counterparts in the festival context,' says Hume (who recently announced her decision to step away from festival programming after curating 12 festivals over 20 years).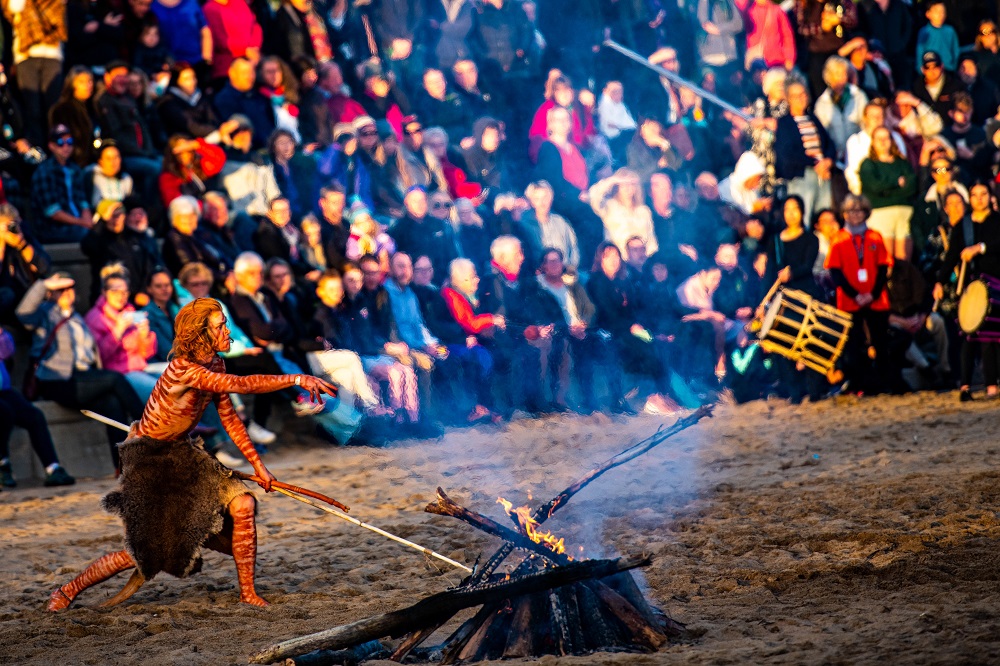 Noting that Ten Days on the Island 'really throws as much as we possibly can at new Tasmanian work,' Hume adds, 'but I think what's important is to frame the work by Tasmanian artists in the context of a global discussion.
'We were incredibly fortunate to be able to [stage] – and I felt incredibly privileged and I absolutely loved – the hyperlocal 2021 festival, but at the same time I'm so happy to be welcoming global and national artists back into Tasmania for Ten Days on the Island this year, because it is a conversation. It's really important that those artists see Tasmanian work and the Tasmanian artists see their work, and that they're part of the same cohort.
'It does make a big difference in terms of the development of the craft of Tasmanian artists to be part of these international festivals,' Hume says.
Building festival-ready work
Iain Grandage, Artistic Director of Perth Festival, says he is 'profoundly' aware of the Festival's important role in supporting the local arts ecology.
'I think the Festival is responsible for many things. One is to provide the opportunity for local audiences and artists to view the best of national and international work – as a stimulus either for their own lives or their own artistic practice. I think that's integral to what the Festival does,' he tells ArtsHub.
'But balancing that is the fact that we should feature artists of an international standard from our local sector, to give them the platform to be seen by audiences who are travelling into the festival, but also so they can have festival-ready work that can then tour around the country or around the world,' Grandage explains.
Enabling local companies to take their place on the world stage is a key responsibility of festival directors, according to Adelaide Festival Artistic Director Ruth Mackenzie CBE.
'For me, it's one of the reasons that festivals are so important to the arts ecology of the country that they're in, as well as the arts ecology globally,' she says.
'There are a lot of world-class companies in Adelaide that don't need nurturing from Ruth Mackenzie. But what we can do is put them on the same platform as other international stars from elsewhere in the world.'
Festival connections
From personal experience, Mackenzie knows that other international festival directors will be scouring Australian programs in search of new work to program.
'The one type of person that reads every page of your website is other festival directors. So we offer a kind of fast track to alert other festival directors of the work of international standard that we're putting on,' she tells ArtsHub.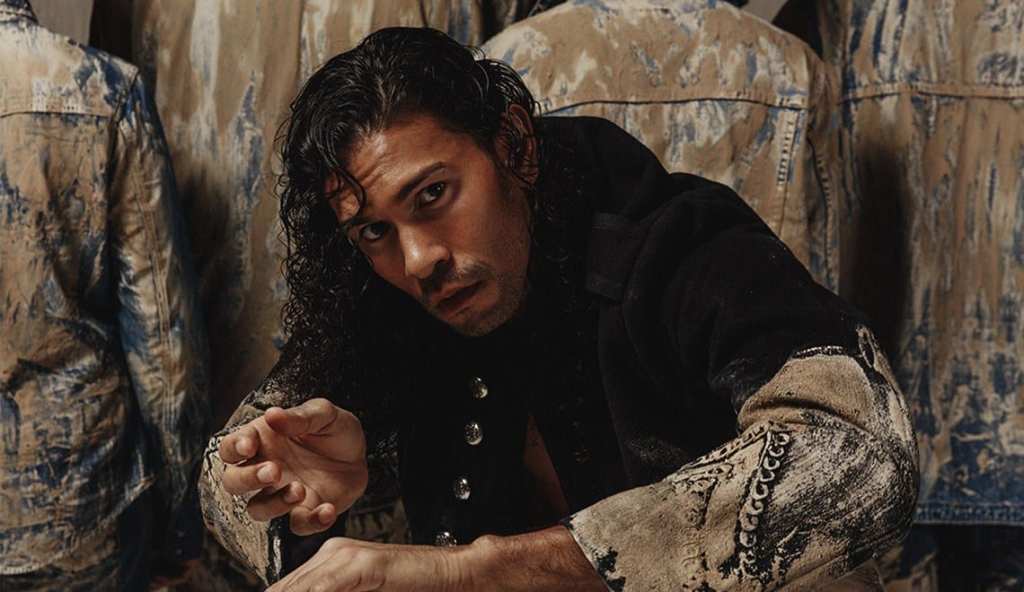 She points to Tracker, the new work from Australian Dance Theatre, as a practical example. 'The Holland Festival doesn't need me to tell them about Ivo van Hove, but they may need me to tell them about Daniel Riley, the new First Nation Artistic Director of Australian Dance Theatre, based in Adelaide. His first, full-length piece is in the '23 Festival program, and that's where they'll find it and how they'll find it.
'And as they do their research and see that, in fact, every festival in Australia is programming Daniel's Tracker, that says a lot.
'And, of course, we're a network. We're all friends. We've all moved around. I mean, my Holland Festival friends have already said to me, "OK, what should we be looking out for in the 2023 Festival? That's one of the concierge services that we do for each other,' Mackenzie chuckles.
'So it's not just the fact that it's in the program. It's the fact that we all talk to each other, and I can go, "Well, I think that Daniel is one to watch".'
Shifting perspectives and knowing who to support
Adelaide theatre company Slingsby has been commissioned by Adelaide Festival several times to date, with the company's latest work, The River That Ran Uphill, appearing in the 2023 Festival program.
Slingsby's Artistic Director Andy Packer says he appreciates the opportunity to see 'landmark works from overseas in your own city … but it's also important for the companies and the artists that are making work here to have their work benchmarked – to see it alongside other companies' work.'
He adds: 'It's also really important for local audiences to understand that we are in this city making work of international quality as well.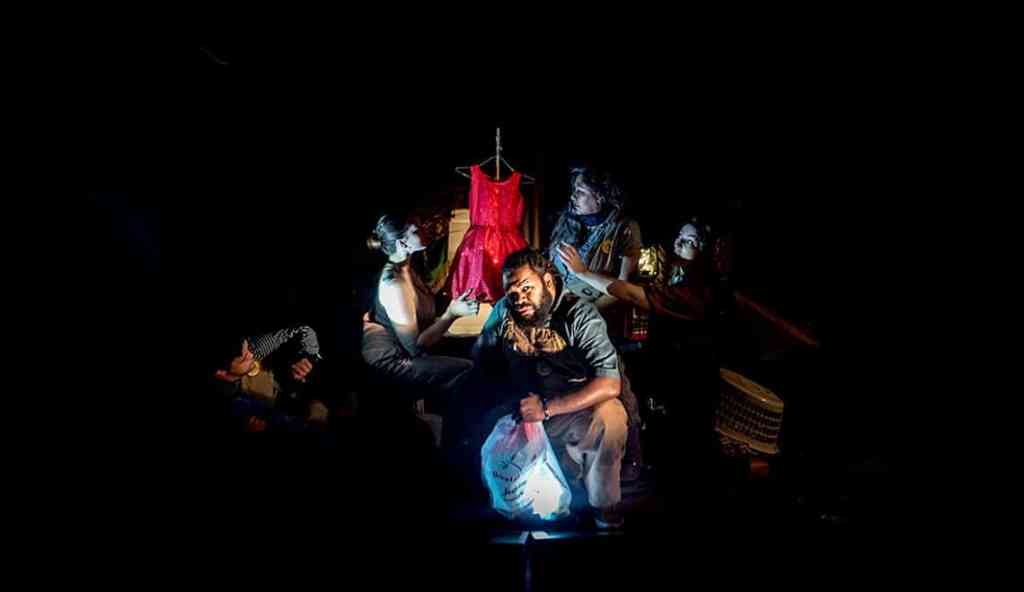 'In a festival you have the opportunity to go and see those big works and big names, and sometimes festival-goers who see a lot of work every year maybe every now and again come away from their festival experience saying, "Actually my favourite work was this work by a local company." So I think that context is really important for the audience and probably important for our own funding agencies as well,' he adds.
Which begs the question: do festival directors play favourites?
'Never consciously,' is Iain Grandage's answer. 'I am conscious on one level of making sure that as many artists as possible are given the opportunity to feature a work, which is them at their very best and with the means to support them at their very best, across my cycle – but if not my cycle then there are many, many more festivals to come. So I'm aware of being as egalitarian as I can in terms of the opportunity of trying to squeeze many stories as possible into a small space.
'There are always more stories to tell than you have space or resources to do. So if I suffer from anything as I come towards the end of my tenure in 2024, it's trying hard not to dwell on the people I didn't manage to support across the festivals of my tenure,' Grandage says.
Read: Arts festivals and events calendar 2023
Packer, similarly, doesn't lose too much sleep over the idea of festival directors playing favourites.
'Whenever there has been any sense of frustration about a festival director not showing interest in a particular project, I have comforted myself with the knowledge that each artistic director's tenure is transient, but as an artist living in this city, my relationship with the audience is a constant. The time for each project comes, and if the next festival AD is not interested in that project either, we will find a way to bring that idea to our audience,' he explains.
Slingsby's The River That Ran Uphill has already impressed Ruth Mackenzie.
'It's the true story of a First Nation community and the flood that hit them as a result of Cyclone Pam. Slingsby has created this piece for its schools program, so it's to perform in schools [as well as festivals] but it's a new piece of work of universal significance. It's a beautiful piece. I saw it in rehearsal and then I saw its first run-through … and it made me cry. Which I think is really good,' she said.
Mackenzie believes the piece will play well outside of Adelaide. 'I can think of lots of presenters and co-commissioners in festivals in around the world who are concerned about climate change, and who are interested in lived experience stories and this is a beautiful, simple piece of storytelling.
'I think it's a really good example of a piece of work and a company that has got international reach, where we can, as I keep saying, amplify if you like. We can augment the impact; we can help to find new audiences and new opportunities, which the work deserves,' she says.
Important conversations
Back in Tasmania, Hume stresses the importance of festivals consciously choosing to support local artists.
'What we did with Ten Days on the Island from the beginning of my time here was to really consciously subvert the order of things that I found in festivals, say, 20 years ago. By flipping the hierarchy of appearance in the Festival from global and international as priority number one, national priority number two, and local priority number three, we've absolutely knocked that on its head,' says Hume.
Small-to-medium Tasmanian companies have also been driving that change, according to Adam Wheeler, the Artistic Director of Launceston-based company Tasdance.
'When I got down here in 2018, the Board and I – and the General Manager at the time – made a clear distinction of how we would shift the way we program, to program for projects in collaboration with our festival partners rather than self-presentation seasons, because they were financially becoming unviable and unsustainable,' Wheeler explains.
'We'd found a shift in our audiences in the way they were connecting with works. We were spending more and more money to hire the Princess Theatre or the Theatre Royal to do a season, and we weren't making any money on box office.'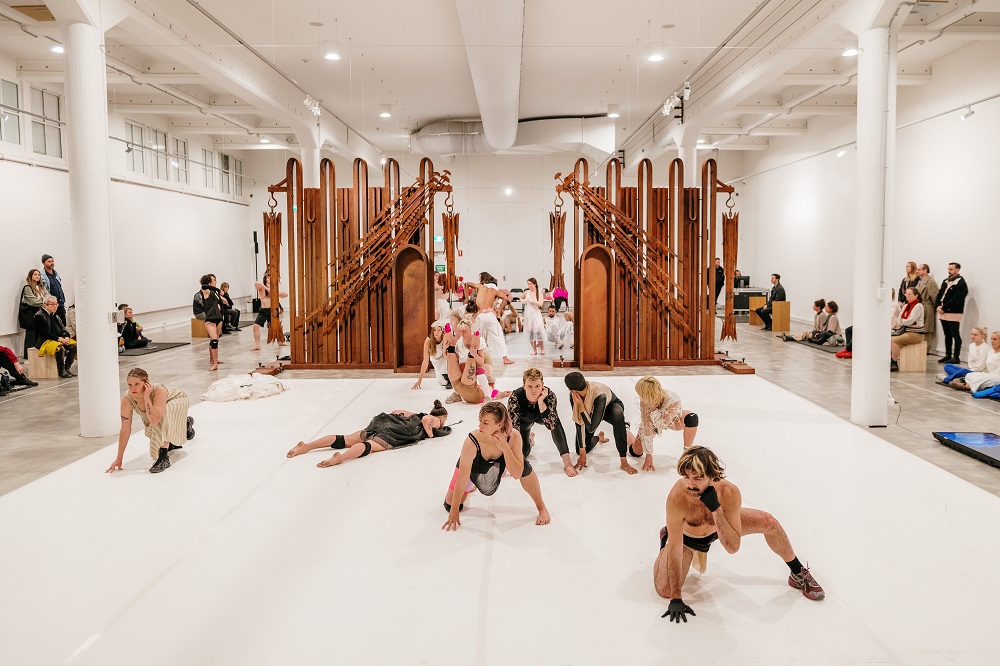 Coupled with the growth of festivals such as Mona Foma, Dark Mofo and The Unconformity, this shift in audiences resulted in a corresponding shift in Tasdance's programming, which Wheeler says has largely been very beneficial.
'Our relationship with our festivals was originally a survival technique, I'd say, but actually now is an integral methodology of how we might work. And 90% of the time it's fantastic. Every now and then it means we lose a bit of control on when we want to present work, because obviously we align with the festivals. Saying that, last year we had to postpone tuylupa in Mona Foma at the beginning of the year and the Festival was amazingly supportive, and postponed the project 'til October to let us present it outside of their festival footprint,' he tells ArtsHub.
Emma Porteus, Executive Producer of Situate Art in Festivals, which is also based in Launceston, notes that being able to have frank and fearless discussions with festival partners is especially important.
'In a place like Tasmania, which is small and regional, we are really heartened and feel really deeply that we can have conversations with the festivals about the sector. So it's not just about making work, but it's about the health of the sector and what we can do collectively to make things better for independent artists, for organisations and for audiences,' Porteus says.
'And some of the most exciting conversations we're having – obviously it's about the work we're presenting – but it's also about our activity outside of the festival footprint. So, how can we collectively also create a year-round program of activity that makes this place really vibrant and really exciting? They're the really exciting conversations that we're starting to have with some of our festival partners,' she adds.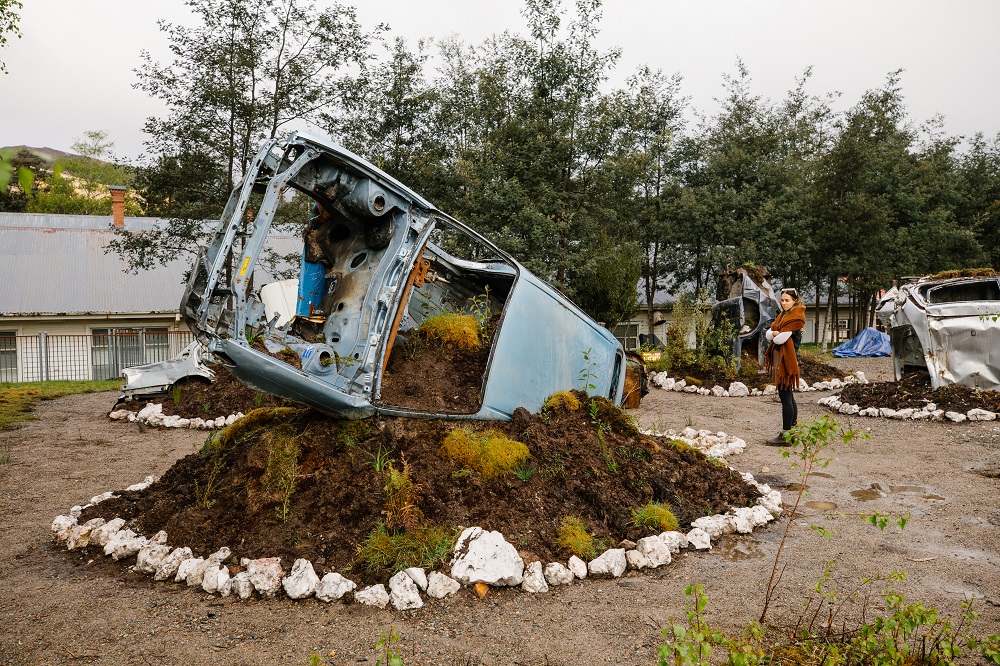 Ensuring open and honest communication between festivals and artists is also important to Glyn Roberts, Festival Director and CEO of Castlemaine State Festival.
'When I came in [in 2017] we made a commitment to make sure that around one-third of the whole program was, hand on heart, local, and then one-third national and one-third international. And that happened after doing a big survey of the local creatives and having an open door policy, and talking to as many artists as possible. And it became very clear that, lucky for me, some incredible artists working across every form were out here and operating in this relatively small town,' Roberts says.
How festivals change communities
Held in the regional Victorian town of Castlemaine and predating any of the state's other major festivals such as RISING, Melbourne International Comedy Festival and Melbourne Fringe, Castlemaine State Festival has had a transformative effect on the local community.
'[The Festival] has set the tone since 1976, that there is art to be had here. You don't have to rely on either Bendigo [the nearby regional city] or the metropolitan experience, and so you can have a career here – and you can have that career enriched by new ideas coming to you every two years,' says Roberts.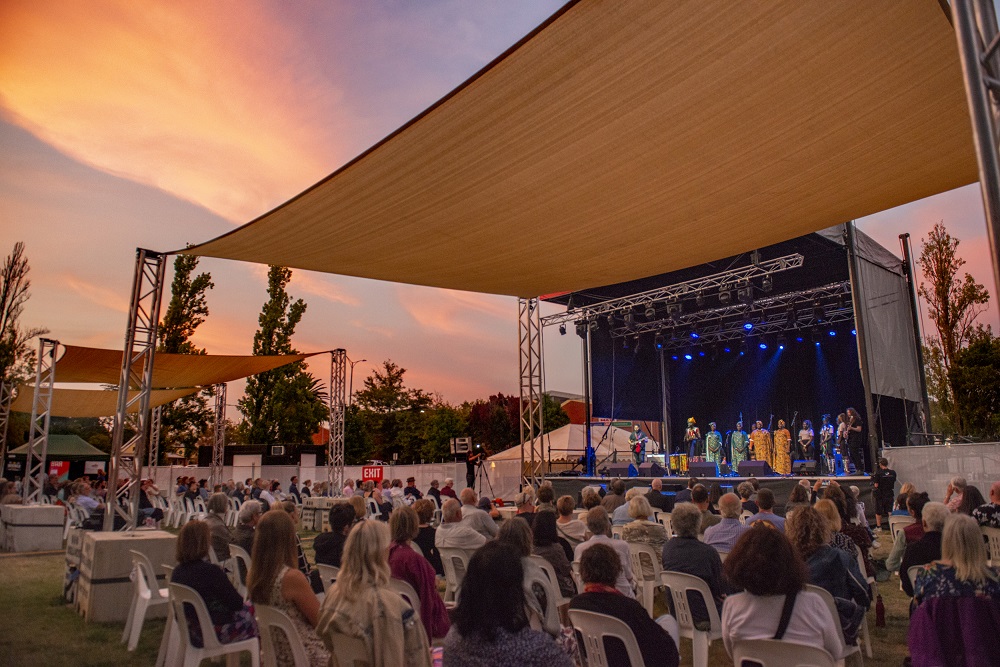 Over successive decades, Castlemaine has developed a reputation as a cultural hub, attracting artists from all genres and sectors, with creativity integrated into many aspects of local life – even primary school children take part in the Festival's programming in some years. The fact that the town even has a thriving Fringe Festival is clearly a sign of the legacy the Festival has wrought.
'I think I put in my job application that art is to Castlemaine what wine is to the Barossa. Kids growing up in that region would have wine running in their veins and it would be a family affair, and I think that's the same for Castlemaine. Creativity just begins in the womb. Castlemaine attracts artists but it's also producing artists of its own accord and that's amazing,' Roberts says.
Identifying how Perth Festival has changed its host city since the first iteration of the Festival in 1953 is harder to pinpoint, Grandage says.
'That's very hard to say. Certainly there are audience behaviours that we observe in January and February, which are indicative that people have a long and trusting relationship with the Festival. People go out and they go out to see experimental work – work that is more inquisitive and experimental than some other work that gets presented during the year – because of the history of the Festival.
'So we are an integral part of the ecology here. We are consistently representing the interests of Western Australian artists in the context of our conversations with funding bodies, with local government, with state government. And for us, and from my personal point of view, that advocacy is just as important as the presentation of the Festival itself,' he concludes.