Tracy Emin, Mona Hatoum, Martha McDonald, Jonathan Monk – it's a roll call of international names that you would not expect to find in a regional gallery some 400 kilometers from Sydney.
They are joined by high profile Australian artists Ronnie van Hout, Dale Frank, Anne Graham, Julie Gough, among others, in the exhibition Exploded Textiles, a collection collaboration between Tamworth Regional Gallery and the Art Gallery of NSW, to mark the 100th anniversary of this regional gallery, the second oldest in the state.
Tamworth is no stranger to rethinking contemporary textile practice. It has been home to the Tamworth Textile Triennial (in its various forms) since 1975.
Actually, key works from Tamworth's national textile collection are included in this exhibition, which divert viewers far from what they might associate traditionally with the material.
Works by Anita Larkin, Martha McDonald and Linda Lou Murphy, for example, explore material from a performative position, while other works push textiles into sculpture, installation and painting.  
One of the first works visitors encounter is the McDonald video installation, The weeping dress (2011), which sets the tone.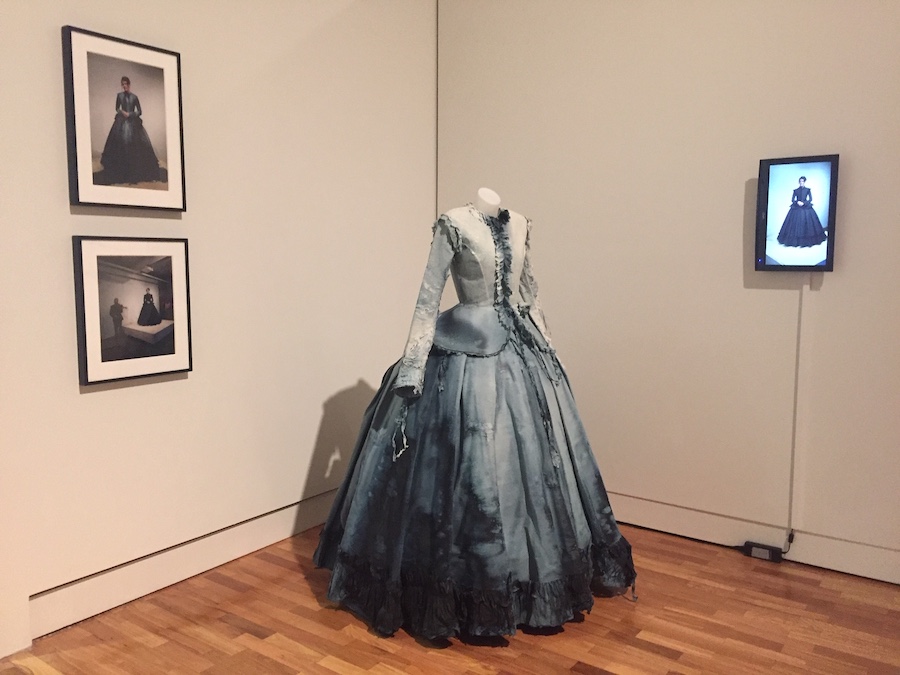 Martha McDonald The Weeping dress (2001). Installation view Exploded Textiles, Tamworth Regional Gallery (2019). Collection of Tamworth Regional Gallery.
In a video the artist wears a Victorian styled mourning outfit saturated with natural dyes, which is then diluted as she pours water over herself while singing and sharing personal narratives. It is presented with the documentation; the textile capturing the gesture, the memory the history of that emotional state and place.
The weeping dress was performed at the first Tamworth Textile Triennial in 2011. It has a beautiful connection with Julie Gough's work later in the exhibition, which symbolically uses blankets and shells, and mangrove wood to create the vessel Navigator (2006), to assist in the journey through time when passing away.
Opposite McDonald's work is Larkin's laboriously handmade felt and found object instrument, The breath between us (2014).  Curiously, felt is used for dampening sound and yet using it to create felt lungs and a heart Larkin conceptually comments on the need to work together to put a more humane focus central to our lives. The sculpture requires three people to play.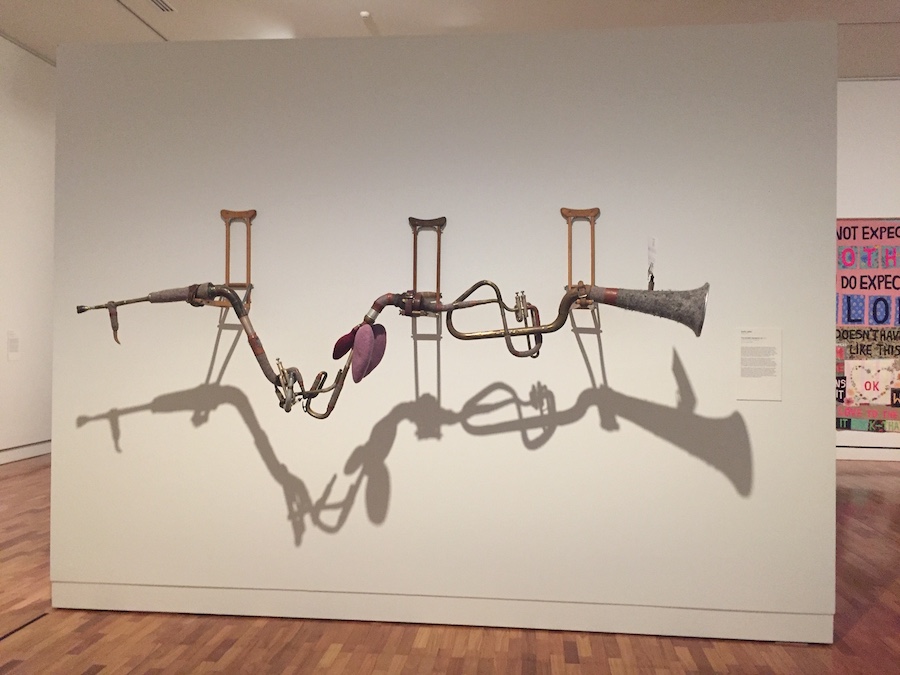 Anita Larkin The breath between us (2014), found object and felt. Installation view Exploded Textiles, Tamworth Regional Gallery (2019). Collection of Tamworth Regional Gallery.
It is almost as though these works have been placed up front by Curator Jackie Dunn (AGNSW) as a clue for audiences, that while 'these artworks may be made of fabric, but it is not an exhibition of "textile art". These are textile works by default, or rather as the inevitable result of the evolution of their form and content. Any notion of them as "purely" textiles is exploded,' Dunn explained.
A work by the late John Barbour sits opposite Larkin's piece. A wall plaque warns of the toxic content in the material (lead); the title Stopped Clocks makes reference to WH Auden's famous mourning poem.
Barbour often worked with fabric – in this example a delicate gossamer voile fabric – attracted to its capacity to communicate human frailty or failure.
There are a number of concurrent themes that sit across this exhibition – materials as a vessel for memory and, in contrast, material as a form of empowerment and protest, particularly through text.
While Tracey Emin's work characteristically make an irreverent and punchy statement about women's rights and sits central to the gallery space, works by Australian artists Raquel Ormella, Justin Trendall and Ronnie van Hout aim for a more subtle impact.
These artist use textiles to create dialogue, all three working with the residue of popular culture or contemporary cultural mores. For them textiles offer great conceptual capacity.
Van Hout embroiders the canvas in what we traditionally associate as a very female role but mixes it up calling on quotes from a very masculine rock'n'roll culture. Trendall's Black Square  (2009) immortalises his art practice influences, a roll call of the Sydney art world sutured (if you like) to Kazimir Malevich's iconic Black square (1913) painting that revolutionised how we think about art.
But by presenting this list within a textile genre, Trendall by default is storming the barricades of fine arts classifications and stigmas.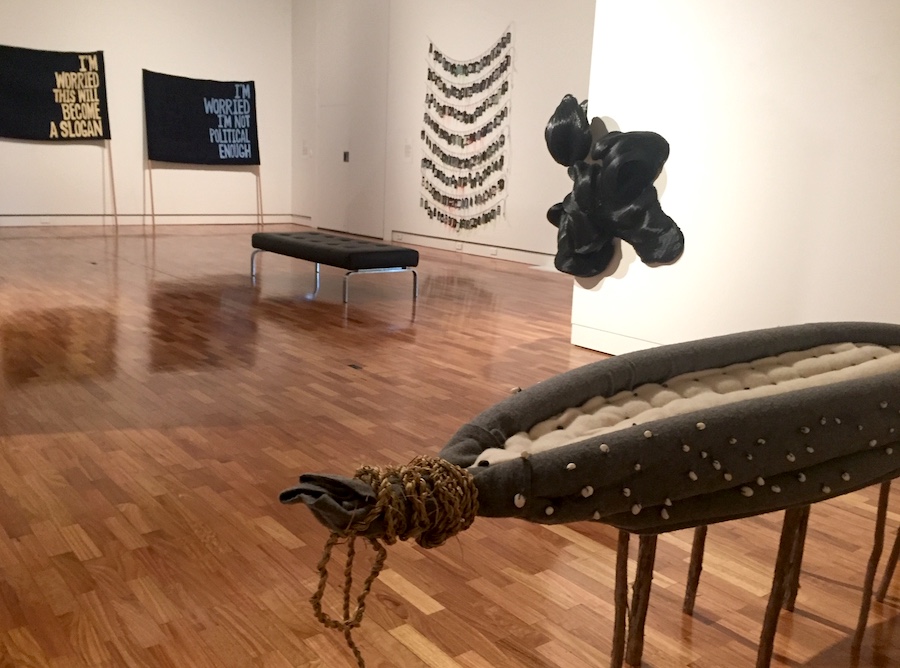 Installation view Exploded Textiles, Tamworth Regional Gallery (2019). Collection of Tamworth Regional Gallery.
The further you dig across this exhibition, the more it gives – conceptually, aesthetically, and for its capacity to be empathetic. Indigenous artists are shown alongside international artists and non-Indigenous artists – the footing is equal; the conversation is shared. 
Among the highlights are works by Jonathan Monk – which overlay Sol le Witt drawings on African wax-print fabrics – a quirky early work by Dale Frank, and a delicate poignant piece by Indigenous artist Penny Evans, Stranded (2-014), which represents the 226 years since the colonisation of Australia.
What Exploded Textiles also offers is a nod to our collecting institutions – from our cities to our regional centres – for their role in shifting museological traditions and leading a r/evolution in the understanding of textile art.
Ideally this exhibition will travel. It is gusty, it is beautiful, and most of all it is timely to contemporary conversations.
★★★★★ 5 out of 5 stars
Exploded Textiles
Tamworth Regional Gallery
28 September 2019 – 1 December 2019
Curator: Jackie Dunn
Artists:  John Barbour, Tracy Emin, Penny Evans, Dale Frank, Mavis Ganambarr, Julie Gough, Anne Graham, Amy Hammond, Mona Hatoum, Lucy Irvine, Narelle Jubelin, Anita Larkin, Martha McDonald, Jonathan Monk, Linda Lou Murphy, Raquel Ormella, Justin Trendall, Rubaba Haider, Ronnie van Hout, Dhinawangu Walaaybaa, Regina Pilawuk Wilson.