While the reality TV show Blown Away may have popularised glass blowing and the 'hotshop' as a creative space for contemporary artists, glass has been around for centuries, moving between the realms of fine exhibition work and production.
Australia has its own strong glass tradition. ArtsHub speaks with Annette Blair, a glass artist based in the Canberra region who explores the potential of glassmaking from beautifully crafted objects to one-off exhibition pieces.
Additional to her own practice, Blair works regularly as a gaffer (the master craftsman in charge of a team of hot-glass workers) and has made glass works for high-profile Australian artists including Patricia Piccinini, Nell and Vipoo Srivilasa, as well as projects for institutions such as the National Gallery of Australia and Canberra Glassworks.
Blair obtained her expertise across two of Australia's most respected teaching institutions for glass – the ANU's School of Art and Design (Canberra) and the JamFactory in Adelaide, and has worked at the prestigious Pilchuck Glass School in Washington, US – a beacon for any glass blower.
She travels to teach glassblowing and glass painting nationally and internationally, and currently works with a talented team of glassblowers in Canberra to continue growing her diverse practice.
Blair shares her passion and dedication in glass making as she looks forward to more emerging female talent in the sector.
How would you describe what you do?
I'm a glassblower, but there's much more to it, as any small business operator knows. When I'm in the studio I'm a glassblower, designer and artist and I do all the necessary business and arts admin when I'm not.
How did you get started in your career?
I've always loved making things, when I saw glassblowing for the first time at the Australian National University open day in 2000. I knew that was what I wanted to do, and I started the following year. I was really drawn by the craftsmanship and the fire – it was obvious that glassblowing required a lot of skill and years of practice to be able to shape molten glass using various tools as an extension of your hand.
After completing my degree with honours at the ANU, I moved to Adelaide to undertake a two year associate training program in glass at the Jam Factory to further develop my skills. In 2008 I returned to Canberra to work out of the newly opened Canberra Glassworks. I'm grateful for the knowledgeable and generous glassmakers that I studied and worked with during this time, who have given me a solid grounding in a variety of glassmaking processes, which I have built my career on.
What's the most common misconception about being a Glass Artist?
I'm not sure really, I think that glassblowing as an artform is not so obscure these days and lots of people have a basic understanding of what we do. When I started out, if I said 'glassblowing' people often thought I was sitting in a shopping centre with a flame-working setup making dolphin figurines, but you don't see that so much these days. Love them or hate them, I think reality TV shows like Blown Away have really helped to reach a large audience and show some of the things we can do in glass.
What's an average day or week like?
My practice is based between the Canberra Glassworks and my home studio in Burra, NSW. When I'm not looking after two small children, I'm usually in the glassblowing studio (the hotshop) either making my own work or helping other artists and designers realise their ideas in hot glass by fabricating works for them (called gaffing).
My own work includes one-off pieces for exhibition, designing and producing various homewares collections as well as private commissions. I also have one to two days each week out of the hotshop, where I work in my studio on design projects, or developing my exhibition pieces, which incorporate glass painting techniques.
When I am working for others as a gaffer, I'm in the hotshop assisted by a team of skilled glassworkers turning their designs and ideas into glass objects or figuring out the best way to go about it. Sometimes it feels like I have too many balls in the air, but I love that my practice is so varied; every day I'm working on something new.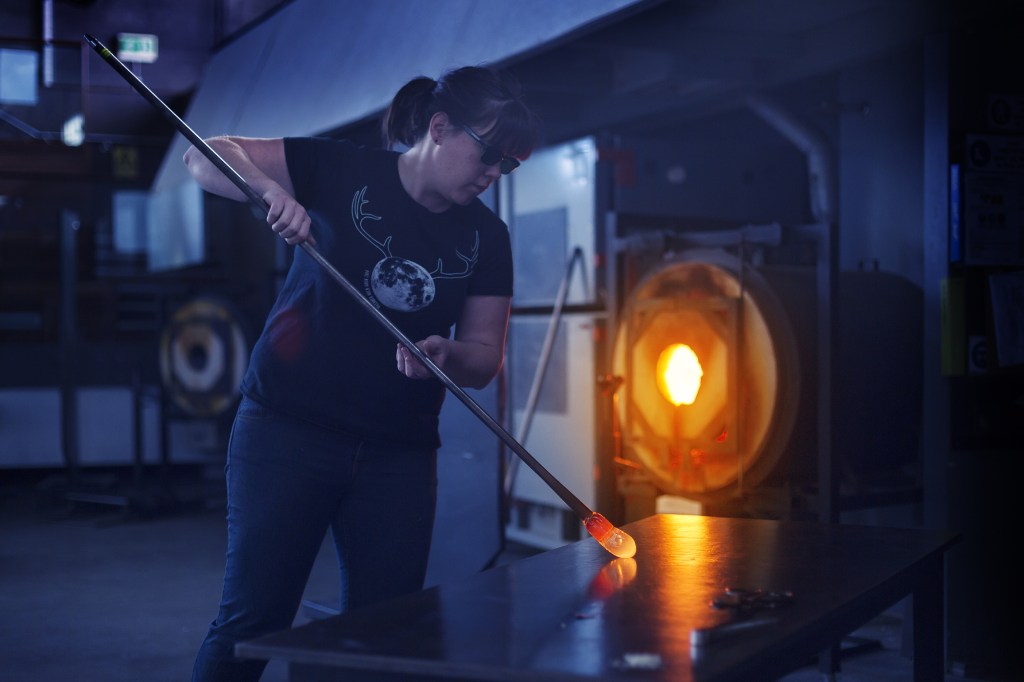 How and why did you pick up gaffing alongside your own artistic practice?
I don't remember it being a conscious decision to 'start gaffing' – it just sort of happens. From very early on in my degree, I was focused on the acquisition of technical skills. I would stay very late in the glass workshop helping more senior students, getting better through repetition while being exposed to a wide variety of techniques.
I was definitely more interested in process than my own artistic expression, which led me to Adelaide's Jam Factory where I trained through production glassblowing for a further two years. I began doing some gaffing work while still in Adelaide, but it wasn't until I returned to Canberra that I was approached to do quite a lot of work for a wide variety of clients.
It was mostly fellow glass artists to begin with – artists who specialise in other aspects of glassmaking but wanted something made in blown glass. I still do a lot of work like this, for artists such as Mel Douglas and Holly Grace, which usually entails making 'blanks' for them to continue working on outside of the hotshop. Other glass artists such as Jenni Kemarre-Martiniello design intricate patterns with pre-made glass elements that I work with in the hotshop to determine their final form.
I do quite a lot of work with designers, regularly producing lighting ranges for ADesignStudio, tableware ranges for Canberra Glassworks and more recently working with Skeehan Studio on some of their design development. When I returned to Canberra, I began working with Sydney artist Nell – I was recommended to her – and it has led to a long and fruitful working relationship since.
The Canberra Glassworks has been a great place to operate this aspect of my practice and often I get to do interesting work through their Artist in Residence program. In 2019 I was approached to create some work for Patricia Piccinini in the lead up to her residency at the Glassworks in 2021. It has been a very rewarding experience working on a large variety of projects with her during this time.
While steadily working on my own artistic development throughout my career, gaffing is certainly one of the most challenging and satisfying aspects of my practice.
Are there any gender disparities in the glassworks sector?
Glassblowing has always been male dominated but I think a lot has changed in the last 20 years which is fortunate for me. In Australia and internationally there are many highly skilled female glassblowers, and they are becoming increasingly familiar in the high-profile teaching and gaffing roles previously dominated by men. These talented and generous women, and the institutions who have invited them, are creating more pathways and opportunities for women working with glass moving forward.
In my own experience and daily studio life, I do occasionally find that gender seems to sway opportunities or raises questions of ability, but for the most part, my male colleagues show respect and support for me and my practice. Unfortunately I'm not sure the same could be said internationally, particularly in private studios, but here in Australia, because we are part of a relatively small glass community and most of us are linked through larger glass facilities, hopefully there is no place for inequality.
What's the best thing happening in the glass sector at the moment?
It's pretty exciting that more and more inspiring female glass artists are receiving international acclaim and that there are glassmakers all over the world making new and exciting work during such an uncertain time. More locally though, there is so much talent in the Australian glass scene and lots of cutting edge work being created right here.
It has also been great that the broader arts community is thinking about the qualities and possibilities of glass. The Artistic Director at Canberra Glassworks, Aimee Frodsham has done lots of work in this space by seeking out interesting artists for their residency program, as well as facilitating the ideas of artists who approach the Glassworks directly.
It breathes life into the studio community when interesting new work is being made, and it's also great as an additional income stream for artists such as myself doing this sort of work in their own areas of specialisation.
Blair's online store Beaut handmade glass will launch soon.