While 2021 welcomed major new rebuilds such as HOTA on the Gold Coast, the much awaited Science Gallery Melbourne, SAM (Shepparton Art Museum) in regional Victoria, and NSW's newest regional gallery in Bowral, Ngununggula, the $170 million refurbishment of Theatre Royal in Sydney, and the phoenix rise of La Mama in Melbourne – 2022 is another year, another build, it would seem.
The year starts with the opening of postponed projects, Bundanon Trust and Rockhampton Museum of Art, as well as projects like Sydney Modern, which will be heralded internationally. Overwhelmingly, NSW remains the highest investor into cultural infrastructure.
We take a look at them alongside other new venues joining the arts landscape in 2022.
New builds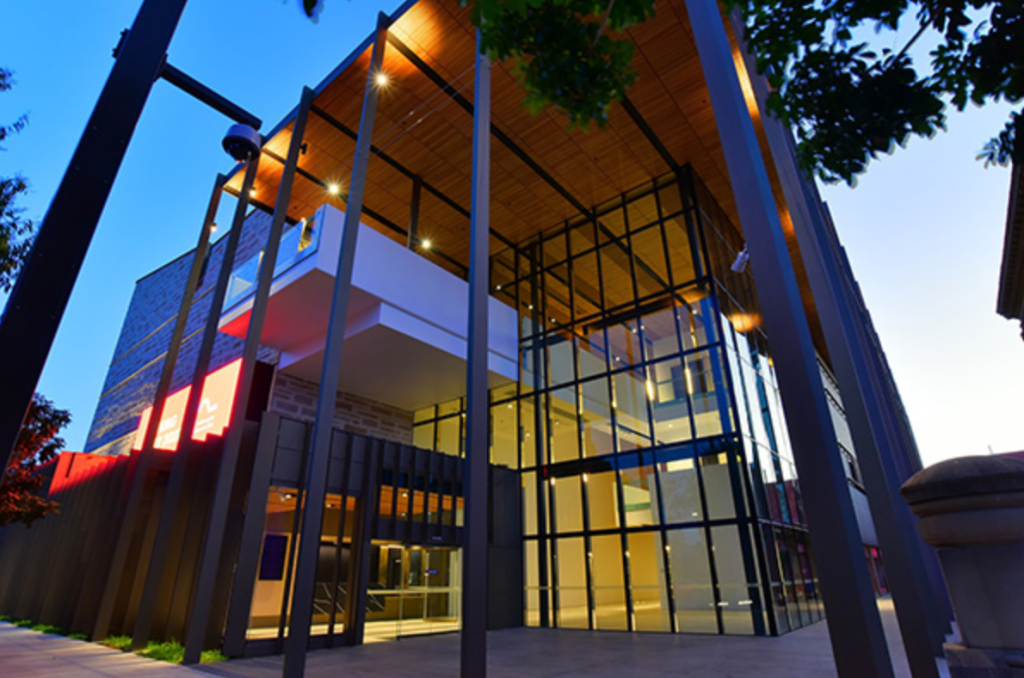 Rockhampton Museum of Art (QLD)
Opening: 25 February
Cost: $31.5 million
The refurbished and rebranded Rockhampton Museum of Art (RMOA) will officially open its doors next month, reinforcing Queensland as the home for contemporary Australian art. RMOA is being reimagined within a new vibrant cultural precinct (the Riverside Redevelopment) in Rockhampton's CBD.
Construction of the new Art Gallery began in July 2019 with Rockhampton-based Woollam Constructions. The new gallery will feature two large flexible gallery spaces, three education spaces, permanent collection storage, a restaurant and a retail shop, with total floor area increasing from 650 sqm to 4711 sqm.
It will have a space dedicated to the nationally signification 1500-piece Rex Pilbeam collection now worth $14million, and will also have the capability to host major national exhibitions.
The State Government provided $15 million of the project's costs. The remainder has been shared by the Federal Government contributing $10 million and Rockhampton City Council with $8.5 million.
Bundanon Trust (NSW)
Opening: First public opening on 29 January, followed by an official government event and opening festival on 4-5 March.
Cost: $28.5 million
Construction of a new art museum and creative learning centre at Bundanon Trust began in July 2020, the gift of Arthur and Yvonne Boyd on the Shoalhaven River (South Coast). Originally slated to open October 2021, the new build has just had its soft opening, ahead of its formal launch.
Designed by Kerstin Thompson Architects, with Construction company ADCO charged with the build, it features a new 500 metre square subterranean art museum, collection store, and a 160 metre flood-tolerant Bridge for Creative Learning, public plaza, café and accommodation.
Pivotal to the design also is work by landscape architects, Wraight Associates.
At the heart of this new plan is a $300,000 Embers Suppression System – an industrial scale sprinkler system that can be triggered off-site – which will ensure that the $43 million art collection of some 4,000 items will be protected from future bushfires.
Read: Building for bushfire resilience in a gallery
Bundanon will deliver three exhibition seasons annually. Business case projections estimate that participation will increase by 80%, and will drive an additional $10 million in revenue annually to the local economy.
The Federal Government contributed $22 million to the project, with the NSW Government's Regional Cultural Fund adding $8.6 million. And recently, Federal Minister for the Arts, the Hon Paul Fletcher, further confirmed a $6 million uplift in operational funding over two years.
Pier 2/3 at Walsh Bay
Opening: with 2022 resident company seasons
Cost $371 million
After years of delays, cost blowouts and then COVID setbacks, Pier 2/3 at Walsh Bay Arts Precinct will open in early 2022. While NSW Government announced the tenants occupied the site in December, it is only now audiences will experience the new precinct. The resident companies will progressively move back to Wharf 4/5 over the coming months and launch season programs.
The $371 million redevelopment has provided the six resident companies – Bangarra Dance Theatre, Sydney Dance Company, Sydney Theatre Company, Sydney Philharmonia Choirs, Gondwana Choirs and The Song Company – with new theatres, rehearsal spaces and studios, while preserving the building's heritage.
Ahead of retiring, NSW Minister Arts Don Harwin said: 'As our arts and cultural sector begins to repair from the pandemic and performances return to the stage, this timely reopening of the newly renovated Wharf 4/5 will bring employment to the arts sector and create innovative opportunities for diverse and cutting-edge cultural works in the brand new, purpose-built arts facilities.'
The external public foreshore walkway around Wharf 4/5 is now open, with Bangarra Head of Design, Jake Nash commissioned to create the staging diagram to show the areas accessible to the public for the cultural hub.
The overall cost for the precinct redevelopment blew out to three times its original estimate.
Proserpine Entertainment Centre (QLD)
Opening: March
Cost: $18.7 million
The impetus for the project was borne from the impact of Cyclone Debbie on the existing building. CA Architects were subsequently commissioned by the Whitsunday Regional Council to create a multipurpose performance hall for community events, gathering, performances and entertainment.
A multifunctional refurbished space was designed, with a focus on engaging with the street and wider precinct, and will be delivered in association with Cox Architecture. New sound, lighting, access, back-of-house and storage needs have been met.
The building was completed in January and is currently in its concluding phase ahead of a March opening.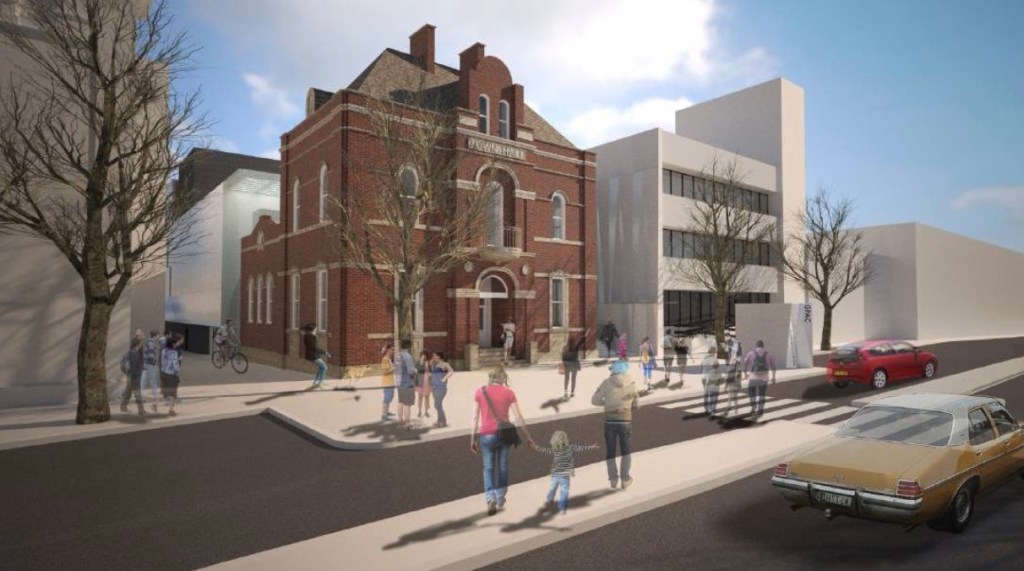 Goulburn Performing Arts Centre (NSW)
Opening: October
Cost: $19 million
The former McDermott Centre and Town Hall in Auburn Street, Goulburn (regional NSW) is being transformed into a 400-seat performance venue costing nearly $19 million. While construction was delayed during 2021 thanks to wet weather, fire bans, and social distancing, the building is nearing completion.
Designed by Brewster Hjorth Architects as an adaptive re-use of and addition to the McDermott Centre, Zauner Constructions have realised their vision. Raina Savage was recently appointed performing arts centre manager, ahead of the venue's expected completion in October.
Sydney Modern (NSW)
Opening: late 2022
Cost: $247 million
2022 is an exciting year for the Art Gallery NSW – Sydney Modern Project, with the scheduled completion of the new building designed by Pritzker Prize-winning Tokyo-based architects SANAA.
Sydney Modern will comprise several interlocking rectangular pavilions overlooking Sydney Harbour and will add 16,000 sq metre of exhibition space (effectively doubling the gallery's capacity), and will be host to more than 2 million visitors per year.
The glass-fronted building will connect to the existing neoclassical sandstone gallery via a public art garden that will be accessible 24 hours a day, with views overlooking Sydney Harbour. Destined to be a signature to the new gallery are a pair of reconfigured, decommissioned underground Second World War oil tanks for special exhibitions and performance.
The design that features green roofs, solar panels and rainwater harvesting has achieved Australia's highest rating for environmentally sustainable buildings. A full rehang of the collection will give works by Aboriginal and Torres Strait Islander artists pride of place in a dedicated space near the entrance and throughout the gallery displays.
Sydney Modern is backed by A$244m from the New South Wales state government and more than A$100m in philanthropic support.
It should be noted that as part of the Sydney Modern Project revitalisation program, the Grand Court of AGNSW is being refurbished, and Australia's first Children's Art Library will be open in a light-filled architecturally- designed space by local firm, Tonkin Zulaikha Greer (TZG). IThis has been made possible through a generous gift by a donor, to be announced when the new space opens in 2022. It will be part of a new education precinct within the gallery's original building, on Lower Level 3.
New theatre operated by QPAC (QLD)
Opening: late 2022
Cost: $175 million
In May 2018, the Queensland Government announced it would invest in the delivery of a new theatre on the Playhouse Green site co-located with and operated by QPAC. Blight Rayner + Snøhetta were appointed as the successful Principal Consultant design team, drawing inspiration from the Brisbane River as an important meeting place for telling stories.
Construction by Lendlease commenced in September 2020, and when completed will deliver a minimum 1500-capacity state-of-the-art theatre for Queensland. It will be the largest performing arts centre in Australia, with five outstanding venues, and when fully operational has the potential to welcome an additional 300,000 visitors per year.
Key features of the concept design include: two new studios below the theatre that are visible from street level, transparent foyer spaces and a single balcony auditorium delivering enhanced audience sight lines.
Theatre Twyford (NSW)
Opening: late 2022
Cost: $7.4 million, and still fundraising
Merimbula's Twyford Hall has a new 200-seater, as well as an upgrade of the stage power, stage lighting and sound system, It has recently reopened as work continues on a new adjacent theatre building.
The Theatre Twyford will be a purpose-built raked theatre adjacent to the existing Twyford Hall with a seating capacity of 199, as well as two dressing rooms, a backstage loading dock, a lift-accessible foyer, control room, stage manager desk, box office/cafe bar and theatre office.
In 2018, the NSW State Government announced a grant of $7.4 million from the Regional Communities Development Fund towards the cost of building the Theatre. Construction project managers Donald Cant Watts Corke (DCWC) were appointed in April 2019. Building commenced in February 2020, but was paused in mid-2021 due to AHIP delays and COVID impacts on builder delay costs.
Final funding to complete is now being sought for the building's fit-out, and the theatre is expected to be completed later in 2022.
Gippsland Performing Arts Centre (Vic)
Opening: 4-5 March 2022
Cost: $38.5 million
The Gippsland Performing Arts Centre (GPAC) will see a state-of-the-art performing arts centre constructed on land adjacent to the Traralgon Service Centre and Library. The Precinct has received $38.5 million in funding, with $10 million each from the Victorian Government and Federal Governments, and $18.5 million from Latrobe City Council.
The new precinct will include a 750-seat theatre within a new performing arts centre, café, and two open air event spaces, one of which is an amphitheatre. The full height glazed façade will allow patrons approaching the venue to see the spectacular architectural features inside the building, including the feature timber tree columns.
Jackson Architecture in association with Katsieris Origami has been engaged as the design team for the Latrobe Creative Precinct. Becon Constructions are the chosen builders. Construction started in October 2019, and the external glazed façade is currently being installed, while inside, the orchestra pit lift is being installed in the auditorium and the back of house areas are nearing completion.
GPAC is launching with OPEN: a four-day festival OPEN festival is running from 3 – 6 March.
Bay Pavilions in Batemans Bay (NSW)
Opening: mid 2022
Cost: $69 million
Construction commenced September 2020 on Bay Pavilions, Eurobodalla's new home for aquatics, art, fitness, health, sport and theatre, along NSW's South Coast. The $69 million project has been funded by the Eurobodalla Shire Council, NSW and Australian Governments. Architects: NBRS Architecture & Donovan Payne. Council has appointed Aligned Leisure to manage the Bay Pavilions.
The arts and cultural centre will have a large flexible, flat floor auditorium with retractable seating for 350 people, dressing rooms, green room and storage, gallery/exhibition space and storage, rehearsal/dance studio/music room, wet arts workshop space and storage, dry arts workshop space and storage, meeting and multi-purpose rooms. The centre is due to open mid-2022.
Coffs Harbour Regional Gallery (NSW)
Opening: late 2022
Cost: estimated $76.5 million
Coffs Harbour Regional Gallery celebrated 20 years in 2020, ahead of its move to a new home – a venue co-shared with Coffs Harbour Regional Museum – Yarrila Arts & Museum (YAM).
Yarrila is the local Gumbaynggirr word for illuminate, brighten or illustrate. That ethos has been picked up in the design concept by BVN Architecture (appointed 2019), and internal design by Thylacine.
BVN principal Matthew Blair grew up in Coffs Harbour, while Thylacine is an internationally award-winning interpretive design studio responsible for new exhibits at the WA Museum Boola Bardip and the Auckland War Memorial Museum. It will develop the permanent exhibits at the YAM in consultation with Zakpage. The permanent exhibits will be completed by mid-2023 once Yarrila Place is operational.
Michelle Smith, team leader of the Council's cultural services, said: 'These permanent exhibits will be the first experience visitors have of YAM and we want our collective identity and history to be told in a compelling and inclusive way – an immersive and inclusive experience of the kind that Thylacine and Zakpage have earned a reputation for, deserved for their performance both in Australia and abroad.'
The Coffs Harbour Cultural and Civic Space will incorporate a library and gallery, a youth area and digital media studio and exhibition space, as well as a café, small events space and technology resources.
Significant refurbishments
Bega Valley Regional Gallery (BVRG) redevelopment (NSW)
Opening: December 2022
Cost: $3.6 million
Bega Valley Regional Gallery (BVRG) is the only publicly-funded art gallery in South East NSW. The redeveloped Gallery will comprise of two exhibition spaces and one workshop/project space available for hire as well as a small gallery shop. Council has worked with Sibling Architecture to complete the design.
Gallery Director Iain Dawson said the redevelopment will elevate the 30-year-old facility to contemporary exhibition standards, and significantly expand the exhibition space from 180m² to 290m².
Bega Valley Shire Council has gone out to tender for the redevelopment, and works began late 2021, with a targeted opening date of December 2022.
It's estimated that the new gallery will boost tourism by $3.4 million per year. Half of the $3.6 million price tag for the project has been secured from the Australian Government's Building Better Regions Fund. While Council has committed to fund the remaining cost of the redevelopment, it is actively engaged in discussions with the NSW Government to secure additional funding.
Forest Sculpture Gallery at the National Arboretum Canberra (ACT)
Opening: 25 February (originally scheduled to open September 2021)
The National Arboretum Canberra will launch its new Forest Sculpture Gallery in February, but unlike a new multi-million dollar construction, it is a new art trail set amongst 44,000 trees – the money rather invested in sculpture commissions.
The Arboretum was officially opened in 2013 with a vision based on the winning design by Taylor Cullity Lethlean Landscape Architects and Tonkin Zulaikha Greer Architects.
The Forest Sculpture Gallery is governed by an advisory committee and the external curatorial advisor is Deborah Clark.
4A Centre for Contemporary Asian Art (NSW)
Opening: March
4A Centre for Contemporary Asian Art closed temporarily in November 2020 to undertake major remediation works to improve the gallery Haymarket's Corporation Building, which it has occupied for over 20-years. The work is being conducted by the City of Sydney.
While the past year has been a roving program of exhibitions, the gallery returns to its home as it celebrates its 25th year in 2022. It will reopen its doors in March.
Artspace & Gunnery redevelopment project (NSW)
Opening: late 2022
Cost: $5 million
In November 2020, the NSW Government announced a $5 million investment to transform The Gunnery into a state-of-the-art facility. The revitalised facilities will include expanded galleries; additional free artist studios; universal access for our community through upgraded amenities; public access to our 35-year program archive; and a new flexible learning space for education and local outreach programs.

Artspace has temporarily vacated the building, and has taken up residence at The National Art School.
Carriageworks (NSW)
Opening: 30 April 2022
During the first half of 2022, a significant program of repair, maintenance, and upgrade of the unique heritage Carriageworks building will be undertaken by Create Infrastructure and Public Works NSW. Works will improve technology and sustainability of lighting systems, provisions for events, the replacement of theatre floors and general upgrade work to the fabric of the building, improving the Carriageworks experience for artists and audiences alike.
These important improvements to the site will see Carriageworks closed to the public from February through until 29 April 2022, with the exception of Carriageworks Farmers Markets which will continue to operate every Saturday.
PROJECT IN DEVELOPMENT DURING 2022
Geelong Arts Centre (Vic)
Opening: late 2023
Cost: $140 million
The new Geelong Arts Centre is set to become Victoria's biggest regional arts centre upon completion.
The new facility will include a 500-seat theatre that expands to an 800-person capacity in 'live gig' mode, as well as a hybrid theatre with more than 250-seats connected to the Little Malop Street Plaza, a black box theatre, an outdoor atrium, more dining options, a new office and new back-of-house and administration facilities.
'This design delivers on our bold vision for this project, it embraces the cultural precinct, it challenges the idea of black box theatres that turns their back on the world. Through using the principles of universal design, this outcome is welcoming, inclusive, inspires and facilitates joy, creativity and encourages people to be part of our creative community,' explained Geelong Arts Centre CEO and Creative Director, Joel McGuinness.
The striking design brings together elements drawn from the history of Geelong, showcasing the region's strong First Nations culture, its proximity to the ocean, and the local history of circus and theatre.
Architects Ashton Raggatt McDougall (ARM Architecture) worked with the Wadawurrung Traditional Owners Aboriginal Corporation as co-designers to weave in these stories through the use of local ochres, jarosites from Bells Beach and greenstone found at Dog Rocks in Batesford.
The Victorian Government has invested $140 million in the project, which is being delivered by a partnership between the Geelong Arts Centre, Creative Victoria, Development Victoria and Lendlease (the project's builders), and is due to be completed by late 2023.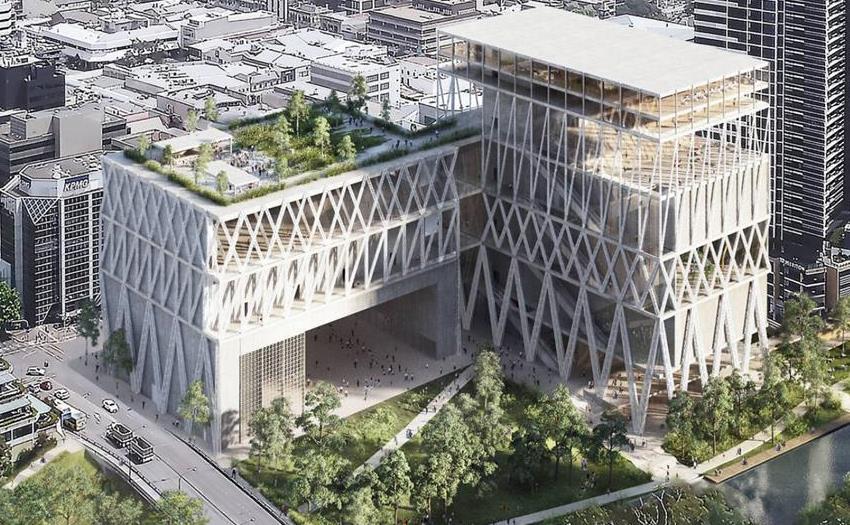 Powerhouse Parramatta (NSW)
Opening: 2025
Cost: $553 million
As the first NSW State Cultural Institution to be based in Western Sydney, Powerhouse Parramatta will be the largest museum in NSW at 30,000 square metres, and largest cultural infrastructure project in NSW since the Sydney Opera House. 18,000 square metres will be dedicated to inspiring exhibitions and education programs.
In September 2021, Lendlease was awarded the contract to deliver the Museum, designed by the architectural team of Japanese firm, Moreau Kusunoki and Genton. The architecture will open up towards the river, providing generous public space and creating an open 24-hour precinct. Seven large-scale presentation spaces are at the core of the Powerhouse.
While Government funding has been secured towards the build, the Powerhouse Parramatta Campaign seeks to raise $75 million towards the capital cost of the Museum, including its fit-out and first year of programming.
Construction commences in 2022 and Powerhouse Parramatta is expected to open in 2025.
Newcastle Art Gallery (NSW)
Opening: mid-2024
Cost: $40 million
The expansion of Newcastle Art Gallery (NAG) will see the 43-year-old building extended east along Darby Street and Queen Street with an eyecatching glass façade, a street-level café and retail shop, with overall exhibition space expanded by 250%, or an additional 1,600 square meters of exhibition space.
The gallery closed its doors this past weekend ready to start construction. Funding has come from the City of Newcastle, a philanthropic bequest by the late Val Ryan, grants from the Commonwealth and NSW Governments. The Newcastle Art Gallery Foundation will continue fundraising for the remaining several million dollars as the expansion works commence.
Newcastle Art Gallery Director Lauretta Morton OAM said: 'This project is about more than just increasing the exhibition space; it's about reimagining the Art Gallery to redefine what we offer as a destination and launch a new era of cultural tourism that will consolidate the Hunter's reputation as an active and vibrant centre for the arts in NSW.'
Australian War Memorial (ACT)
Opening: Southern entrance external works completed 2023, next reveal in 2024, and full works finished by 2028
Cost: estimated $455 million
Work on the Australia War Memorial has commenced with the new year. The project includes a new southern entrance, a new Anzac Hall and glazed link, new gallery fit-outs in the main building creating additional exhibition galleries, an extension to the CEW Bean Building to house a new research centre and Reading Room, and Parade Ground and landscaping works to accommodate increased attendance at events. The iconic façade of the sandstone building, Commemorative Area housing the Roll of Honour, Pool of Reflection and Hall of Memory, will not change.
The architectural designs of the Memorial's new buildings were approved by the National Capital Authority (NCA) on 24 November 2021. Various architects are charged with different components of the build, including Scott Carver Pty Ltd, Lyons Architecture, Cox Architecture Pty Ltd
Ian Potter Museum of Art (Vic)
Opening: delayed
In 2022, the Potter (at the University of Melbourne), continues its significant transformation. Key to this change is the Museum's ambitious redevelopment by internationally renowned firm Wood Marsh Architecture, with the generous support of the Ian Potter Foundation.
This major capital works project will see an expansion of the Museum's footprint through the creation of teaching studios for Object-Based Learning from the University Art Collection, a public programs space, a revitalised Collections gallery, and a new teaching gallery.
The new Ian Potter Museum of Art will also have a bold new entrance on the University's campus, a café and outdoor area in the Museum's forecourt, and an elegant new foyer designed specifically for opening events.
Due for launch in late 2020, the impact of COVID on the University sector has hit the project hard, with the deferral of deferral of capital projects to the value of $350 million, which includes the Potter.
The galleries remain temporarily closed, but offers a hybrid off-site program.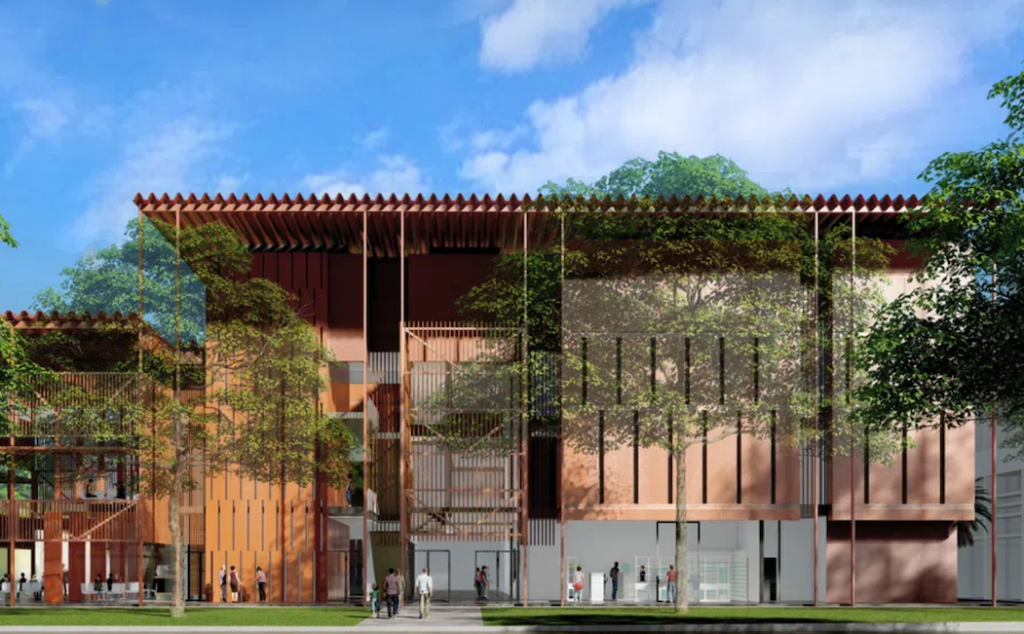 State Square Gallery, Darwin (NT)
Opening: late 2023
Cost: $50 million
The NT Government confirmed a tender would soon be released for the construction of the new State Square Gallery, which is expected to open in the CBD by 2023.
The State Square Gallery's construction is to be funded through the $200 million Darwin City Deal, but has faced criticism in the face of COVID's impact on NT tourism. In another setback, in August 2021 two Supreme Court judges intervened in the development of the gallery, urging a development regulator to reject the current proposal.
Concept images released in June show the three-storey gallery standing beside the Supreme Court on what is currently a carpark for jurors. The design is by Darwin practice Ashford Architects with Clare Design and Hully Liveris.
'The solutions include a fly roof and rain-screen walls that ventilate and shade the Gallery envelope, protecting it from direct heat-gain and weather. Importantly these solutions, combined with landscaping, reduce the 'heat island' effect and create a cool zone around the Gallery,' said architect Lindsay Clare, director and co-founder of Clare Design.
It will expand the reach of Museum and Art Gallery of the Northern Territory (MAGNT, at Bullocky Point outside the CBD) to showcase art from the Territory's extensive collection, and the ability to host prestigious Australian and international exhibitions. The Masterplan also enhances the existing site.
The Northern Territory government has submitted a development application for the new State Square art gallery. The Gallery is part of the wider development of Darwin's CBD funded through a 10-year city deal with the federal government.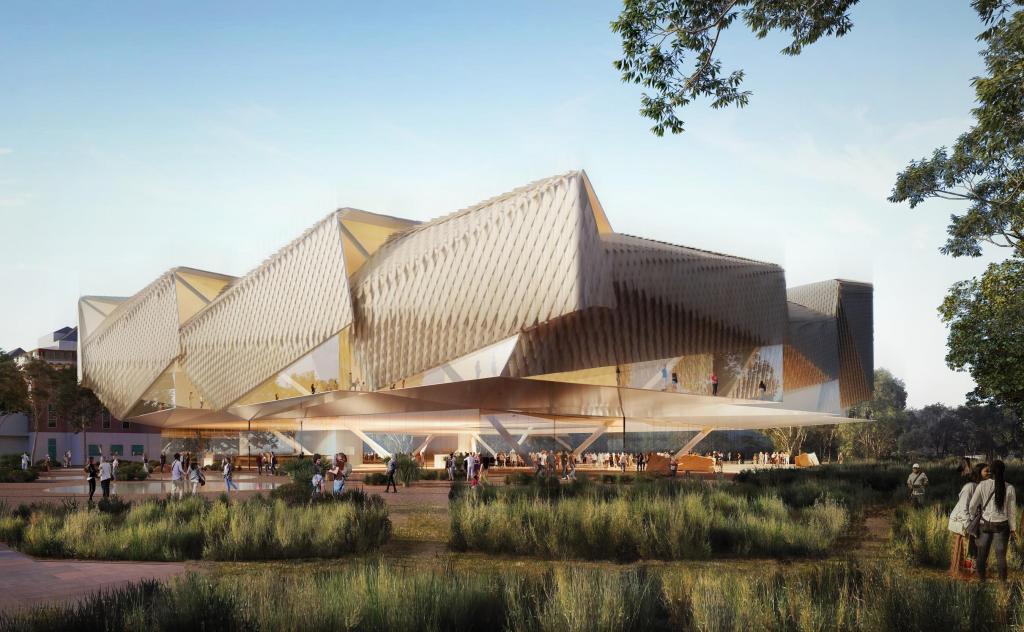 Aboriginal Arts and Cultures Centre, Adelaide (SA)
Opening: 2025
Cost: $200 million
The final design for Adelaide's $200-million Aboriginal Art and Cultures Centre (AACC) as a centrepiece of the Lot Fourteen precinct, was awarded to Woods Bagot, in partnership with Diller Scofidio + Renfro. Construction was to begin in December 2021.
Woods Bagot principal Rosina Di Maria said the 11,500sq m building's design was based on connected layers that reflected Aboriginal connection to Country, place and kin. Key is a gathering space in the centre to create a gateway for cultural exchange.
'Our role is to listen, and translate the aspirations and ambitions of the Aboriginal Reference Group (ARG) into a design response,' Di Maria said.
The AACC is scheduled to open in 2025. Diller Scofidio and Renfro and Woods Bagot initially won the Adelaide Contemporary design competition for an art gallery at the same site in 2018 before the plan was scrapped and replaced with a proposal for an Aboriginal Art and Culture Centre.
Planned but not confirmed
National Aboriginal Gallery and National Indigenous Cultural Centre, Alice Springs (NT)
The National Aboriginal Gallery will be the centrepiece of the Territory Arts Trail, dedicated to the display, celebration and interpretation of Aboriginal and Torres Strait Islander art. The Northern Territory Government has committed an initial $50 million to the Gallery project as part of its $100 million investment in a nationally significant Arts Trail throughout the Territory.
In April 2021, Tracy Puklowski was appointed as Director for the new gallery, however very little else is known about the build.
Concurrently, The National Indigenous Cultural Centre in Alice Springs is also under plan and will be a dynamic and living centre that celebrates the historical and ongoing contribution of Aboriginal culture.
National Indigenous Cultural Centre Limited, an Aboriginal organisation in Alice Springs, is undertaking preliminary consultation for the development of the Cultural Centre.
Cultural Precinct and Library & Archive, Broken Hill (NSW)
Opening: TBA
Cost: $20 million
In September 2018, Broken Hill Council appointed Neeson Murcutt Architects to undertake extensive research, engagement, and design to bring this multi-faceted concept to life with a building that could serve as the heart of the cultural precinct in the city's CBD. Key to the precinct will be a new library and archives.
The project received $8.7 million in Federal Government in October 2021, ensuring its go ahead.
Projects announced but not commenced