Regardless of whether an artwork is conceptually driven, or prioritises an aesthetic position, technical prowess can be one of the markers of success. But how valued is technique today?
A sense of the skill at hand can have that 'wow' impact for a viewer, and is the counterpoint of the much loathed, throwaway line by some audiences, 'my kid could do that'. But a conversation around skill is far more complex than a quick read of ability based on artistic styles or perception.
Arguably, for the last five decades (at least), the rhetoric and value around the notion of skill and the maker has shifted dramatically. With the move of art schools under the university umbrella, the drive has moved from skill to quotas, often reflected in incremental defunding, while the TAFE alternative to study has also been chipped away to near non-existence. Couple that with a rise of cheap imported goods, and there is a kind of soft turf wars around skill today.
There is hope for an uptick, however, as some organisations have witnessed a spike in renewed interest for the handmade (thanks, pandemic lockdowns), and alternative education pathways have become popular – from maker collective studios, to studio-led schools and craft-led organisations.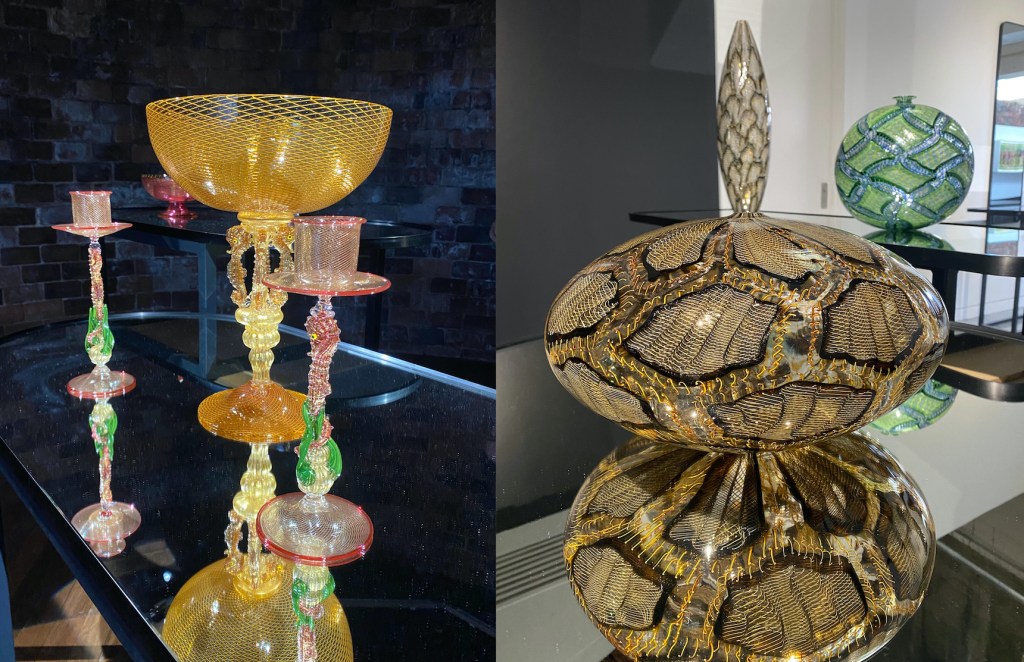 Are we arming makers with enough skill?
An exhibition that celebrates skill, above all other concerns, is Canberra Glassworks' Aventurine Spirit, by the organisation's Technical Director, artist Tom Rowney.
Touted by the organisation as one of 'Australia's most accomplished glass blowers', Rowney has been working on this body of work for two years.
He completed his Bachelor of Visual Arts, majoring in glass, at the Canberra School of Art at ANU in 1995. A decade later, he was overseeing the then new, Canberra Glassworks, as site manager. He has not been a big exhibitor; but his work is big on skill.
'He's a really technical glassblower, a glass geek who loves the Italian techniques from late 17th and 18th century Venetian glass and goblet making,' says Glassworks Artistic Director Aimee Frodsham. The exhibition uses mirrors to allow viewers to see the detail in each vessel.
Today, Rowney blows glass on a bench along with other professional glass blowers and recent graduates, who all hire a space to make highly skilled works of art and production pieces.

It is the same scenario at the JamFactory in Adelaide, which is celebrating its 50th anniversary this year. It has a history of training artisan makers as an alternative to an art school and, indeed, recently had students disillusioned with the university system leave to come and join its program, where they know they will receive the skills training they desire.
JamFactory celebrates that commitment to skill through its Icon series (launched in 2013), which tours nationally each year with a focus artist exhibition, including glass artists Jessica Loughlin (2022), Tom Moore (2020) and Clare Belfrage (2018), as well as jeweller Catherine Truman (2017), among others.
It is a view shared by Kristie Phelan, Head of Sturt Gallery & Studios, which is about to celebrate 70 years of pottery practice, having celebrated 80 years of making in its wood studios last year. It is globally recognised for its skill level. Both are testament to the legacy that skill can have on a sector.
Phelan says: 'In Australia there has been a move towards conceptual foundations in art education, which has often come at the expense of technical skills. There is growing recognition that skill and craft are essential components of art practice and that they should not be undervalued.'
She continues, 'In the broader climate of art education and funding in Australia, Sturt Gallery & Studios is becoming more vital than ever in its continuing mission to nurture excellence and skill in contemporary craft practice.'
Rethinking the teaching model
As a sector, we are starting to understand how our professions are suffering because of that prolonged deskilling and shift away from the mechanics of hand and repetition in learning.
Canberra Glassworks, while not offering traineeships like JamFactory and Sturt, has made the commitment to employ a number of recent art school graduates to deepen their skill base and develop career pathways.
Frodsham makes the point these craft-based organisations are not in competition, rather they are about offering alternatives, 'because we need to, because we've got a big gap'.
She says that is not exclusively through a shift in art school agendas, but also another impact of COVID. 'Because of the closures of the workshops during COVID, they've lost two years of face-to-face education in craft like this. So you're a long way behind when you come out as a grad.'
Elizabeth Rogers, CEO of Canberra Glassworks, tells ArtsHub: 'We've started to institute some employment pathways to assist graduates in building up their skills – to be working at a fairly low level, but giving them the opportunity to earn a living, instead of being a barista.
'Offering them a 30-hour a week allows them to have additional time to be able to use the facilities for their personal practice. The work that we're doing here is helping build on their technical skills.' She adds these graduate employees were able to see Rowney make his body of work, which draws on traditional Venetian techniques.
Rogers says that the organisation has also expanded its public programs this year to give opportunities to people who want to enter through alternative pathways, 'because not everybody comes through an art school'.
Phelan agrees: 'By offering opportunities for artists and makers to develop their craft under the tutelage of master makers, Sturt is continuing to help cultivate generations of artists who are skilled in traditional techniques and materials, but who are also able to integrate these skills into contemporary art practice.'
She adds that the one of the positive outcomes of COVID was that people were seeking out term classes and weekend workshops in contemporary craft, adding that Sturt's skills-based classes are 'booked out in days, many with long waiting lists, which reaffirms the relevance and value of making for well-being'.
Frodsham says the role of mentorship was an important topic discussed at the recent Ausglass conference (February 2023), and it's something that will play a large part in shaping how we learn in the future.
'That role has become more important today, and those private studios that need an assistant offer opportunities for those young graduates to learn not only actual skills, but also how to run a studio,' she adds.
Read: The arts are losing the war for talent
'In a trend-driven market, where new styles and techniques can quickly become outdated, traditional skills passed down through generations stand the test of time,' says Phelan.
'The artists and makers who have worked at Sturt over the decades have not only honed their craft, they have also generously shared that knowledge and expertise with others. Hundreds of those students have become gifted creative teachers. This collaborative spirit has helped to sustain the tradition of skills-based practice, ensuring that it will continue to thrive for many years to come,' she concludes.
ArtsHub will follow up this story with a discussion on how trends are changing around the value of skill from a monetary perspective.
Aventurine Spirit: Tom Rowney, curated by Caroline Field, is showing at Canberra Glassworks until 7 May, with a selection of works at Melbourne Design Fair 18-21 May.
70 years of breaking ground at Sturt Pottery, at Sturt Gallery, Mittagong (NSW), 28 May – 16 July.
JamFactory's 50th Anniversary exhibition will open 20 July.
JamFactory Icon 2021 Kunmanara Carroll: Ngaylu Nyanganyi Ngura Winki (I Can See All Those Places) opens this week at Manly Art Gallery and Museum, before touring to Shepparton, Broken Hill and Araluen.
Tom Moore: Abundant Wonder is showing at The Riddoch Arts and Cultural Centre Mount Gambier, SA, from 28 April – 25 June.