Buildings define our cities. They shape our every day – how we live, how we gather and how we work. It is not surprising then – the appeal of being the author of these structures. But what does an architect really do? Where does the job start, and finish?
ArtsHub catches up with Ramin Jahromi, a Director at COX Architecture. He has been with the firm for more than two decades, working across residential, hotel, master-planning, urban design, commercial, retail, research, transport and infrastructure. Today he leads the mixed-use and communities sector in COX's Sydney Studio.
How would you describe what you do to your parents?
I work on designing and creating buildings and spaces for the city and the community.
What qualifications do you need for this job?
A Masters of Architecture, which is a two-year course, and follows a successful completion of a Bachelor Degree of Architecture, which will have taken an additional three years.
How did you get your start in this career – what was your first job?
My first job was at MGT (Mitchell Giurgola Thorp, now FJMT) in Sydney, after leaving Perth, post-graduation. I was very lucky in this new job, as I ended up working with Aldo Giurgola (the main designer of MGT) – a world-renowned US architect who had designed the New Parliament House in Canberra.
I learned a lot from his considered approach to design. However, the real start of my career came with the Sydney 2000 Olympics, when I managed to secure a job at Philip Cox's Sydney studio, working on a variety of Sydney 2000 Olympics projects – namely the Showgrounds Arena for the Royal Agricultural Society and also the SuperDome (the gymnastics stadium for the Olympics), currently called the Qudos Bank Arena. I have only had two jobs in my life and, 25 years on, I am still firmly entrenched at COX where I am now a Director.
How collaborative is this job?
Being a good architect requires a high level of collaboration. Whether it is with the client, a variety of services consultants or our internal team. My job requires a high level of collaboration from start to finish every day. That's what makes it interesting, as that's how we get ownership by many for a project.
Creative professions always have the risk of egos and siloed work; however, the most successful architects and projects are the collaborative ones.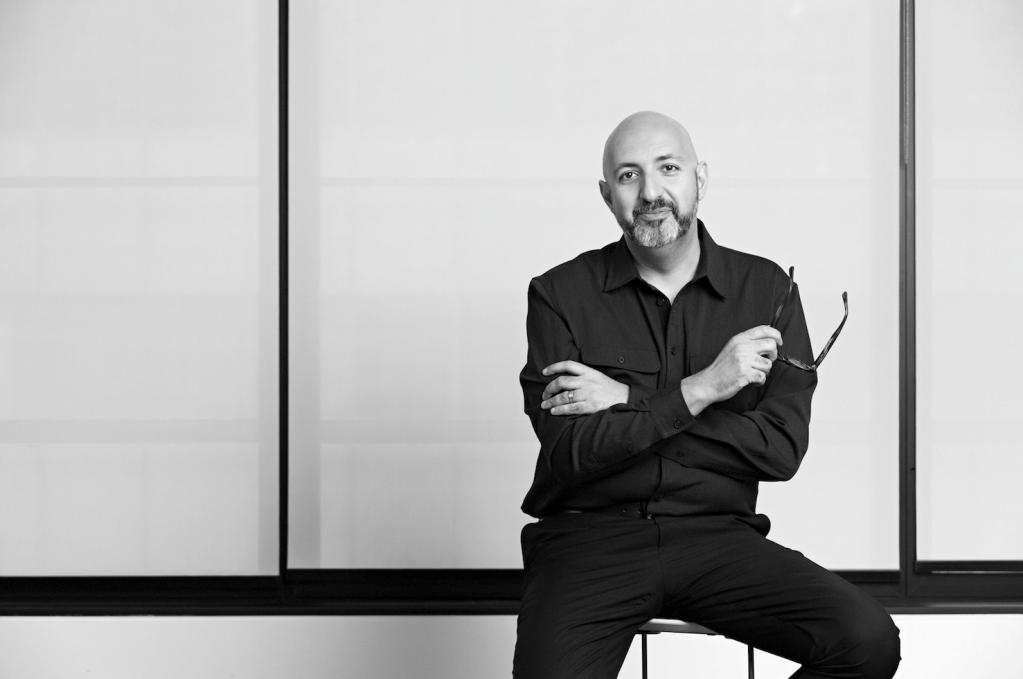 What's an average week like?
While mine is a creative profession that thrives on creativity and organic management, running a studio like ours does need some order! So, at the start of the week, we have a management meeting with all of the team, where we talk through what we have to do that week, and what results we had from the previous week.
As we are in a studio of 200, I have some 40-plus architects and designers that work on a variety of projects that I lead. So I also meet up with the team leaders (can be up to five architects) weekly to check in and review the status of those projects as the week progresses.
Big complex projects always have regular weekly meetings that are set up on rotation, so every day these are scattered through my diary from morning to the afternoon.
We work in an open plan studio, so every day we have design reviews at people's desks, in open areas and meeting rooms. That said, every day is different for me. I also walk around the desks and talk and check what everyone is drawing and doing, and there is nothing more successful than a serendipitous casual crit at someone's desk to resolve an issue quickly.
Mid-week the group of Directors meet for a sandwich to discuss strategic issues that need to be resolved or planned. Some weeks I need to present schemes to boards, stakeholders and design review panels. These can be on Zoom or in-person, but there is always preparation time, rehearsals and pitching ideas that need to take place before you present.
Even though we have, since the pandemic, cut down on national air travel, as a national practice we exist as a result of personal relationships between the partners. Trips to Melbourne, Canberra, Brisbane and other capital cities can occur to either resolve management issues or to assist in the development of projects. Face-to-face contact with my partners nationally, and with clients, is still key to successful projects.
What's the most common misconception about your job?
That you draw and 'colour in' all day long! Yes, I do that sometimes, and when I don't it is very agitating. However, sadly, it's not every day. So in order to keep my own creative soul alive, I have to set time aside to draw and think. At the moment that happens mainly at night or on weekends. Rarely in the studio!
How competitive is this job?
I think architecture is very competitive. The key element of competition is really among our competitor architect firms for securing projects. For most national and local significant projects, design excellence competitions are run. Competition starts from there, and then sadly for fees, which are dependent on the market conditions and can be very competitive.
In an interview for your job, what skills or qualities would you be looking for?
Architect roles and positions require different experience depending on the types of projects you are working on. However, the key aspect I always look for is the yearning to learn, and a 'growth' mindset with a high level of robustness.
Working in a creative industry requires resilience, as design is subjective and it is never about you!
So I always look for someone who has an open mind, communicates well, is not scared to ask if she/he doesn't know the way, but is confident enough to at least try to resolve it first before asking!
What's changing in your professional area today?
Technology and compliance.
Computers and 3D visualisations and modelling are changing this profession every day. We have quite a few links with universities and young smart designers who are always working out ways to design projects better and more effectively.
Compliance in the industry has also changed our workflow. The Opal Tower disaster [when structural deficiencies led to mass evacuations and changes to building regulations] has made the industry work a lot harder and better, as a result. I think that down the track the public will end up with better quality built form.
What's the most interesting thing that's happened to you in this job?
I am lucky in that each day is a different day for me – not one day looks exactly like the other day. So interesting things happen regularly, be it with my colleagues or clients or on-site. Probably the most exciting thing that has happened to me was catching a helicopter ride with John Gollings, the pre-eminent architectural photographer. I was with John hanging on to the ledge of the helicopter photographing some towers I had designed in Sydney's Lower North Shore. The thrill of the open helicopter windows, high above the Sydney Harbour Bridge and the harbour at dusk with the sun setting over the Blue Mountains, was not only breathtaking but also exhilarating – those are the moments that you have to pinch yourself and think "Wow, I am lucky to be here with an artist like John in this position!".
What about gender balance in your industry?
It can be a lot better; however, we are taking many steps to address it – 30% of our directorate are female. Similar to many other professions, the gender split at graduate level is 50/50; however, this falls steeply as life experience and motherhood take effect.
We are a member of 'Champions of Change' – a global organisation that aims to achieve gender equality and female leadership. We have additional parental policies beyond what is required by legislation and have flexible work agreements in place to ensure the female presence in our studio does not reduce with experience.
Read: So You Want My Arts Job: Visitor Services Officer
The key change I see now is that we are talking about gender equity every day. We have to report on it and we are addressing the imbalance. I personally see the benefit that senior women bring to both the culture of the practice and to design sensibility.
What's the weirdest thing that has happened to you 'on the job'?
A 'Topping Up' party celebrates the completion of the concrete construction phase of a building's development and its always a hoot! Generally, the builder invites the whole team, including the client, to the last level of poured concrete, and if it's a 40-storey tower that is very exciting.
You catch the Alimak hoist (an open mesh lift that is hovering on the side of the building) in your party best to the top level. When you arrive you are greeted with an olive tree in a pot as a centrepiece. Wait staff have drinks on trays and usually a barbecue serving sausages. I've been to so many of these now that they no longer seem 'weird' to me, but they probably do to others!