Going by several names – what used to be known as a 'gallery guard', was then fashionably called an 'invigilator' and is now more commonly referred to as a Visitor Services Officer (VSO) – there is a lot more to the job than just taking a shift and standing in a gallery or museum surrounded by art.
ArtsHub caught up with Molly Desmond, who is a VSO with the National Portrait Gallery in Canberra, to get the scoop on what qualifications and training you require, what are some of the curly questions you face on the job and, more simply, what is the attraction to being 'on duty' in the museums and gallery sector.
How would you describe what you do to your parents, or a non-arts friend?
A large part of my role as a Visitor Services Officer (VSO) at the National Portrait Gallery (NPG) is providing customer service – a descriptive term that I've found resonates with non-art and artsy folk alike (even my parents). As the first point of contact for visitors to the gallery, our team is responsible for welcoming people and providing information and orientation to the building, and interpreting the artworks, as well as assisting the security team in ensuring the safety of our collection.
Perhaps the most exciting part of the position is delivering collection and exhibition highlight tours daily to small groups of visitors – essentially an opportunity to have an extended conversation about some of the portraits (the people) on our walls. There are lots of aspects to the position, but the nuts and bolts of being a VSO is providing a warm and accessible presence in the gallery to enhance the visitor experience.
What qualifications do you need for this job?
No formal qualifications are necessary, though study in visual arts or art history will definitely be an advantage. All training is provided, but some context will help in preparing for public tours and interpretation of the portraits in the gallery.
I think what is more important than formal qualifications in this line of work is your ability to work with people and having adaptive and effective communication skills.
You will need a current Working with Vulnerable Peoples card or be able to obtain one when starting.
How did you get your start in this career – what was your first job?
I started working at the Portrait Gallery casually while completing my Bachelor's Degree in Visual Arts at the ANU School of Art and Design. My first ever job when I was in high school was working at a local bakery as a server. I was hopeless and I'm still sort of surprised I never spilt a hot coffee on anyone. Since then, I've done a few stints in retail, but the majority of my experience has been in education and care. I have previously worked as an educator and in school aged care and as an education assistant at the Australian War Memorial.
Our team of VSOs have a diverse range and level of experience though and have come to the gallery from various industries and sectors. Some have a wealth of experience working in galleries and other cultural institutions, while others are just starting their professional careers.
How collaborative is this job?
While there is a lot of autonomy in the position, it is very much a collaborative job! There are opportunities to collaborate within the Access and Learning team and across departments with the broader NPG Community.
What's an average week like?
The gallery is open 10am to 5pm every day except 25 December, so VSOs work a seven-day roster. A standard day includes some admin and research time before a team meeting about daily operations and opening the gallery. From 10am until the gallery closes the Visitor Services team will rotate between greeting visitors in the light-filled Gordon Darling Hall and being an accessible and approachable presence in the gallery (interpreting artworks and having collection conversations etc). At 11.15am and 2.15pm a VSO will facilitate a Highlights Tour. It sounds clichéd, but no two days are the same in the world of Visitor Services (although there is a lot of consistency). Some weeks there may be an exhibition opening or a public program (exciting!), while other weeks there may be public protests or having to let a visitor know their puppy is not allowed into the gallery (less exciting and less common).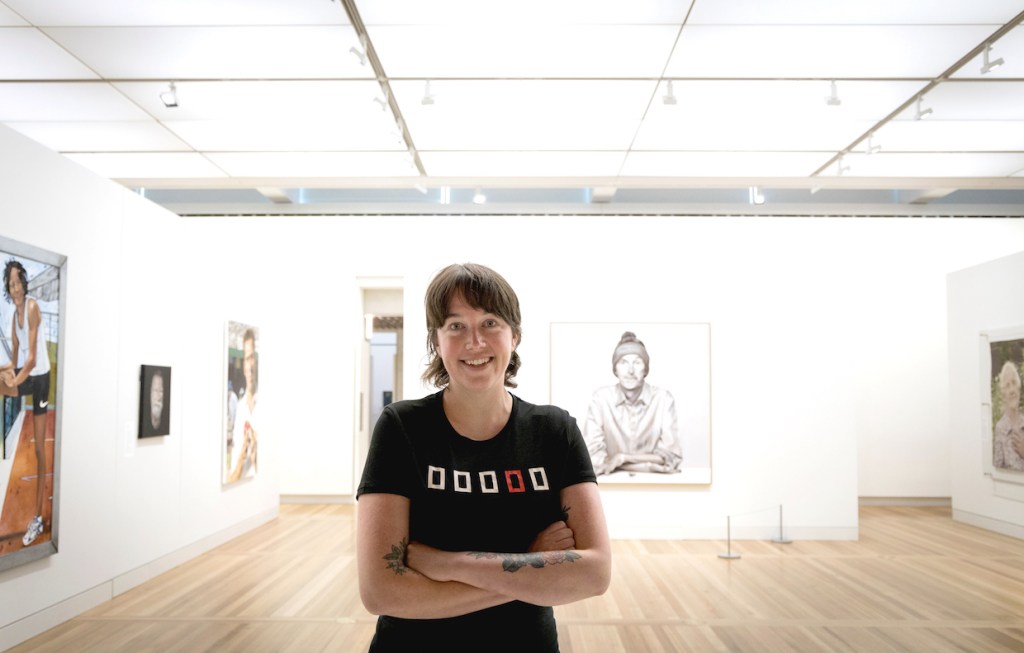 What's the most common misconception about your job?
From my perspective, I think one of the most common misconceptions about being a Visitor Services Officer is that you have to be a certain type of person to work in the arts or that you need to be some sort of art buff and have vast expertise in portraiture.
All training for the position is provided by the Access and Learning team and there are plenty of opportunities to learn more about the collection, including walk-throughs with the curators. So, while I'm sure being an art whizz would be helpful, it is definitely not required!
How competitive is this job?
This job is an accessible entry point into the arts sector and, as such, generates a lot of interest!
In an interview for your job, what skills or qualities would you be looking for?
The main attributes I would look for are warmth, kindness and the ability to be flexible and responsive. A good sense of humour is advantageous.
What's changing in your professional area today?
The way we engage with broader audiences on-site and online, and how we consider the gallery space.
What's the most interesting thing that's happened to you in this job?
I always find answering the telephone at the front desk a real wild card. As the first point of contact for many telephone enquiries you can never quite know what to expect – I've answered the phone to celebrated artists and people with fascinating portraits they're hoping to donate to the collection.
What about gender balance in your industry?
Our team is predominately women. There is gender diversity across departments and the gallery is an inclusive environment for all folks.
What's the weirdest thing you have had to do in this role?
Some aspects of the role that felt quite strange when I first started now feel normal. We spray any flower bouquets that come into the gallery to protect the collection from insects and other pests that could harm the collection. The first time I had to spray a visitor's flowers it felt very strange!
Read: 23 jobs to consider for a career change in 2023
Portrait23: Identity is the National Portrait Gallery's next major exhibition, running 10 March to 18 June 2023.