James Bugg, Zach, 2018 Moran Contemporary Photography Prize winner; image courtesy the artist and Moran Art Foundation
On his first year out of art school, and at the age of just 22, Melbourne artist James Bugg was awarded the most prestigious photographic prize in Australia from a pool of over 2,600 entrants.
As the winner of last year's Moran Contemporary Photographic Prize (MCPP), he walked away with $50,000. Bugg told ArtsHub: 'It was unbelievable. I'd just finished my Uni degree so I was not expecting anything. Then I was notified that I was a finalist, and my work was to be shown with other photographers I had been looking at (in my course). I was really humbled to be among them.'
The Moran Contemporary Photographic Prize (MCPP) is awarded to an image that portrays life in Australia – the places, the people and the lifestyle that make our country quintessentially Australian.
The prize was established in 2007 and is a national competition that awards and promotes Australian contemporary photography and excellence in all forms of still, photo based artwork – including analogue and digital photography or staged and directorial photo-media work.
Bugg continued: 'I think I connected with the Moran Prize because the brief is something personally that I can relate to. One nice thing is that it allows for a lot of diversity in subject matter. Any resident of Australia can enter.'
The total prize pool offered is $100,000, with additional awards going to various student categories, and each finalist receiving an artist's fee. It is supported by the Moran Arts Foundation.
Entries are now open for the 2019 Moran Contemporary Photographic Prize.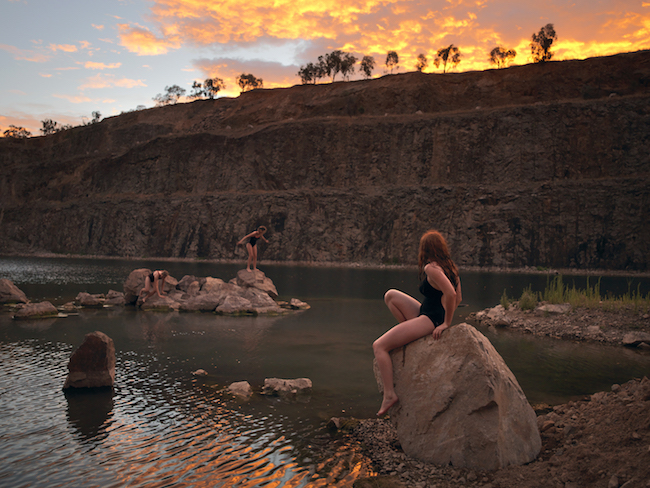 Tamara Dean, The Quarry, 2018 Moran Contemporary Photography Prize finalist; image courtesy the artist and Moran Art Foundation
Tapping in to Australia's heart
Bugg's winning photo, Zach, was part of a wider series called The Pines, which documents life in Frankston North, a suburb of Melbourne dominated by the former Pines Forest housing estate.
British curator, and judge of last year's prize, Cheryl Newman said of Bugg's work: 'In his hands, the lens does not exploit his subject.'
While Bugg, and many photographers of his generation, have grown up in a world saturated with digital images, for him the attraction was to film. He told ArtsHub: 'Film relates to working on slow long-term documentary projects; it counteracts the pace of things because the process takes a lot longer to take images, and I take less of them.'
He added: 'I spend time with a person, or in a place, and it comes together rather than just shooting stuff off quickly. It just suits my personality.'
The prize is not exclusive to film; you can enter a work that has been manipulated and images do not have to be portraits.
2018 Moran Contemporary Photography Prize winner James Bugg; supplied
Advice from a winner
Bugg said that during his studies he was constantly encouraged to enter awards – to get his images out there.
'One of the things with a lot of arts awards, is that people get caught up on the brief or making work that the judges like. My advice is to make work you believe in, that has your heart in it and only enter images you are proud of,' said Bugg.
He said winning the Moran Prize had a big impact on his career. 'Winning gave me the validation – and the self-validation – that I needed to kick start myself on a professional path.'
He continued: 'Photography is one of those daunting worlds to enter. There are barriers. Being known is something that you need.'
'I didn't have plans to go into photography full time, but being able to work away this year as a professional was what I had wanted to do since I was fourteen. I am saving a lot of the money to be able to keep making my work long term.'
Sam Harris, Sisters, 2018 Moran Contemporary Photography Prize finalist; image courtesy the artist and Moran Art Foundation
How to apply
The primary criteria for entry is that your image represents the unique nature of Australian life. It may be a portrait, landscape or action shot, but above all else, it must tell a story of how you experience living in Australia.
Entries open for the 2019 Moran Contemporary Photography Prize on 16 January 2019.
Images submitted for consideration must have be taken between 8 March 2018 and 6 March 2019.
Entries close 6 March 2019
Finalists will be announced in April 2019, and the finalist exhibition held in conjunction with Head On Photo Festival in May 2019.
For more information on how to apply visit https://moranarts.org.au/