Looking up its itinerary, a touring company typed "The Art House, Wyong" into Google Earth. 'All we see is cows,' was their response. But seven years on, this 500-seat theatre is not only firmly planted on the map, but is leading the way in how innovative thinking can shape a regional venue's operations.
Testament to its fresh approach, The Art House was named Performing Arts Centre of the Year in 2022 by PAC Australia, against the capital city juggernauts. For a young, regional theatre to win against city venues with decades of history, is a huge achievement.
'When we first opened, companies didn't even know where Wyong was! Our model means we're always open and available to have conversations,' says Executive Director Anne-Marie Heath. 'We're not interested in just what's on tour, but rather we want to be in the game to do things differently in a regional context. This is what makes The Art House such an exciting addition to the Central Coast.'
The venue on the NSW Central Coast is a not-for-profit entity with an independent Board of Directors. And thanks to its non-subscription model, it has had the freedom to go out on a limb and work in a new way. While it has hosted a plethora of notable names and national favourites on its mainstage, it has also shown that it's far more than just a receiving house.
The Art House has brought in shows that may not otherwise have found themselves in Wyong. Most notably, it co-produced the remount of In the Heights with Sydney Opera House, and was a producing partner on the national tours of Hair and Rent.
The organisation has also co-commissioned new works with Circa (Wolfgang's Magical Musical Circus), Richard Carroll (Every Musical Ever), Christine Dunstan Productions (Tim) and, most recently, Legs on the Wall (Beetle). Wyong even found itself the unlikely venue on a capital city international tour of Everybody's Talking About Jamie.
Rising tall despite scale, knockbacks and perception
While the venue was forced to close for 13 months over two years of COVID lockdowns, it has managed to cement itself as a venue of national significance. Additional to Australia's Performing Arts Centre of the Year, it was named Wyong Business of the Year in 2022.
Historically, Wyong has been a relatively unnoticed and low socioeconomic town of the region, overshadowed by seaside holiday destinations, like Terrigal and Killcare. Now it is bustling, and the nightlife has reawakened with restaurants and cocktail bars. The Art House has helped position Wyong as a thriving hub of the Central Coast.
'The Art House has provided something very special for the Central Coast and we have acknowledged the contribution it is making to the economy, visitation and social fabric of the area,' says Paula Martin, Regional Director Business NSW. 'It is a great example of a business driving prosperity, creating employment and building a better community in the region it represents.'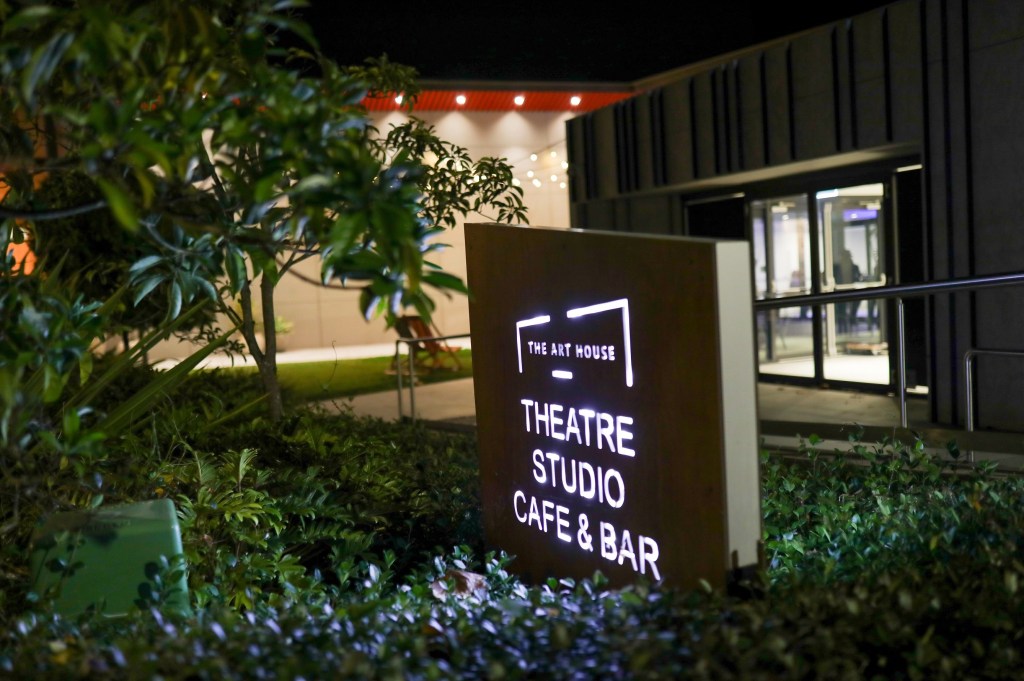 Our House is your house
The venue opens its doors to performers and creatives as one would a home. 'The Art House is your house,' is its motto, when welcoming visiting companies into the building.
Hayes Theatre co-Artistic Director, Richard Carroll, says: 'We have an incredible time at The Art House. [The team] are welcoming, highly capable and are doing some innovative things for performing arts outside the city.'
A direct transfer from Hayes Theatre has become a mainstay of The Art House program. 'We always feel creatively supported there and it's fun to perform for audiences who are so excited to have us in their local venue,' says Carroll.
Now, the venue is championing its local artists to become the next big names on stage. The Art House Creatives Program is unlike anything previously available in the area.
'As a professional independent artist for more than 25 years, I know all too well the complexities of finding support and a community of like-minded people,' says The Art House Creative Producer Craig Bary. 'Providing a program to keep our local artists practising in their own backyard is invaluable.'
Support for creatives was minimal in the past, forcing many to leave the Coast to create. In the first six months of the program, The Art House has given financial assistance, in-kind venue space and mentoring/feedback opportunities to 21 projects, involving over 130 individual creatives.
It's clear there's much more to The Art House than cows, and more still than simply the four walls that host shows.
To learn what's on at The Art House or get involved.
The Art House is located at 19-21 Wyong Street, Wyong (NSW).