The banks of the mighty Murray River are soon to give birth to a new annual arts and culture festival.
The inaugural Upstream festival will take place from 6 to 9 March 2020 across the twin cities of Albury and Wodonga. A joint initiative from the Wodonga and AlburyCity councils, the four-day festival of art and culture will highlight local talent as well as showcasing nationally acclaimed artists in venues across the two cities. 
'I think people are often surprised at the calibre of artists and performers we have here in this regional centre. We have an incredibly talented and professional creative sector that deserves to have the spotlight shone on it,' said Wodonga Mayor Cr Anna Speedie.
The region is home to the nationally acclaimed Flying Fruit Fly Circus, who are soon to celebrate their 40th anniversary and will be performing at the opening gala for Upstream at Noreuil Park, as well as HotHouse Theatre, which grew out of the Murray River Performance Group founded in 1979. At Upstream, HotHouse will collaborate with Acrobat to present the world premiere of Outsider Science in a natural amphitheatre among the trees at Gateway Village, near the river.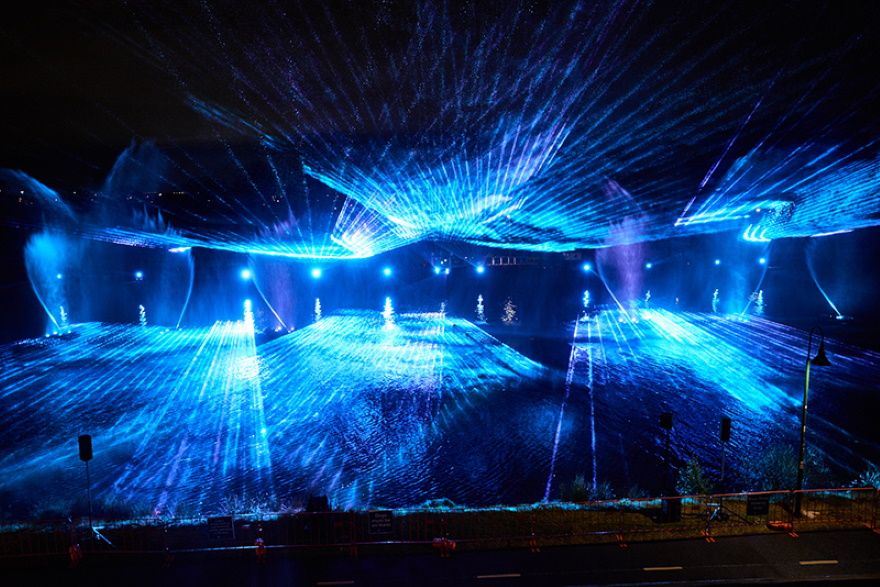 The Murray River will light up during a 15-minute laser show and soundscape. Photo: Genius Laser Technology.
'The fact that Upstream is organised by two councils, traverses two states and crosses one of our country's most iconic rivers combine to make it unique,' said AlburyCity Mayor Cr Kevin Mack.
The name Upstream places the focus on the Murray River, where the two cities meet. Artistically, the festival team says, 'to go upstream is to go against the current' – to present daring or unexpected experiences.
Bold new work meets a sensitive approach to history, geography and community in a program that the festival team hopes will connect with both locals and visitors, and young and old.
Art for all ages
'We are thrilled to host a festival that is unique to the border and has something for all ages,' said Cr Speedie. 'The festival is family-friendly, has lots of free activities and is accessible to all, creating experiences that people can share across generations.'
Upstream has commissioned several spectacular outdoor artworks which will evolve over the four-day festival taking place over the Labour Day long weekend in Victoria. Alex Sanson's enormous kinetic sculpture, Spherophyte, will delight viewers with its hypnotic constant motion at Wodonga's Junction Place, while visitors will be drawn through an immersive, multisensory neon forest as part of the Upstream Street Party which will also feature international circus acts, roving entertainment, music, performance and much more.

Spherophyte will mesmerise audiences during the Upstream Street Party. Photo: Alex Sanson.
Festival goers can get their hands dirty at the Messy Arty Party at Belvoir Park, which brings together art, craft, movement and music-making activities for all ages, or take part in the festival's numerous workshops which offer everything from phone photography to making flower crowns and beards. They can even help create the Flow States installation, a suspended sculpture made of hundreds of tissue paper droplets that pays homage to the Murray River.
Beyond the festival
Beyond the four days of festivities, Upstream will support the local arts ecology with professional development opportunities and prizes – as well as drawing visitors to the impressive assortment of arts and culture activities operating year-round in the region, such as the Yindyamarra Sculpture Walk, Gateway Village arts and culture precinct, and the Bonegilla Migrant Experience.
'We have a fantastic arts and cultural industry here on the border and this will be a great opportunity for local and visitors alike to experience it all including our public art trails and galleries,' said Cr Mack.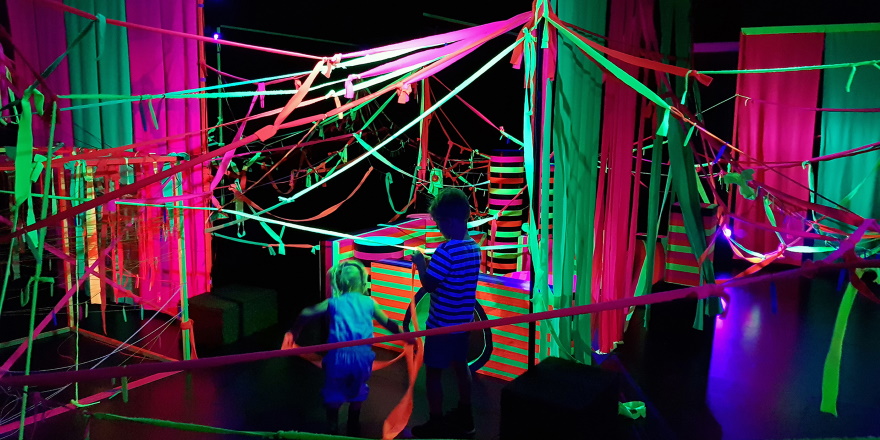 Children can immerse themselves among objects, lighting and sound in The Neon Forest. Photo: The Indirect Object.
Positioned in the middle of the Melbourne-Sydney-Canberra triangle, Albury-Wodonga is easily accessible by road, rail or air.
Kim Strang, the acting manager of cultural services at Wodonga Council, encourages interested artists to check out the festival and look out for upcoming opportunities.
'We have already started planning Upstream 2021 and an expressions of interest process will be undertaken following the festival in March. Anyone interested should not only come along to our inaugural festival but also follow our online channels to stay updated,' said Strang.
Immerse yourself in Upstream – Festival of Art + Culture from 6-9 March 2020. View the full program at upstream.org.au