A ghostlight burns at centre stage in the cavernous Regent Theatre, its pale bulb radiant with possibility, embodying the hopes of the theatre community around the world.
As it shines, a voice begins to sing – a single artist performing one of the great songs of the musical theatre canon – and slowly the theatre's interior comes to life.
'Most of the world is still locked down. There's no Broadway, there's no West End, but there are shows here. Everywhere else around the world, in all the theatres, is just a solitary ghostlight,' said Tyran Parke, Head of Music Theatre at the Faculty of Fine Arts & Music, the University of Melbourne.
'And I thought there was something important to explore in acknowledging all the ghosts of the performances that have been before, and seeing how they informed the new generation of performers when they perform those songs,' he explained.
Ghostlight, which Parke directed, sees VCA's graduating Music Theatre students perform some of the best loved songs of their chosen artform, each as a series of solos.
'Because the students are all so different and so unique, there's a huge range of songs, everything from 'Oh, What a Beautiful Mornin'' from Oklahoma! – you can't get more traditional than that – to songs from more contemporary musicals like Amélie. There was Peter Allen, Andrew Lloyd Webber, Stephen Sondheim, a huge range,' Parke said.
'It's quite a mix in the end, because ultimately, it was about whatever song served the student the best.'
A CELEBRATORY ONLINE SHOWCASE
Ghostlight grew out of the faculty's adaptations to COVID, ensuring that traditional end-of-year activities for the Third Year students could still continue – albeit in a hybrid form.
'One of the really tricky things was working out how our graduating company were going to be seen by agents, which is the culmination of their three years of training. One thing we did was to just keep pushing everything back, basically. We didn't finish our final show until 22 December, whereas in most years, they've finished by early November. And we pushed their showcase into 2021 and live-streamed it,' said Parke. 
'But the Ghostlight project came about because the live streaming was really only streamed once and never seen again. I thought we really needed something to support the students so that they've got other materials, so agents can go, "Okay, what else is there?"'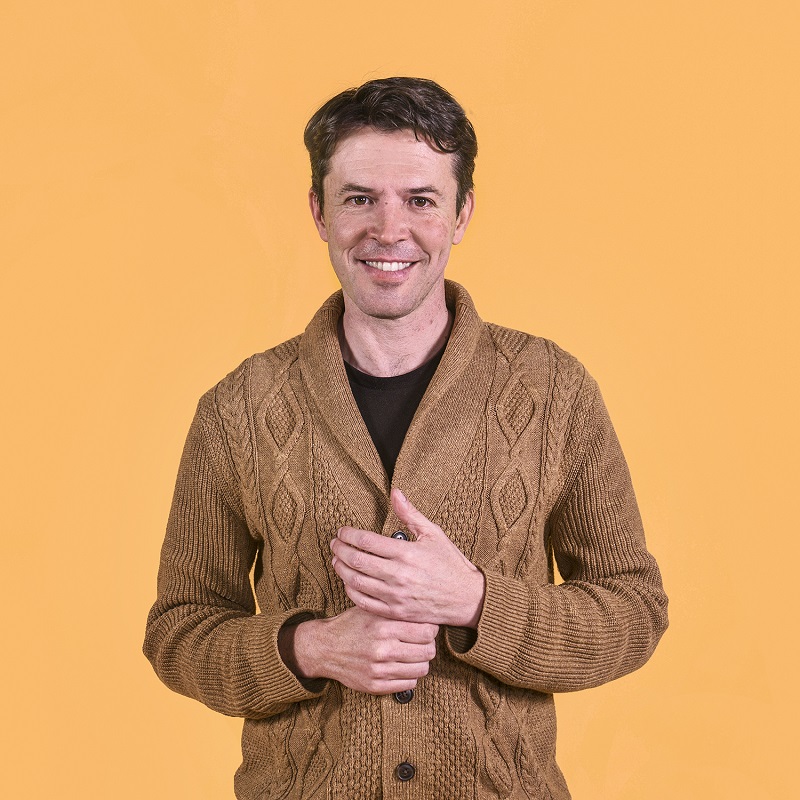 Tyran Parke is the Head of Music Theatre at the Faculty of Fine Arts & Music, the University of Melbourne. Image supplied.
Supported by a VCA enrichment grant, which covered the costs of hiring a professional film crew and sound system, Ghostlight also benefitted from Parke approaching the Marriner Group, which owns the Regent Theatre.
'It was quite extraordinary. I rang them and said, "This is an opportunity," and they were so bereft at losing the industry and wanting to give young people something, that they just gave us the Regent Theatre for free! It's just so unbelievable,' he laughed.
Given that Melbourne was still in its long, long lockdown when Parke was developing his plans, he knew that for safety's sake VCA's resilient and adaptive students would have to film solos.
'I also wanted something that would speak to a research and engagement element, because all these people are quite young, and it's important to me that they know a little bit about what came before them. So it was really a chance for them to research a project, a song, a production. And then happily, because I work in the industry as a director, I could reach out to all the people that they wanted to talk to,' he explained.
As a result of the unique conditions the students were living and studying through, they also had a unique opportunity to interview some of the leading lights of music theatre.
'One of our students spoke with Nancye Hayes about what it was like to be the first woman leading a music theatre production in Australia. One young man interviewed Carmen Pavlovich from Global Creatures, and she was talking about the importance of female creative teams. Some of our BIPOC students spoke with people about the question of "How do I represent myself? How am I found inside of music theatre? Where do I fit?" That is a question absolutely of its time right now,' Parke said. 
'Lachie, who sang a piece from Oklahoma!, really acknowledged the traditional way it was done, but also acknowledged the way it was done on Broadway in 2018, which was a much darker, much more dangerous version. So in a way, they all had these conversations that were very much about now, whether they were with producers, or directors or performers.
'So in a way, we were building these links to where we've come from, and these students are very much where we're going. That was part of what I really wanted to encourage. And I'm thrilled that people were so excited by these conversations. And not just here. I mean, Rosalie Craig is a leading lady on the West End, she was the lead in Company. So for our students to be connecting with her and people from all over the world was really kind of remarkable. And yet, it was always with a view of where we sit in Australia and our relationship to music theatre,' Parke concluded.
Learn more about the graduating Music Theatre cohort and their work.