Like many things in 2021, cultural tourism had a pause as borders were impacted by COVID closures. This, however, has not stopped cultural production. On the contrary; it has offered many artists and art centres the hope to keep creating.
A good example is the opening of the Northern Territory's newest gallery, the Gallery of Central Australia (GoCA) at Ayers Rock Resort, which celebrates its first anniversary this month.
The gallery opened during the height of closures to an area deeply reliant on tourists wanting to engage with the unique culture and landscape of the region.
The inaugural exhibition, which presents over 300 artworks supporting current and emerging artists, includes specially curated items like Punu (traditional Anangu wood carving) and pieces designed and produced by local communities exclusively from the central and western desert regions.
GoCA Gallery Manager, Fabiola Martinez-Hinojosa told ArtsHub: 'We've used this past year as a unique opportunity to learn even more about the artist's stories and the art centres we represent.'
Currently 19 of the 35 Art Centres in the region are working with GoCA to present their artworks, many of which are in remote communities without passing tourist visits.
Martinez-Hinojosa added that when they were able to finally open their doors, albeit intermittently, the joy of engaging visitors and selling the work of local artists 'demonstrated how GoCA can amplify the reach of the artist's work.'
She added that this first anniversary is not just the celebration of a new gallery on the cultural circuit outback, but is a celebration of resilience of First Nations culture.
'What people comment, when they come into the gallery, is a sense of surprise to see so many artworks from different locations in one place. There is such a diversity of artists practicing in the central and western desert, and we reflect that by showcasing the different styles from each region and educating guests through that experience,' she added.
We are very inclusive, and we are helping to grow the careers of emerging Indigenous artists through GoCA's exhibition experience.
Key to the strategic framework that underpins GoCA is a desire to support emerging artists. 'There are a number of galleries that support those really established artists, but we are interested in representing up and coming artists alongside those already recognised,' Martinez-Hinojosa told ArtsHub.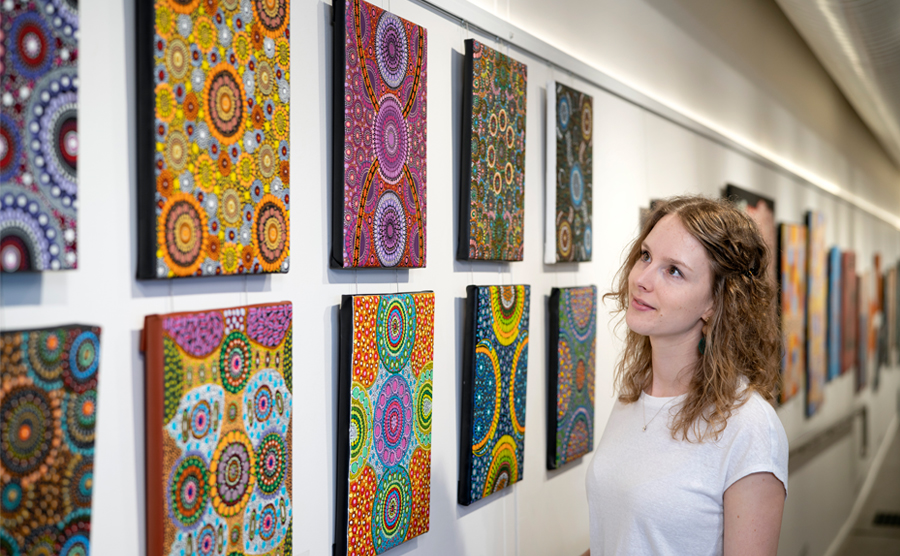 More than selling paintings off a wall
Extending the passion for sharing knowledge, and supporting the careers of Indigenous artists, GoCA has placed central to its programming an ongoing Artist in Residence program. It runs during peak season and provides a once in a lifetime opportunity for visitors to experience first-hand the creative process, and the cultural knowledge that sits behind the artworks.
'An Artist in Residence program is not a new thing, but through GoCA we have been able to create a really valuable experience – both for the artists and our guests. We have a dedicated space within the gallery where they can work. Artists can stay for two weeks up to a month, and we provide them with accommodation and meals.'
'There is a real synergy between what we do, what we support, and what we offer guests, added Martinez-Hinojosa. 'And people have a genuine connection with an artist. It also offers the artist some time to get off Country – to have "a break" – and immerse themselves in that professional development experience.
'For them to see people interact with their work – to see how it is valued and how they open up to learning about culture – is an incredible experience for the artists, and we are so grateful that we are playing a role in facilitating those connections for learning,' Martinez-Hinojosa said.
The Gallery was created with a very clear vision to support artists from the Central Desert, and artists living on Country. It has been three to four years in the making.
'We really engage with the community to ensure it is genuine; we travel to communities, to Desert Mob, to Aboriginal Art Fairs, the National Indigenous Art Awards, asking the right questions to the right people, and to ensure that we offer support in the right way,' explained Martinez-Hinojosa.
This is extended in the way the Gallery pays its artists. The works are consigned directly from the Art Centres working on a fixed price model and a percentage – a global convention for commercial galleries – rather than the kind of purchase outright and 'bump the price' convention that has plagued the Aboriginal Art Market in the past.
'We win, if they win. It is about supporting and growing those communities,' Martinez-Hinojosa said.
GoCA is located adjacent to Desert Gardens Hotel, at Uluru. It is open seven days a week, and presents a daily tour at 10.30am to visitors. There is no admission fee.
The gallery is managed by Voyages Indigenous Tourism Australia.